---
Description
Simple wholesome ingredients create these snack bars.
---
Apricot Jam
1.5

pounds fresh apricots, sliced and skin on

2 cups

sugar

1 tsp

orange blossom water*

1/8 cup

fresh lemon juice

1 tsp

corn starch + splash of water
Shortbread Cookie
1

pound + 4 Tbsp unsalted butter (

515 grams

or 4.5 sticks), softened

1.5 cups

powdered sugar

2

eggs, whisked

1 tsp

kosher salt

8 cups

all-purpose flour – 1000 grams (spooned and leveled)

1/2 tsp

baking powder
---
Instructions
Apricot Jam
In a large pot, add your sliced apricots, sugar, orange blossom water and lemon juice together.
Allow mixture to come to a boil, use a potato masher to break up the apricot pieces while cooking.
After mixture comes to a boil, lower to a medium-low heat and cook for about 20 minutes continuing to break up the apricot pieces.
In a small bowl add your corn starch and a splash of water to create a slurry, add to mixture. Continue cooking for another 20-25 minutes until jam is thick.
Remove from heat and let cool, you can also refrigerate at this time and use later.
Shortbread Cookies:
Preheat oven to 350 degrees.
In the bowl of a stand mixer with paddle attachment, add your butter and powdered sugar to create a creamy mixture.
Next add your eggs and continue to blend, scraping down sides as needed.
Finally add in your dry ingredients; flour, salt and baking powder until blend until a cohesive dough forms.
Divide your dough in two, wrap one half in plastic wrap and refrigerate while you prepare your tray.
Assemble:
In a half sheet pan (12×17) press half of your dough into an even layer. I like to use a smooth drinking glass and roll across to flatten and even out. Finally, press sides to edge to create a crust.
** see photo below
Next, spread your cooled apricot jam on the shortbread.
Finally, using a cheese grater with the largest side, remove your refrigerated dough and grate on top of your apricot jam to create a sprinkle.
Place in top 1/3 of oven and bake for 30-45 minutes at 350 degrees. You'll want to see the top begin to turn a hint of red and the bottom to be cooked through evenly.
Remove from oven, let cool and dust with powdered sugar. Enjoy!
---
Notes
Feel free to sub vanilla for orange blossom water
You can make the full recipe and only bake half using a 1/4 sheet pan, the other half of the dough can be frozen
I like to cut my bars into small bite sized pieces, it yields a lot but are just the perfect size
[caption id="attachment_2819" align="alignleft" width="138"]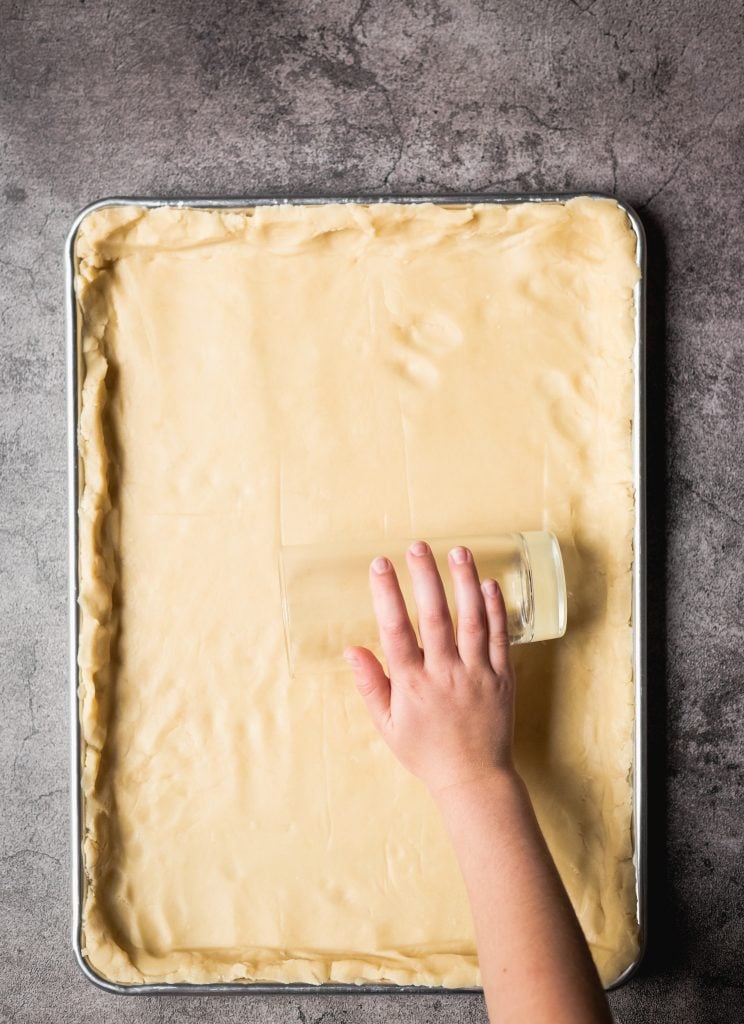 Use a glass to smooth our your dough and create an even layer.[/caption]
Keywords: apricot, lebanese, cookie, bar, dessert, easy, shortbread, butter