With Room & Board
Please note that I only work with companies and products that I feel passionately about and that align with Cosette's Kitchen views and that this post contains sponsored content for Room & Board. While I am compensated for the work I do, my opinions are always 100% my own.
If the last few years have taught me anything, it's how to master outdoor entertaining. I'm thrilled to partner once again with Room & Board to share my tips and tricks for easy outdoor entertaining.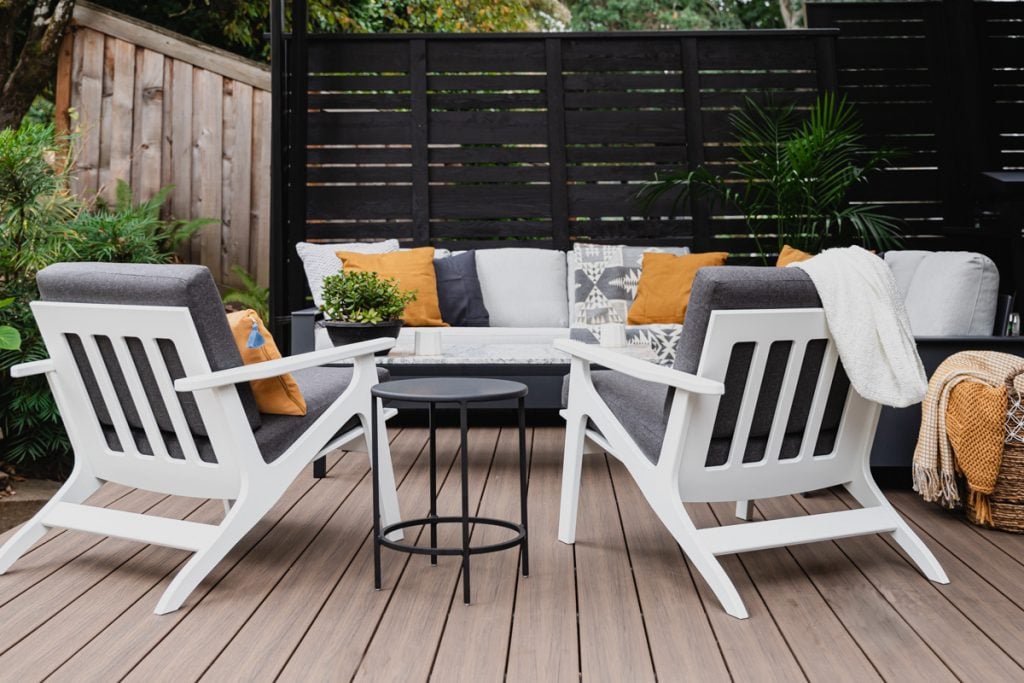 Comfortable Outdoor Seating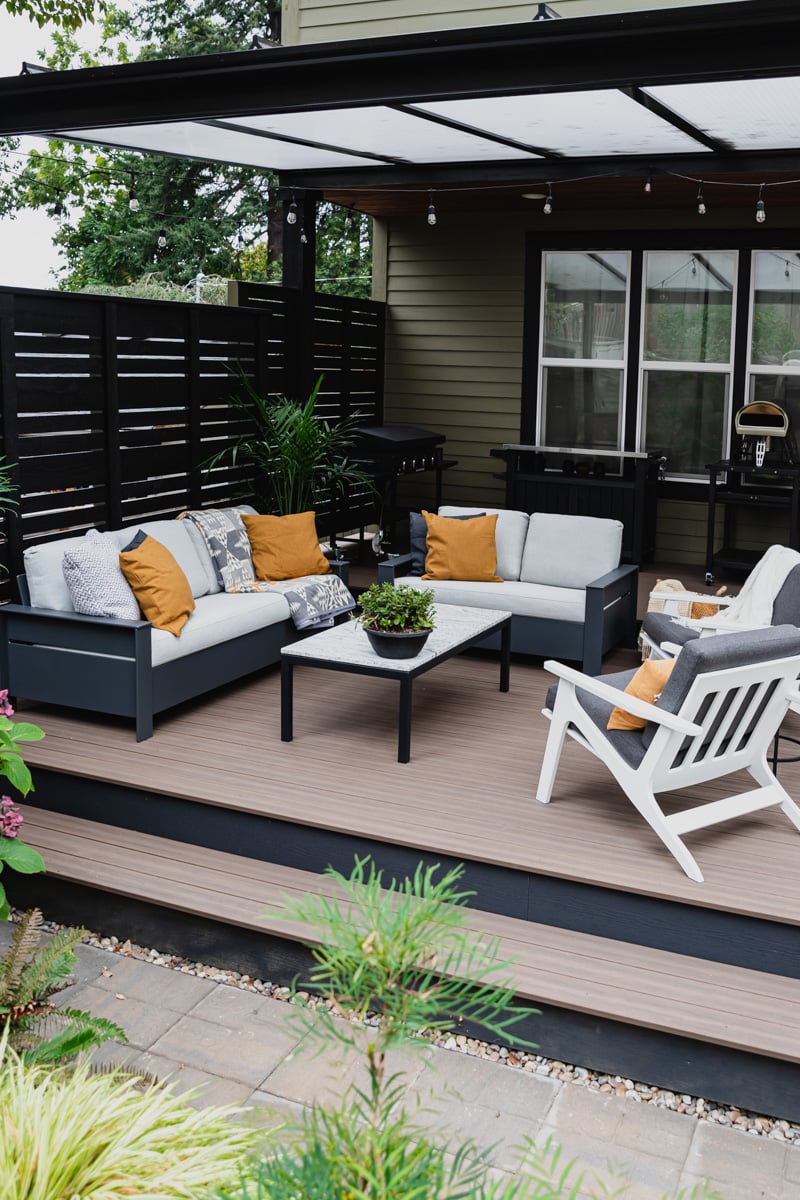 When setting up an outdoor entertaining space your hub should revolve around comfortable seating before anything else. Whether it be an outdoor dining table or cozy seating for a more casual feel, Room & Board has all the options to create the perfect space for your needs.
This is the second time closely working with a Room & Board Design Associate for a home project. Their free design services, including 3-D renderings and Augmented Reality Design are available for in-person appointments at one of their 21 stores throughout the US. They also offer virtual and phone appointments if you don't have a location nearby. All appointments are scheduled time slots so you have access and help at the time you need around your schedule.
From quick tips to an entire room or home makeover, Room & Board design experts will help bring your vision to life. Get personalized help with:
Furniture selection
Floor planning, including 3D renderings and Augmented Reality Design
Guided shopping
Color, paint and material options
Home decor ideas
Outdoor furniture selection and space planning
Personalized Service
Every outdoor space has different needs and functionality. I knew that the space we had needed to be multi-functional. First and foremost it is our outdoor hub and casual entertaining space, but also needs to be used for easy and casual dining. Working with a design associate helped me to define the space, find the most functional furniture and determine the best layout for the space.
I worked with Michael at my local Room & Board in downtown Portland, OR. Together we looked at the space to find the best set up that would give a casual entertaining space but also double as a spot for easy dinner parties. My space was not big enough to include both a large, formal dining space as well as a casual seating area. After sending Michael photos and dimensions of our deck area, we met to discuss furniture choices and layout.
These initial renderings share a glimpse into what would be the final layout of our space. Functional, durable and beautiful furniture that is comfortable, seats our entire family plus guests. Michael and I viewed various colors for both the fabric and HDPE frames. Ultimately we landed on keeping things within a very neutral and classic palette. Adding color with layers and décor once the space was completed. The chosen pieces are both durable, casual and comfortable with ample space for our family and guests.
The attention to detail when planning with Michael was wonderful, not only was I able to visualize the space with the 3D renderings but they also offer augmented reality design which helps to place furniture directly in place for a full immersive feeling.
The Furniture
Rayo Sofas
When thinking about seating for our space, we knew we needed some larger couches to accommodate our family of five. The footprint also needed to be on the smaller side to accommodate the space. Michael helped me narrow down a larger 75" sofa and smaller 53" sofa - The Rayo Sofas. The frames are made with a HDPE (high-density polyethylene) which is extremely durable and easy to maintain. We chose a dark grey frame to compliment the dark tones and wood on the deck. To contrast, we chose mist grey fabric which is a lovely woven fabric. All the covers are machine washable making them so favorable for outdoor use.
The Rayo modern outdoor sofa is a circular product because its materials can be recycled over and over again; Rayo's high-density polyethylene is blended with recycled plastic to form a sustainable and extremely durable outdoor sofa. The clean design has arms wide enough for drinks or a guest to perch, and the cushion covers are machine-washable.

Room & Board
Breeze Chair
I love the idea of stand alone chairs to accent a space. We chose the Breeze Chair to compliment the larger sofas. For the chairs we chose a contrasting white HDPE frame and mist charcoal fabric. After our consultation and revisiting the space, I decided to add an additional chair to the grouping. It gave us one more seat for a total seating space for at least 7 and balanced the furniture grouping.
Our Breeze modern outdoor lounge chair has an easygoing mid-century style. It's made partially from recycled plastic and it's a circular product, meaning its materials can be recycled over and over again. In fact, the plastic is so durable you can leave it outdoors year-round. Plus, the comfortable cushions have removable covers for easy cleaning.

Room & Board
Parsons Outdoor Coffee Table
A natural addition to our seating was a large coffee table that would connect all the pieces together. We chose the Parsons Outdoor Coffee Table with Wiscont White Granite top. The black, white and grey top compliments the fabric and frames of the furniture. This table is the central point of the space adding structure, dimension and functionality for casual dining. Parsons Outdoor Coffee Tables come in a variety of sizes and customizable tops as well as a dining table!
Timelessly modern, our Parsons outdoor coffee table is highly customizable. Find your ideal size, then choose your favorite top and base materials. Each steel base is hand welded in Wisconsin by skilled artisans.

Room & Board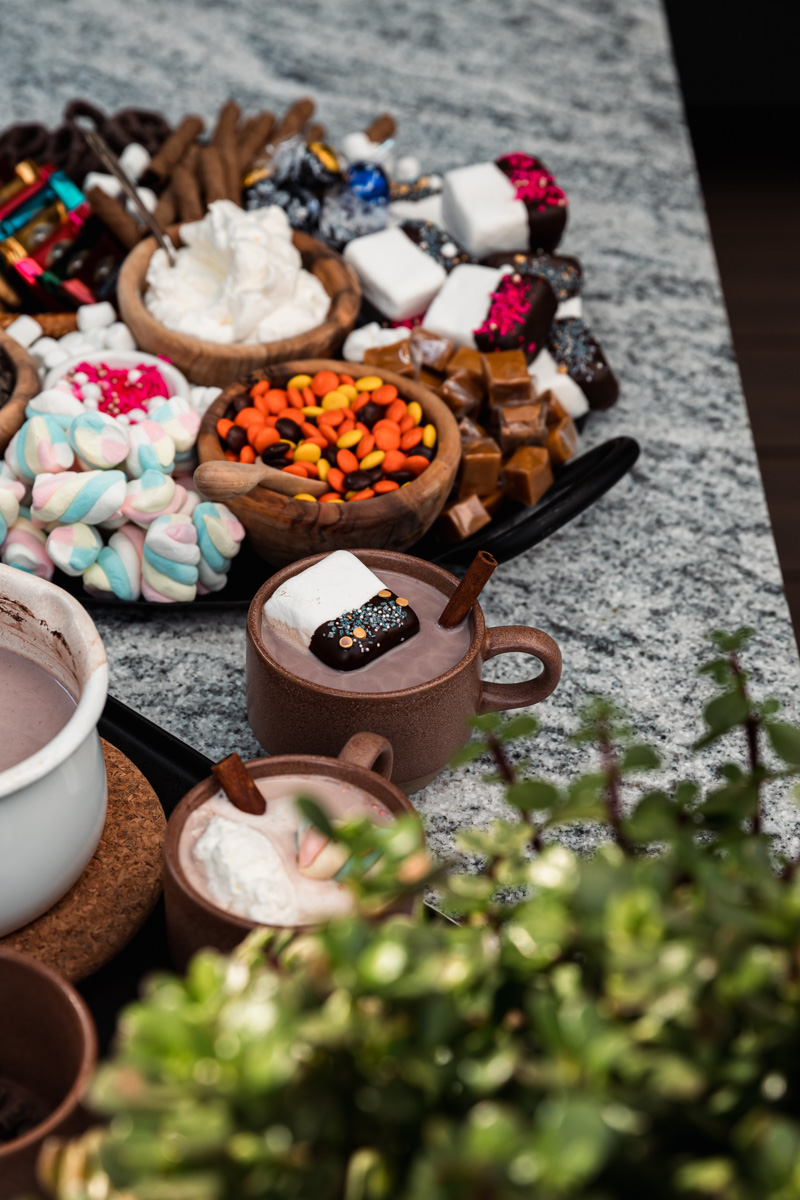 Slim Outdoor Round Side Table
Finally, a small side table to allow for extra surface area for drinks and small snacks. We added the Slim Outdoor Round Side Table in graphite. Perfect match to the graphite table legs and contrasting greys in the furniture.
A classic Room & Board design updated for outdoor performance, the Slim outdoor round side table offers durability and function in a light and airy silhouette. Crafted from recycled aluminum, this table features a powder-coated finish that's easy to clean. Slim's compact size makes it a breeze to move to wherever the day's outdoor fun takes you.

Room & Board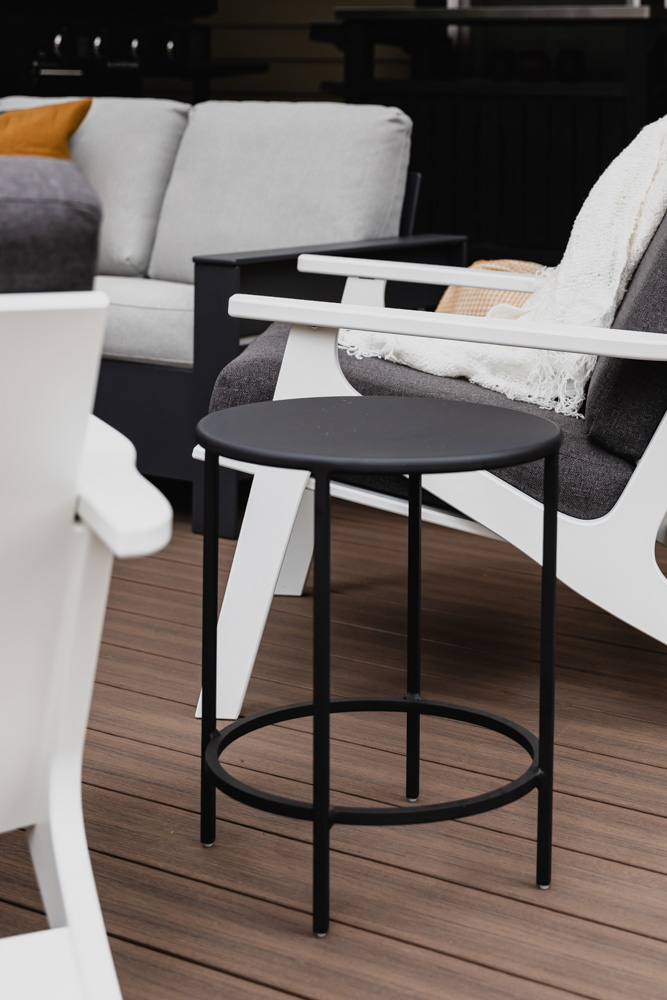 Keeping Cozy and Warm
When entertaining in the fall and winter months for those areas that have a temperate climate, adding some cozy blankets is so important but also a wonderful design element. Whenever guests arrive to our backyard entertaining space, I immediately hand out cozy and warm blankets. I have included a locally made Pendleton Wool Blanket and a few other simple throws to compliment the grey and yellow colors.
Keep blankets in a woven basket for easy access and another layer of texture to your outdoor space.
Cooking Tools
When entertaining guests, you want to keep the food and ability to prepare food simple and accessible. Grilling is a wonderful option if available to you - this allows you to spend time with your guests while they relax on comfortable seating and you cook outside in their vicinity.
An outdoor pizza oven is another fun way to get guests involved in cooking alongside of you while keeping your entertaining style simple and unfussy. Not to mention, pizza is finger food and is great for casual seating arrangements.
Beverages
Even more than eating, our guests tend to come by for a casual happy hour cocktail or if my kiddos are entertaining friends - this simple hot chocolate spread is perfect. Having a variety of drinks on hand either in a small cooler or mini fridge at your disposable is crucial to easy outdoor entertaining. This makes everything fully accessible to you and your guests right at their fingertips.
Décor
Even outdoor entertaining spaces need a little décor to make the outdoors feel like the indoors. Adding some greenery with plants adds such a nice vibe and feeling. Picking plants that can withstand temperatures is key or bring them in during the colder seasons. Candles and moody string lights are also a great touch and provide much needed light when the sun begins to set.
Watch me Style
Keeping Warm
Cozy blankets are perfect all year round in the Pacific Northwest! A propane powered heater is a simple, no fuss way to keep guests warm. You can also add a small firepit depending on your space for warmth and ambiance - we love our Solo stove for warmth but contained fires. So many great options to keep the space warm while entertaining outside in cooler months.
American Craft
Furniture from Room & Board is simply beautiful - whether you're shopping for indoor our outdoor furniture finding classic yet modern pieces to compliment any home. Their free design service is incredible: in person, online or over the phone - I highly recommend it before choosing your final pieces.
Not only are your design associates locally US based but 90% of Room & Board products are crafted in the US from the highest quality domestic and imported materials. Find out more about some of the Craftspeople involved in helping make Room & Board special.
Loll Designs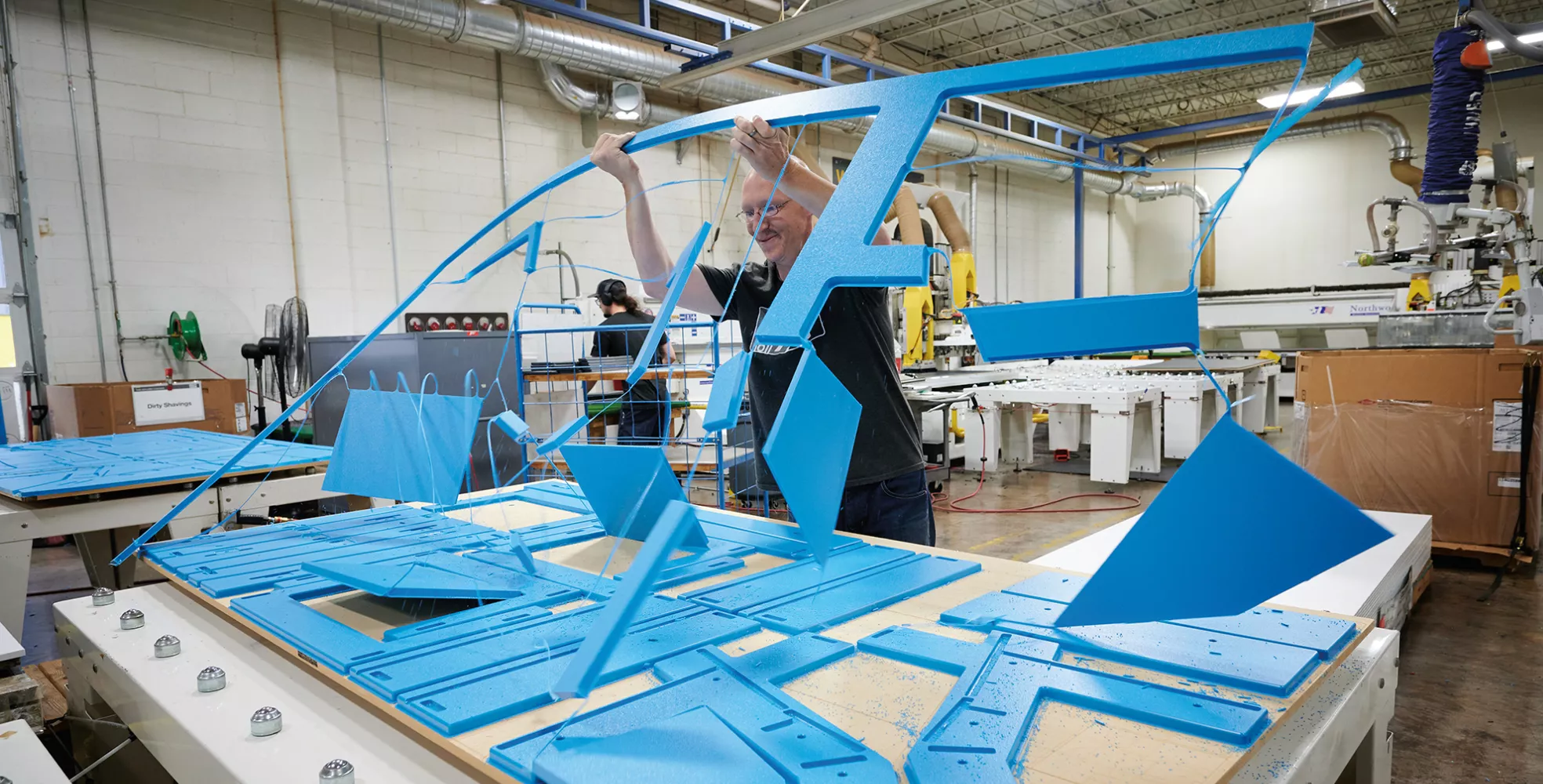 The Rayo furniture collection is created by Loll Designs, based in Duluth, MN, their focus is creating sustainable outdoor furniture that withstands any climate. With a wonderful history and partnership with Room & Board since 2007 - you're sure to get the most incredible outdoor furniture that is made to last. Read more more about Loll Designs on the Room & Board page:
Loll Designs is a leader in eco-friendly outdoor furniture. The company was founded by skateboard park designers who crafted ramps out of recycled high-density polyethylene (HDPE) for its durability and weather-resistance. Rather than letting scraps of HDPE sheeting go to waste, the crew wanted to reuse it and came to a simple realization: what makes sense for skate parks makes sense for outdoor furniture. To this day, all Loll furniture is crafted from high-density polyethylene (HDPE) made partially from recycled plastics like milk jugs and shampoo bottles.

Room & Board
If you have been here a while, you know that entertaining and sharing food with friends and family is high on my importance list. The last few years have proved to be quite a challenge but creating an outdoor space that we can use year-round has been so wonderful. Thinking about long-lasting, sustainable and classic pieces - Room & Board is the only company I would trust.
Knowing Room & Board has a strong desire to create furniture to last with American craft is enough for me. Not only do you have expert design associates at your fingertips, but over 90% of Room & Board products are crafted in the U.S! Supporting families working directly here in the US gives me a sense of pride, not to mention Room & Board stands 100% behind their products and service.
If you are looking to revamp your outdoor space, consider making an appointment with a Design Associate at Room & Board, you will love every step of the process and come out with beautiful, sustainable pieces that will last a lifetime. As always, I appreciate your support - if you work with Room & Board, definitely leave a comment below!
xoxo,
Cosette
Product Links
Please note that I only work with companies and products that I feel passionately about and that align with Cosette's Kitchen views and that this post contains sponsored content for Room & Board. While I am compensated for the work I do, my opinions are always 100% my own.
Other Posts You Might Like