If you make one thing this spring - make it this divine tart. Sweet caramelized onions are matched with tangy herbed goat cheese, parmesan cheese and finally topped with a stunning display of sliced leeks. This Caramelized Onion + Leek Savory Tart with Herbed + Parmesan Cheese will have you begging for more.
We can call this a tart or a savory galette - whatever you want! But truly it's simple ingredients that come together rather quickly (after caramelizing your onions which you can do ahead of time). Pickup your favorite store bought pie crust to really speed things along. I was first inspired when I saw the Triple Threat Onion Galette recipe from Bon Appetit, it was appealing for sure - so this is my take on a similar recipe. My version includes more cheesy goodness, leeks and a bit of herbiness!
This tart is VERY rich thanks to the delicately sweet caramelized onions, herbed goat cheese and lots of butter!!! Flaky, sweet, tangy, CRISPY and perfect for a brunch paired with a lemony salad. If I were looking for a Mother's Day brunch dish - this could 100% be it!
Jump to:
Ingredients
As with most recipes I share, there is ABSOLUTELY room for adjustments, I'll make some suggestions below. But this is the lineup of what I used.
Pie Crust - I love making a homemade crust and adding some herbs, this time I added fresh oregano - but your favorite store bought crust would be PERFECT as well!
Onions - The star of our dish, I used traditional yellow onions but you could certainly use a sweet onion if you choose.
Garlic - We are using quite a bit of garlic but it will melt down into almost a confit taste and texture - yielding yet more sweetness.
Butter - Butter is just so dang good, don't you think? Using it to caramelize all the goodies! I've also used in my pie crust.
Herbed Goat Cheese - I know many aren't fans of goat cheese, I have PLENTY of delicious substitutes below. For me, the goat cheese + caramelized onions are a match made in heaven!
Parmesan Cheese - Parmesan cheese is nice and salty and adds an added layer to the tart, we also sprinkle some on our crust!
Leeks - If you haven't used leeks before, they are a type of onion - a more mild onion, similar to scallions. I love their heartiness and when we slice them thinly - they create this beautiful pattern.
Scallions - Alternating our leeks with scallions as well.
Fresh Oregano (optional)
Salt + Pepper + Olive Oil
See recipe card for quantities.
Instructions
Add your sliced onions and butter to a large skillet and begin to heat on high. This will allow the onions to quickly break down and brown. After about 8 minutes. Cover and reduce to medium heat to continue to cook.
After about 5 minutes, add your whole garlic and cover to continue to cook on medium heat. Add salt and cover again. Continue cooking onions for 35-40 minutes total time, reducing heat to medium-low toward the end. Every 5-8 minutes stir the onions then cover again.
After about 35-40 minutes, your onions should be golden brown and caramelized.
While your onions are cooking, prepare your pie dough according to package instructions or recipe linked below. Roll into a 13" diameter circle - it doesn't have to be perfect, a rough circle is all we need. I've added fresh oregano into my dough, rosemary would also be lovely. Place on parchment lined sheet pan and then place in freezer until ready to assemble. This allows the butter to stay cold giving you that ultra flaky crust!
Once your onions are done and cooling - remove your rolled pie crust from the freezer and spread your softened goat cheese. Leaving a border around your dough.
Next, add a layer of freshly grated parmesan cheese on top of your goat cheese.
Add your cooled caramelized onions then sprinkle with black pepper.
Add your sliced leeks and scallions to the top, alternating directions.
Fold over your border to tuck everything in. Brush the edges with a bit of an egg wash and grate a bit of extra parmesan cheese on the crust. Drizzle olive oil on the leeks and scallions and bake in preheated oven.
Remove when golden brown and allow to cool slightly then enjoy!
Substitutions + Variations
Savory recipes are easy to adjust and adapt to your specific needs. Here are a few swaps:
Gluten Free - Find your favorite gluten free pie crust or make your own using a 1:1 blend.
Butter - You can certainly swap the butter for olive oil in the recipe, I simply love the butter flavor and the way it coats the onions.
Goat Cheese - If you aren't a fan of goat cheese, try using Boursin or even an herbed cream cheese for a more subtle flavor. Really any soft and herby cheese you like would work great.
Parmesan Cheese - Again, you can swap out the parmesan with manchego, romano or any hard cheese. I would steer away from bottle pre-grated parmesan cheese, you want to grate your own fresh goodness!
Equipment
Very simple recipe that doesn't require a whole lot, if you bake often you probably have most of these items but here is a quick rundown of my favorites:
Parchment Sheets - I probably should just get paid to sell these, don't you think? The greatest thing for half sheet pans that ever did exist! No more rolls, just simple sheets that lay flat and make my life and cleanup so much easier. Also when baking, the sheets help to create a great crust and bake evenly.
Microplane - Another must-have tool in my kitchen, this is perfect for zesting lemons, limes and parmesan cheese.
The Right Pan - When carmelizing onions I like to use one of these three types of pans: carbon steel, cast iron or stainless steel. I don't feel you get good caramelization with a non-stick pan, but it would still work if that's all you have.
Half Sheet Pan - A go-to cooking tool for pretty much everything from cookies, potatoes to this tart!
Rolling Pin - You can certainly use a wine bottle if you don't have one but it's a good item to keep on hand!
Food Processor - If you are planning on making your own pie crust, I recommend a food processor - this is my go-to one that I love more than anything! It is also my TOUM machine!
Storage + Freezing
This of course is best enjoyed once baked but you can certainly store in the fridge for 3-5 days. Reheat by placing in the oven at 400 and allow to recrisp, you can also pop into your airfryer.
This is the PERFECT make ahead tart. You can actually assemble the entire thing, pop into the freezer and bake the next day or next week.
Freeze flat on a half sheet pan lined with parchment.
Once fully frozen, wrap well with plastic wrap and then foil.
When ready to bake, remove from packaging, place on parchment lined sheet pan and bake as directed - no defrosting necessary!
Store in freezer for upto 3 months.
Top tip
Personally, I love making this ahead and freezing - this allows the pie crust to get very flaky. That time in the freezer allows the gluten to relax, the butter to freeze which creates a very flakey crust.
FAQ
Is there a way to cook the onions faster?
There are many, many ways to caramelize onions. Some people will do in the oven or even Instant Pot. This is the most straightforward, classic way to do this process. It takes about 45 minutes but so rewarding when done. It's "mostly" hands off except for the occasional stirring but you can be prepping the other things while they cook.
Do I need to use a specific type of onion to caramelize?
Nope, I'm using traditional yellow onions - but a sweet onion would be fabulous or a white onion. I don't see many people use red onions to caramelize.
Can I cook the onions ahead of time?
Absolutely! You can caramelize the onions ahead of time and store them in the fridge. They're good for 5-7 days in the fridge. If you have time, make them ahead then assembly is even quicker.
Do I need to add sugar or baking soda to my onions?
I have found that simply using butter + salt is all your need. I don't think the onions need additional sugar and baking soda tends to give them a slightly off-putting taste in my opinion. Just slow and low and you'll be great!
How do I caramelize onions?
Follow the steps to caramelize your onions - but truly it's about time, temperature and movement in your pan. Cooking down your onions until soft tender and they release their sweetness.
I can't find leeks, can I use something else?
You can substitute all scallions if you can't find leeks or don't want to use them.
---
I hope you enjoy this Caramelized Onion + Leek Savory Tart with Herbed Goat + Parmesan Cheese as much my family does - feel free to adjust and make your own!
If you make Caramelized Onion + Leek Savory Tart with Herbed Goat + Parmesan Cheese, please let me know by leaving a rating and review below!
As always, I love seeing your creations. Please leave a review or share your dish with me on social media #cosetteskitchen which lets me know what is working for you! You can find me on Facebook, Instagram, Twitter , Tiktok and Pinterest. For more delicious recipes to your inbox, sign up for my newsletter!
xoxo,
Cosette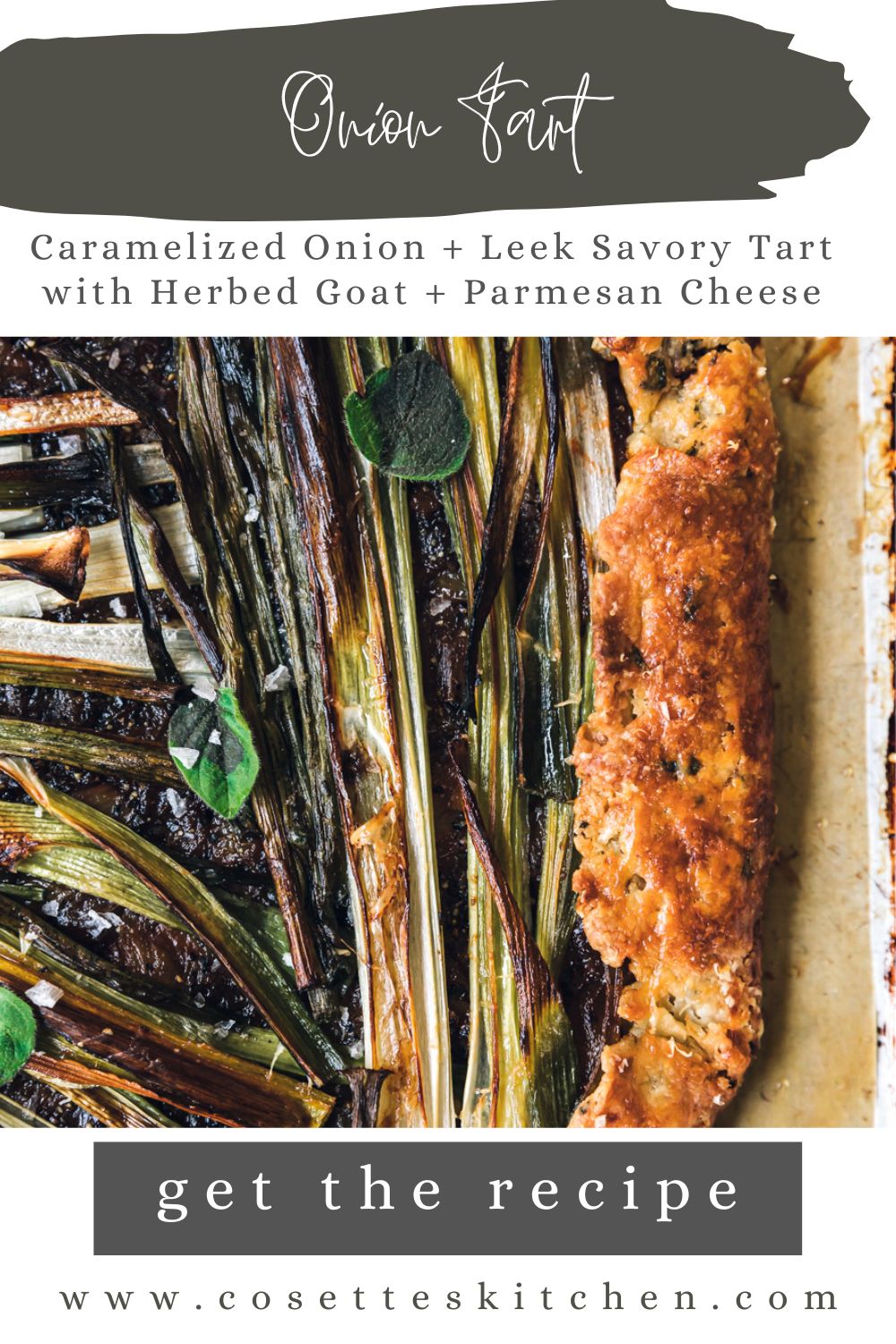 Print
Caramelized Onion + Leek Savory Tart with Herbed + Parmesan Cheese
Author:

Cosette's Kitchen

Prep Time:

45 minutes

Cook Time:

35 minutes

Total Time:

1 hour 20 minutes

Yield:

1

tart

1

x

Category:

Savory Tart

Method:

Baking

Cuisine:

French
---
Description
This savory onion tart is filled with caramelized onions, tangy goat cheese, parmesan cheese and topped with springy leeks. Inspired by Triple Threat Onion Galette recipe from Bon Appetit. 
---
1

prepared pie dough crust, my favorite recipe is by Marie Saba if you are looking to make it homemade. Otherwise, choose your favorite store brand.
A few sprigs of fresh oregano, you can also sub fresh rosemary

3

-

4

large onions, about

1.5

lbs sliced

4 Tablespoons

unsalted butter - 56 grams

15

cloves of peeled garlic, keep whole

1 teaspoon

kosher salt*

2

-

2.5

ounces

of herbed goat cheese, softened at room temperature

½

ounces

of freshly grated parmesan cheese - about 15 grams + extra for crust
fresh ground pepper

1

leek, cut into thin strips and cleaned well

6

-

8

scallions

1

egg, lightly beaten for egg wash
---
Instructions
Begin by preparing your pie crust - if you are making your own, I like to add some fresh oregano (or rosemary) when preparing. Once your dough is ready to use, roll out into a 13" diameter and place on a parchment lined half sheet pan. Place this into the freezer while you prepare the rest of your ingredients. 

1 prepared pie dough crust, my favorite recipe is by Marie Saba if you are looking to make it homemade. Otherwise, choose your favorite store brand.
A few sprigs of fresh oregano, you can also sub fresh rosemary

Slice 3-4 large onions, about 1.5 pounds. Onions just need to be on the thinner side, but nothing too fancy. Place sliced onions and 4 Tablespoons of butter into a 12-13" skillet on high heat. Allow the butter to melt and the onions begin to sweat, stirring every so often. This high heat allows the onions to begin to break down and slowly shrink. Continue on high heat for about 8 minutes.

3-4 large onions, about 1.5 lbs sliced 
4 Tablespoons unsalted butter - 56 grams

After about 8 minutes of high heat, reduce to medium and cover your skillet. Covering allows more heat and steam to build up speeding the caramelization process up. Cover for 5 minutes then add your whole cloves of garlic and 1 teaspoon of kosher salt. Cover again.

15 cloves of peeled garlic, keep whole
1 teaspoon kosher salt*

Reduce heat to medium-low and continue cooking onions for another 25-30 minutes, lifting lid and stirring every 5 minutes to ensure even cooking and deglazing of your pan. Allow the steam from the lid to drip into the pan to help deglaze.
Once caramelized, set aside to slightly cool. Preheat oven to 425 degrees while you wait and begin assembling.
Remove your pie disc from the freezer and spread your herbed goat cheese into a thin layer, leaving an inch border around your disc.

2-2.5 ounces of herbed goat cheese, softened at room temperature

Next grate your parmesan cheese into a thin layer on top of your herbed goat cheese - about ½ an ounce but feel free to measure with your heart!

½ ounce of freshly grated parmesan cheese - about 15 grams

Place your cooled caramelized onions next then sprinkle some black pepper.
Prepare your leek, leeks carry a lot of dirt - trim the end then cut in half, then each half in half again so you have quarters. You want some thinner strips - then wash to make sure dirt is removed and dry. Trim your scallion ends and cut into thirds.

1 leek, cut into thin strips and cleaned well
6-8 scallions

Lay your leek and scallions in various directions on top of your caramelized onions to create a pattern.
Fold your edge over the leeks and scallions to create an edge for your tart.
Brush the crust with a beaten egg and grate some additional parmesan. 
Finally, drizzle the top of your leeks and scallions with a bit of olive oil. 
Place in preheated oven and bake for 30-35 minutes until golden brown. 
Allow to cool slightly, top with additional fresh oregano or rosemary, slice and enjoy!
---
Notes
The tart does not need much salt as the cheeses contain enough salt to carry the flavor. You can always taste your caramelized onions to make sure the flavor is where you want it.
As always, if you are using table salt - cut in half.
You can assemble your entire tart, freeze and bake from frozen - see storage and freezer section.
Keywords: french onion tart, best caramelized onion tart recipe, caramelized onion tart, onion and leek tart, savory galette, caramelized onion galette, caramelized onion and goat cheese tart,
You May Like These: