Simple ingredients and no cooking required to make this Shaved Brussel Sprout Salad. With tangy feta, bright mint and of course a lemon garlic dressing - you will wonder why you never tried it before!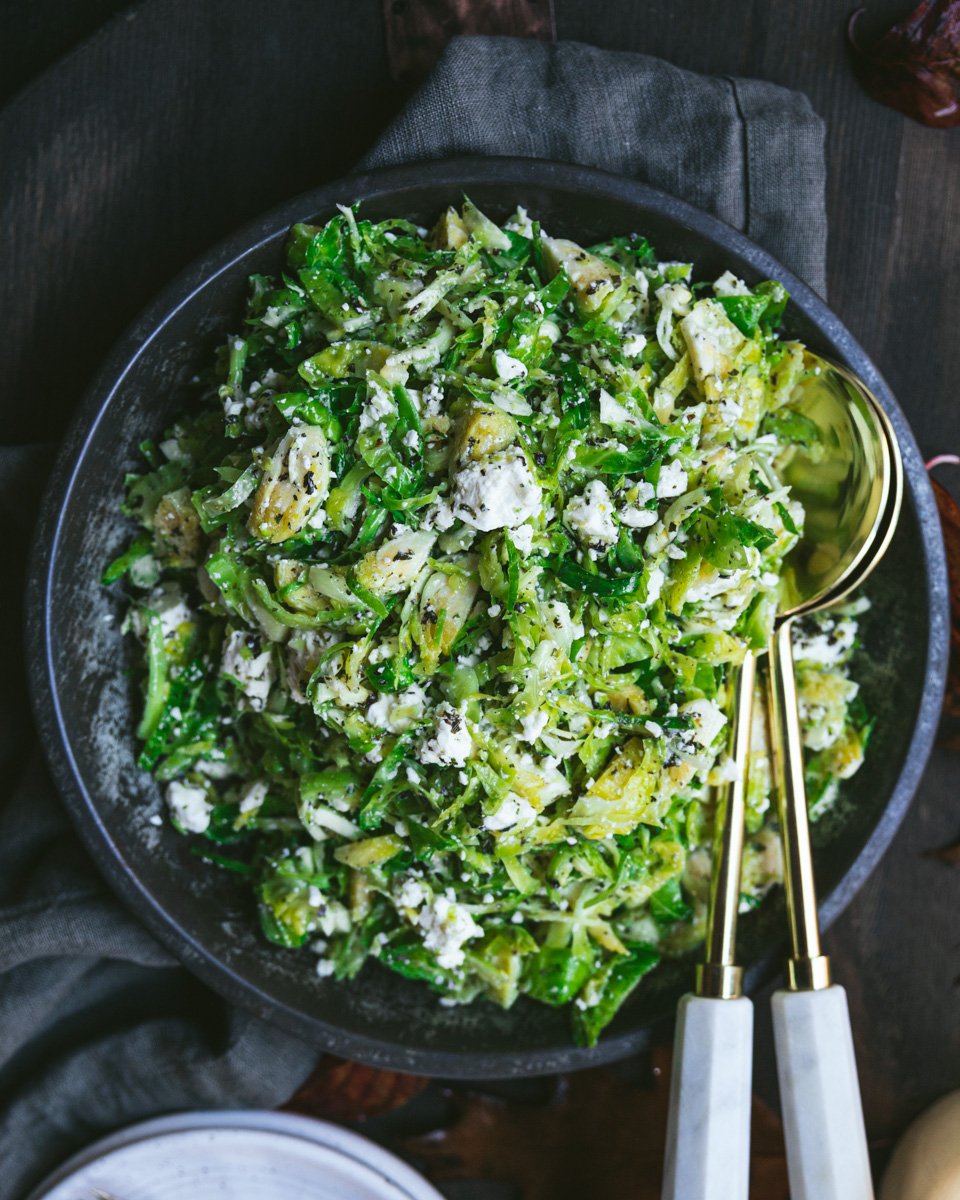 Brussel sprouts get a bad wrap - but I can't blame some of the haters. I have a very FIRM rule about brussel sprouts, they must be raw or super crispy, anything in-between and I'm leaving them on the table.
Brussel sprouts are a very common dish around the holidays, including Thanksgiving. I never grew up eating them, cooked, raw or any other way truth be told. BUT, we do eat a ton of cabbage. Brussels are NOT actually mini cabbages but they are in the same family. So I thought, let's treat this fun seasonal veggie similar to how I would enjoy cabbage.
Jump to:
Ingredients
Our household is rarely ever without garlic, lemon and feta - true staples! This shaved brussel sprout salad is easy enough to enjoy on a weeknight but also creates a lovely acidic balance to a rich meal.
Brussel Sprouts - our star ingredient, you can buy them on the stalk if you'd like or already off and bagged. Either way is just fine, they'll need to be trimmed and shredded.
Garlic - if you are not a stranger to toum, go ahead and use it! Otherwise a few cloves of fresh garlic will do the trick.
Dried Mint - a lot of folks will want to use fresh mint, I promise you that using dried mint is the way to go. It embarks a much stronger flavor and really helps to balance the salad. If you don't have dried mint, you can certainly use fresh and add a little more.
Dried Parsley - I love have dried parsley on hand but you can also use a bit of fresh if you'd prefer. It's a nice addition to the salad.
Feta - Feta cheese really gives the salad a nice zing and who doesn't love feta?
Lemon, olive oil, salt
See recipe card for quantities.
Instructions
This simple salad comes together in no time. Save time by shredding your brussel sprouts ahead of time. You can also purchase pre-shredded brussel sprouts in many markets.
Trim ends of your brussel sprouts and remove a few of the outer leaves that may appear wilted or soft.
Using a sharp knife or mandoline cut your brussel sprouts thinly, you want them shaved. You can also use a food processor with shredding attachment.
In a large bowl smash your garlic cloves with a mortar or use a microplane to finely crush garlic.
Add your olive oil, dried mint, dried parsley, olive oil, lemon zest & juice, and salt. Whisk together.
Add your shredded brussel sprouts to a large bowl.
Add your shredded brussel sprouts and feta cheese and toss together until fully coated. Adjust salt and lemon as needed. Serve immediately.
Variations & Substitutions
Brussel Sprouts - This dish can easily be made with shaved cabbage if you can't find brussel sprouts or would like to use something larger in scale.
Feta - If you're looking to keep this vegan you can certainly skip the feta. Another great option if you are still using cheese would be halloumi.
Storage
This brussel sprout salad is best served the day it's made, it can handle a little bit of wait time unlike lettuce. I still love it the second day as well - a little softer but still pretty firm overall.
This salad should not be frozen.
FAQ about Brussel Sprouts
Can I use pre-shredded brussel sprouts?
Of course, anything that makes cooking easier for you is absolutely fine. Try and find the freshest bag. As brussel sprouts hit the air, they can begin to brown a little. You want the least of that possible.
Brussel sprout on a stalk?
Yes, fresh brussel sprouts come on a large stalk. You can usually find them in markets during the fall (Thanksgiving time especially). This is the freshest they come. If you can find those, it's a great option.
What about bagged brussel sprouts?
Yes, the last way you can typically find brussel sprouts is whole brussels bagged. If I can't find stalks, this is my preferred type to buy.
What do brussel sprouts taste like?
Eaten raw, they have a mild taste and really take on the flavor of what you pair it with. In the case of this salad - they really get a good dose of garlic and lemon. They do have a similar taste to cabbage, crisp and fresh.
---
I hope you enjoy this Shaved Brussel Sprout Salad with Feta and Mint as much my family does - feel free to adjust and make your own!
If you make Shaved Brussel Sprout Salad with Feta and Mint, please let me know by leaving a rating and review below!
As always, I love seeing your creations. Please leave a review or share your dish with me on social media #cosetteskitchen which lets me know what is working for you! You can find me on Facebook, Instagram, Twitter , Tiktok and Pinterest. For more delicious recipes to your inbox, sign up for my newsletter!
xoxo,
Cosette
Print
Shaved Brussel Sprout Salad with Feta and Mint
Author:

Cosette's Kitchen

Prep Time:

10 minutes

Total Time:

10 minutes

Category:

Salad

Method:

No Cook

Cuisine:

Lebanese
---
Description
This light and refreshing take on brussel sprouts will have you singing! Garlic, lemon, mint and feta make this salad so refreshing. 
---
2

pounds

brussel sprouts, trimmed and shredded

3

cloves garlic +

1 teaspoon

kosher salt

2 Tablespoons

dried mint

1 Tablespoon

dried parsley

1 teaspoon

kosher salt

⅓

cup

olive oil
Zest and juice of 2 large lemons

½

cup

(or more) of feta cheese, crumbled
---
Instructions
Begin by trimming your brussel sprouts, trim the ends and remove any soft or wilted leaves from the outer layer.
Using a sharp knife or mandolin, thinly slice your sprouts into shavings.

2 pounds brussel sprouts, trimmed and shredded

In a small bowl, crush your garlic with a bit of salt using a mortar. You can also use a garlic press or simply mince very fine.

3 cloves garlic + 1 teaspoon kosher salt

To your garlic add the remaining dressing ingredients and whisk well. 

2 Tablespoons dried mint
1 Tablespoon dried parsley
1 teaspoon kosher salt
⅓ cup olive oil
Zest and juice of 2 large lemons

Add your shaved brussel sprouts to a large bowl, feta cheese and your dressing. Mix until well combined. 

½ cup (or more) of feta cheese, crumbled

Enjoy!
---
Keywords: shaved brussel sprout salad, feta and mint with brussel sprouts, easy salad, lebanese cabbage salad
Looking for other recipes like this? Try these: