I like to think of Thanksgiving as the Superbowl for bloggers, home cooks and truly anyone that hosts this event! It's cooking, baking, planning, prepping for a HUGE feast! Even if you are simply cooking for your own family, it's nice to go all out and make it a special meal. I've broken down steps to make for a successful Thanksgiving beginning TODAY - a week before the big event! You can also download a PDF of this same post and keep nearby to help you plan out your time.
Jump to:
One Week Before
Make a Shopping List: If you haven't planned your menu yet - it's time! Go over your recipes, take inventory of what you have at home and supplement with ingredients you still need. Remember spices, herbs and any other main ingredients.
Clean: No one wants to be cleaning the day before a holiday. This is a great time to get all your house cleaning done. It's also a time to clear out your fridge and freezer. Use up any perishables, leftovers and perhaps cook with whatever you have on hand or stored in the freezer. Do this before you go shopping!
Grocery Trip #1: I like to break up my grocery shopping into 2 trips so I don't buy fresh herbs and perishables too far in advance. 1-2 weeks ahead is a great time to stock up on pantry staples: butter, flour, sugar, canned pumpkin, other specialty baking items including pie pans. Don't forget the wine and liquor! Take advantage of online shopping to save time.
Plan for Turkey: If you purchased a frozen turkey, allow ample time for it to thaw. Rule of thumb is: 1 day per 4-5 pounds of turkey. A 10 pound bird will take 2 days to defrost. Just be aware of timing and space in fridge and freezer.
Turkey Recipe or go an alternative route and make lamb this Thanksgiving!
Delegate: If you have anyone joining you for the holiday, delegate their responsibility so they have time to plan and gather ingredients. That will leave you with a clear picture of what you have left to do. Perhaps in charge of a dessert, bringing extra wine, bread/rolls or a side dish?
The Weekend Before
Serving Dishes: The weekend is a perfect time to finish cleaning and also begin matching your dishes with serving ware you have. If you can utilize your dining room or service buffet to lay everything out, even better. Pro tip: place a sticky note on each platter with the name of the dish that will fill it.
Check out my Amazon Store for some lovely serving platters!
Pie Dough: If you are making pies from scratch, it's a LIFESAVER to make your dough ahead of time. Make your dough and even shape and form into pie plates if you have freezer room.
Favorite pie recipes are all listed here!
Bread products: If you plan to make any rolls or scones, you can also prepare them over the weekend and pop into your freezer.
These scones are our favorite for Thanksgiving morning!
Monday
Grocery Trip #2: Time to buy the rest of your ingredients. If you can, make use of online grocery shopping and save time. Make final inventory and grab all you need to cook.
Defrost Turkey: If you haven't started, check on your turkey defrosting time.
Cranberry Sauce: You can make your cranberry sauce today and pop into fridge.
Tuesday
Dry Brine: If you are dry brining your turkey, today is the day to begin that process. It takes longer than a wet brine but takes less space.
Chopping Veggies: If any of your recipes require dicing vegetables: onions, celery, carrots, you can do that today and store in container in the fridge.
Prepare Stuffing: Making stuffing? You can prepare the entire stuffing casserole and store in fridge until ready to bake on Thursday. The extra time in the fridge allows flavors to meld together quite well.
Here is a great stuffing recipe from Proportional Plate.
Meats & Fillings: Prepare any fillings for savory dishes - savory pies, sausage for stuffing, etc.
Try your hand at making Fatayer this holiday season!
Wednesday
Pies: Prepare pie fillings and completely bake. Pies need time for the fillings to set. And hopefully you've already made your pie dough!
Potatoes: You can absolutely prepare some potatoes dishes ahead of time. Sweet potatoes casserole, make today and bake tomorrow. Potatoes au gratin can be prepared ahead and baked the day of. If making mashed potatoes or something with sliced potatoes, prepare potatoes and allow to soak in cold water with a splash of vinegar in the fridge overnight. This will ensure they don't turn brown/black. On Thanksgiving Day, drain and cook as intended.
Favorite potato dishes: Spicy Lebanese Potatoes, Bacon Smashed Potatoes, Twisted Mashed Potatoes
Wet Brine: Prepare your wet brine for your turkey if you are going that route. It needs 12-24 hours.
Set Table: Set the table.
Bar: Prepare the bar, chill drinks a cooler is great for this to save fridge space. Or if you live in a cold area, just pop outside!
Thanksgiving Day
Read your plan: Take time to read over your menu and timing for cooking whatever is left or when you will heat prepared foods.
Turkey: Cook your turkey according to weight and account for 20-30 minutes for it to rest once done. This will give you time to finish baking any items or heat up anything.
Finish Side Dishes: Finish final prep of side dishes while/before your turkey is cooking.
Clean as you go: Start the day with an empty dishwasher, load as you go and run when you need. Keep dishes washed and put away to help keep clutter down.
Cocktail: Grab a cocktail, pat yourself on the back and enjoy the day!!!!
Sample Menu
Here is a sample menu for your big day! Some traditional dishes and some that may be a little outside the box.
This is a simple skillet turkey recipe filled with an herby butter. Leaving it in the fridge uncovered allows for the crispiest skin!
If you are entertaining a smaller crowd, a roast chicken may be the way to go for you. This post has all the steps to roast the perfect chicken with crispy skin and herby skin.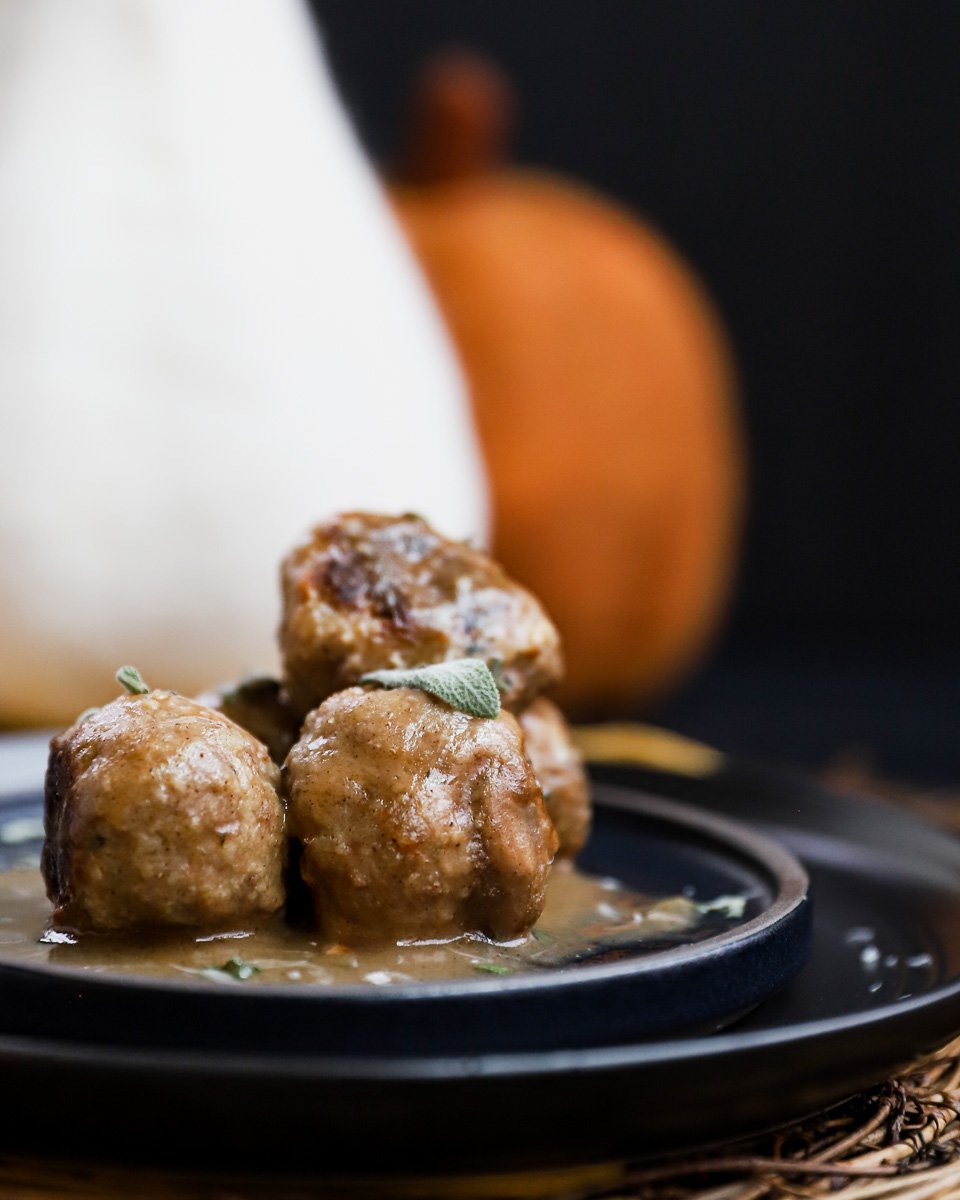 Many of us are still entertaining a small group this year. Perhaps try these Turkey Meatballs and Gravy? They have a subtle hint of warm spices and just so delicious! They would even work as an appetizer.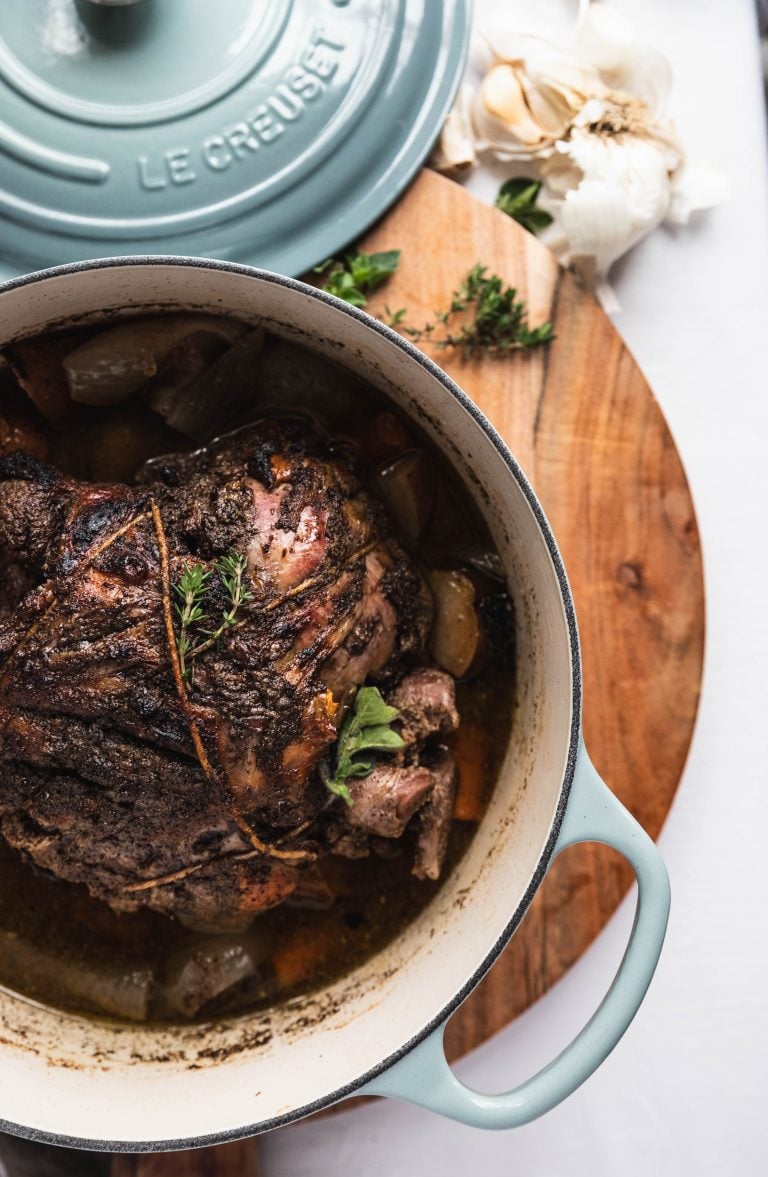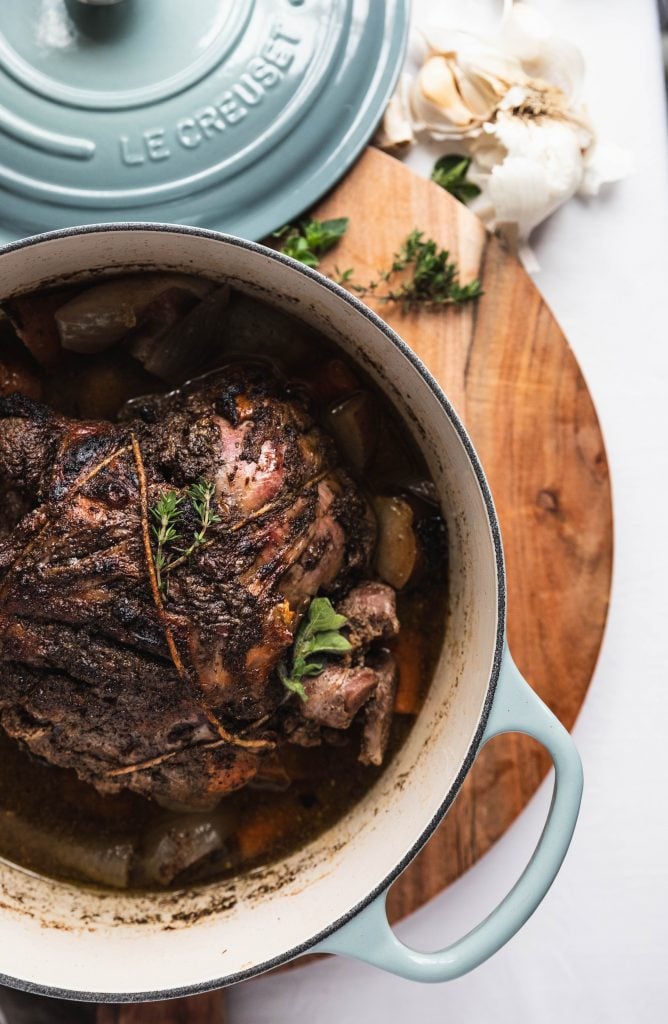 If you haven't tried this mushroom tart, YOU MUST! The flavors are unbelievable and truly make a wonderful side dish or appetizer.
My kids ask for these every year, Cranberry Orange Scones! The best part is you can make them ahead and pop into the freezer to bake the day of.
Bacon Smashed Potatoes, is there a better combination? So easy and something fun for kids to help with. These are one of our top potato dishes for he holiday!
I'm not one to usually push pumpkin on folks, but I promise these Pumpkin Cheesecake Bars are SOOOOOOO good that even non-pumpkin lovers (like me) enjoy them. I've simplified the recipe to bake in a 9x13 pan - no water bath, nothing fussy!
Nothing says Thanksgiving than an Apple Pie, my FAVORITE way to enjoy apple pie is with a crumb topping! Find this recipe + 4 other unique takes on pie that are sure to please!
I'm very excited for this holiday season! There are plenty more recipes to try on the website, just pop what you're looking for into the search bar on top and see what you find. If you're looking for an easy weeknight meal BEFORE the holiday - I got you! Here are some easy dishes that are sure to please your family!
SPINACH ARTICHOKE DIP PASTA WITH CHICKEN
MACARONI B'HALIB (MACARONI AND CHEESE)
COPYCAT TRADER JOE'S MEDITERRANEAN ORZO SALAD
I hope you enjoy this Thanksgiving Guide - be sure to download, print and share with friends!
As always, I love seeing your creations. Please leave a review or share your dish with me on social media #cosetteskitchen which lets me know what is working for you! You can find me on Facebook, Instagram, Twitter , Tiktok and Pinterest. For more delicious recipes to your inbox, sign up for my newsletter!
xoxo,
Cosette