Lebanese Rice
I can distinctly remember the smell of rice cooking on the stove when I was a kid. It's odd that something that is considered savory can have the sweetest aroma, kind of like a cake baking. That is definitely in part because of the way my mom and most Lebanese make rice. Simply put, it's a combination of rice, vermicelli noodles and the most important ingredient butter!
What Makes Lebanese Rice Different?
There are so many different varieties of rice, not to mention methods of cooking and ingredients to enhance. The way I was taught is simply the way I make rice for pretty much every meal - be it an Asian inspired meal, Spanish inspired meal or a traditional Lebanese meal - my rice is ALWAYS the same.
I think one of the biggest differences in Lebanese rice is the addition of cut vermicelli noodles - yes, while this doesn't make the dish gluten free, it definitely gives it so much flavor and enhances the rice in a way that's hard to explain - you must taste it! These vermicelli noodles are especially wonderful because they are toasted in butter - butter is melted while these noodles cook and brown, essentially creating browned butter crunchy noodles. When I was little, my mom used to make extra for us scoop them out and we'd spoon some sugar and enjoy as is - probably the BEST little treat ever.
As with many dishes my mom made growing up - butter is the star! Why is our rice so good? Most likely because of the butter, I know some folks don't care to use that much but it really does make a difference and makes this the ultimate comfort bowl of rice.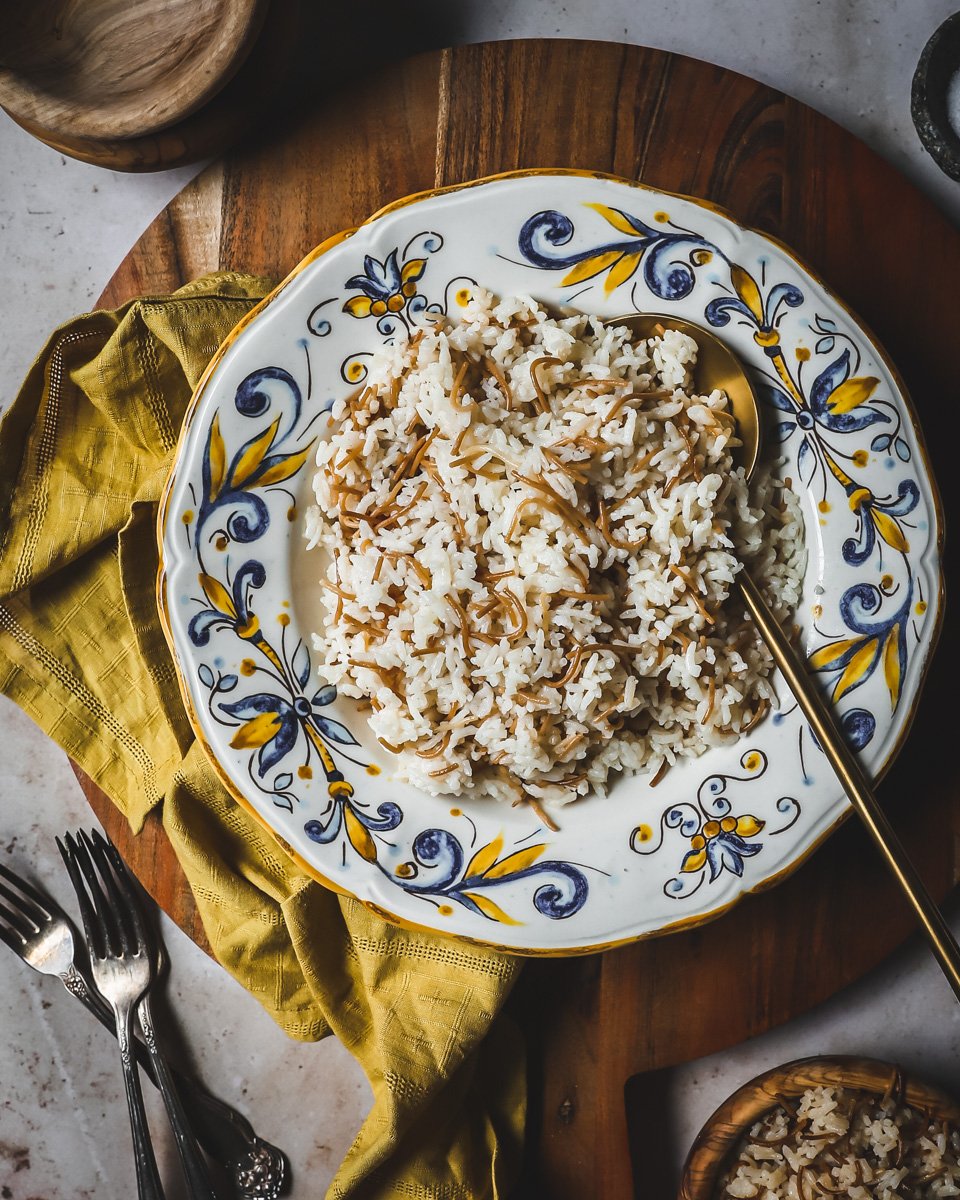 Types of Rice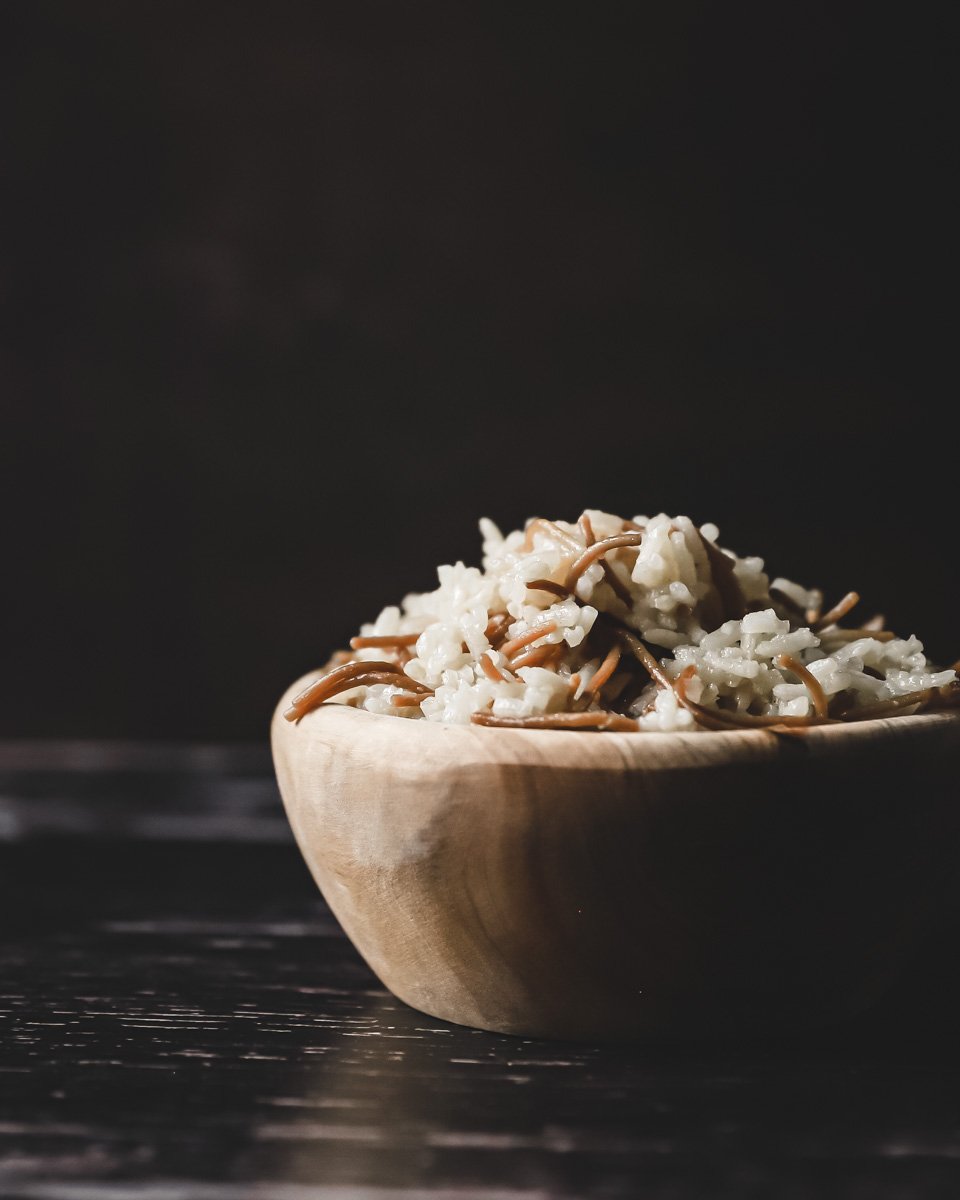 Rice comes in so many different cuts and varieties - basmati, jasmine, wild, black, Arborio, parboiled and more! When choosing a rice, choose one that is right for you and your favorite variety. That being said, there are different rice for different types of cooking. In our rice dish today, we'll be using a long grain Jasmine Rice. Jasmine rice is a type of long grain white rice, it's known for it's slight floral fragrance and nutty aroma. Jasmine rice primarily grows in Southeast Asia, particular Thailand. Jasmine rice is delicate, less glutinous which helps us to achieve the white fluffy rice we love. To find out more about the different varieties of rice, head to USA Rice. If you can't find Jasmine rice, I suggest using another long grain rice.
Ingredients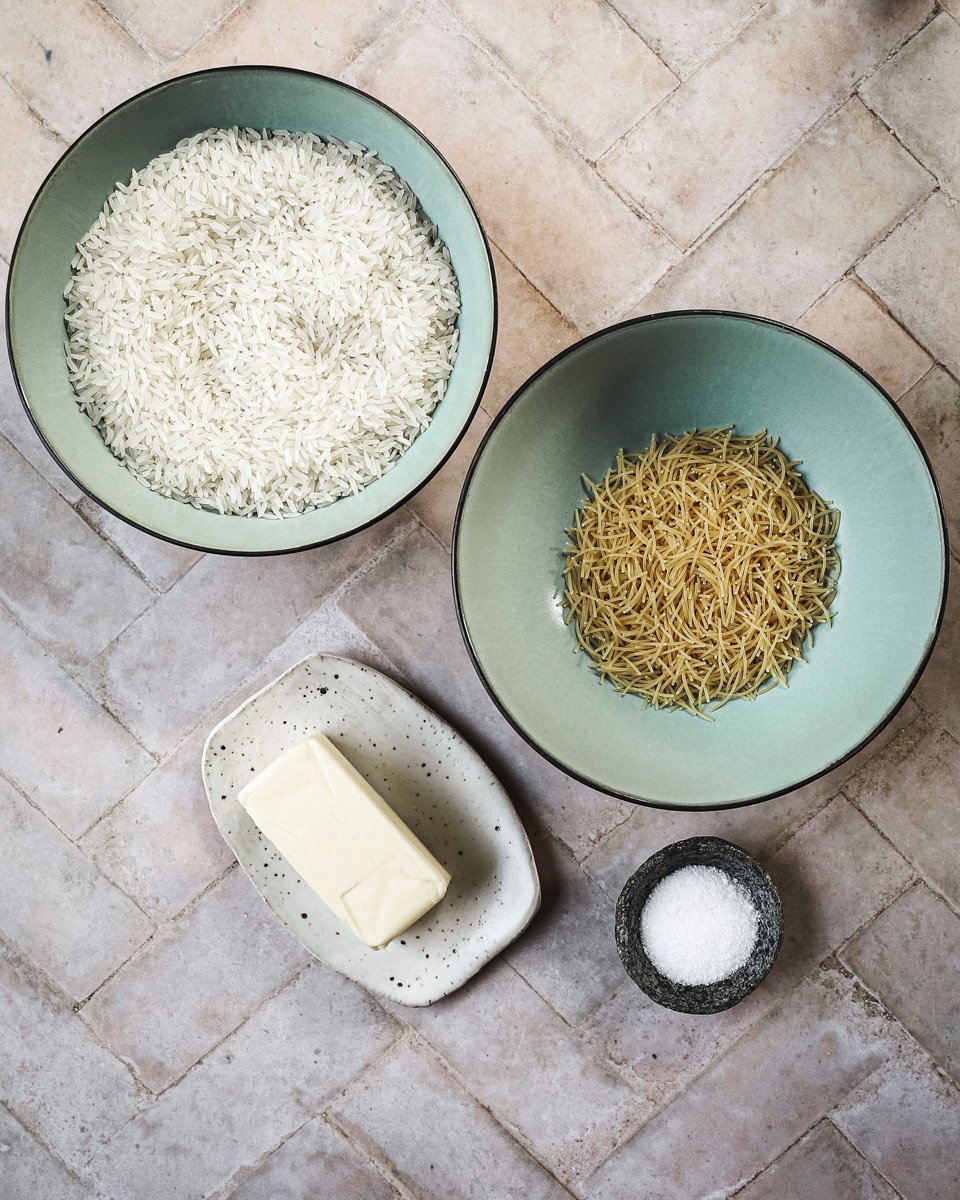 Simple dish, a simple lineup of ingredients:
Rice - There are so many varieties of rice, you can use your favorite - my go to is a long grain Jasmine rice or any long grain rice. I love the subtle floral notes and nutty flavor of the Jasmine rice in particular.

Cut Vermicelli Noodles - I buy little bags of the already cut vermicelli noodles from the Lebanese grocery store but most grocery stores will carry them as well, check in the Hispanic food section. If you don't have them, just break up some thin spaghetti noodles and it works the same way - I've done it MANY times!

Butter - Butter really does make everything better, doesn't it? Do you need to use butter - I highly recommend it. You can sub out some of the butter when cooking your noodles if you'd like to adjust a bit.

Salt - Salting our rice is another key piece, you can totally omit and/or adjust to your flavor or whatever you're cooking but buttered, salted rice is AMAZING!
How to Make Lebanese Rice
Stovetop Method
Before we begin cooking our rice, there are a few key elements to consider. Lebanese rice is not meant to be sticky or clump together - it's fluid from each granule of rice. It should look fluffy and light after cooking. The biggest reason we get these types of results is by rinsing our rice and the type of rice we use. Rice is filled with starch, removing a lot of that starch helps us to obtain a less sticky rice consistency. Here are a few steps to help you achieve that perfect rice:
Begin by measuring your rice, then fill your rice bowl with cold water to cover completely. Allow to sit for 20 minutes. You'll see the water turns a very cloudy white and you won't be able to see your rice.
After 20 minutes, drain your liquid using a fine mesh strainer. Fill your bowl again, this time without waiting, drain and continue this until your water runs clear. It usually takes about 9-10 times. I like to work the rice a bit with my hands as I fill the water. Once your rice water is clear, drain and set aside.
Pro tip: Allowing your rice to soak for about 20 minutes helps to soften and help it cook quicker and more evenly
I don't use a lot of teflon coated products, but for rice it is ESSENTIAL. This is my favorite little pot, I'll link it here - it's pretty inexpensive and really is my favorite rice vessel. I like the two handles vs one and the size is great, 3 quart - I usually make 2 cups of rice which is 4 cooked but it can easily be doubled with no problem in this pot.
In your rice pot, you're going to add in some of your butter (this is where you can sub olive oil if you prefer), allow it to melt on medium-high heat and then add your vermicelli cut noodles or your own cut noodles and allow them to begin browning. This part is crazy important - keep stirring and don't leave it alone! Burning the noodles can happen fast. I also like to keep stirring so I can see them, as your butter beings to melt, it is also browning creating little amazing brown butter bubbles. Stir and allow to brown - then immediately add your rinsed rice, additional butter and salt to the mix.
The step of toasting our rice is another key component to getting that perfect texture. What begins to happen is the rice granules begin to slowly cook and toast creating that amazing texture and flavor. Keep giving your rice a stir every few minutes and allow to cook for a good 10 minutes until you no longer see them clumping together. Once you achieve that - add your liquid, bring to a boil, then lower heat, cover and allow to finish cooking.
When I was a kid, my mom used to toast extra vermicelli noodles and give them to my siblings and me - we'd top them with some sugar and have an amuse-bouche before dinner.
I like to shut off the burner when the rice has finished cooking and allow it to stay covered for a bit longer then begin fluffing with a fork. Enjoy warm with your favorite dish!
This rice is really so easy, flavorful on its own and perfect accompanied with so many dishes. I've linked a few dishes below that pair well with rice, many have the rice recipe linked right in the post.
If you make Lebanese Rice, please let me know by leaving a rating and review below!
As always, I love seeing your creations. Please leave a review or share your dish with me on social media #cosetteskitchen which lets me know what is working for you! You can find me on Facebook, Instagram, Twitter , Tiktok and Pinterest. For more delicious recipes to your inbox, sign up for my newsletter!
xoxo,
Cosette
Other Dishes You May Enjoy:
Lebanese Spinach and Beef Stew
Fasolia - lamb stew with beans
Print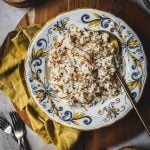 Lebanese Rice with Vermicelli
Author:

Cosette's Kitchen

Prep Time:

20 minutes

Cook Time:

30 minutes

Total Time:

50 minutes

Yield:

4 cups

cooked rice

1

x

Category:

Rice

Method:

Stovetop

Cuisine:

Lebanese
---
Description
Simple and flavorful rice made the Lebanese way.
---
2

cups

Jasmine rice, or other long grain rice -

400

grams

½

cup

vermicelli rice -

50

grams

6 tablespoons

butter, divided - salted or unsalted, your preference*

2 tablespoons

kosher salt* - use half the amount if using table salt

4

cups

water or broth - additional water for soaking rice
---
Instructions
In a large bowl place your rice fill with cold water to cover completely.
Allow rice to soak for about 20 minutes - it will be a cloudy white color. 
Drain water and add additional water, drain immediately and repeat about 10 times until water runs clear. Set aside.
In a non-stick 3 quart sized pot, or similar, melt 4 tablespoons butter (you can sub olive oil here if you'd prefer) on medium-high heat. Once melted, add your vermicelli noodles. Cook noodles until golden brown - making sure to stir constantly to ensure they don't burn. Continue for about 3-4 minutes.
Add your rinsed and drained rice to the pot along with the additional 2 tablespoons butter and salt. Continue cooking rice and noodles for about 10-15 minutes until rice granules are slightly toasted and no longer stick together.
Next, add your water or broth, turn to high heat and bring to a boil.
Once it comes to a boil, cover and reduce heat to low and set timer for 20 minutes.
After 20 minutes of cooking, remove from heat and allow to sit for 10 minutes.
Fluff with fork and serve warm.
---
Notes
You may sub chicken, vegetable or beef broth for water to add more flavor
You may sub olive oil to brown vermicelli noodles if you prefer
Store rice in sealed container in fridge for 5-7 days, heat as needed
You may use cut up spaghetti noodles in place of vermicelli noodles
Keywords: how to make rice on the stove, rice, lebanese rice, easy lebanese rice, lebanese rice dishes, lebanese rice recipe, lebanese rice bowl, Lebanese Rice with Vermicelli, middle eastern rice, rice pilaf