If you have never tried turkey meatballs, I hope this recipe makes you a believer and change that immediately!!! Truth be told, I do not enjoy a whole roasted turkey during the holidays, I usually opt for lamb but I do use ground turkey all year long and dare I say, I love it almost more than ground beef! Let this recipe make you a believer that ground turkey is AMAZING! Be sure to check out my Thanksgiving Prep Guide, you may want to add these to your menu!
Many of us are still celebrating with small gatherings this holiday season, these turkey meatballs and gravy have a bit of holiday flavor to them. Warm spices really make the house smell like Thanksgiving. But these meatballs come together quickly and can even be made ahead of time.
Turkey meatballs are a staple around here, we usually make this version that has more Lebanese flavors - I even make them into turkey burgers sometimes. Pair with this crunchy and fall forward Kale and Quinoa Salad.
Jump to:
Ingredients for Turkey Meatballs and Gravy
I love these meatballs because they really come together simply with a few staple ingredients. Here is a breakdown of what you'll need.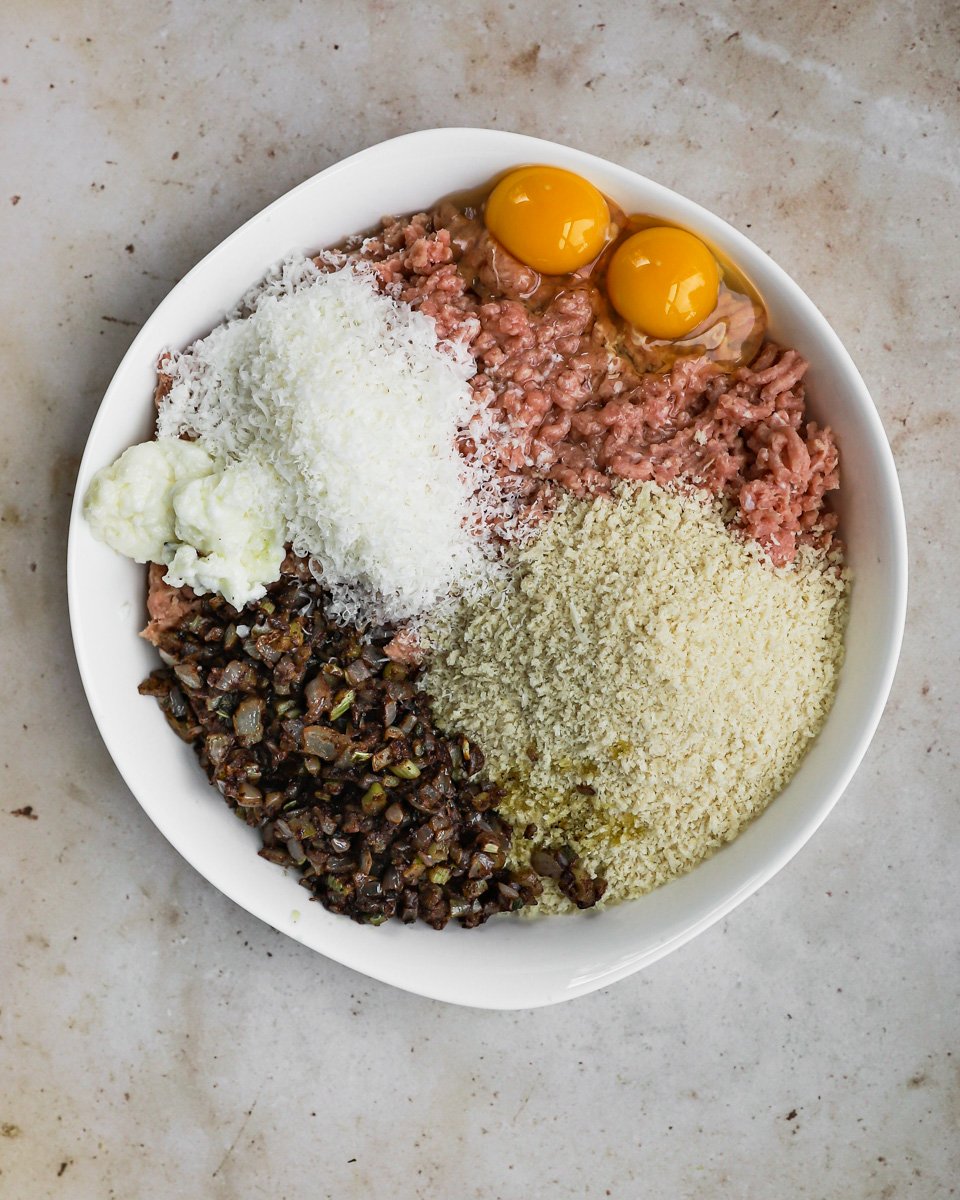 Ground Turkey- When choosing ground turkey, opt for a higher fat content. If you are using extremely lean, white meat ground turkey, you will not get the flavor and meatballs may be a bit dry. 93/7 or 85/15 is where you want to be vs 99/1 which is too lean.
Onion- As with most dishes, starting off with aromatics is a crucial part. One large onion is diced and sautéed with spices to create a warm flavor to add to the meatballs.
Celery- I'll be honest, I don't use a lot of celery in my aromatics or soups, but for these meatballs where I was trying to create a holiday taste and smell, the celery was a crucial part.
Extra Virgin Olive Oil- I love to cook my aromatics with a good olive oil, that extra flavor will pour right into our dish.
Panko Breadcrumbs- When it comes to breadcrumbs, panko breadcrumbs are my favorite! A Japanese style breadcrumb that are larger and crispier pieces than traditional Italian style breadcrumbs. They're a pantry staple for me! Any breadcrumb you have on hand will work just fine. Substitute gluten free crumbs for a gluten free option.
Eggs- Eggs are our binding agent in this recipe and also give the meatballs a silky texture.
Parmesan Cheese- I love adding a bit of cheese to my meatballs, it gives a little more structure as well as a hint of saltiness to the dish.
Garlic- Garlic is always on hand in our home and most dishes, I've opted to use toum in my meatballs but fresh, minced garlic will be equally delicious!
Sage- Fresh sage leaves are a beautiful addition to these meatballs and again really have that holiday taste and smell. You can always sub in dried or powdered sage if you can't get your hands on fresh.
Kosher Salt- I've talked about salt more times than I can count, I highly recommend cooking with kosher salt, it has a less potent salty flavor and can be controlled easier than traditional table salt. Here is a good article explaining salts. We'll use salt in a few different ways throughout the recipe.
Black Pepper- Fresh black pepper is a flavor boost for both our meatballs and gravy.
Cinnamon- This may seem like an unexpected flavor in a savory dish but cinnamon is used often in savory Lebanese dishes, like these meat fatayer. While we typically associate cinnamon with sweets like apple desserts, it also creates a warm flavor in savory dishes. We'll flavor both our meatballs and gravy with it.
Allspice- Another warm spice to add to our mixture, allspice is commonly found in market spice aisles now.
Unsalted Butter- We'll be making a roux to create our gravy, butter is the key part to making that and will ensure a thick gravy.
Flour- The combination of butter and flour creates the base for our gravy. I have personally not tried alternative flours but I suspect a gluten free 1-1 would be your best option if you need to make a gluten free version.
Turkey or Chicken Stock/Broth- I always keep a container of chicken stock on hand but if you have homemade that's even better. This will be the base to our gravy, during the holiday season, you can find turkey stock specifically.
You'll also need baking sheets, parchment paper (helpful but not necessary) and large sauté pan or skillet. See recipe card for quantities of ingredients.
How to Make Turkey Meatballs and Gravy
We begin by cooking our aromatics, onions, celery and spices. Some recipes have you add these into the meat mixture raw but I find the flavor and texture is much nicer when taking a few minutes to cook these together. Adding spices directly to the aromatics creates a lovely flavor that gets distributed throughout the meatballs.
Sauté your onions and celery and add sage leaves, salt, pepper, cinnamon and allspice. allow to fully cook and become soft. If using fresh garlic, add during the last 2 minutes of cooking. Allow to cool before adding to your ground turkey.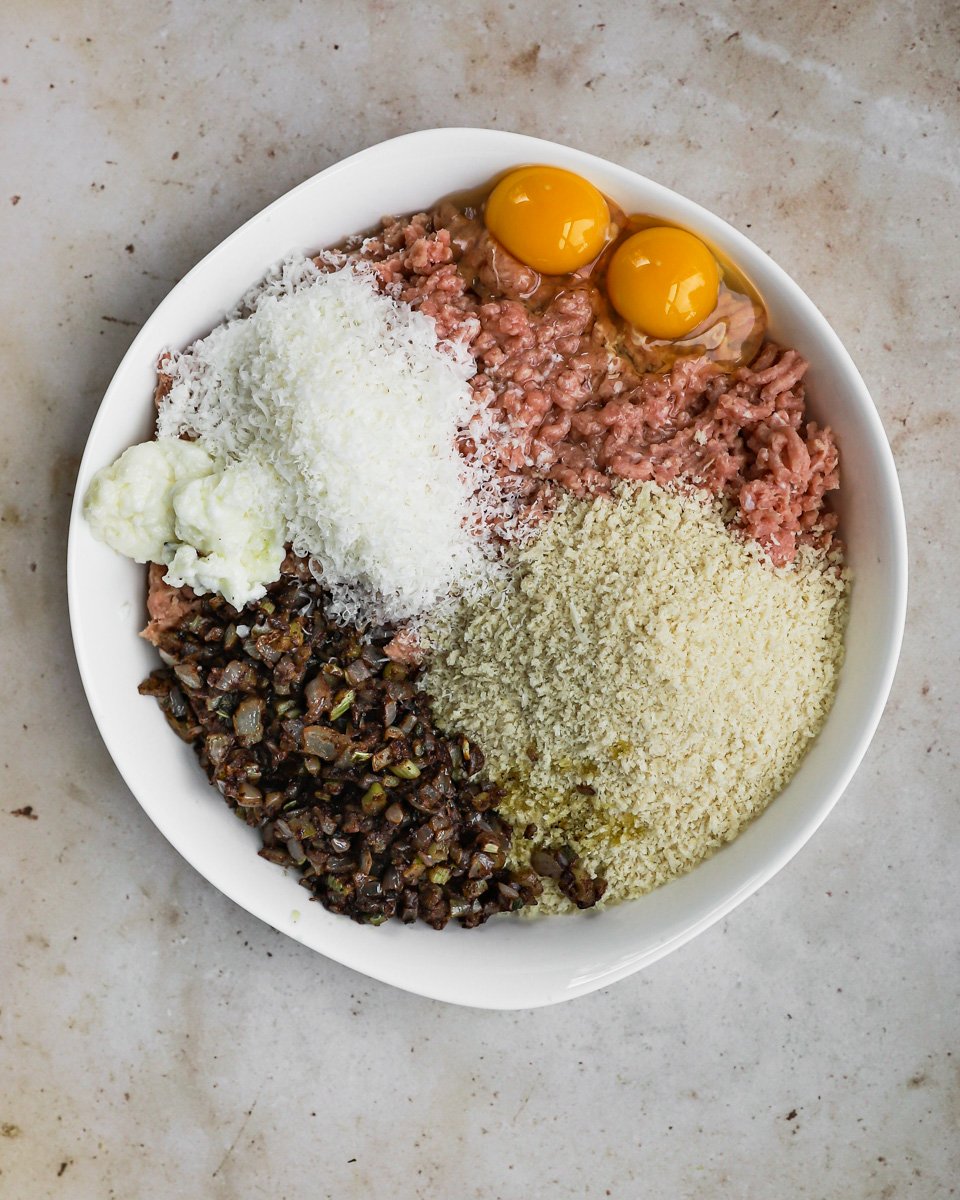 In a large bowl, add your ground turkey, eggs, breadcrumbs, parmesan cheese, toum (if using) and cooled onion/celery mixture. With clean hands, work the mixture until everything is cohesive and combined. Add an additional teaspoon of kosher salt to your mixture.
Pro tip:

Since we can't test raw poultry, if you want to get an idea of your flavor and seasonings a quick way to do that is by taking a small amount of your mixture, flatten and place on a microwave safe dish - microwave for 20-30 seconds. This quick cook will allow you to sample the flavor and decide if you need any additional seasonings.
Once your mixture is cohesive and seasoned, line 2 baking sheets with parchment paper or silicone mats. Begin forming your meatballs into small round balls. They should be about 1.5" across and about 30 grams each. These will cook for 20-25 minutes until the bottoms are browned and cooked all the way through.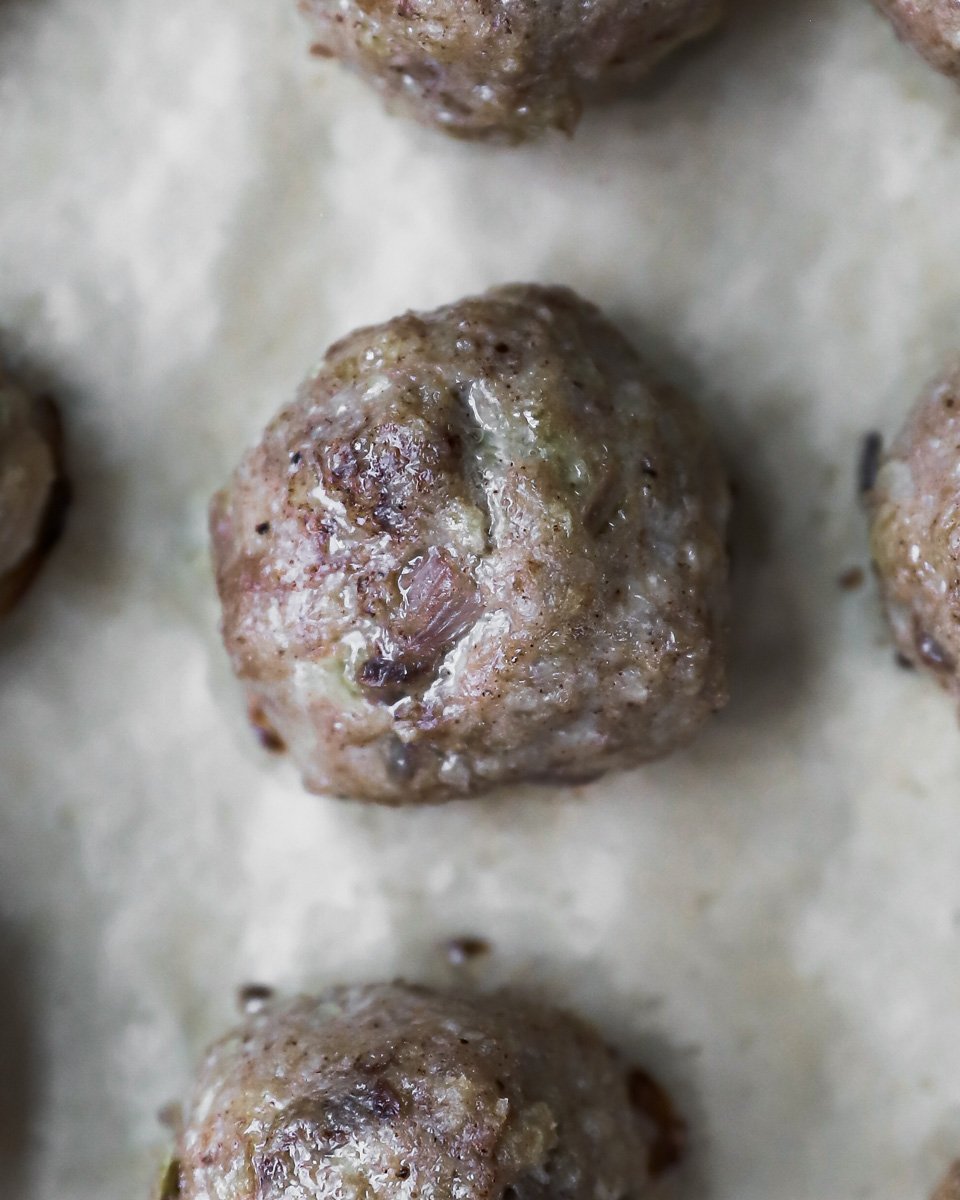 While the meatballs are cooking, prepare your gravy. In the same skillet you sauted your aromatics, add your butter and allow to fully melt. Add in your flour and whisk until it begins to bubble. This process is cooking the flour to ensure it's not raw. Once a bubbly paste begins to form, slowly add in your turkey/chicken stock. I like to start with a splash, whisk to combine then continue pouring. As you pour your stock, continue to whisk on medium-high heat until it begins to thicken. Add your spices: cinnamon, pepper, sage and salt - I leave the salt amount up to you as different stocks/broths have different levels of salt content. Start with a pinch of salt and continue to increase until the flavor is at your liking.
Once your meatballs are done in the oven, toss them into your gravy and enjoy!
Tips for Cohesive Meatballs
There is a fine balance when making meatballs, you don't want them too firm and you don't want them too crumbly. Having the right balance of biding agents (breadcrumbs and eggs) is crucial. When forming your meatballs you want the mixture to hold together and be almost smooth. If they are too lumpy, you may have too much breadcrumbs. If they are too wet and not forming, you may need to add additional breadcrumbs.
I find that using disposable kitchen gloves when making meatballs helpful, the mixture tends to stick less to your hands and form easier. A cookie scoop can also be helpful to achieve a consistent size and shape.
Substitutions for Turkey Meatballs and Gravy
Here are a few substitutions if you need to make any to fit your diet or what you have on hand.
Ground Chicken- You can certainly use ground chicken in place of turkey, or even ground beef for this recipe.
Sage- Fresh sage growly pretty wild around here, Trader Joe's also carries lovely fresh herbs at a great price if you have one near you. If not, you can certainly sub with powdered or dried sage. Switch it up and use rosemary in place of it if you want as well.
Gluten Free- As written and prepared this is not a gluten free recipe, however there are many gluten free breadcrumbs and flours you can substitute to get the same flavor without the gluten.
Dairy Free- You can certainly omit the parmesan cheese without any issues to make this dairy free for your needs. Toss in some nutritional yeast if you'd like.
Egg Free- If you can't have eggs in your diet, you can substitute ricotta or yogurt for the eggs in the recipe. See notes for quantities in recipe below.
What to Serve with Turkey Meatballs and Gravy
Nothing goes better with meatballs and gravy than mashed potatoes, try this twisted mashed potato recipe for a little holiday twist.
I also love to simply pair with roasted veggies for a complete meal. Wine pairing for this dish would be a Cabernet Sauvignon or Syrah.
Variations of Turkey Meatballs and Gravy
These meatballs are extremely versatile and can be used in many ways outside the gravy. Some other pairings include:
Spaghetti and Meatballs- The perfect combination is spaghetti and meatballs, pair these meatballs with your favorite pasta and sauce, skip the gravy.
Top Salads- While I love to throw some chicken on my salads, these meatballs are so full of flavor that you won't miss the chicken. Just make meatballs ahead and omit the gravy to use on any salad.
Meatball Sub- Whether you keep the gravy or swap it for your favorite marinara sauce, use these meatballs to create the ultimate meatball sub sandwich!
Party Appetizer- I tend to make these meatballs on the smaller side, which also makes them perfect for a party appetizer. Once you're finished cooking them and making your gravy - keep warm in a slow cooker and serve at a party or BBQ. Swap the gravy for your favorite BBQ sauce if you want.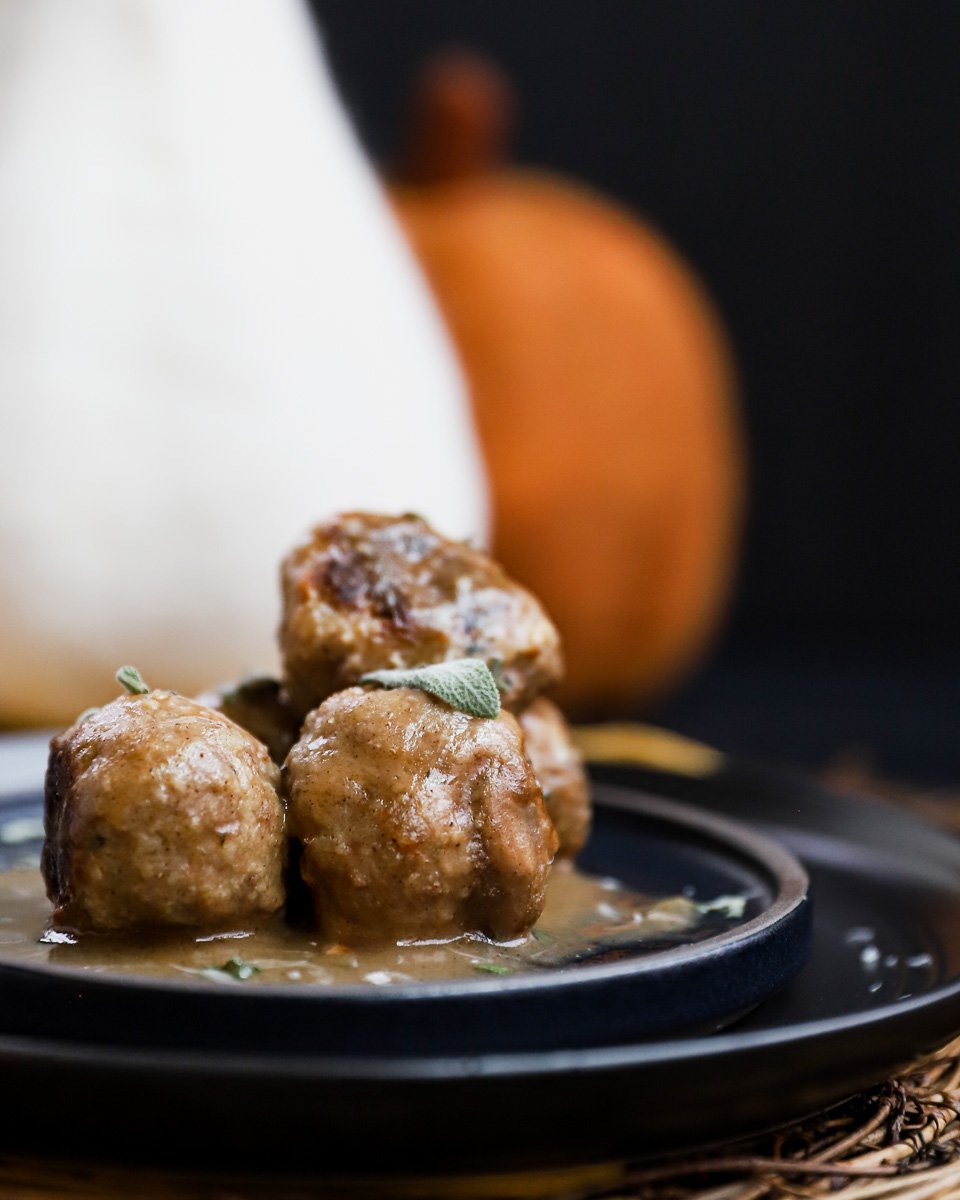 Can This Be Made Ahead? Can I Freeze?
ABSOLUTELY! That is one of the best parts of making meatballs, the ability to make them ahead and even freeze them for a great weeknight meal option.
If you are making these ahead and want to freeze you have a few options:
Make meatballs and cook as instructed, allow to cool then freeze on a sheetpan flat until frozen. Once frozen, toss into a ziplock bag and pull out and defrost when you want meatballs.
Make meatballs as directed until the baking part. Once you have rolled and lined your meatballs on a tray, pop into freezer flat and freeze uncooked. Once frozen solid, pop into ziplock bag and bake frozen when ready to enjoy. They may take an extra few minutes of cook time.
If you plan to freeze the gravy, place in a separate container and freeze. All items are best to freeze up to 3 months in standard freezer or 6 months in a deep freezer.
Food safety
Cook to a minimum temperature of 165 °F (74 °C)
Do not use the same utensils on cooked food, that previously touched raw meat
Wash hands after touching raw meat
Don't leave food sitting out at room temperature for extended periods
Never leave cooking food unattended
Use oils with high smoking point to avoid harmful compounds
Always have good ventilation when using a gas stove
See more guidelines at USDA.gov.
As always, I love seeing your creations! This is a perfect salad or side dish to serve all year long.
I hope you enjoy these Turkey Meatballs and Gravy as much my family does! If you make Turkey Meatballs and Gravy, please let me know by leaving a rating and review below!
As always, I love seeing your creations. Please leave a review or share your dish with me on social media #cosetteskitchen which lets me know what is working for you! You can find me on Facebook, Instagram, Twitter , Tiktok and Pinterest. For more delicious recipes to your inbox, sign up for my newsletter!
xoxo,
Cosette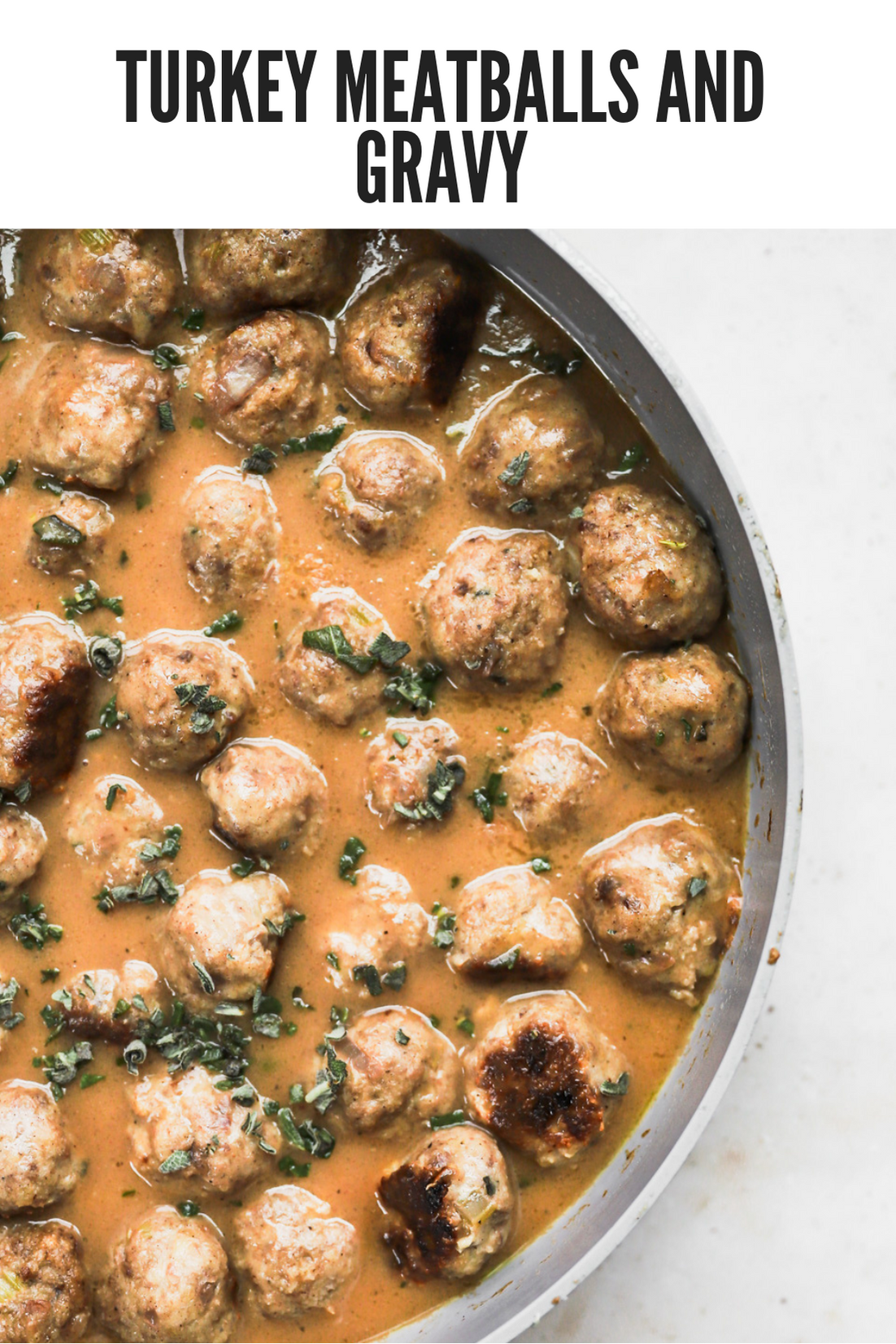 Other Dishes To Try
Lebanese Stew with Peas and Rice
Lebanese Lamb Tacos: Tacos Arabes
Fasolia bi Zeit: white bean dip
Print
Turkey Meatballs and Gravy
Author:

Cosette's Kitchen

Prep Time:

30 minutes

Cook Time:

25 minutes

Total Time:

55 minutes

Yield:

52

meatballs

1

x

Category:

Dinner

Method:

Baking

Cuisine:

American
---
Description
If you haven't tried turkey meatballs, you are missing out. Super flavorful and moist, a perfect substitute for traditional beef or pork meatballs.
---
Turkey Meatballs
2 Tablespoons

olive oil

1

large onion, diced

3

celery stalks, diced

2.5 teaspoons

kosher salt*

1 teaspoon

black pepper

2 teaspoons

ground cinnamon

1 teaspoon

allspice

4

cloves garlic, mined (or

2 tablespoons

toum)

4

-

6

sage leaves, or

1.5 teaspoons

dried sage

2

pound

ground turkey-93/7 is preferred, do not use 99/1

2.5

cups

panko breadcrumbs

½

shredded parmesan cheese

2

large eggs
additional

1

-

1.5

teaspoons salt to taste**see notes
Gravy
4 Tablespoons

unsalted butter

4 Tablespoons

flour

4

cups

chicken or turkey broth

1 teaspoon

cinnamon

1 teaspoon

black pepper
salt to taste
additional fresh sage as desired
---
Instructions
Turkey Meatballs
Preheat oven to 375 degrees Fahrenheit and line 2 baking sheet with parchment paper for easy cleanup.
In a large skillet heat your olive oil on medium-high and add your diced onions and celery. Begin to saute allowing them to become soft and translucent, stirring frequently.
Add in your spices: salt, black pepper, cinnamon, allspice and chopped sage - if using dried or powdered use 1.5 teaspoons.
Continue to cook for 10-15 minutes. If you are using fresh minced garlic, add in at the last 2 minutes of cooking. Set aside and allow to cool slightly.
In a large bowl, add your ground turkey, panko breadcrumbs, parmesan cheese, eggs, cooled onion and celery mixture. Mix until fully combined. At this point, I recommend testing your mixture for salt, here is a tip I use for testing raw meat:

Since we can't test raw poultry, if you want to get an idea of your flavor and seasonings a quick way to do that is by taking a small amount of your mixture, flatten and place on a microwave safe dish - microwave for 20-30 seconds. This quick cook will allow you to sample the flavor and decide if you need any additional seasonings.

Season with additional salt if needed then begin rolling into 1.5" diameter balls and place on parchment lined baking sheet. Each meatball should weigh about 30 grams if you are looking for an accurate size/weight.
Bake for 20-25 minutes, swapping trays halfway through for even baking. Meatballs should be browned on bottom and fully white on the inside. Internal temperature should read 160 degrees Fahrenheit.
Place meatballs in prepared gravy sauce.
Gravy
In the same skillet used for onions/celery, add your butter and heat on medium-high. Add in your flour and begin to whisk until you see bubbles and the butter and flour form a paste. 
Cook your mixture for 2-3 minutes whisking. Next add 1 cup of chicken/turkey broth and whisk.
Add the remaining broth and increase heat to high. Continue to whisk and bring to a light boil as sauce thickens. 
Season with cinnamon, pepper and salt. Test for salt and begin with a ½ teaspoon, increase as needed. Since broths have varying levels of saltiness it's best to season as you go.
Top with additional chopped fresh sage.
---
Notes
**My preferred salt is Diamond Kosher Salt, if using table salt be sure to HALF all the salt increments in the recipe.
Keywords: turkey meatballs and gravy, turkey meatballs with gravy, turkey meatballs with brown gravy, thanksgiving day meatballs, thanksgiving day turkey meatballs, thanksgiving meatballs, meatballs for thanksgiving, weeknight meal, cinnamon and sage turkey meatballs