Favorite Meal
Fasolia bil Lahme is one of the most popular Lebanese dishes, Fasolia bi Lahme literally translates to beans with meat. It's a staple dish among households all over the Middle East and my favorite way to make it is using fresh, quality American lamb.
Fasolia is a type of Lebanese chili; meat, white cannelini beans, spices and a light tomato sauce are stewed together served on a bed of rice. Meals like this are considered peasant meals, a smaller amount of meat balanced with beans and rice to create a filling and wholesome meal that is easy on the budget.
Cut of Meat - Shank
The beauty of peasant meals is using cuts of meat that are relatively less expensive but pack so much flavor due to the long and slow cooking process. Our fasolia dish uses American Lamb Shanks. The shank or shin is the lower part of the leg, the leg bone beneath the bone and shoulder. The shank tends to have more membrane and connective tissue creating a cut of meat that you really can only braise for hours to create a luscious texture. It's probably my absolute favorite cut of meat as it becomes so incredibly tender and velvety. No one would ever know that this cut is less expensive than a rack of lamb after you cook it properly.
Bone Marrow
Growing up all I really remember about Fasolia was the luscious tender lamb and even more so, the bone marrow of the lamb. My mom would make a huge pot of fasolia, always with extra bones because my brother and I would fight over who got to eat the marrow. The marrow itself has a rich, slightly sweet flavor with a smooth texture.
With today's surge of bone broth fanatics, this stew gives you all the same benefits of bone broth in a complete meal. The hours of cooking down the meat and bones releases all the nutrients that are healthy for our body and are incorporated in this healthy meal.
Benefits of American Lamb
As with all my lamb dishes, I always choose American lamb to serve to my family. I'm happy to partner with the American Lamb Board to share recipes with you. With over 80,000 family farmers and ranchers in the United States caring for over 6 million sheep, I want to continue to support our local farms. Not to mention, choosing American lamb gives me the freshest and highest quality with farms right in my backyard.
Making Fasolia
While being a very inexpensive meal to feed a large group, it's also quite easy to prepare. It does take some hands off time but once the lamb is cooked tender, the rest is a breeze!
Lamb shanks will cook down for 2-2.5 hours until fork tender.
Onions, white cannellini beans and tomato paste will complete our main dish
Serve over Lebanese rice with vermicelli noodles for a complete meal
The hardest part of making this meal is waiting! Patience is key but the results are well worth the wait. This meal is perfect for a Sunday meal or even a dinner party. Impress your guests by preparing lamb in a way anyone would be proud. You can find the full recipe below and more details about American lamb linked here.
Be sure to check out American Lamb Board, February is Lamb Lovers Month, enter now on Instagram for your chance to win one of the Airbnb or Sur La Table gift cards they're giving away!

As always, I love seeing your creations. Please leave a review or share your dish with me on social media. You can find me on Facebook, Instagram, Twitter and Pinterest. For more delicious recipes to your inbox, sign up for my newsletter!
xoxo,
Cosette
This post is sponsored by the American Lamb Board, all opinions and ideas are my own.
Print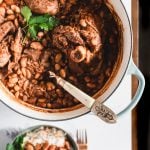 Fasolia bi Lahme (Middle Eastern Lamb and Bean Stew)
---
Description
Braised lamb shanks with beans and rice are the perfect comfort meal.
---
Fasolia
3

-

4

pounds

American lamb shanks (2-3 lamb shanks)

2

cinnamon sticks

2

bay leaves

1

large onion, diced

5

cans of white cannellini beans (rinsed and drained)

can sub standard kidney beans if you can't locate cannellini beans

1

can tomato paste, 6oz

2 tsp

Middle Eastern 7 spices or mixed spice

can be found online or middle eastern grocery store

salt and pepper

4

-

5

cups

of broth from cooking lamb)
Lebanese Rice
2

cups

Jasmine rice, or other long grain rice

3 Tbsp

butter

⅔

cup

cut vermicelli noodles

4

cups

water or broth
salt to taste
---
Instructions
Fasolia
Prepare your lamb shanks by generously salting the exterior using a fine kosher salt, such as Diamond brand. For 2 shanks, I'll use about 2-3 teaspoons and 1 teaspoon black pepper.
In a heavy bottomed pot, heat 1 tablespoon of oil on medium-high heat and place shanks to begin searing. Sear on all sides, flipping and placing on sides as needed until all sides are browned.
After browning, fill your pot with water, enough to cover the shanks.
Add in your cinnamon sticks and bay leaves and bring to a boil.
Once liquid comes to a boil, lower to a low simmer and allow shanks to cook for 2.5 hours until fork tender. Add liquid as needed to keep shanks covered. Every 30 minutes or so, move shanks around in pot to flip sides allowing to cook evenly.
Skim any scum that comes to the top of the surface as the lamb cooks.
Once shanks are tender, meat falling off the bone, remove carefully and drain liquid into a heatproof container, set aside.
Add 2 teaspoons of olive oil and begin to cook your diced onions on medium-high heat, add 1 teaspoon of kosher salt. Cook until translucent. Add 1 cup of your reserved broth to deglaze the pot.
Add your rinsed and drained beans and finally your tomato paste, 7 spice and 4-5 cups of your reserved broth. Nestle your shanks back into the pot (you may also remove the meat from the bone and add in). Season with additional salt and pepper to taste.
Cover, reduce heat to low and allow to cook for another 20-25 minutes.
Serve with rice and enjoy!
Lebanese Rice
Begin by placing your rice in a bowl and fill with cold water. The water will be cloudy, drain and refill, gently working the rice between your fingers to allow the excess starch to release.
Repeat soaking rice and draining water 8-9 times, or until water runs clear. Set aside.
In a non-stick pot on medium-high, add your butter and then your vermicelli noodles.
Continue to stir watching to make sure noodles brown but don't burn.
Once noodles are a golden brown, add your rinsed rice to the pot.
Cook rice for 4-5 minutes with the noodles and butter, continuously stir.
Add in your water/broth and allow to come to a boil on high heat.
Once pot comes to boil, reduce heat to low, cover pot and set timer for 20 minutes.
After 20 minutes, remove from heat but leave lid on for another 10 minutes.
Fluff rice with fork and salt if you like. Enjoy with fasolia.
---
You may like these recipes:
Macaroni b'halib (macaroni & cheese)