The fall brings so many delicious warm flavors and different vegetables. Squash is a common fall vegetable and the varieties are endless. These Roasted Delicata Squash Rings bring subtle Middle Eastern flavors including: garlic, pomegranate molasses, Aleppo pepper and allspice. Warm spices coat the squash for perfect little tender bites.
The funny thing about squash is that I really didn't grow up with it as a kid. It's not commonly used in Middle Eastern cooking. It wasn't until later in my life I became fond of various squashes and began using in my own cooking. Of course common on holidays like Thanksgiving - I set out to make something that is familiar to both my friends who grew up with traditional squash dishes but add a little zest of flavor from my heritage.
One of my favorite squashes is Delicata Squash. It's actually somewhat true to its name, it is a bit delicate, the skin can be eaten and gets tender when roasted. This very simple and quick side dish is perfect to accompany any weeknight dinner, toss on salads or enjoy on over the holidays.
Jump to:
Ingredients
As always, I love to use a variety of sweet, warm and a hint of spicy ingredients in many of my dishes. Blending flavors of the Middle East with common dishes found here in the West. Ingredients can be altered and adjusted to your own taste or what you have on hand. Be sure to check my substitutions section.
Delicata Squash - truthfully, this can be made with any squash you find, others will need to be cooked accordingly but definitely don't dismiss if you can't find delicata. I usually pick mine up from Trader Joe's.
Garlic - for this dish, I prefer to use a microplane to get my garlic almost to liquid form, this helps to meld the flavor into the marinade. You can also mince it extremely fine.
Pomegranate Molasses - this is a staple item in the Lebanese pantry - pomegranate molasses is NOT a sweet molasses, it's rather bitter and tangy. It really adds a special flavor to dishes and a bit of depth. *
Aleppo Pepper - a fabulous spice commonly used in my dishes, it's not extremely spicy but gives a nice little bite.
Allspice
Olive Oil
Black Pepper
Kosher Salt
See recipe card for quantities.
Instructions
You can prepare your squash in rings as I have or half circles - half circles are a bit easier to cut it gives you a flat surface to work on but the rings are awfully adorable!
Wash your squash and trim the ends. Preheat your oven to 375 degrees Fahrenheit. Line 2 sheet pans with parchment paper and set aside.
If you are planning on cutting into half moons - cut your squash lengthwise. Place cut-side down and cut 1" half moons.
If you are keeping rings, begin cutting into 1" thick rings. Once cut - take a butter knife and remove any seeds. Place in a bowl.
Combine your marinade ingredients into a small bowl and whisk well. Pour over your squash rings to coat entirely.
Combine your marinade ingredients into a small bowl and whisk well.
Pour marinade over your squash rings to coat entirely.
Place your squash rings on prepared pan, shake off the excess marinade. Roast for about 15 minutes.
Flip rings and brush any remaining marinade and roast for another 10-15 minutes until tender and slightly caramelized. Remove from oven and enjoy simply as is or with some labneh.
Hint: Avoid pouring the marinade onto the sheet pan with your squash - adding too much will result in it to burn. It's best to coat in a bowl, then brush any excess when they are cooked halfway for the most flavor.
Substitutions + Variations
As always, I want you to make these recipes your OWN! Here are some substitutions or adjustments that would work for this delicata squash recipe.
Pomegranate Molasses - If you don't have pomegranate molasses on hand, you can sub balsamic vinegar + 1 teaspoon of sugar in its place.
Aleppo Pepper - You can find Aleppo pepper at any Middle Eastern grocer or online. If you don't have, a bit of smoked paprika would be a good replacement. You can also add a quarter the amount of cayenne in its place.
Delicata Squash - If you can't find delicata squash, I would sub with butternut or acorn squash. Those squashes are much denser and require full removal of the skin. You can cut into 1" cubes or strips once the skin is remove and proceed in the same way.
Equipment
Parchment Sheets - I probably should just get paid to sell these, don't you think? The greatest thing for half sheet pans that ever did exist! No more rolls, just simple sheets that lay flat and make my life and cleanup so much easier. Also when baking, the sheets help to create a great crust and bake evenly.
Microplane - Another must-have tool in my kitchen, this is perfect for zesting lemons, limes, parmesan cheese and garlic!
Half Sheet Pan - A go-to cooking tool for pretty much everything from cookies, potatoes to this tart!
Storage + Freezing
Early Prep: This is a great dish to prep ahead of time. You can cut the squash and marinade a few days ahead of time (great time saver during the holidays).
Cooked: Once cooked, store in the fridge for 5-6 days.
Freezing: You can certainly freeze if you need to but the caramelization and flavor may be less subtle - if you're thinking of freezing, simply freeze the uncooked, sliced squash and remove when ready to cook and coat with marinade.
Top tip
These squash rings are fabulous on their own but also try them tossed in a salad. I guarantee you'll be snacking on them all week!
FAQ
How to I choose delicata squash?
Choose squash that are firm and have a slightly heavy feel to them. Avoid any that have soft spots or are turning an orange color as they may be too ripe.
Can I eat the skin?
Yes, delicata squash is in the same family as zucchini and has a more delicate (as the name suggests) skin. The skin is delightful and full of nutrients so definitely enjoy it - and it's one less step preparing.
What does delicata squash taste like?
It has a mild flavor, similar to acorn squash if you have had that before. It's slightly firm after roasting but still soft like a sweet potato. The flavor is mild but with the seasonings it enhances that subtle sweetness.
What if I can't find delicata squash?
I would use butternut squash or acorn squash in its place. You'll need to remove their skin then slice or dice and roast as directed.
I hope you enjoy these Roasted Delicata Squash Rings as much my family does - feel free to adjust and make your own!
If you make Roasted Delicata Squash Rings, please let me know by leaving a rating and review below!
As always, I love seeing your creations. Please leave a review or share your dish with me on social media #cosetteskitchen which lets me know what is working for you! You can find me on Facebook, Instagram, Twitter , Tiktok and Pinterest. For more delicious recipes to your inbox, sign up for my newsletter!
xoxo,
Cosette
Print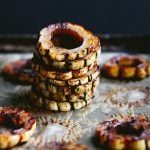 Roasted Delicata Squash Rings
Author:

Cosette's Kitchen

Prep Time:

15 minutes

Cook Time:

30 minutes

Total Time:

45 minutes

Yield:

2

pounds

1

x

Category:

Appetizer, side dish

Method:

Baking

Cuisine:

Middle Eastern, American
---
Description
Delicata Squash is a great fall appetizer, these are bursting with flavor and make the perfect snack or side dish.
---
2

large delicata squash, typically 1-1.5lbs each

4

cloves of garlic, minced or zested with microplane

2 Tablespoons

pomegranate molasses

2 Tablespoons

honey

2 teaspoons

Aleppo pepper

1 teaspoon

black pepper

1 teaspoon

allspice

1 teaspoon

kosher salt*
---
Instructions
Preheat your oven to 375 degrees Fahrenheit and line 2 sheet pans with parchment paper.
Wash your delicata squash and trim the top. 
Begin cutting rings about 1" thick. Once cut, using a butter knife, scrape any seeds away from the centers. Place in a large bowl.

2 large delicata squash, typically 1-1.5lbs each

In a small bowl, whisk together your marinade ingredients then pour over your squash rings to coat entirely.

4 cloves of garlic, minced or zested with microplane
2 Tablespoons pomegranate molasses
2 Tablespoons honey
2 teaspoons Aleppo pepper
1 teaspoon black pepper
1 teaspoon allspice
1 teaspoon kosher salt*

Place your rings on your prepared sheet pan and bake for 15 minutes. Flip then bake for another 15 minutes. Brush any remaining marinade on the rings.
Remove from tray, serve and enjoy! 
---
Notes
Pomegranate Molasses - If you don't have pomegranate molasses on hand, you can sub balsamic vinegar + 1 teaspoon of sugar in its place.
Aleppo Pepper - You can find Aleppo pepper at any Middle Eastern grocer or online. If you don't have, a bit of smoked paprika would be a good replacement. You can also add a quarter the amount of cayenne in its place.
Delicata Squash - If you can't find delicata squash, I would sub with butternut or acorn squash. Those squashes are much denser and require full removal of the skin. You can cut into 1" cubes or strips once the skin is remove and proceed in the same way.
Salt: If using table salt, cut amount in half
Keywords: roasted delicata squash, easy delicata squash recipe, middle eastern delicata squash, delicata squash with pomegranate molasses, roasted delicata squash recipe
Looking for other recipes like this? Try these: