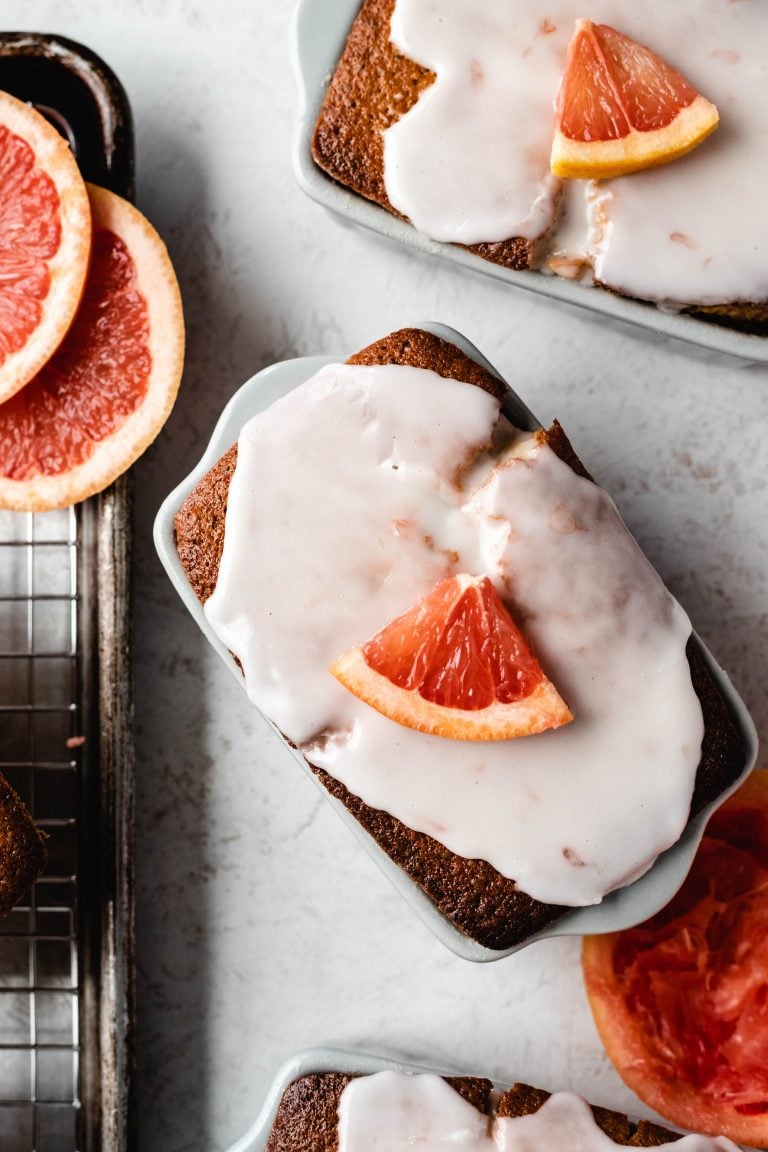 When a large group of bloggers decide to virtually get together for a party, you SHOW UP! The lovely wonderful ladies of Square Meal Round Table and What Annie's Eating put together this lovely tribute to the mighty GRAPEFRUIT.
Grapefruit
Tis' the season for all things citrus from incredible blood oranges, meyer lemons and of course grapefruit. This is the perfect time of year to enjoy this seasonal citrus, at its peak. It's funny, I was never a huge grapefruit fan until my later years, of course, I definitely enjoy it with some sugar but I do enjoy it greatly now. My kids have also become HUGE grapefruit eaters, so I can't complain! Although, my poor husband has made a name for himself as the "Best Grapefruit Cutter" so I leave the cutting to him, I'll take them and bake!
Grapefruit Bread
With grapefruit in peak season, I thought a grapefruit poppy loaf would be a nice twist to a traditional lemon poppy seed bread. I had these little mini loaf ceramic dishes I had been dying to use so 6 little loaves came about. Perfect for snacking, gifting or even freezing for a morning you just don't want to bake.
These loaves are filled with grapefruit zest, juice and of course topped with a delicious grapefruit glaze that gives it that extra dose of sweetness and glamour. You can certainly skip the glaze and pour a touch of grapefruit juice on top instead.
I love cakes that take a few minutes to make but pack a ton of flavor and are sure to impress! You can find this recipe and a TON more grapefruit inspiration by checking out the Instagram hashtag: #greatfruitgrapefruit . I also have links to some amazing recipes below to check out.
As always, I love seeing your creations! If you make these adorable loaves, give me a tag on Instagram or Facebook or leave a comment below. Be sure to pin for later!
xoxo,
Cosette
More Grapefruit Inspiration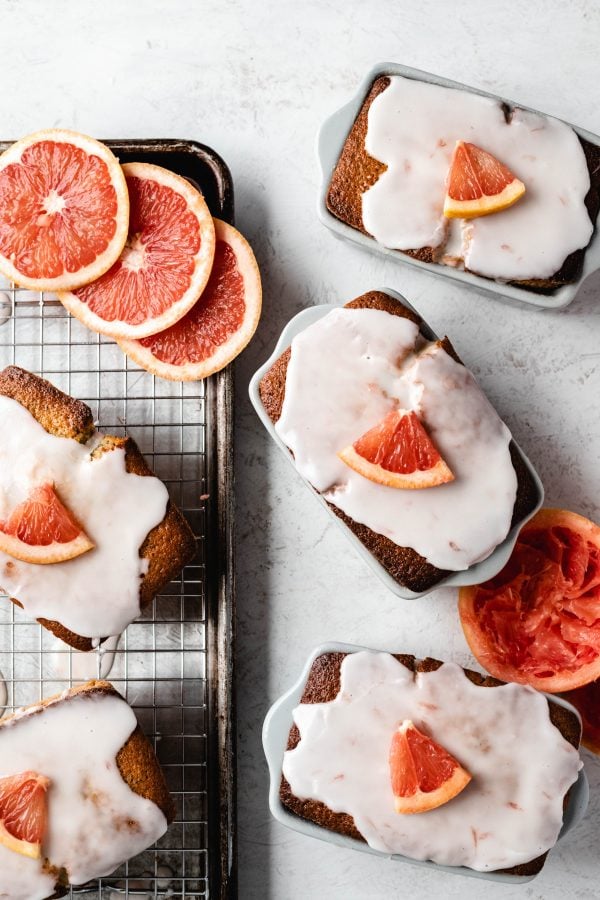 | | |
| --- | --- |
| | |
Preheat your oven to 350 degrees and grease and flour 6 mini loaf pans (mine were 3.5" x 5.5" and about 2" high).**see notes below for baking in standard loaf pan or bundt

In the bowl of a stand mixer fitted with paddle attachment, add your: eggs, sugar, vanilla, zest from 2 grapefruit and bourbon.

Mix on medium-high speed for 3-4 minutes until fluffy.

Add in your dry ingredients until just combined.

Finally add your oil, yogurt and grapefruit juice and allow to mix for 2-3 minutes until batter is fully combined.

Pour into prepared mini loaf pans, batter can be filled to almost the top, leave about ¼". Place your mini loaves on a sheet pan and bake for 45 minutes or until a toothpick comes out clean.

Tops should be golden in color. Remove from oven, let cool then remove from ceramic loaf pans. Prepare glaze and top when loaves are cool. Enjoy!
Combine your powdered sugar and grapefruit juice until a thick but pourable glaze forms.
**If you don't have mini loaf pans, this bakes great in a bundt pan. Coat your bundt pan well, I really love using Baker's Joy! Bake bundt for 55-60 minutes
**You can also prepare 2 standard size loaf pans (9.5" x 2") and bake those for about 45 minutes
**You can obviously omit the glaze, you may want to drizzle about a tablespoon of fresh grapefruit juice on top when they come out of the oven if you choose to omit the glaze.