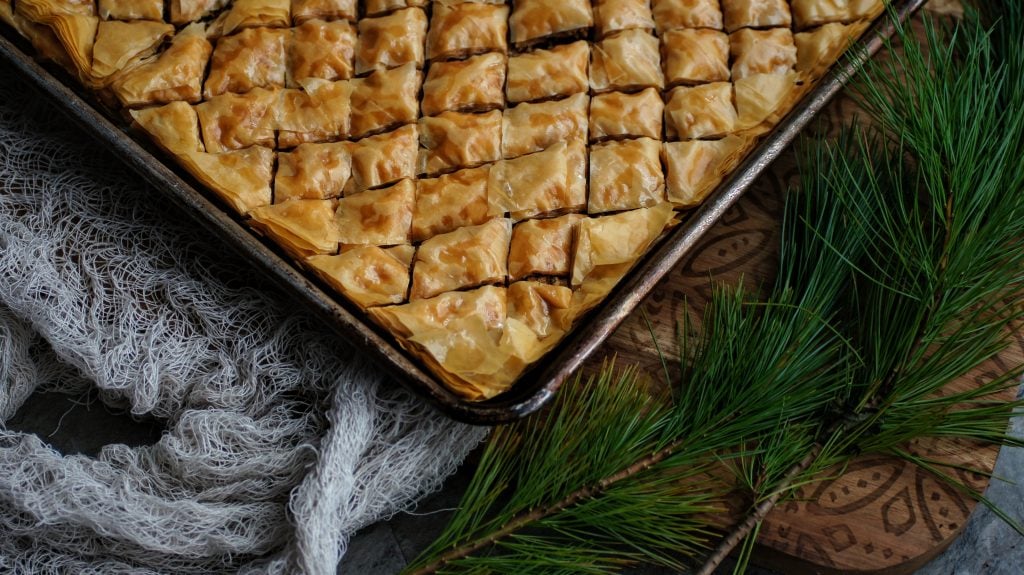 I remember so fondly my parents making all the Lebanese desserts over the holidays. Our holiday cookies looked a little different than our friends' cookies. Ingredients like semolina, farina, phyllo dough were common. The standard chocolate chip cookie wasn't the norm at my house. Our desserts were special morsels of flavor from the Mediterranean. Flavors that my parents grew up with and began passing on to us!
Both my parents are amazing in the kitchen as many of you already know and holiday time is no exception. They make everything shine. Perfect trays of desserts, every favorite dish you can think of, mezze (or appetizers) to munch on for days, from savory fatayer (savory pies: meat, spinach), hummus, grape leaves and so much more! I am SO thankful I get to go home to spend the holidays with the family! Wouldn't you??
BatLAWA vs BakLAVA
But dessert, the famous and most delicious desserts: mammoul, numoora, shyreehe and the coveted baklawa. Hands down one of my favorite Lebanese desserts. BakLAWA, similar to the more frequently referred to, bakLAVA is slightly different. Baklawa is also made with thin sheets of phyllo dough + nuts + butter, lots of butter! But some of the differences are in the syrup. The traditional Greek bakLAVA uses a honey based syrup with some additional spices, generally quite sweet. Lebanese baklawa on the otherhand uses a simple syrup mixture scented with orange blossom and rose waters. Batlawa filling is also a little bit lighter than baklava, not as much filling overall and less ingredients. Batlawa is made simply with phyllo dough + butter + walnuts + sugar + orange blossom and rose waters. You can smell a Lebanese dessert miles away, they will generally always contain the lovely orange blossom and rose waters, our signature scents.
While our lovely Lebanese batlawa gets lost in the shuffle, I personally think it is more delicate and frankly, more consumable (that is if you want to eat large copious amounts of it). Just like a chocolate chip cookie with many variations, this is just one of many versions of batlawa or baklava. While these aren't a traditional cookie, they are definitely bite-sized and even more delicious than any cookie I have tasted. I hope you find yourself this holiday season making memories with your family, baking your favorite desserts with your mom, dad, aunt, uncle or children. And if you find the time, try a new holiday cookie (or dessert) of batlawa, the Lebanese morsel of goodness. As always, I love seeing your creations, tag me on Instagram @CosettesKitchen or post on my Facebook Page.
Happiest of Holidays to you and your loved ones!
Xoxo
Cosette
Prep Time

1

hour (divided)
Prep Time

1

hour (divided)
Combine your water and sugar in a medium heavy-bottomed pot. Heat on medium-high heat until sugar dissolves, stir occasionally.

Bring to a boil, allow the syrup to boil for about 5-7 minutes.

Remove from heat after syrup thickens slightly and add your lemon juice and waters.

Pour into a glass container add a small sliver of lemon to store in the syrup. Once cooled to room temperature, store in refrigerator.

Syrup lasts many months in the fridge and can be used on many desserts.
Begin my preparing your butter. You'll need to make sure you clarify your butter before using. Details below from Serious Eats.**

In a small saucepan, melt butter over medium-high heat.

Continue to cook over medium-high heat; an even layer of white milk proteins will float to the surface.

Bring to a boil; the milk proteins will become foamy.

Lower heat to medium and continue to gently boil; the milk proteins will break apart.

As the butter gently boils, the milk proteins will eventually sink to the bottom of the pot, and the boiling will begin to calm and then cease.

Once boiling has stopped, pour butter through a cheesecloth-lined strainer or through a coffee filter into a heatproof container to remove browned milk solids. Let cool, then transfer to a sealed container and refrigerate until ready to use. Clarified butter should keep for at least 6 months in the refrigerator.
Thaw your phyllo dough according to the package instructions.

Preheat oven to 350 degrees Fahrenheit.

In the bowl of a food processor, combine your walnuts + sugar and pulse until the nuts and sugar are combine and the nuts are small fine crumbles. Add a splash of rose and orange blossom waters (about ½ teaspoon of each).

Begin assembling your baklawa by coating the bottom of a half sheet pan with your clarified butter. Be sure to also coat the sides.

Take about 10 sheets of your phyllo dough and lay flat on the buttered sheet pan.

Spread your walnut mixture evenly across the phyllo.

Drizzle about 2 tablespoons of butter on top of your walnuts.

Place the remaining phyllo dough on top of your walnut mixture.

Begin cutting your dessert. With a sharp knife, begin making diagonal lines across evenly. Make sure to press down to cut through to the bottom.

Next, go across the opposite way to create a diamond. Continue until the tray is completely cut. (choose whatever size works for you)

Next, drizzle your remaining clarified butter over the top ensuring it falls into all the cracks. Tilt your tray back and forth to coat evenly.

Place in preheated oven and bake for 30 minutes in center of your oven.

After 30 minutes, reduce oven temperature to 300 degrees Fahrenheit and bake for an additional 20-30 minutes. Be sure to check so it doesn't brown too much. Ovens vary in temperature.

Once top is golden and flaky, remove from oven. Check bottom to ensure it's golden brown as well.

While batlawa is still HOT, pour your attar syrup on top. You'll use about 1-1.5 cups. Drizzle starting from one end and work down to the other end until the batlawa is coated and absorbs the syrup.

Let cool, remove pieces and enjoy!
**Recipe for clarifying butter from: http://www.seriouseats.com/recipes/2015/08/clarified-butter-recipe.html **You can make the attar syrup and clarified butter ahead and store in fridge until ready to use. Melt butter before using.