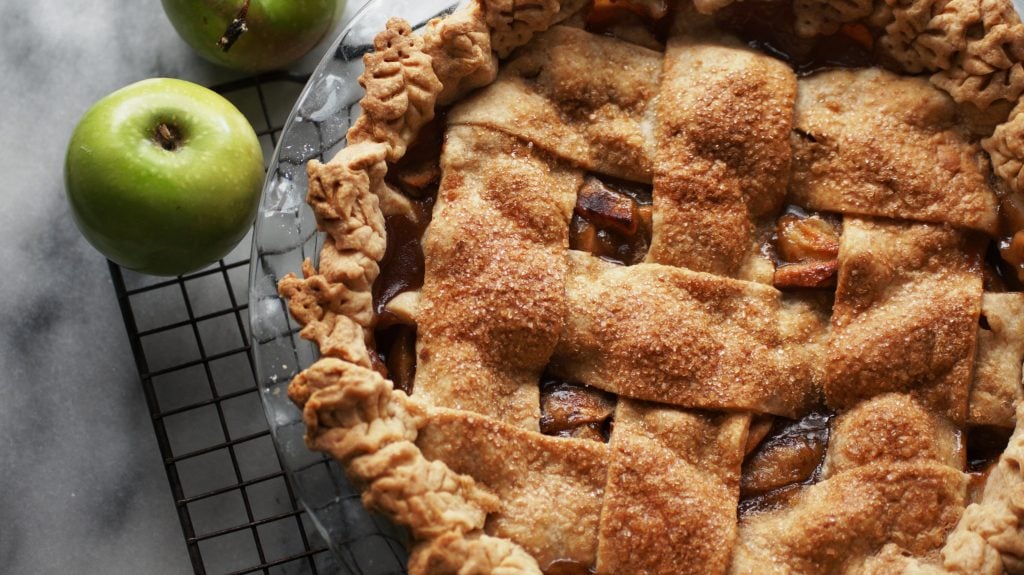 Anyway you slice it, pie is good! Especially on Pi Day. What is Pi Day? Pi Day is the annual celebration of the mathematical constant π. Anything constant deserves a celebration! Now, I'm no mathematician but I sure can get down with Pi(e) any day of the week. Whether they be sweet or savory, there's always room for pie. Don't you think?
With so many choices for pie, I had a hard time choosing the right one! Apple Pie, a classic, definitely not part of my Lebanese roots but apple pie holds a special place in my heart. Every Thanksgiving growing up my Godmother (also the Orr's Box lady) asked my mom to make a homemade apple pie. She promised to peel all the apples as long as my mom made the pie. And every year, the night before Thanksgiving, Marie would come over and sit at the kitchen table peeling all the apples. I'd sneak in and eat some of course but she peeled and cut them all so they were ready for a perfect apple pie on Thanksgiving.
Obviously my Thanksgiving would never be complete without an apple pie, it is the quintessential pie, all American and perfect for any occasion. Best with a homemade crust but forgiving and easily made with any store bought crust. I'm no pie maker for sure, and most of my pies are usually savory, in the form of a galette or have a crumb topping. I went outside my comfort zone and made a very basic lattice top with some lovely leaf decor. You can do it anyway you'd like! My favorite crumb topping comes from Pioneer Woman from her Dreamy Apple Pie recipe, so feel free to swap out the top crust for a crumble.
So however you celebrate Pi(e) day or any other day of the week, I hope you enjoy this recipe!
As always, I love seeing your creations, tag me on Instagram @CosettesKitchen or post on my Facebook Page.
xoxo
Cosette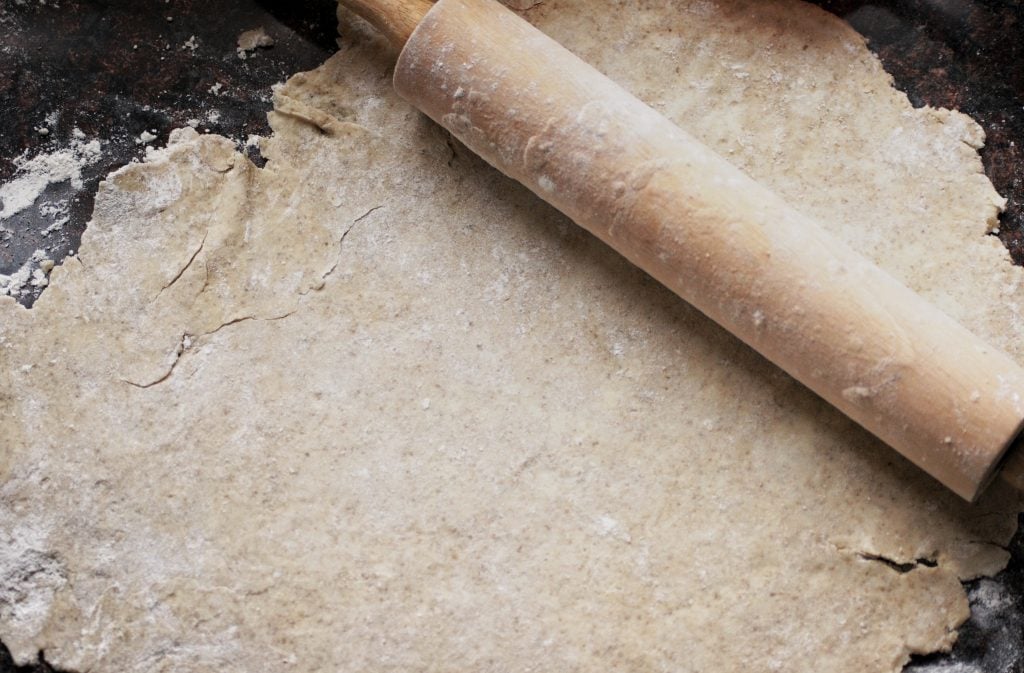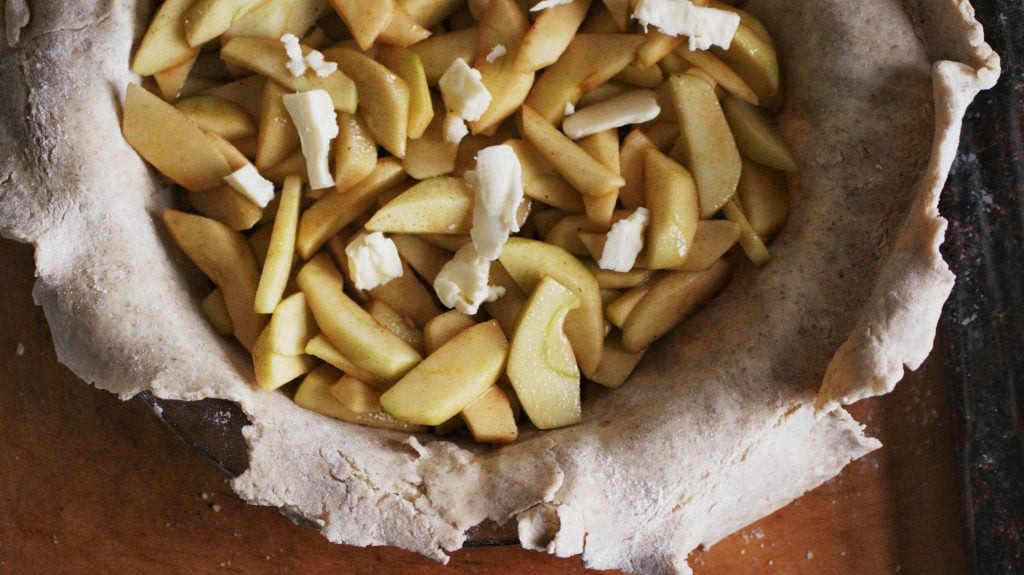 Shop Essentials for your pie:
| | |
| --- | --- |
| | |
Use your favorite pie dough recipe or store bought. Keep cold until ready to use.

See my notes below for tips and favorites. You will need 2 pie dough pieces for this recipe. **
Preheat oven to 450 degrees Fahrenheit.

In a large bowl, combine all your filling ingredients except for the butter, milk and coarse sugar.

On a well floured surface, roll your 1st pie dough out in a large round, large enough to cover a 9" pie plate.

Drape over a 9" pie plate allowing the excess to drape over. Pour your apple mixture into pie plate and dot with the 2 tablespoons of butter, broken up into pieces. Place in fridge.

Roll your 2nd pie dough out and cut into even strips to create a lattice effect. Check out the tips and link below for other ideas on covering a pie. You can also simply roll into a round, drape over pie and cut slits to allow for venting. **

Whichever style you choose, trim excess dough then crimp together to seal edges.

Brush the top of your pie (not crust) with milk then sprinkle with coarse sugar.

Place pie on a sheet pan to allow any drips to fall on there instead of your oven.

Cover edges of your pie with either a pie shield or tear small sheets of foil and gently fold around edges.

Place pie on sheet pan in oven and bake for 15 minutes at 450 degrees.

Drop temperature to 375 degrees and bake for another 30 minutes, leave foil on edges.

After 30 minutes, remove foil from edges and check top of pie for browning. If the top of pie is becoming too brown, you can drape a loose piece of foil over the whole thing.

Bake for another 30 minutes at 375 degrees.

Check for a browned bottom crust, a nice golden color on top and caramel-like filling through your holes. Remove from oven, let cool on wire rack then enjoy with ice cream or whipped cream.