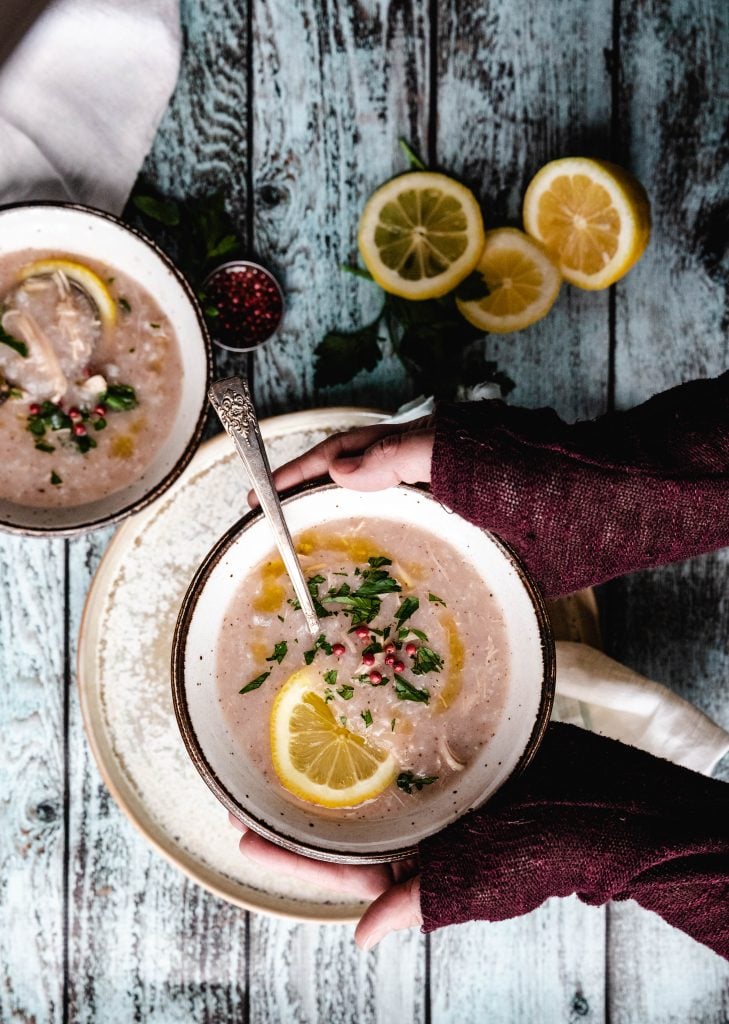 For the longest time I can remember, soup has always been the essence of comfort food. Food to warm you up on a cold winter day or that special dish when you are sick. This Chicken and Rice soup with lemon is the soup you need this winter.
Avgolemono
I was inspired by the Greek soup, Avgolemono. My friend Bella from the blog, Ful-Filled, recently shared her recipe for this classic Greek soup that is a base of chicken, rice, lemon and eggs. My oldest daughter has an egg allergy, which means Avgolemono wouldn't work for her. I wanted to create a similar style soup that would satisfy the same warmth as traditional Avgolemono without the eggs.
Simple Ingredients
Traditional Avgolemono uses eggs to create its signature creamy, silky texture. I decided to replace the egg component with a light roux (flour and butter mixture) to create a bit of creaminess without being a cream based soup. Adding fresh lemon juice is a must but adding some sumac spice gave the soup its bright flavor. The sumac bush is native to the Middle East, it produces deep red berries which are dried and ground into a coarse powder used in many Middle Eastern dishes. Sumac has a lemony flavor, but is more balanced and less tart than lemon juice which is a nice addition in the soup.
The simpleness of this dish is appealing but the flavors of the soup are so deep and comforting. A handful of simple ingredients turn into a dish that is more than perfect for a weeknight meal or a leisurely weekend brunch. Taking the extra time to make a homemade chicken stock is well worth it, especially when the broth is the main star of the show.
.I think the beauty of developing recipes is taking inspiration from around the world and incorporating it into your own personal style. A traditional Greek soup inspired my own version with a Lebanese twist and flair. I hope this soup finds its way to your heart and home.
As always, I love seeing your creations. Tag me on Instagram or Facebook with your dish!

xoxo,
Cosette
Pin recipe for later
| | |
| --- | --- |
| | |
Prepare your rice by adding to a bowl, fill the bowl with water. Drain the water, fill again, continue doing this until the water is clear. Could be 3-4 times. Set aside.

In a heavy bottomed large stock pot, add 2 tablespoons of butter and set to medium heat. Add in your chopped onions and cook for 3-5 minutes until they become translucent.

If you are using chopped garlic instead of toum, add your garlic now (if you are using toum, wait).

Add in 2 more tablespoons of butter and your 4 tablespoons of flour. Mix and stir until the flour is absorbed and cooked off. You can add in some of your stock to create a bit of a slurry while cooking this mixture.

Add your chicken stock (see below for making your own), and rice. Let the mixture come to a boil on high heat then reduce to medium-low and cook for about 20 minutes until rice is tender. Stir occasionally to make sure rice doesn't stick, I leave my wooden spoon in the pot.

Add in your chicken, toum if using and lemon once rice is tender. Season with salt and sumac. Sumac is a Middle Eastern spice that has a lemony flavor, if you don't have it, you can certainly add additional lemon to taste.

Remove from heat, enjoy! Add additional lemon to taste. Garnish with fresh parsley and pink peppercorns.
Place a whole chicken in a large pot with cold water to cover completely.

Add a cinnamon stick, bay leaf and lemon.

Let the mixture come to a boil on high heat then reduce to a simmer and let go for 2-3 hours to get the best flavor.

While the chicken is cooking, skim the fat off the top periodically.

Once your stock is done, remove the chicken, pull the meat off the bones. Pour your stock through a fine mesh strainer to get any bits out. Store your stock in the fridge or freezer safe container for 3 months.
**If you are using homemade chicken stock, feel free to sub up to 4 cups of liquid with water. Homemade chicken stock is a lot more concentrated than store bought.