Simple meals
One of the first dishes I mastered as a young aspiring home cook is kafta. Kafta is a seasoned meat, kind of like an elevated hamburger. Tomato, parsley, onion and warm spices give these patties their unique flavor and moist texture. Baked kafta with potatoes (kafta bi-siniyeh) is a comforting version of kafta baked with potatoes and tomatoes to create a luscious sauce. Scoop all the bits with a big slice of pita bread for the ultimate comfort food.
Lamb is used heavily in Middle Eastern cooking. I adore using lamb when making kafta, it gives it such a unique flavor and richness. We strictly use American lamb here at home. The flavor can't be matched and it's a way to support our local ranchers, especially in a time like this. Partnering with my friends at the American Lamb Board to bring you this authentic and tasty recipe. It's simple enough for a weeknight meal but elegant enough to serve for Easter or Passover.
Why American Lamb?
First and foremost, supporting our local community is so incredibly important, especially right now. Obtaining lamb from my local Oregon ranchers means I'm getting the freshest product to share with my family.
Local American lamb farmers and ranchers are committed to practices that protect the environment, improve land management, and foster animal well-being. Sheep improve pastures and rangeland by cycling vital nutrients back through the soil, minimizing erosion, and encouraging native plant growth. Sheep graze on a variety of nutrient-dense grasses, legumes, and forage will produce succulent, tender meat.

https://www.americanlamb.com/our-farmers-ranchers
That is a commitment I want to be part of and ensure the best meat for my family when cooking. Not to mention, American lamb is 3,000+ miles fresher than any other product.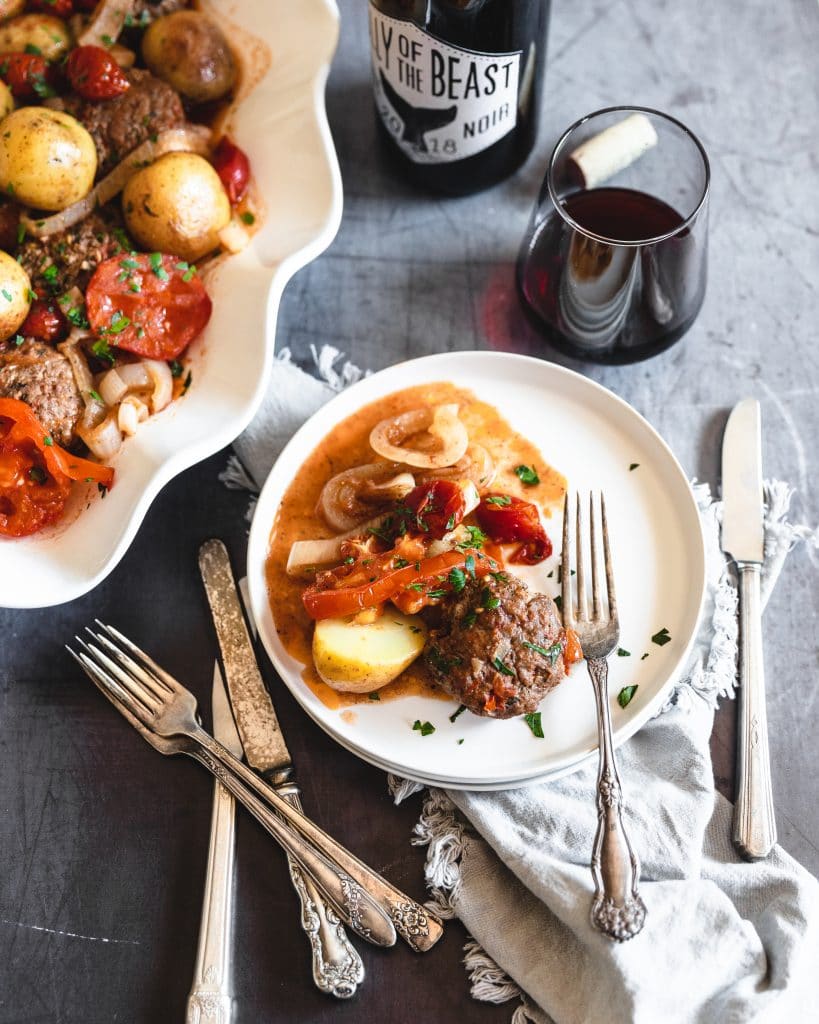 What you'll need
Like many Lebanese dishes, Baked Kafta with Potatoes is a humble dish. Incorporating simple ingredients like potatoes and tomatoes to a rich protein like lamb really balances flavors and budget. Here is a list of the ingredients you'll need:
2 pounds ground American Lamb
onion
Italian parsley
tomatoes
potatoes
tomato paste
paprika
mixed spices (or 7 spice or all-spice) - mixed or 7 spice is a combination of allspice, coriander, black pepper, cardamom, cloves and nutmeg
salt + pepper
The process
Kafta patties
Making kafta is as simple as making hamburgers. To the kafta we're going to add some major flavor components to make them extra moist and juicy. Chopped onion, tomato, parsley and spices get added to our American ground lamb to give them a flavor punch. Doing a quick broil on our patties before our final bake allows any excess fat to escape and keep this dish lean and healthy.
Potatoes
Potatoes are one of the humblest of ingredients. You can purchase many pounds at a minimal cost and they are filling, perfect when you are feeding a large family. I chose to roast mini Yukon gold potatoes for this dish, but standard Idaho potatoes work equally well. Doing a quick broil on the potatoes gives them a little pre-cook to ensure they cook fully when assembling the entire dish.
Tomatoes
The last of our ingredients is tomatoes, the tomatoes create a sauce for the potatoes and kafta to bake in and unbelievable flavor. Fresh tomatoes are preferred but if you only have canned tomatoes those work too, it's all about ease and versatility in this dish.
Once you have all your components, assembly is easy as 1, 2, 3 - layers of lamb kafta, potatoes, tomatoes and onions and a sauce bake together to create the ultimate comfort food. Check out this timelapse video of putting all the pieces together for your final dish.
As always, I love seeing your creations. Please leave a review or share your dish with me on social media which lets me know what is working for you! You can find me on Facebook, Instagram, Twitter and Pinterest. For more delicious recipes to your inbox, sign up for my newsletter!
xoxo,
Cosette
This post is sponsored by the American Lamb Board. All options are my own. Check out the American Lamb Board page to find out where you can find American lamb in your state.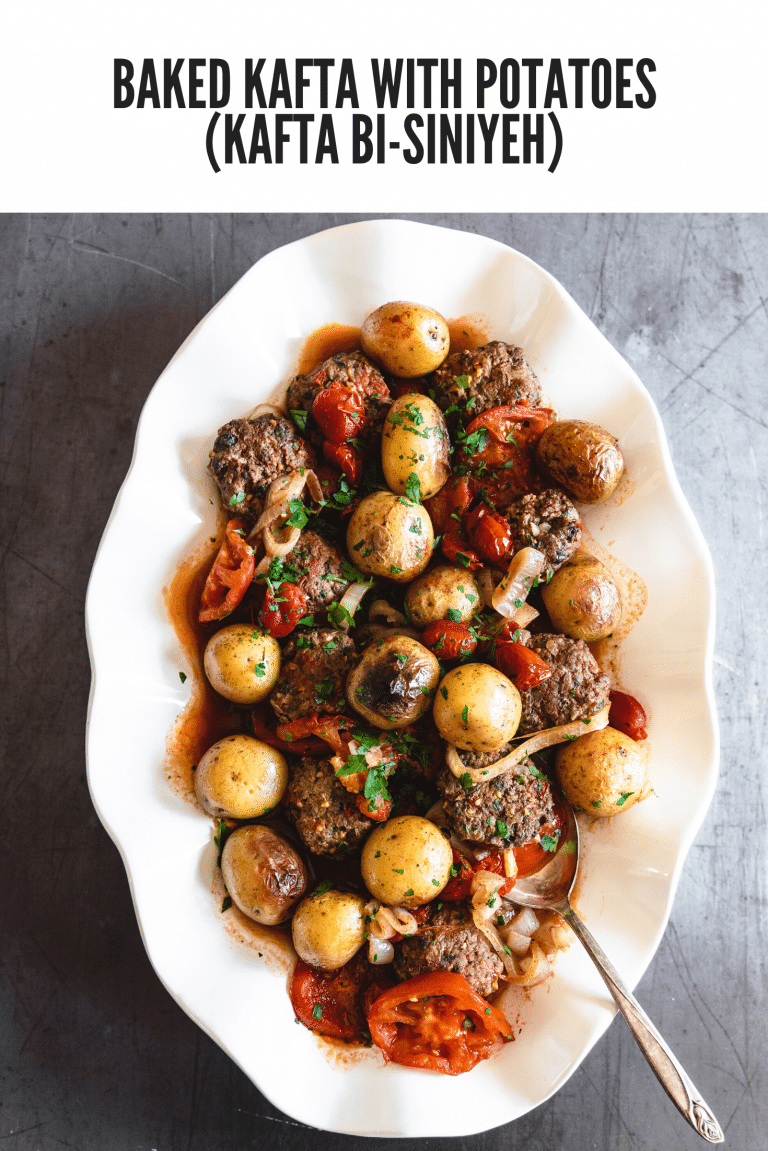 Print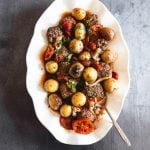 Baked Kafta with Potatoes (Kafta Bi-Siniyeh)
Author:

Cosette's Kitchen

Prep Time:

30 minutes

Cook Time:

60 minutes

Total Time:

1 hour 30 minutes

Yield:

4

-

6

servings

1

x

Category:

Dinner

Method:

Baking

Cuisine:

Lebanese
---
Description
This simple authentic Lebanese recipe is perfect for a weeknight dinner or an elegant dinner party.
---
Kafta patties
2

pound

ground American lamb*

1

cup

diced onion, about 1 medium sized onion

1

cup

diced tomato, about 2 medium sized

½

cup

chopped flat-leaf parsley - about ½ a bunch

1 tsp

mixed spice - can sub 7 spice or all spice *

2 tsp

kosher salt (reduce to

1 tsp

for table salt)

½ tsp

black pepper
Kafta Tray + Sauce ingredients
12

completed kafta patties (recipe above)
about

2

pounds

potatoes - mini yukon gold or traditional Idaho*

1 tsp

olive oil

3

large tomatoes, thick sliced (additional cherry tomatoes - optional)*

1

large onion, thick sliced

2 ½

cups

boiling water

2 Tbsp

tomato paste

1 tsp

mixed spice - can sub 7 spice or all spice

1 tsp

paprika

1.5 tsp

kosher salt (reduce to

¾ tsp

table salt) adjust to taste

1 tsp

black pepper
---
Instructions
Kafta Patties
Combine all your kafta patty ingredients into a bowl and using clean hands mix well.
Form your patties about 3" wide and 1" thick, should yield 12 patties total with 2 pounds of lamb.
Place your patties on a tray and place under broiler (high) for 5-7 minutes, remove and flip, broil for another 5-7 minutes. Set aside.
Potatoes
If using 1-2" Yukon gold potatoes (as shown), place on tray drizzle with olive oil and broil just like kafta patties. After 5-7 minutes, shake on tray and roast for another 5-7 minutes.
If using traditional Idaho potatoes, peel and cut potatoes into ¾" thick slices. Drizzle olive oil on tray and lay potato pieces flat, broil. Flip after 5-7 minutes and broil backside.
Kafta Tray + Sauce ingredients
Preheat oven to 400 degrees F.
Once you have your kafta patties and potatoes broiled, you can begin assembling your kafta tray.
Place your kafta and potatoes on a large tray, mine is 14" round. If using potato slices, wedge between your kafta.
Next, top each kafta with a tomato slice and finally an onion slice.
To make the sauce, boil 2.5 cups of water (I use the microwave), then add your tomato paste and final spices. You can adjust salt to taste. Pour over your kafta tray.
Cover your tray with foil and bake in a 400 degree oven for 60 minutes.
---
Notes
The reason we broil the kafta prior to baking is to release any excess fat from the patties. Be sure to discard the drained fat in the garbage or compost - NOT the sink! I let it sit until it hardens before discarding.
Broiling the potatoes ahead of time allows them to par-cook and ensures they are fully cooked when baking.
If you do not have fresh tomatoes, you can sub whole canned tomatoes for this recipe.
Mixed spice and 7 spice can be found in any Middle Eastern grocery store. You can also find online, click links.
Keywords: baked kafta with potatoes and tomatoes, baked kafta and potatoes, kafta with potatoes recipe, kafta with potatoes, kafta kabob, kafta and batata, kafta burger, kofta, kofta burger, baked kofta with potatoes, baked kofta with tomatoes, baked kofta balls, baked kofta in oven, baked lamb kofta balls, baked lamb kofta