A simple seafood dish with no fuss and wonderful anytime of year. Garlic, lemon and pasta are paired with succulent crab in a light and creamy sauce. I promise, this dish is so easy - you can make it on a weeknight or impress friends at a dinner party! This Creamy Garlic Lemon Pasta with Crab comes together in 20 minutes and packed with SO MUCH FLAVOR!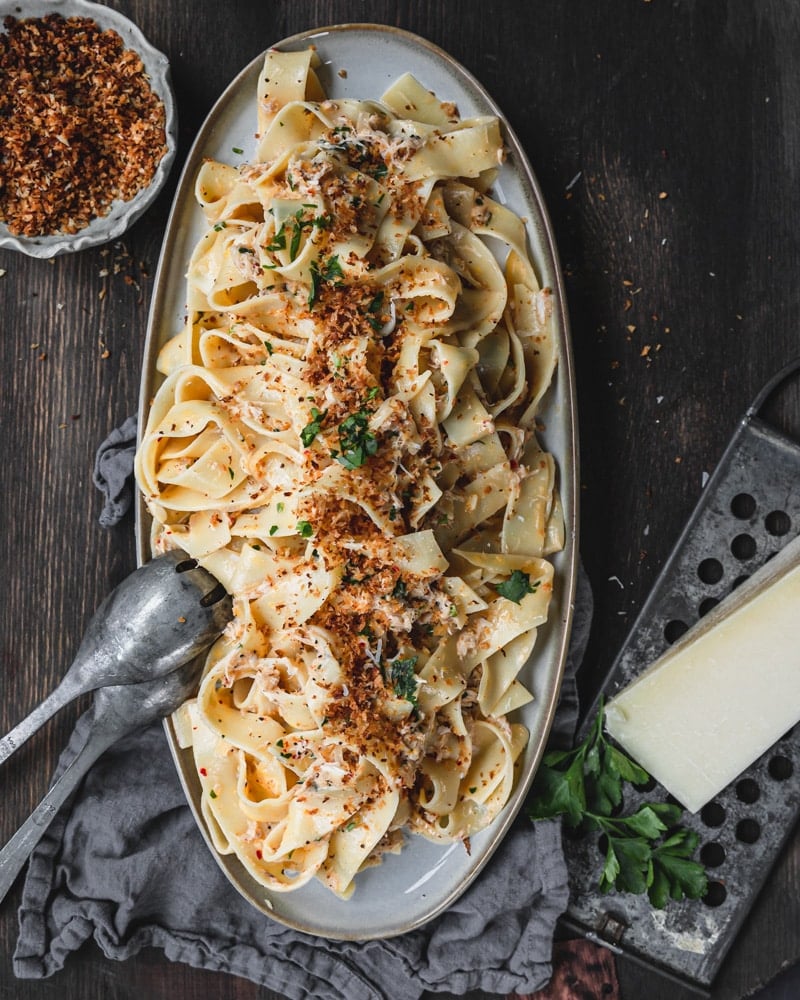 I know you're thinking you can only make Creamy Garlic Lemon Pasta with Crab recipe during peak crab season - I'm here to share a little secret with you - I ADORE keeping fresh canned crab in the fridge at all times. It's a staple and so cost effective. The meat is so tender and succulent, it's screams to be turned into crab cakes or in this simple pasta dish.
Jump to:
How to Choose Fresh Canned Crab Meat
It may not be summer but we can still enjoy crab all year long. There is so much to think about and consider when choosing fresh canned crab meat. You can find crab in the refrigerated seafood section either in a large can or tub. Here is a quick breakdown of the different types of crab meat. Please refrain from using imitation crab meat, that in fact is not crab at all - imitation crab meat has a red and white look and is various white fish that are combined together. If you are close to a US Foods - they carry the cans of Crab Meat at a great price.
Jumbo Lump Crab - Jumbo lump crab is the most expensive and for good reason, it's the white, meatiest part of the crab. You'll definitely pay top dollar for this. The pieces are very large and all white meat.
Lump Crab Meat - Lump crab is a great option and priced much better than jumbo lump crab. Lump crab will include smaller, broken pieces of jumbo lump crab as well as darker claw meat pieces.
Claw Crab Meat - The claw meat comes from the claws and legs of the crab and is the darker meat from the crab. The dark meat definitely had a much deeper crab flavor and great for dishes with a lot of sauce or other heavy flavors. It is also the lowest cost of the types of meat.
For this dish, I love using the claw meat since the garlic, lemon and cream flavors are so strong - you can also certainly use lump crab meat as well. I would save the jumbo lump crab for a dish with less ingredients and you want the fresh crab to shine.
Ingredients
Pasta - The type of pasta you choose is really up to you, I'm using these really thick pappardelle pasta noodles. Linguini, spaghetti, bucatini are all great choices!
Fresh Crab Meat - We are using fresh canned crab meat, I like using the crab claw meat in this dish since it has the strongest crab flavor and can really stand up to the garlic and lemon. See notes above about the types of crab.
Butter - This sauce is absolutely divine and starts with butter!!
Olive Oil - I love to balance the butter with some olive oil, it gives the sauce a nice rich flavor.
Shallot - If you haven't used shallots before, they are a slightly milder onion - they are fabulous in salad dressings and really give this dish a subtle flavor boost.
Garlic - You can't have garlic, lemon pasta without garlic. I'm using fresh garlic in this recipe but for my toum lovers, you can ABSOLUTELY use it in the recipe. It will give a more subtle garlic flavor.
Heavy Cream - The heavy cream creates a wonderful luxurious sauce that is perfect with the crab.
White wine - Using a tasty white wine to create the sauce, a chardonnay is lovely with its woody flavor notes. You can also substitute some seafood stock if you prefer.
Aleppo pepper - Aleppo pepper has a lovely peppery flavor but not terribly spicy - more flavorful than spicy.
Lemon - We're using both the lemon zest and juice, fresh lemon is key in this dish.
Parmesan cheese - Freshly grated parmesan cheese to tie it all together.
Salt + Black Pepper
Fresh Parsley
Panko Breadcrumbs - I love panko breadcrumbs for their super crisp and flaky texture, they are perfect for making brown butter breadcrumbs which is what will do to top this dish and make it over the top incredible.
See recipe card for quantities.
How to Make Creamy Garlic Lemon Pasta with Crab
Begin by cooking your pasta according to the package directions. Be sure to salt your pasta water. Once your pasta is cooked al dente, reserve 2 full cups of salted pasta water.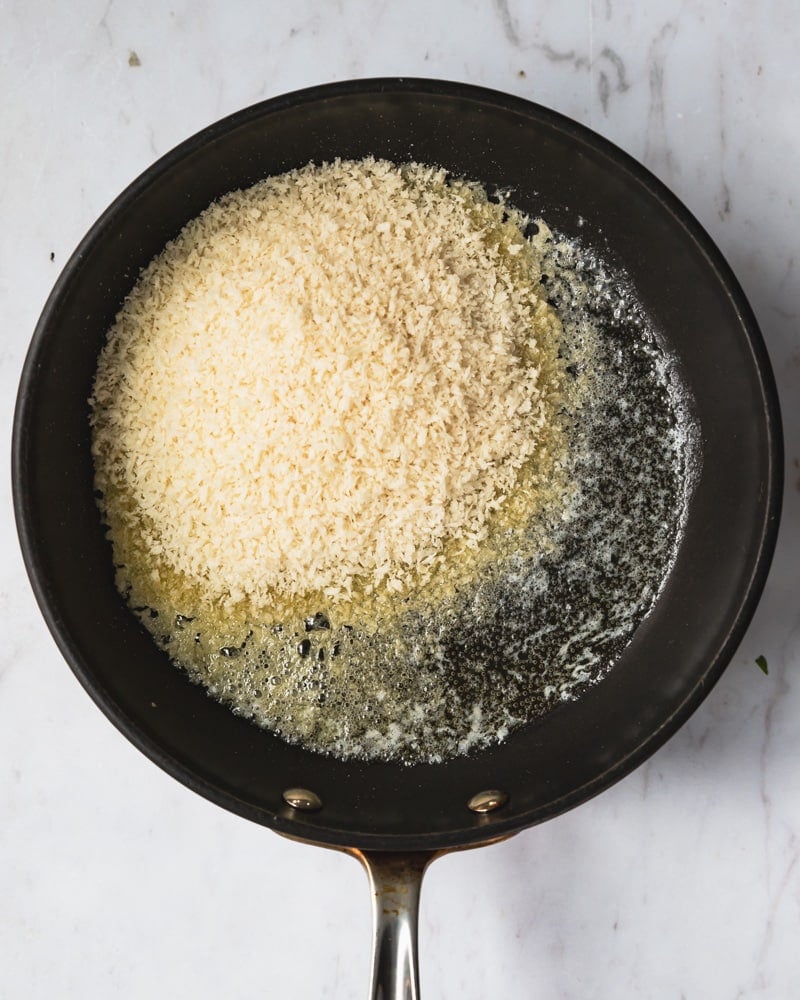 While pasta cooks, prepare your brown butter breadcrumbs. In a small skillet on medium-high, add your butter and allow to melt completely. Next add your panko breadcrumbs and allow the butter to coat. Mix constantly until panko begins to brown. Once fully browned, add flake salt and set aside.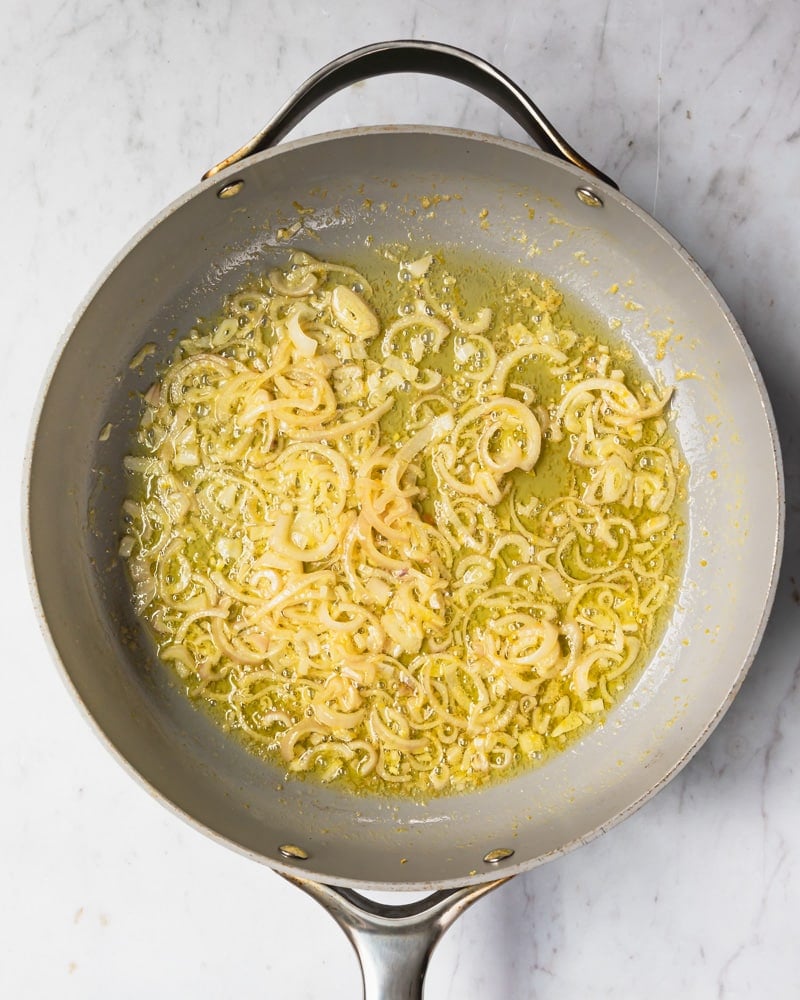 In a large, deep saute pan over medium-high heat, melt your butter and olive oil. Add in your sliced shallots and lemon zest, cook for 5 minutes until they become slightly fragrant and begin to turn translucent. Add your garlic and cook for another 30 seconds to 1 minutes until fragrant. Continue stirring.
Add in your Aleppo pepper - this will allow it to infuse with the oils and allow the flavor to pop.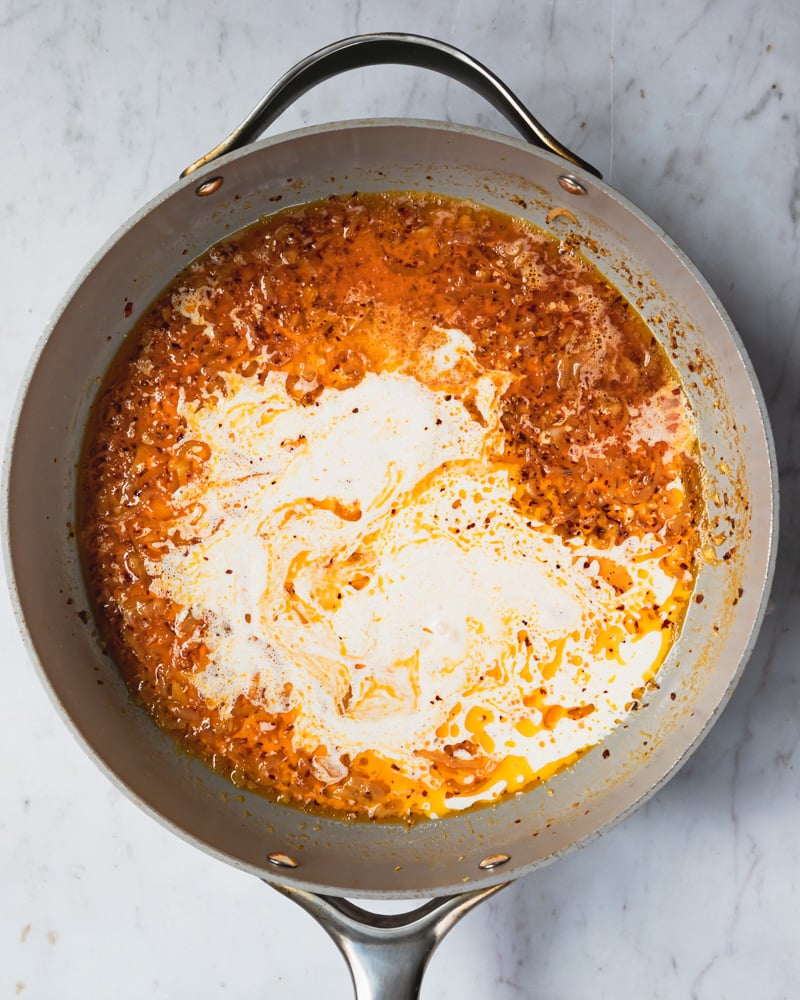 Next add your heavy cream, white wine. Allow to cook on high until it just boils, then reduce to low.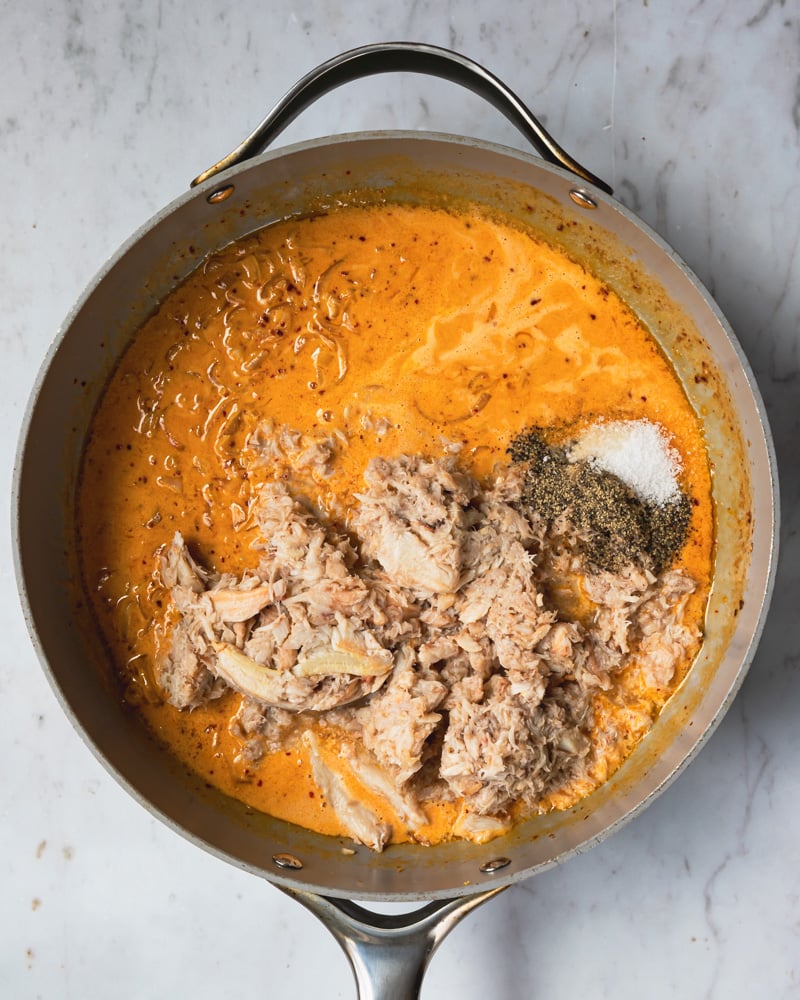 Add your crab meat, lemon juice, salt and pepper. Mix to fully combine.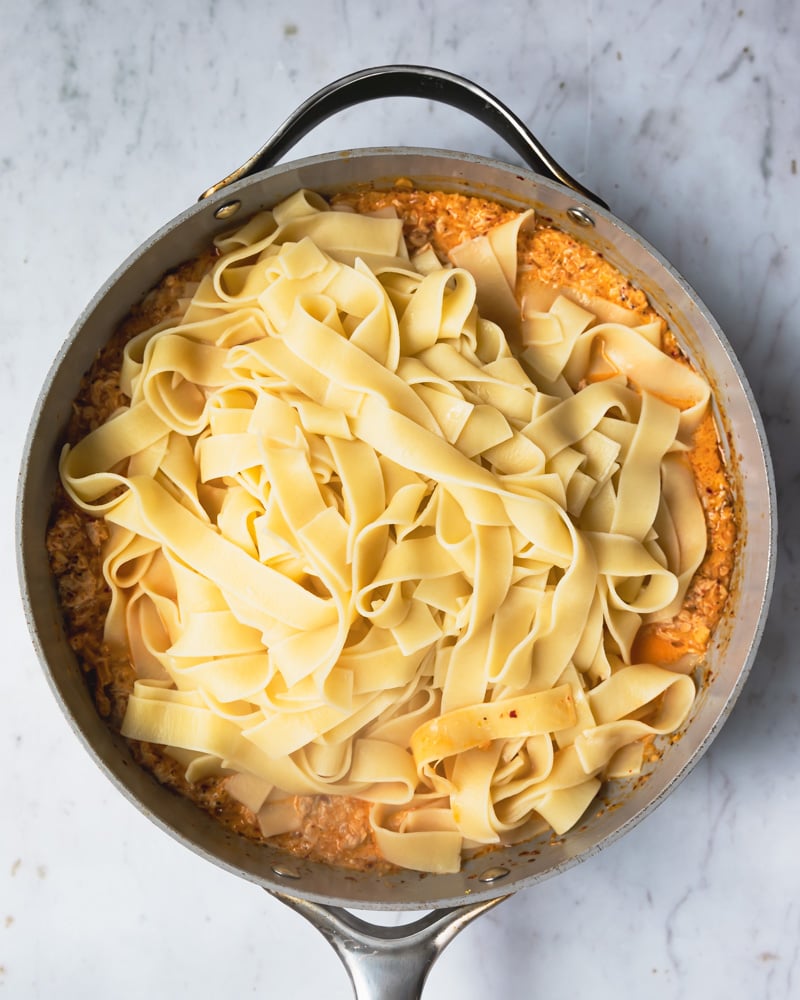 Add your pasta directly to the sauce.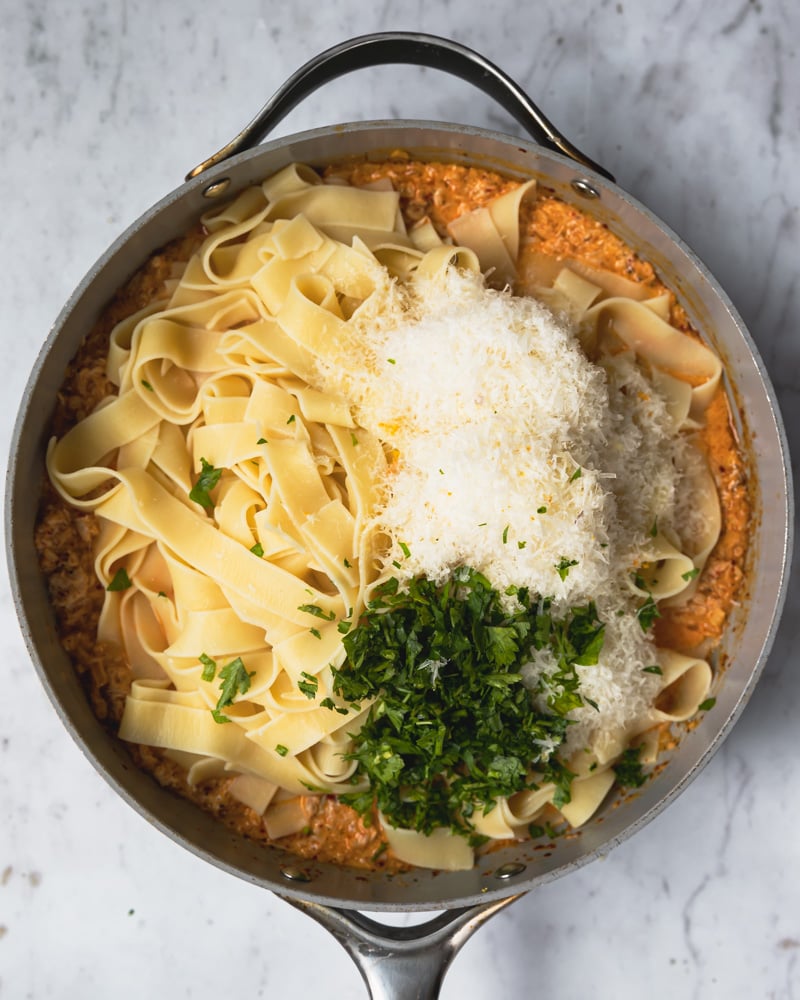 Finally, add in your freshly grated Parmesan cheese and parsley. Begin adding some of your pasta water slowly, adding ¼ cup at a time until a sauce begins to form.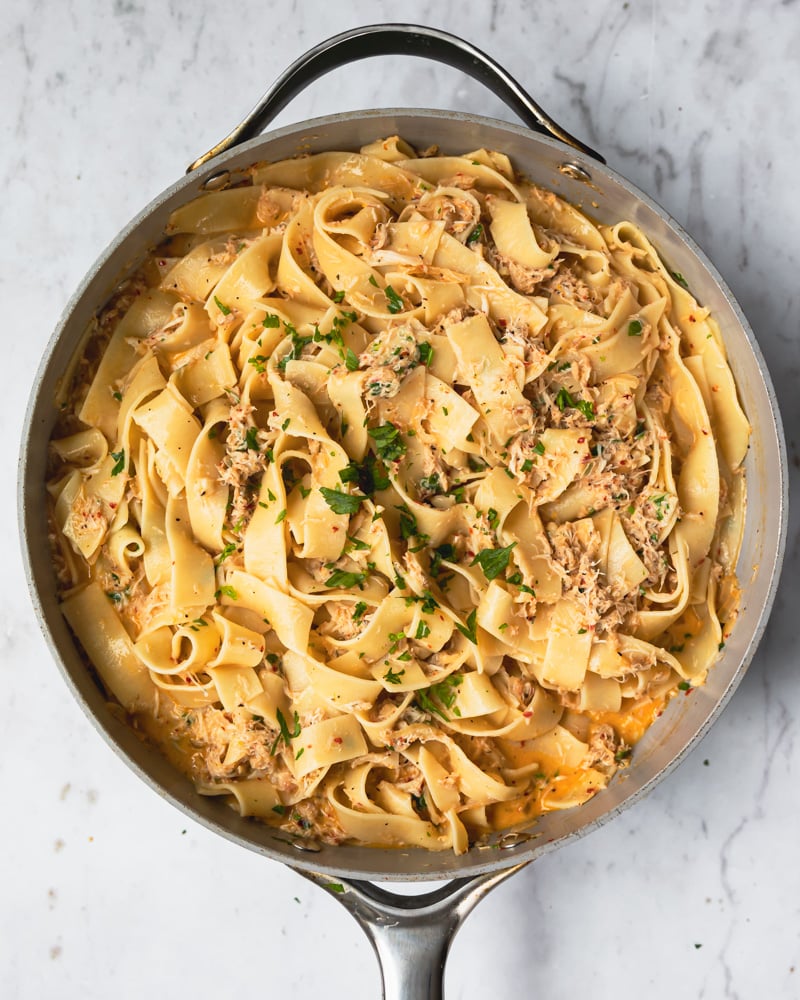 Once your sauce has thickened, remove from heat immediately plate and top with your brown butter panko bread crumbs and additional parmesan cheese.
Depending on your pasta type, it may take more or less pasta liquid, the reason we add pasta water is because it contains starches and helps to thicken the sauce without any additional fillers such as corn starch or flour. I like to reserve 2 cups of pasta water, I used about 1.5 cups in total.
Top Tips for Creamy Garlic Lemon Pasta with Crab
Check the crab meat. Often times crab meat wills still contain shells, be sure to check.
Cook your pasta al dente. Pasta should be cooked according to package directions, al dente. Al dente simply means cooked to still have a bit of firmness. The pasta will continue to cook slightly in the sauce and you want it to have a little bite - so don't overcook.
Salt your pasta water well! Salting your pasta water is one of the most important steps in making any pasta dish. The salt not only salts the water but as the pasta cooks and absorbs the water, it will naturally salt it. Also, don't be shy - add a good amount to your water!
Dairy and seafood - Yes - don't be afraid to use cheese and cream with seafood, that is a complete misnomer. The cream and cheese really compliment the sweet crab.
Keep it spicy! If you want an extra kick to this dish, add some red pepper flakes to your onion and garlic mixture while cooking. This will allow the spice to infuse into the sauce.
Gluten Free - Of course to keep the dish gluten free, use your favorite gluten free pasta and breadcrumbs.
Dairy Free - I don't have a great dairy free alternative for this dish, you could simply add more wine or seafood stock for a lighter dish. Opt nutritional yeast for the parmesan.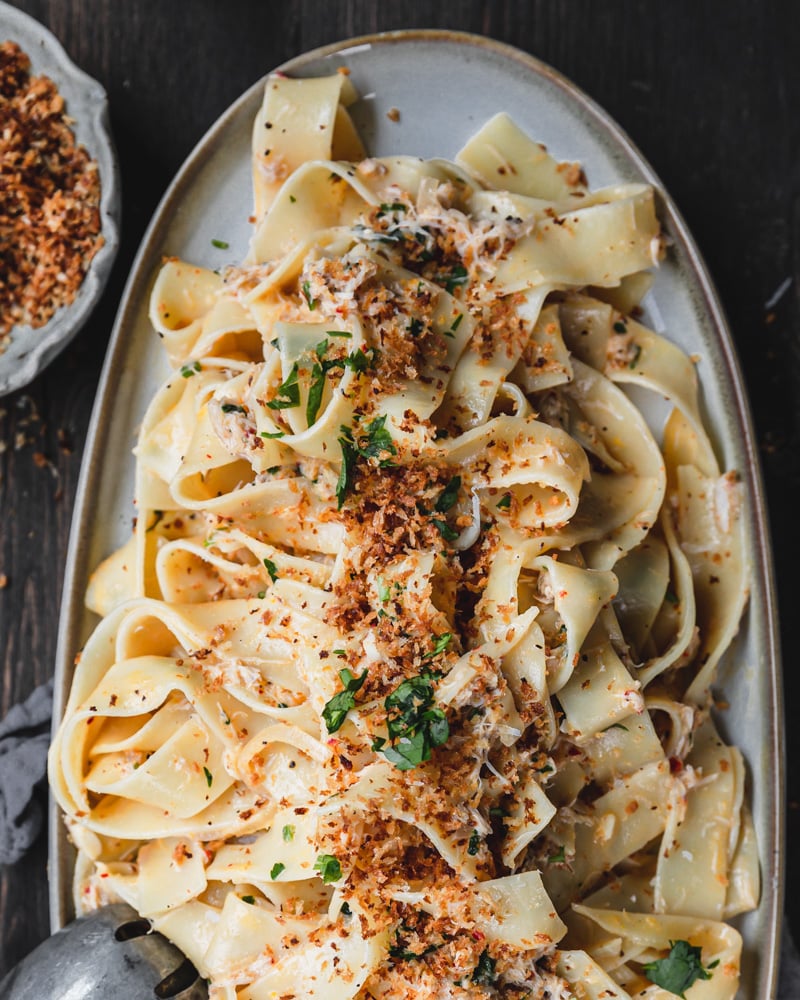 Reheating and Storage
This dish is best enjoyed immediately for the best flavor and freshness.
How to store: You can store the pasta in the fridge for up to 2 days, I don't like to keep seafood longer than that.
Reheat: The best way to heat is in a skillet - add a little butter or olive oil to a pan and add your pasta and allow to heat through.
Freeze: This dish does not freeze well - enjoy fresh!!
FAQ
Can I use fresh whole crab in this dish?
Of course, if you have crab in season and want to use in this dish, go for it! For me and a family of 5, using fresh canned crab is much more economical and easier to handle as well.
Would other seafood work in this dish?
Shrimp would be a great option - you could use pre-cooked shrimp and toss in the same manner as the crab. If you'd like to use another type of fish, cook accordingly and add into your pasta or use leftover fish and toss in.
I hope you enjoy this Easy Creamy Garlic Lemon Pasta with Crab as much my family does - feel free to adjust and make your own!
If you make Easy Creamy Garlic Lemon Pasta with Crab, please let me know by leaving a rating and review below!
As always, I love seeing your creations. Please leave a review or share your dish with me on social media #cosetteskitchen which lets me know what is working for you! You can find me on Facebook, Instagram, Twitter , Tiktok and Pinterest. For more delicious recipes to your inbox, sign up for my newsletter!
xoxo,
Cosette
Print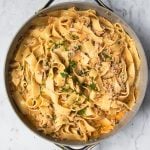 Easy Creamy Garlic Lemon Pasta with Crab
Author:

Cosette's Kitchen

Prep Time:

15 minutes

Cook Time:

15 minutes

Total Time:

30 minutes

Yield:

8

servings

1

x

Category:

Pasta

Method:

Stovetop

Cuisine:

Seafood
---
Description
A flavorful crab filled pasta dish - a light cream sauce that is infused with Aleppo pepper, garlic and lemon. Perfect for a weeknight meal or to entertain guests.
---
1

pound

pappardelle pasta, or your favorite variety

8 Tablespoons

unsalted butter, divided

2 Tablespoons

extra virgin olive oil

2

shallots, thinly sliced
Zest of

2

large lemons

6

cloves garlic, minced

1 ½ teaspoons

Aleppo pepper

¾

cup

heavy cream

⅓

cup

white wine

½

cup

fresh lemon juice, 2-3 lemons

1

pound

fresh canned crab, claw or lump

1 ½ teaspoon

black pepper

2 teaspoons

Diamond kosher salt, half if using table salt*

1

cup

freshly grated parmesan cheese

2

cups

reserved pasta water
small bunch of parsley, chopped

1

cup

panko bread crumbs*
---
Instructions
Pasta + Sauce
Prepare your pasta by cooking in heavily salted water according to package directions - cook to al dente. Once pasta is done, reserve 2 cups of salted pasta water.

1 pound pappardelle pasta, or your favorite variety

In a large skillet or saute pan, melt 6 Tablespoons butter and olive oil on medium-high heat. Add your sliced shallots and lemon zest, allow to cook for about 5 minutes.

6 Tablespoons unsalted butter
2 Tablespoons extra virgin olive oil
2 shallots, thinly sliced
Zest of 2 large lemons

Add your minced garlic and Aleppo pepper, allow to cook for 30-45 seconds, until just fragrant.

6 cloves garlic, minced
1 ½ teaspoons Aleppo pepper

Next, add your heavy cream and white wine, allow to come to a boil then immediately turn to a low simmer and simmer for 5 minutes.

¾ cup heavy cream
⅓ cup white wine 

Add your fresh lemon juice, fresh canned crab, salt and pepper. Mix until fully combined and heated through.

½ cup fresh lemon juice, 2-3 lemons
1 pound fresh canned crab, claw or lump 
1 ½ teaspoon black pepper
2 teaspoons Diamond kosher salt, half if using table salt*

Add your cooked pasta, freshly grated parmesan and a handful of chopped parsley, toss to coat. Then slowly add in your pasta water about ¼ cup at a time. Allow the sauce to thicken on medium heat and coat your pasta entirely. Add more pasta water as needed. Should use 1.5-2 cups worth.

1 pound cooked pasta
1 cup freshly grated parmesan cheese
2 cups reserved pasta water
small bunch of parsley, chopped

Plate and top with panko breadcrumbs and additional parmesan. 
Panko Breadcrumbs
Heat 2 Tablespoons butter to a small skillet on medium-high heat.
Add in 1 cup panko breadcrumbs and mix to coat. 
Continue stirring and mixing until breadcrumbs begin to turn golden brown.
Once they are golden, add some salt and set aside for pasta.
Store in fridge for later use.
---
Notes
Don't skimp on the heavy cream - it really makes the dish and a little bit goes a long way!
My salt PSA - if you aren't using Diamond kosher salt - use 1.5 teaspoons for Morton's kosher or 1 teaspoon of table salt.
You can certainly use plain bread crumbs in place of panko but they won't have the same crunchy texture.
Keywords: creamy crab recipes, creamy crab pasta with white wine, creamy crab pasta with lemon and garlic, creamy crab pasta, lemon garlic pasta with crab, how to choose canned crab
Related
Looking for other recipes? Try these: