Rich Winter Meals
Lamb is such a huge part of my family's cuisine. Growing up, lamb was a regular on the family table. To me, one of the best cuts of lamb is actually one of the most affordable cuts, the shank. This Eggplant Lamb Stew brings flavors that are rich, velvety and comforting.
I'm always thrilled to partner with my friends at the American Lamb Board to bring you new meal ideas. This Eggplant and Lamb Stew is the perfect meal for the winter months. Warm, cozy, full of flavor and really satisfies and keeps you warm.
Cooking with Lamb Shanks
If you've never cooked lamb shanks before, you will be in for a treat. Slow cooking or braising these shanks gives them the ultimate flavor and luxurious texture. I'm also a sucker for cooking with locally sourced ingredients, here are a few reasons to love cooking with American lamb!
High in Protein - Lamb has such a high source of protein, a typical cooked leg of lamb has 23 grams of protein per 3 oz portion.

Shanks - The shanks are part of the lamb leg, it is a cut of meat that is full of tendons but when slow cooked or braised melt away and give you a succulent meat.

Braising - Braising cuts like lamb shanks is important. The shanks are lined with tendons and if not cooked slow and long, they will be tough to chew. Braising allows the tendons to melt aways and the lamb to become tender and fall off the bone.

Supporting American Ranchers - Buying local American lamb ensures the freshest meat and also supports our American ranchers.
Ingredients for Eggplant Lamb Stew
Simple but humble ingredients is what makes this dish so special. Here is a list of ingredients for this dish!
Lamb Shanks - American lamb shanks can be found at your local grocer or butcher. You can check here to find a source close to you.

Eggplant - We're using eggplants in the recipe because they lend a sweet component to the rich lamb. Any type of eggplant will work, I'm using common Italian eggplant.

Tomatoes - If this were summertime, I would absolutely pick rich, lucious fresh garden tomatoes but wintertime stew and ingredients don't lend themself to that. We're using a can of whole tomatoes that will be perfect as they cook down and meld with the eggplant and lamb.

Aromatics - No dish is complete without our basic aromatics, we'll add in onions and garlic to create our base flavor.

Spices - Lebanese dishes are actually not extremely heavy in spices. We use some basic ones throughout our cooking. Today we're going to be adding in: bay leaf, cinnamon stick, allspice, salt and pepper

Wine - When cooking meats, like lamb, using wine to braise is quite delicious. You won't get any wine flavor or alcohol as it all cooks away but it elevates and brings a richness to the sauce. You can always sub some beef stock if you prefer.

Rice - Rice!!! This stew is rich and creamy but topping it on a beautiful bed of rice is really what gives it that homey feel. Rice is such an integral part of our cuisine that it is only natural to include in this dish. I'll be sharing the Lebanese style rice with you.
Braising Lamb
This dish is one you can prep in the morning, let it cook for a few hours then forget about it. A few steps to prepare but then your dutch oven does all the work for you. Braising is one of the best cooking techniques that builds so much flavor. You'll need an oven safe pot or dutch oven that has an oven safe lid up to 350 degrees. I love using an enamel dutch oven because it really holds that heat in and allows the lamb to cook so beautifully. Here is an option you're looking to invest in one, I like the oval, larger 7 quart for this dish.
Season and Sear - To braise properly, we want to be sure to season our lamb shanks well then sear each side on the stovetop directly in our dutch oven. That searing is what is going to give us flavor as they begin to cook and melt away in the oven. If you can't sear all your pieces at once, do it in batches.

Aromatics - I'm one to enjoy lamb all on it's own but we need to build flavor, sauteing our onions, garlic, eggplants will give them a bit of browning and flavor. We're going to do this in the SAME dutch oven as we seared our lamb shanks.

Braising - When we've seared and sauteed, we're finally ready to braise in the oven. This is the easy part. Add in your remaining ingredients: tomatoes, spices, cinnamon stick, bay leaf, wine (liquid) and finally your seared lamb shanks. Pop a lid on and braise in the oven for 2.5 hours.

Rice - Just before you want to eat, make a pot of rice and enjoy your delicious meal.
Pro tip - You can get all your components ready the night before including searing your lamb, sauteing your aromatics, let cool then pop the whole dutch oven in the fridge. The next morning - perhaps a busy work from home day, pop in the oven and have dinner ready when you are!
Holiday Lamb Challenge
Join us this holiday season as we celebrate with American Lamb. From the Thanksgiving table to your New Years Eve celebrations and everything in between, American Lamb is perfect for your holiday traditions. The ways in which we celebrate will be different this year, so why not experiment with something new? Explore all that American Lamb has to offer this season - and be entered to win some great prizes! Happy holidays and good luck!
To Enter:
Keep an eye on Fan of Lamb on both Instagram and Facebook for the designated contest posts. Designated contest posts will occur once a week through the promotional period. The promotional period is in effect from November 4th to December 31st at 11:59pm.
To enter, follow @fanoflamb on either Instagram or Facebook, "like" the designated contest post(s), and comment with an American Lamb recipe you plan to enjoy this holiday season. One (1) winner will be selected every two weeks. One winner will be chosen from the two designated contest posts. Following, liking, and commenting on either designated post during the two week window guarantees entry for that contest period.
Winners will receive one (1) cookbook collection featuring four of our favorite cookbooks and two (2) racks of American Lamb.
Sunday Dinner
Whenever and however you enjoy this meal, whether it's on a Sunday surrounded by family or a wholesome weeknight meal. Be sure to savor every bite and check out where you can purchase American lamb near you.
As always, I love seeing your creations. Please leave a review or share your dish with me on social media #cosetteskitchen which lets me know what is working for you! You can also tag my friends at The American Lamb Board! You can find me on Facebook, Instagram, Twitter and Pinterest. For more delicious recipes to your inbox, sign up for my newsletter!
xoxo,
Cosette
This post is sponsored by The American Lamb Board. All ideas and opinions are my own.
Print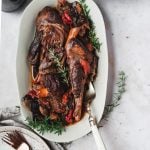 Eggplant Lamb Stew
Author:

Cosette's Kitchen

Prep Time:

20 minutes

Cook Time:

2.5 hours

Total Time:

5 minute

Yield:

8

servings

1

x

Category:

Lamb

Method:

Braising

Cuisine:

Lebanese
---
Description
This warm, comforting Eggplant Lamb Stew is perfect for a cold winter day. This post is sponsored by The American Lamb Board.
---
Stew Ingredients
4

American lamb shanks

4 teaspoons

kosher salt, divided*

3 teaspoons

pepper, divided

4 teaspoons

all spice, divided

2

medium sized onions, cut in large chunks

4

cloves of garlic

2

large eggplants, cut in large chunks

1

can of whole tomatoes, 28oz

2

cinnamon sticks

2

bay leaves

2

cups

red wine and/or beef stock
Additional salt and pepper to taste
Lebanese Rice
2

cups

of Jasmine rice, rinsed and drained

½

cut vermicelli noodles

4 tablespoons

butter (salted if you can)

4

cups

water

2 teaspoons

kosher salt*
---
Instructions
Stew
Preheat oven to 350 degrees and place rack toward the lower ⅓ of your oven.
Begin by seasoning your lamb shanks with 2 teaspoons of kosher salt, 1.5 teaspoons of pepper and 2 teaspoons of all spice. If you are using table salt, be sure to cut in half - see note below.
Place your dutch oven on a strong buner on your stovetop on medium-high heat. Once hot, add in your lamb shanks, as many as you can fit and begin searing on each side, flipping to ensure all sides are seared and browned. Repeat with any shanks that were not able to fit at the bottom of your pot. Each seared side should take 3-4 minutes.
Remove shanks and set aside.
In the same dutch oven, add your onions, garlic, eggplant and remaining spices (salt, pepper and all spice). Allow these aromatics to cook and brown slightly - about 6-8 minutes.
Once browned and eggplant wilted down, add in your cinnamon sticks, bay leaves and canned tomato. Finally top with lamb shanks and pour your wine and/or stock.
You can use all wine, or split half and half wine and beef stock.
Be sure to nestle your lamb shanks into the liquid and softened aromatics.
Place your lid on and pop into a 350 degree oven for 2.5 hours.
At the halfway point, I like to remove and taste the sauce to see if any additional seasoning - salt, pepper needs to be added. Add as needed.
Lebanese Rice
In a bowl, add your rice. I prefer Jasmine rice to other varieties but any long-grain will do.
Begin rinsing your rice, fill the rice bowl with water and you'll notice a cloudy white form. Drain that water and begin again. 
You'll repeat the fill, rinse and drain until the water runs clear. It usually takes about 10 times or so. 
Drain in a small strainer and set aside.
In a non-stick rice pot, melt your butter on medium-high heat and add your cut vermicelli noodles. Continue to stir until noodles become a golden brown. Be sure to keep watch as they can burn quickly if not watching.
Once browned, add your rinsed rice to the pot and continue to cook. 
Allow your rice to coat with the butter vermicelli mixture and begin to slightly toast. I like to do this for about 10 minutes. 
Next, add 4 cups of water to your rice pot, 2 teaspoons kosher salt and set to high heat and allow to come to a boil.
Once it comes to a boil, cover and reduce to a simmer and set a timer for 20 minutes.
After 20 minutes, turn off heat and when ready, fluff with a fork and enjoy with your lamb stew.
---
Notes
Kosher Salt - all salts have a varying level of saltiness. I cook with kosher salt because it lends to a better flavor and can be controlled a little better. You'll see there will be MORE kosher salt but it in fact is less salty. If you use table salt in place, be sure to cut it half to ensure your dish is not too salty.
Rice - You can certainly pair this dish with any style rice you choose, including instant rice. 
Wine vs stock - Cooking with wine is not uncommon but rest assured it is safe for children, the alcohol completely cooks off. You can certainly substitute with beef or even chicken stock if you aren't comfortable or you are not able to cook with wine.
Keywords: braised lamb stew recipe, braised lamb stew red wine, braised lamb shank stew, braised lamb and eggplant stew, braised lamb eggplant, eggplant and lamb stew, lebanese rice recipe, lebanese rice and lamb, american lamb,