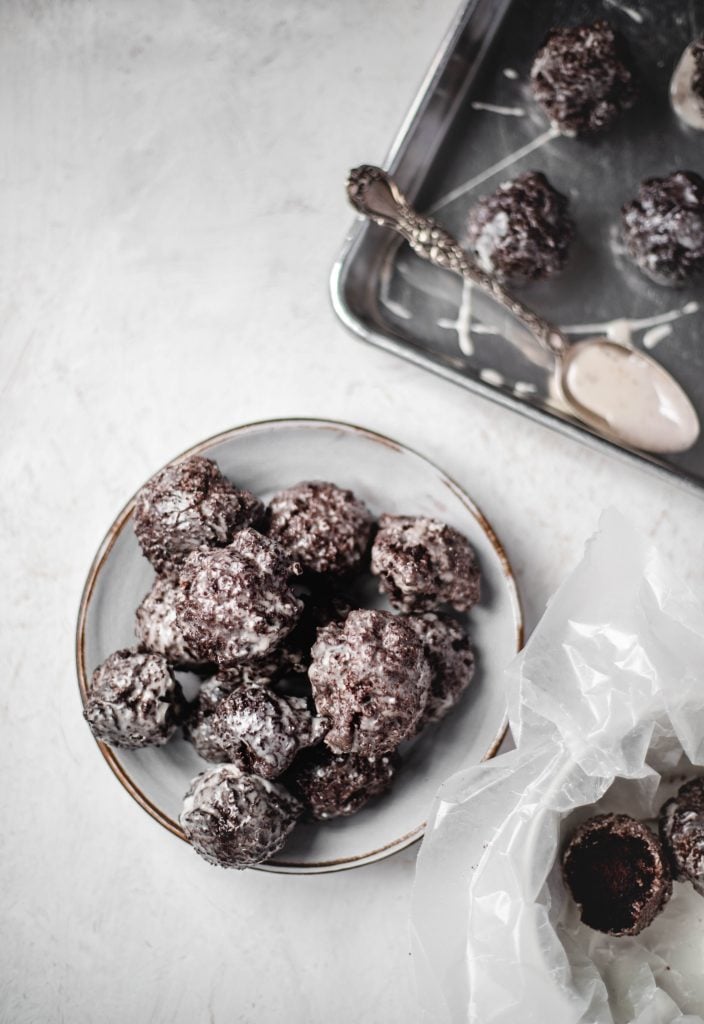 If you have never been to the East Coast and had Dunkin' Donut Munchkins, you may not have lived life to the fullest! I grew up in Pennsylvania and Dunkin' Donut Munchkins were the king of all donut holes.
Dunkin' Donuts
My father worked (and still does) harder than anyone I know. Growing up was no different, working 12+ hour days in our family business. It is hard to run your own business, it literally takes all the man hours possible to keep running and be successful. Despite the many hours of work, I remember distinctly my parents always taking us out to Dunkin' Donuts every once in a while for a donut and time to play on tabletop Ms. PacMan (literally the best game ever!). Probably one of the fondest memories I have of my childhood, isn't that crazy? A donut and Ms. Pacman? My parents would sit by the window having coffee and my brother and I would head straight to Ms. Pacman. Something about those trips stuck with me, maybe it was the donuts or maybe it was just family time together?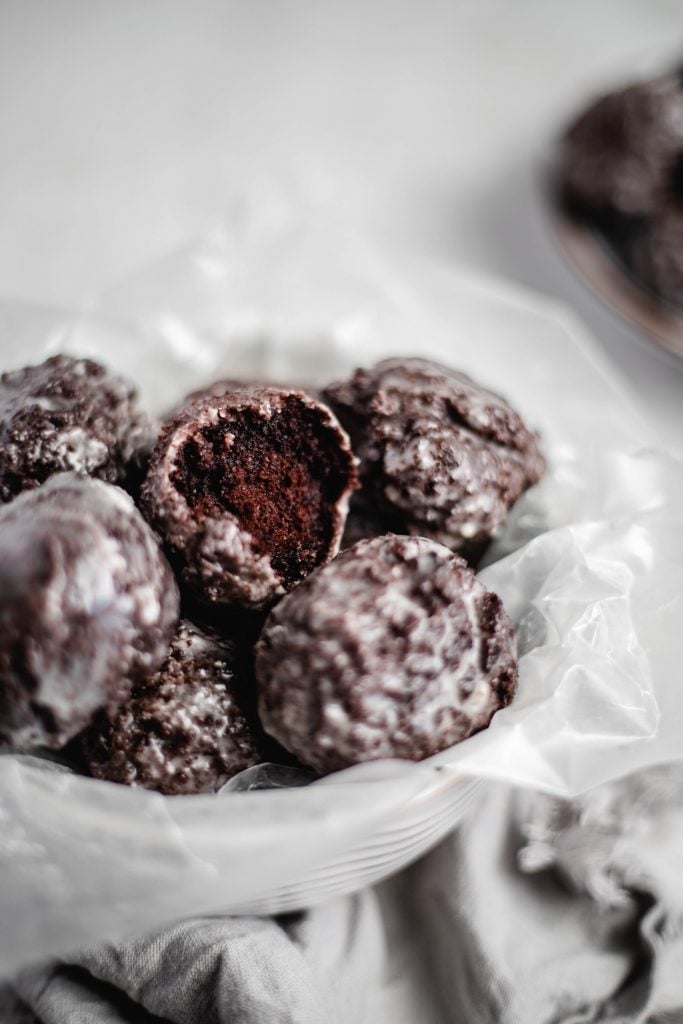 Kids and Donuts
Fast forward 20+ years later. Portland definitely doesn't have a Dunkin' Donuts but when my kids are back east, they are sure to get their fill of munchkins. Their Auntie Roro spoils them beyond belief!!! They basically get munchkin donut holes every other day, I'm not exaggerating! Between the donut holes and ice cream from my dad's shop, my kids go through serious detox when we get home!
Being the mom that I am, I like to indulge my kids every once in a while. We have definitely found some good donut holes here in town (kids may have actually said better than Dunkin'!!) but there is something about taking that nostalgic memory for both myself and my kiddos and making it your own.
Chocolate Donut Holes
I wanted to give my kids the perfect chocolate donut holes, they may not be exactly like Dunkin' Donuts but I promise you, you won't miss them!!!! With a touch of yogurt a combination of both melted chocolate and dry cocoa powder, these definitely have a chocolate lover in mind.
I know what you're thinking....I don't want to fry! I know, neither do I! But to get the BEST donuts, the best donut holes (munchkins) this is the only way for success. I promise it will be worth it in the end.
My kids won't have the same memory of sitting at Dunkin' Donuts, playing Ms. Pacman but I sure do hope they remember the love that goes into each treat they enjoy.
As always, I love seeing your creations! Be sure to tag me on Instagram or Facebook.
xoxo,
Cosette
Print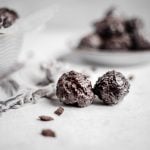 Donut Holes
Author:

Cosette's Kitchen

Prep Time:

10 minutes

Cook Time:

30 minutes

Total Time:

40 minutes

Yield:

2

dozen

1

x

Category:

Baked Goods

Method:

Frying

Cuisine:

American
---
Description
These delicious donut holes are a perfect treat for a party or weekend brunch. I hope you enjoy making and eating them!
---
For the donuts:
2 tablespoons

unsalted butter

1 ½

ounces

semi-sweet chocolate, chopped

1 ¼

cup

all purpose flour

¼

cup

+

2

tablespoons

granulated sugar

¼

cup

+

2

tablespoons

cocoa powder

¾ teaspoon

baking powder

¼ teaspoon

baking soda

½ teaspoon

kosher salt

¼

cup

full-fat yogurt or sour cream

1 teaspoon

vanilla extract

2 teaspoons

coffee

1

large egg canola oil for frying
For the glaze:
3

cups

confectioners' sugar

3 tablespoons

milk

1 teaspoon

vanilla extract
---
Instructions
Donuts:
In a small bowl, add your butter and chopped chocolate. Microwave for 30 second increments until the chocolate and butter are smooth and melted, stir between intervals. Should take 2-3 minutes.
In a large bowl whisk together the dry ingredients: flour, sugar, cocoa powder, baking powder and soda and salt.
Next, add your chocolate butter mixture, yogurt, egg, coffee and vanilla into the dry ingredients.
Using a spatula, mix and combine your ingredients until a cohesive dough forms.
Once combined, wrap dough in plastic wrap and refrigerate for 30 minutes.
In a heavy-bottomed pot, add your canola oil, you'll want about 2" of oil. Using a candy thermometer, heat your oil between 350-360 degrees.
Using a cookie scoop (about 1 tablespoon), begin rolling your donut dough into small balls.
Gently lower down 1 donut to start.
Donut should cook for about 3 minutes, be sure to rotate halfway. After 3 minutes, remove to paper towel lined tray and cut open to test doneness. This first one will be a gauge for the rest of your donuts.
Continue frying the rest of the donuts, adding about 4 to each batch and frying for about 3 minutes. Be sure to keep the frying temperature steady between 350-360.
Glaze:
Whisk your glaze ingredients together until a thick, glossy glaze forms and no clumps are left.
Gently lower each donut into the glaze to coat completely. Set donut on cooling rack in rimmed baking sheet. Continue for all donuts until done.
---
Keywords: donuts, doughnuts, dessert, treat, chocolate, bake