The smell of a freshly baked cookie has to be one of the most incredible smells - I mean they even made candles out of it. The smell of spiced cookies is one that can't be beat. These chewy Ginger Spice Cookies have become my new favorite cookie in our cookie jar. Heavy on the spices and a hint of something special to really take them to another level - pink peppercorns!!
As you prepare cookies for your holiday cookie party or festive dessert platter, be sure to add these Ginger Spice Cookies in the mix.
These cookies are reminiscent of my Cardamom Molasses Cookies which are another favorite! If you like your cookies a little sweet and spicy - these Ginger Spice Cookies are definitely the way to go. The fall into a similar category as a Mexican Hot Chocolate - sweet and spicy!
Jump to:
What are Pink Peppercorns?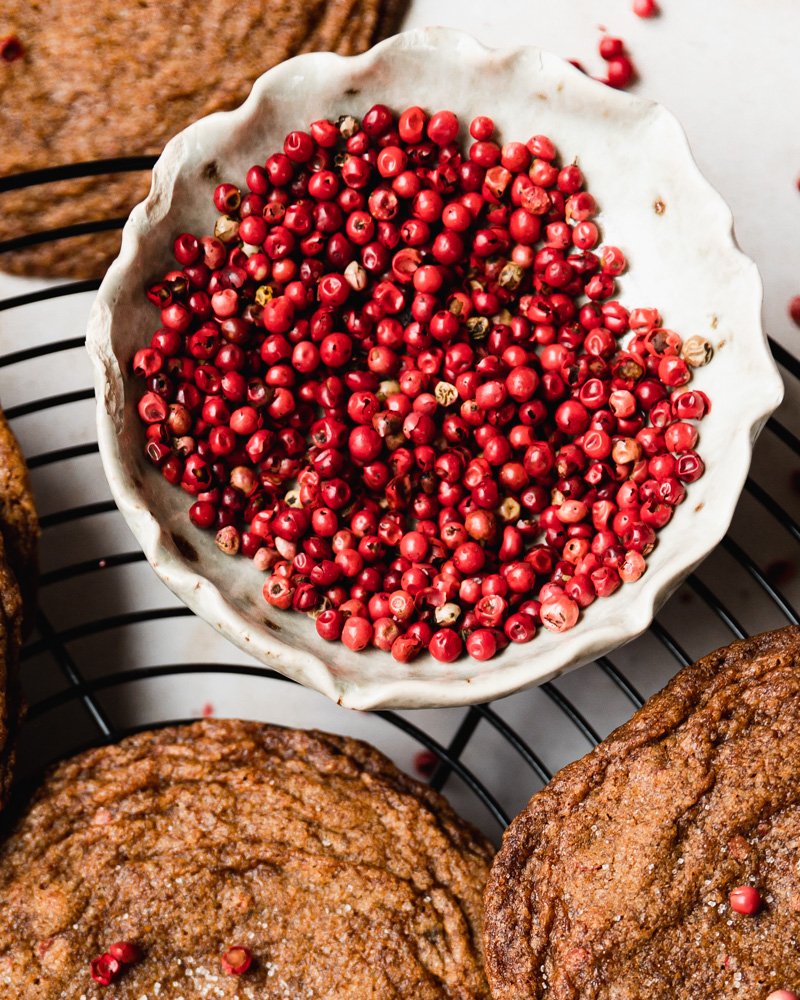 Contrary to what the name says, pink peppercorns are actually NOT peppercorns at all! They are dried berries from Brazilian and Peruvian pepper trees. Their pink delicate husks give them a distinct look and their appearance certainly mimics a traditional peppercorn. Their flavor is a bit spicy, but more delicate and floral. Pink Peppercorns are a wonderful addition to sweet and savory dishes. They can even be eaten as is, add to a charcuterie board for a pop of color! Using them in these cookies is an unexpected twist and gives the cookie a great bite. I've had the best luck finding them online.
Spice Cookies
This spice cookie is a hybrid of a gingersnap, molasses cookie and sugar cookie all rolled into one. The heavy spices, date molasses and pink peppercorns give them a unique flavor but also very familiar and warm. These cookies have a chewy bite and crisp edges, a match for any glass of milk or afternoon latte.
Ingredients
Ingredients are pretty straightforward for this recipe but also a lot of wiggle room if you don't have something or want to swap out for another ingredient.
All-purpose flour
Baking Soda - our leavening agent
Salt
Cinnamon
Ground Ginger
Ground Allspice
Ground Nutmeg
Ground Clove
Pink Peppercorns - A little unexpected but packs a sweet and spicy addition to these cookies
Unsalted Butter
Fresh Ginger - I find adding the fresh ginger really helps to make these a bold, spicy cookie, highly encouraged
Dark Brown Sugar - I prefer dark brown sugar to light, it contains more molasses which gives the cookies a richer and nuttier flavor
Granulated Sugar
Egg
Date Molasses - Date molasses (or date syrup) is used in many Lebanese desserts and a molasses I keep on hand and use for baking often. You can also substitute with traditional Unsulfured Molasses
Vanilla Extract
See recipe card for quantities and substitutions.
How to Make Ginger Spiced Cookies
Begin by preheating your oven to 350 degrees Fahrenheit and line 2 cookie sheets with parchment or silicone mat.
Combine your extra sugar and ginger into a small bowl - this will be for rolling your cookie dough.
In a medium sized bowl, sift or whisk your dry ingredients together: flour, baking soda, salt, cinnamon, ground ginger, ground allspice, ground nutmeg, ground cloves and pink peppercorns. Set aside.
In the bowl of a stand mixer with paddle attachment or using a hand mixer, add your softened butter and sugars and mix on medium for 3-5 minutes until light and fluffy. Be sure to stop and scrape the sides down halfway through. Next, Add in your fresh grated ginger, egg, molasses and vanilla. Mix again for another 3-4 minutes creamy.
With your mixture on low, add in your dry ingredients and mix until just combined.
Using a large cookie scoop or ¼ cup measuring cup - scoop and roll your cookie dough into a round ball. Roll into your sugar and ginger mixture until fully coated. Place 5 cookie dough balls on your sheet pan, these will spread and be quite large.
Bake for 13-15 minutes until just puffed and edges are set to a slight crisp. Remove from oven and allow to cool - place on cooling rack. Cookies will begin to crackle when cooled. Repeat with remaining cookie dough.
Cookie dough fully mixed and cohesive
Form into cookie dough balls, 60 grams then roll in ginger sugar
Place on parchment lined sheet pan, 5 to a tray
Bake for 13-15 minutes at 350 degrees Fahrenheit
Tips for the Perfect Cookie
Weigh your ingredients - Baking is a science and every gram makes a difference in how your baked goods will bake. If you don't have a kitchen scale, it's one of the best investments to make, this one is is less than $10 and works fantastic!
Measuring flour - If you don't have a kitchen scale, measuring your flour is one of the most important pieces to perfect cookies. It is best to spoon your flour into your measuring cup then carefully level off the top using your hand. This ensures your flour isn't packed down too tightly adding too much flour to your cookie.
Softening butter - Let's be honest, I'm never prepared to bake cookies - if you're looking for a quick way to soften butter my go-to method is using the microwave - CAUTIOUSLY . I place a stick of butter into the microwave and allow to heat for 10 seconds, stop, rotate stick and continue. Simply doing short timed stints and rotating allows the butter not to get to soft or melted in one spot.
Bake one batch at a time - It may take a bit longer to complete baking your cookies but it makes a world of difference baking one tray of cookies at a time. I find that the cookies are able to bake evenly and are not jarred by switching halfway through. One sheet pan at a time for an even bake.
Use parchment paper - I adore my parchment sheets, another favorite kitchen tool. These pre-cut sheets make my life so much easier, no unrolling and crumpling. Perfectly cut sheets for your sheet pan. The parchment paper (or silicone mat) help to evenly bake the cookies and also make cleanup a breeze!
Cool on cookie sheet - Allow cookies to cool on your cookie sheet for about 5 minutes before transferring to cooling rack. This allows the cookies to finish baking and set so you don't have any broken or cracked cookies.
Measuring your cookie dough - For truly uniform cookies, I like to use a cookie scoop, but I also will weigh my cookie dough balls to ensure they are the same size. This really helps them to bake evenly and uniform.
Top tip
Don't overbake the cookies - be sure to remove when they are JUST setting. When they are out of the oven they will bake for a few more minutes on the tray. Allowing that extra wait time will ensure you have a nice chewy cookie.
FAQ
Do I have to Use Date Molasses?
Date molasses or date syrup has the same baking qualities of unsulfured molasses which is traditionally used in molasses cookies. I have tested this recipe with both varieties of molasses and they both bake beautifully and can be substituted 1:1. Simply, date molasses is made from dates where traditional molasses is the byproduct of the sugar making process. You can find date molasses online or in many Middle Eastern grocery stores.
Can These be made gluten free?
I would imagine using a 1:1 flour like Bob's Red Mill will be a fine alternative to make these gluten free, however I have not tried these cookies using any gluten free alternative flours. I would not substitute any other flours.
Can I freeze the cookies?
I prefer to bake the cookies, allow to cool then freeze vs freezing dough. Be sure cookies are wrapped and sealed and place in freezer. Remove when you are ready to enjoy - warm slightly at 200 degrees Fahrenheit for 5 minutes for that just baked warmth.
How do I store Ginger Spiced Cookies?
These cookies will stay soft and chewy for about a week. Keep stored in a sealed container for optimum freshness.
What if I don't have fresh ginger?
If you don't have fresh ginger, you can double the amount of ground ginger in the recipe.
Do I need to add the pink peppercorns?
You certainly don't need to add the pink peppercorns but they add that extra bite to the cookie. Another alternative would be to add finely chopped candied ginger in its place
Virtual Cookie Party
Be sure to check out Instagram this weekend for our annual #VirtualCookieParty - follow the hashtag #VirtualCookieParty2022 and check out all the amazing cookies shared among bloggers throughout the world. Come hungry and be ready to print some new fun recipes! You can always browse our past years as well: #VirtualCookieParty2018 #VirtualCookieParty2019
#VirtualCookieParty2020 #VirtualCookieParty2021
As always, I love seeing your creations. Please leave a review or share your dish with me on social media #cosetteskitchen, I love resharing your photos! You can find me on Facebook, Instagram, Twitter , Tiktok and Pinterest. For more delicious recipes to your inbox, sign up for my newsletter!
xoxo,
Cosette
Other Recipes to Try
Print
Ginger Spice Cookies
Author:

Cosette's Kitchen

Prep Time:

15 minutes

Cook Time:

40 minutes

Total Time:

55 minutes

Yield:

16

cookies

1

x

Category:

Cookies

Method:

Baking
---
Description
These ginger spice cookies are chewy, bold and just a hint spicy. Recipe adapted from King Arthur
---
Cookie Ingredients
2 ⅔

cups

flour (350 grams)

1 teaspoon

baking soda

½ teaspoon

salt

2 teaspoons

ground cinnamon

2 teaspoons

ground ginger

½ teaspoon

ground allspice

½ teaspoon

ground nutmeg

¼ teaspoon

ground clove

3 Tablespoons

pink peppercorns

1

cup

unsalted butter, softened (230 grams)

¾

cup

dark brown sugar, packed (180 grams)

¾

cup

granulated sugar (150 grams)

1

" piece of fresh ginger, peeled and zested or minced finely

1

large egg

¼

date molasses (

80 grams

)

1 teaspoon

vanilla extract
Topping Ingredients
½

cup

granulated sugar

2 teaspoons

ground ginger
---
Instructions
Preheat oven to 350 degrees Fahrenheit 
Line 2 sheet pans with parchment paper or silicone mat
Prepare your cookie topping, granulated sugar and ground ginger in a small bowl and set aside.
Sift or whisk your dry ingredients into a bowl: flour, baking soda, salt, cinnamon, ground ginger, ground allspice, ground nutmeg, ground cloves and pink peppercorns. Set aside.
In the bowl of a stand mixer fitted with paddle attachment or using a hand mixer, combine your butter and sugars. Mix for 3-5 minutes until pale and fluffy, scrape down sides as needed.
Add your freshly grated ginger, egg, molasses and vanilla extract. Continue to mix for another 3-5 minutes until light and smooth.
With the mixer on low, add your dry ingredients until just combined.
Scoop your cookie dough into 60 gram portions (about ¼ cup), roll until cohesive and then roll into your sugar ginger mixture.
Place 5 cookies on your prepared sheet pan - 2 in each corner and 1 in the center. Cookies will spread, they will need the space.
Bake in the upper third of the oven for 13-15 minutes until edges are slightly browned and center is puffed. 
Remove from oven and allow to cool on sheet pan for 5 minutes, then remove to cooling rack. Continue baking remaining cookies and enjoy!
---
Notes
If you don't have a particular spice, feel free to increase the amount of one you do have on hand. It will change the overall flavor but any combination will be incredible.
Use a microplane to zest your fresh ginger - you can also mince finely.
Pro tip: before measuring your molasses, spray your measuring cup with baking spray - this will help the molasses to slide out effortlessly and leave nothing behind.
These parchment sheets are one of my favorite baking tools - pick up a pack and keep on hand!
You are welcome to substitute the date molasses for unsulfured molasses - DO NOT use Blackstrap Molasses - blackstrap is very bitter and not suited for baking
If you don't have pink peppercorns on hand, you can sub candied ginger in it's place or simply leave out.
Keywords: chewy spiced cookies, chewy molasses cookies, ginger molasses cookies, pink peppercorns, sweet and spicy cookies, gingersnap cookies