As I write this post I'm absolutely thrilled that there is sun shining on my face. A sign that here in the Pacific Northwest that summer may actually be on the horizon! There is absolutely no better time to kick off grilling season than now! I'm thrilled to partner with my friends at the American Lamb Board to share these adorable and absolutely DELICIOUS Lamb Sliders! To make them extra special I've topped them with a tangy feta sauce, cabbage slaw and sweet caramelized onions. This is a dish you'll want to make on repeat this summer!
*This post is sponsored by the American Lamb Board. All opinions and ideas are my own.
American Lamb
I'm very passionate about using local, American lamb. This year has been hard on so many businesses - local rangers are not an exception. There isn't a better time to support our local farmers and ranchers than right now. Not to mention, I'm thrilled to know my lamb is from just a few miles away versus a few thousand miles away. To me, purchasing local lamb instead of lamb that has been imported from 10,000 miles away means reducing my carbon footprint. I love the flavor of American lamb - it really allows the true flavor of the lamb to meld with the other spices in a dish. You can discover the versatility of American lamb on their page which includes resources, recipes and more!
Also, I would be amiss not to share this special event happening!! Now through July 31st, you can join in and enter the Outdoor Cooking Adventures Contest for a chance to win the following:
ALL PARTICIPANTS TO RECEIVE:
American Lamb apron
a ThermoWorks DASH thermometer combined value: $75
ONE WINNER CHOSEN FROM EACH CATEGORY (SMOKING, GRILLING, LIVE FIRE) TO RECEIVE:
One (1) $500 gift card to Cabelas
One (1) $200 lamb cuts sampler
Head to American Lamb's page to find out how to enter and all the details - and of course you can give this recipe a try to submit your entry!!!!!
Lamb Sliders
Okay, let's get to our Lamb Sliders - why sliders you ask? Well, if you have kids or feeding for a small crowd during a BBQ chances are there is tons of food to be enjoyed. Sliders give everyone a chance to sample delicious flavors without feeling like they have a huge portion to finish. Don't get me wrong, these little burgers are DEFINITELY satisfying and a good size at about 3.5 oz each but the toppings really make them stand out: feta sauce, cabbage slaw and carnalized onions.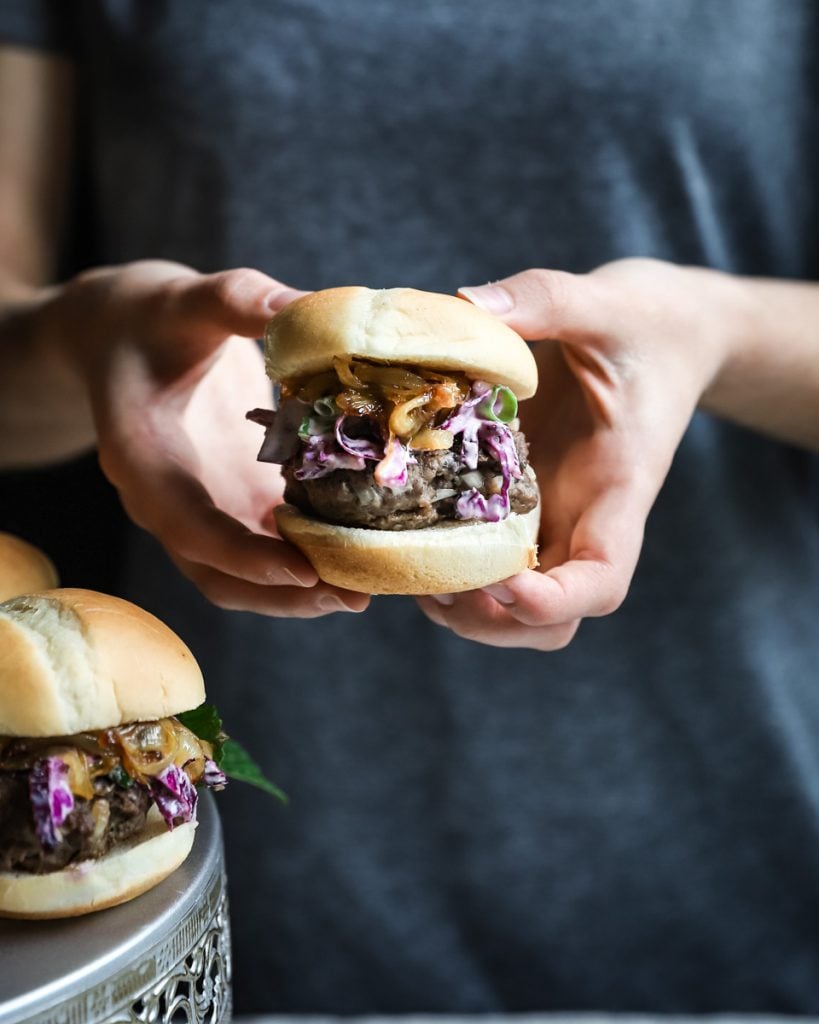 The Ingredients
Lamb is a protein that packs a lot of flavor and has a strong flavor profile so you can easily pair it with other bold flavors without losing the lamb's integrity. We're of course going to be using a variety of Middle Eastern flavors to create the ultimate slider!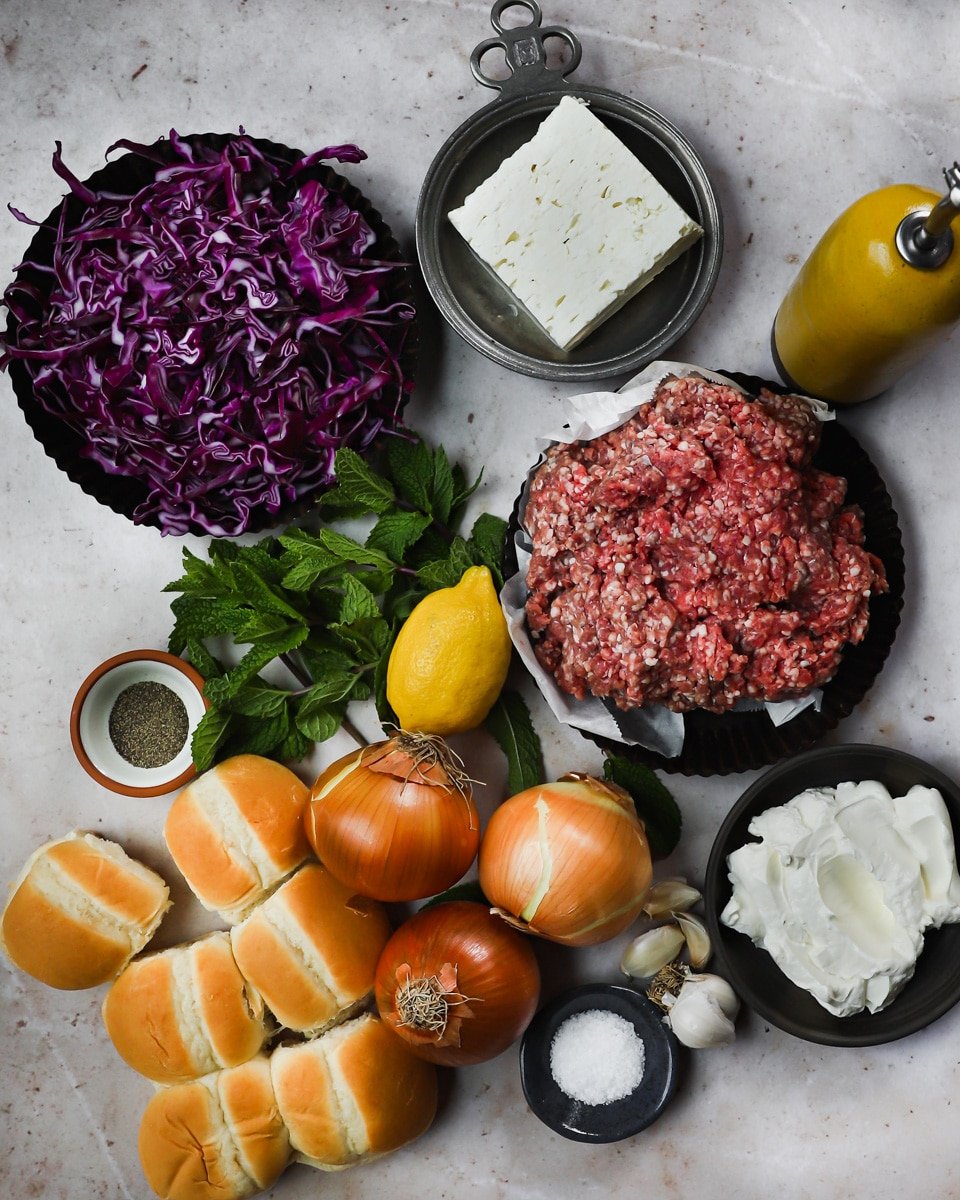 American Ground Lamb - Fresh ground American lamb! Ground lamb is naturally fatty which makes them perfect for burgers. They don't dry out and have a ton of flavor. If you aren't sure where to find local lamb, you can check out this page or shoot me a message, happy to help you locate!

Onions - Onions will be used two ways in this recipe - I promise no raw onions, but heck, you can certainly add some if you'd like. The first will be diced finely and mixed into the burger mixture. As the onions cook inside the slider burgers they release moisture and create a perfectly tender and delicious burger. The 2nd way is one of my favorite ways to enjoy onions, caramelized! The beauty of caramelized onions is you can make them ahead of time and pop them in the fridge until you're ready to use them. The sweetness of the caramelized onions really helps to balance the rich flavors throughout the burgers.

Mixed Spices/7 Spices - This is a very common spice used in many Middle Eastern recipes. Mixed Spices or 7 Spices is a blend of: Allspice, Coriander, Black Pepper, Cardamom, Cloves and Nutmeg. It really gives dishes a distinct flavor and warmth. You can easily find this mixture at any Middle Eastern or Asian market, or right online. If you can't locate - I'd substitute with Allspice.

Mint - If you know anything about lamb it's that it goes very well with mint - lamb + mint jelly anyone? While we aren't serving with mint jelly, we will be using mint in 2 ways here as well. Dried mint directly into our burgers - yes dried! Dried mint actually can give a stronger flavor than fresh when cooked. I always keep a jar of it in my pantry. This is the time of year you can pick fresh mint and dry it yourself to have on hand all winter long. Our second use will be with fresh mint - we'll be adding fresh sprigs of mint to our feta sauce. In this application the mint will be pronounced but not as strong as if we used dried mint. Both applications will help to elevate the flavor of the dish.

Feta - I love feta cheese, I really do. The brininess of it is like no other cheese. It's also great to cook with. Since feta doesn't have meltability we're going to make a feta sauce. Here's the thing with this sauce, it's so good it can be used as a salad dressing, a dip or whatever you want! So make the full batch and enjoy. Side note, if you can purchase whole blocks of feta vs crumbled, it is much better. The blocks have more flavor and keep their integrity where it's lost in the crumbles.

Sour Cream/Labneh - Labneh is a staple in our home but I understand it's not readily available for most. To create a smooth and creamy sauce/dressing we'll be adding either labneh or sour cream - you can even use plain Greek yogurt if you have on hand.

Buns - I'm using little mini slider buns for these but you can certainly serve on little leaves of lettuce to keep it gluten free!

The Basics - Some basic ingredients that we'll use throughout the process of making our lamb sliders are: kosher salt, black pepper, garlic (toum), olive oil and lemon.
Preparing The Lamb Sliders
The beauty of preparing this recipe is everything can be done the day before and the day of your BBQ you can just grill these beauties and enjoy the company of family and friends. Let's gather ingredients for assembling our lamb sliders.
Begin with 2 pounds of ground lamb, this will yield about 12 mini sliders - double for a crowd.
Add in one diced onion, you can also shred your onion using a cheese grater for finer pieces.
Combine your mixed spice/7 spice, kosher salt, black pepper, dried mint and finally toum or minced garlic.
With clean or gloved hands, mix all your ingredients together until they are combined. Begin forming your lamb sliders - to get slider size I formed 12 into 3.5oz patties, use a kitchen scale if you want them uniform.
If grilling immediately, set aside to allow to come to room temperature. If grilling another day, wrap and pop in fridge until you are ready to grill.
Feta Sauce
Truth: I buy a 4 pound bucket of feta about once a month! Yes, we love our feta in this house so it was a no brainer to create a sauce to accompany these lamb sliders. I have made burgers with feta crumbles in the patty itself and that is delicious but this sauce really elevates the lamb sliders. You can absolutely slather on the burger on it's own (which we do) but this will also become the dressing for our cabbage slaw. Combining the tangy feta dressing with the hearty, crunchy cabbage is a perfect combination.
In the bowl of a food processor add in your feta, fresh mint leaves, garlic cloves, black pepper, lemon zest, lemon juice, olive oil, sour cream/labneh.
Process this mixture on high in your food process or blender, stopping to scrape down the sides to fully incorporate. Once everything is mixed, add in ¼ - ⅓ cup water to thin out your mixture slightly to create more of a dressing. You can take some out before thinning if you want it on the thicker side for dipping!

We'll be adding about ⅔ cup of this to our thinly sliced cabbage to create a unique slaw.
Caramelizing Onions
Caramelized onions are one of life's greatest gifts, strong, potent onions become tender and sweet with a little time and not much effort. If you have never caramelized onions - I urge you to give it a try. The key to successful caramelized onions is not rushing the process. This is perfect to do the day before or a few days before so you don't have to wait for onions to cook. Kind of like spinach wilting in a pan, onions will do the same especially when we cook them down to caramelize. You can also decided when your onions have achieve enough color and flavor to your liking. True caramelized onions are very deep dark brown, for our burgers I pulled them off just before they reached full caramelization as I like to have a little bit of structure in my onions for these burgers.
Pro Tip: Don't rush caramelizing your onions - that will only result in burnt onions instead of rich, dark, caramel onions! Slow and low is the way to go!
So what happens when we caramelize?
Caramelization is the browning process that occurs when sugar is heated. There are so many different forms of caramelization depending on the types of sugars in food. Here is an article from Serious Eats that helps to explain the entire process if you're curious and into science!
The Process
Begin with more onions than you think, I'm using 3 large yellow onions. You can choose any variety you want, even sweet onions. Slice your onions into even strips. The best way to do this is cutting the onion in half (root and tip on sides), cut root/tip off, set onion on flat side and begin cutting at a 45 degree angle from the outside of the onion working your way toward the center. Flip and repeat on second side and second half of your onions.
In a large skillet, add olive oil or butter to your pan, heat on medium-high, next your onions. You want something large enough to hold your uncooked onions. Many say a stainless steel pan is best, but I've had success with cast iron or non-stick.

Initially you want to allow your onions to sweat and breakdown, you can cover your skillet to help speed up the process. Once they begin to soften and become translucent after about 5-10 minutes, lower your heat to low and allow onions to cook slowly and evenly.

Stir every 5-10 minutes. This process to get to caramelization will take anywhere from 30-60 minutes, for ultimate DARK caramelization even 90 minutes. But you gauge what looks best for you and your burgers.

Remove from heat and serve with lamb sliders or store in fridge until ready to use.
Grilling Lamb Sliders
So many ways to prepare these sliders, whether you use an indoor grill pan on your stove, an outdoor charcoal or gas grill or a flat top grill like I'm using today. These burgers will cook quickly and are best to enjoy warm.
Allow your sliders to come to room temperature if they are in the fridge.

Heat your grill or grill pan to medium (medium-high for flat top grill or skillet on stove) . Allow your grill to get hot for about 5 minutes.

Place your burgers on your grill, griddle and begin cooking until you see your burger begin to firm up and brown on one side, 3-4 minutes.

Flip and continue cooking on 2nd side. Here is a little guide to help you achieve doneness, you can also use a thermometer to help you know your ideal cooking temperature. USDA recommends a minimum internal temperature of 160 degrees F for ground lamb.
Set aside with a loose sheet of foil to keep warm as you assemble your burger.
Tips for Grilling Lamb Burgers
Ground lamb has high fat content so when you are grilling, you want to balance the heat to avoid flares and charring your burgers. I like to keep the heat to about medium on a traditional grill and medium-high on a flat top grill or stovetop grill/skillet. With a traditional grill, you have an open flame that will begin to ignite the fat causing flares and your burger charred on the outside and raw on the inside.
Avoid cutting your burger in half to check for doneness, instead use a thermometer to check temperature. When you cut your burger, you lose the juices that make it delicious!
Check your thickness: I love a good thick burger but you want to ensure they are not too thick and risk not cooking long enough. For these sliders, I like to go about ¾", thinner than that you lose the texture of the burger.
Avoid sticking to grill grates: if you are cooking on a traditional gas or charcoal grill, you've likely experienced burgers sticking. A few tips to help you avoid sticking:
1. dab your burger patties dry using a paper towel just before putting on the grill
2. rub a bit of canola oil on your grill grates before putting your burgers down
3. allow your burger to cook, if it is sticking, it probably hasn't formed the crust it needs, give it a few minutes more
As always, I love sharing new recipes ideas and flavors with you. This is a perfect summer BBQ dish and would be perfect all summer long! Serve with Lebanese Potato Salad, Orzo Salad or these Lebanese street fries!
I hope you enjoy these Lamb Sliders with Feta Sauce as much my family does – and feel free to adjust and make your own! If you make Lamb Sliders with Feta Sauce, please let me know by leaving a rating and review below!
As always, I love seeing your creations. Please leave a review or share your dish with me on social media #cosetteskitchen which lets me know what is working for you! You can find me on Facebook, Instagram, Twitter , Tiktok and Pinterest. For more delicious recipes to your inbox, sign up for my newsletter! Don't forget to check out the upcoming cooking classes happening this month as well, would love to have you there.
xoxo,
Cosette
*This post is sponsored by the American Lamb Board. All opinions and ideas are my own.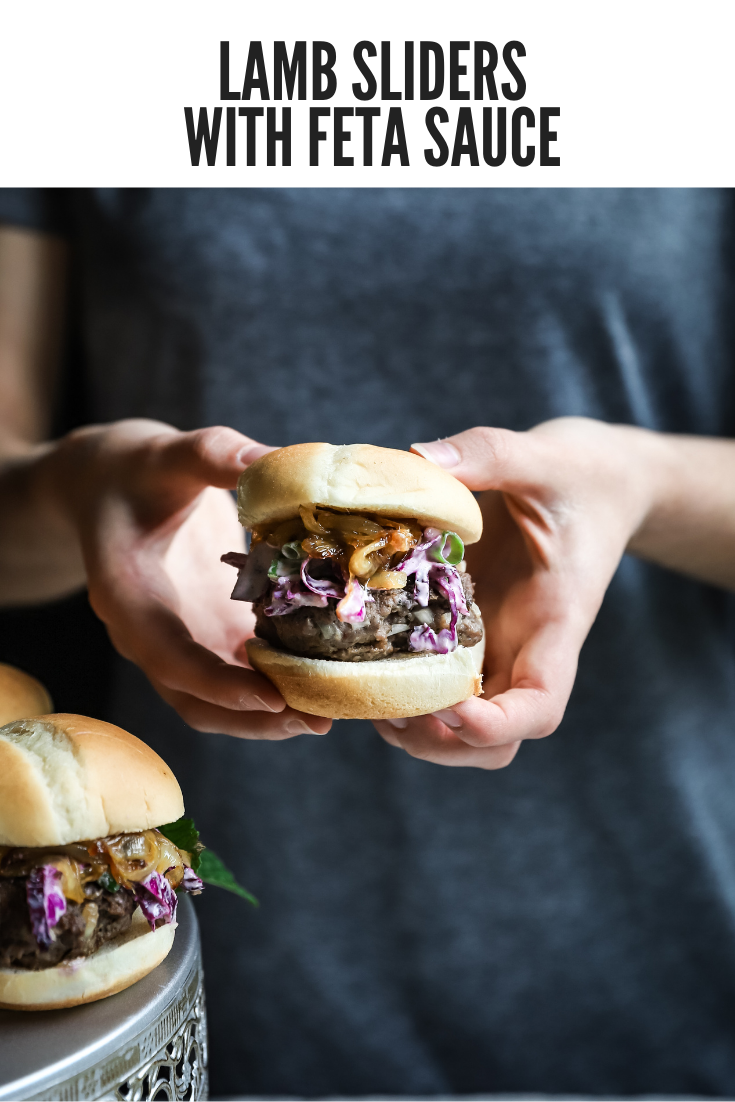 Print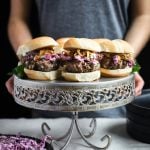 Lamb Sliders with Feta Sauce
Author:

Cosette's Kitchen

Yield:

10

-

12

sliders

1

x

Category:

Burgers

Method:

Grilling

Cuisine:

Lebanese
---
Description
A delicious mini lamb slider burger with feta sauce. The sauce is perfect as a salad dressing or dip!
---
Feta Sauce
1

cup

feta cheese - whole block is preferred,

200

grams

18

fresh mint leaves, about 2 sprigs (can use

2 teaspoons

dried if you don't have fresh)

2

-

3

cloves of fresh garlic

½ teaspoon

black pepper
Zest of

1

large lemon
Juice of

2

large lemons

4 Tablespoons

olive oil

½

cup

labneh or sour cream

¼

-

⅓

cup

water (adjust as needed, begin with ¼ cup)
kosher salt to taste
Cabbage Slaw
2.5

cups

shredded cabbage (about ½ a head or purchase pre-shredded)

⅔

cup

feta sauce
additional lemon and salt to taste
Caramelized Onions
3

large onions

2 Tablespoons

olive oil or butter
Lamb Sliders
2

pounds

ground American lamb

1

large onion, diced finely or grated

2 teaspoons

mixed spice/7 spice

2 teaspoons

kosher salt

1 teaspoon

black pepper

2 teaspoons

dried mint

2 Tablespoons

toum or

4

cloves garlic minced

12

mini slider buns
---
Instructions
Feta Sauce:
In the bowl of a food processer combine your feta cheese, fresh mint, garlic, pepper, lemon zest, lemon juice, olive oil and labneh or sour cream.
Blend on high until fully combine, stopping to scrape down sides and reprocess.
Once fully combined, add in ¼ cup water to thin mixture (you can also remove some from your bowl to leave as a thicker dip if you want). Blend again and check consistency, add additional water if needed to create a dressing/sauce consistency. Taste and add salt if desired (salt will depend on how salty your feta and labneh/sour cream are - I did not any additional to my mixture).
Cabbage Slaw:
Add 2.5 cups of shredded cabbage to a bowl and mix with ⅔ cup of your prepared Feta Sauce. Mix to combine. Add additional lemon or salt to taste. Set aside.
Caramelized Onions: 
Slice your onions into uniform size (see notes in post about how to slice).
Heat a large skillet to medium-high heat and add your oil or butter. 
Add your sliced onions and allow to cook for about 10 minutes until they begin to wilt and become translucent. You can cover skillet to speed up process.
Once onions have softened and become more yellow/translucent, lower your heat to low and allow onions to cook slowly. Mix every 5-10 minutes.
This process will take anywhere from 30-60 minutes to obtain a brown, soft mixture. 
Remove from heat once browned, I like to keep a bit of structure to mine and cooked for about 45 minutes.
Lamb Sliders
Begin by preparing your lamb sliders, this can be done the day before you're ready to cook. 
In a large bowl combine your American ground lamb, diced onion, mixed spice/7 spice, salt, black pepper, dried mint and toum (or minced garlic).
With clean hands or gloved hands mix until fully combined. Begin forming into small patties, for sliders 3.5 ounces are about right - I try to keep them about ¾" thick as well.
If you are using a flat top grill or grill or skillet inside heat to medium-high heat, if using a traditional gas or charcoal grill heat to medium.
Allow your grill/skillet to heat up for about 5 minutes, then place your lamb sliders on and allow to cook on one side for 3-4 minutes. You're looking for the lamb slider to begin to firm up and solidify on one side before flipping. Flip to cook on the 2nd side.  USDA recommends a minimum internal temperature of 160 degrees F for ground lamb
Once sliders are done, remove from heat and cover with loose foil, allow to rest for 10 minutes.
Assemble your lamb slider with feta sauce, cabbage slaw and caramelized onions. Enjoy!
---
Notes
Burgers can be prepped ahead of time and placed in fridge before grilling - they can also be formed and frozen. Remove from freezer the day before you want to grill.
Feta sauce can be stored in the fridge 7-10 days, use as a salad dressing or dip for veggies
To reheat lamb sliders, place in oven or skillet to reheat. Leftovers can be stored in airtight container in fridge for 3-5 days.
Keywords: american lamb, cabbage slaw, feta dressing, feta sauce, lamb burgers, lamb burgers with feta sauce, lamb slider recipe, lamb slider with feta, lamb sliders, lebanese burgers, sliders