Copper River Salmon
When it comes to choosing salmon, I am extremely particular! Not all salmon is created equal. And living in the Pacific Northwest, we take our seafood seriously. Copper River Salmon is sourced exactly there - straight from Copper River in southcentral Alaska. The river is 300 miles of turbid glacial water which flows from its headwaters through the Chugach and Wrangell mountains to the central coast where it empties into the Gulf of Alaska, (Copper River Salmon). Wild salmon is harvested by a small fleet of independent fisherman, ensuring the most precise and delicious salmon.
Copper River Salmon was gifted, all opinions and ideas are my own.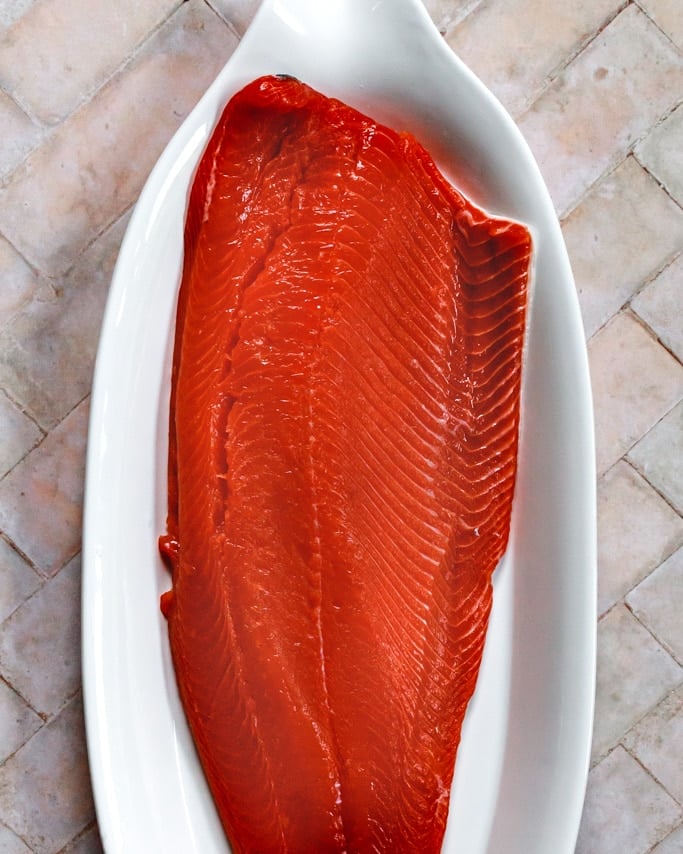 Types of Salmon
Every year (May-September) three incredibly delicious salmon make their way to the Copper river to make the 300-mile migration up the turbulant waters to spawn.
Copper River Salmon
During the early part of the season (May-June) Copper River King salmon, also known as Chinook averages 20 pounds and up to 50 pounds. This fish has an exceptionally high oil content and rich flavor.
Copper River Sockeye
May through June you'll find the smaller Copper River Sockeye salmon that ranges 4-6 pounds. Much smaller in size but big flavor. Firm texture and known for its natural deep red flesh.
Copper River Coho
The final of the three Copper River salmons, Copper River Coho. Coho is available August through September and averages 12 pounds and upto 18 pounds. This salmon is the last in the season and has a more mild flavor and delicate texture.
| | | | |
| --- | --- | --- | --- |
| Nutrition (7oz) | Copper River King | Copper River Sockeye | Copper River Coho |
| Calories | 460 | 440 | 280 |
| Fat | 26g | 22g | 8g |
| Protein | 52g | 54g | 64g |
| Omega-3 | 3400mg | 2400mg | 2200mg |
Each of these three varieties boast some incredible nutitution, especially Omega 3 fatty acids and protein packed. Copper River Salmon
Sourcing Copper River Salmon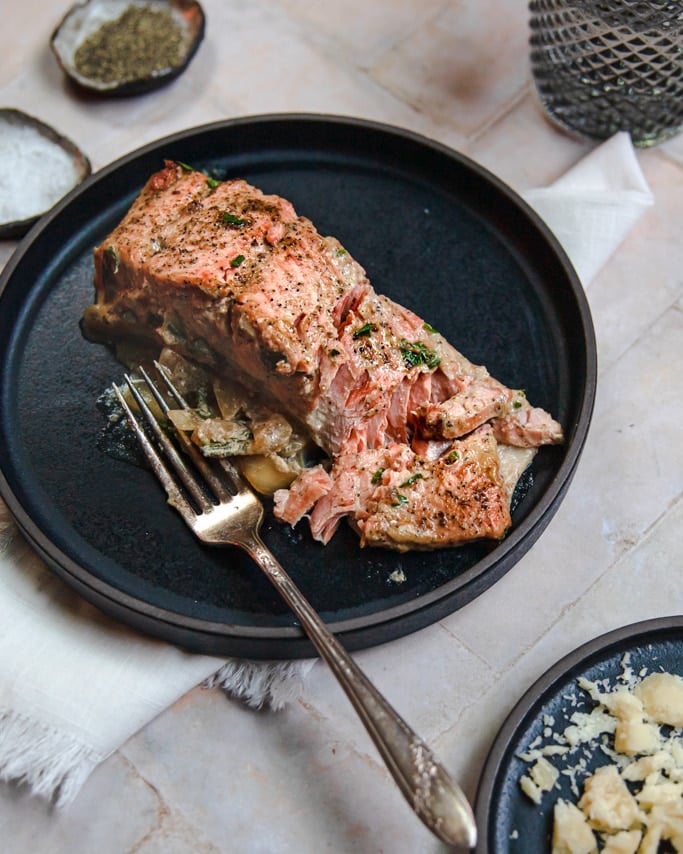 Seafood is definitely an area I splurge, I like sustainable and the freshest seafood. Copper River Salmon is widely available throughout the US. You can use Copper River Salmon's fish finder to locate where you can purchase. As well as loads of recipes, more information about salmon, their fisherman and the process of getting beautiful salmon to your door.
Ingredients
Simple dishes require simple ingredients. We want the flavor of the salmon to shine but also elevate it to something that is simple enough for a weeknight dinner but also great to serve to guests.
Copper River salmon (I used Copper River Coho for this dish)
Toum (substitutes available below but I HIGHLY encourage making a batch)
Onions - the base for most any meal
Half and Half - You could sub whole milk or coconut milk for a dairy free option but I feel the half and half gives a nice balance where it's rich but not too rich.
Parmesan Cheese - Some folks think you can't add cheese to fish, I beg to differ and some freshly grated parmesan cheese really makes this sauce pop
Arugula - arugula is a little peppery and quite a delicious green, in this application it's cooked down - similar to spinach. You can absolutely sub for spinach if you'd like as well.
Coriander - If you have never used coriander, it has a warm and nutty flavor with a hint of citrus. It's the perfect accompaniment to fish.
Black Pepper
Kosher Salt - I prefer cooking with kosher salt vs table salt, it is not quite as salty and allows you to adjust more accurately
Method to Cook Salmon
For this dish, we're going to be pan searing and then finishing off in the oven. Pan searing really does give the fish a lot of flavor and creates a beautiful crust. A hot pan and seasoned fish is the way to start. From there, a little time and patience to ensure the fish has a nice crust before flipping is crucial.
Start by ensuring that your salmon is dry by patting down with a paper towel, then season generously. Season the skin as well, crispy salmon skin is a treat. Place your seasoned salmon down in a hot oil coated pan (I like this one) and leave it for 3 minutes - don't touch it or move it! Let the pan and heat do it's work. Once time has elapsed, the salmon should flip easily and you'll do the same for the otherside. Our salmon won't be fully cooked through for this dish as it'll be finished off in the oven.* See notes in recipe
Creating a Sauce
Layers of flavor is what makes a dish stand out, building flavors to create depth, the best way to do that is with a sauce. This sauce is fairly simple and really just reducing cream with spices. Adding some parmesan cheese helps to thicken the sauce and gives it a little saltiness.
Layering sauteed onions, arugula, sauce and finally nestling the pan-seared salmon is the final step for this dish.
Can I use Frozen Salmon?
When working with seafood, fresh is best but if you choose to use frozen, be sure to allow fish to defrost completely in the fridge. Remove from packaging and place on a paper towel lined plate and allow to naturally thaw. Pat dry any additional moisture before cooking.
Does This Freeze Well?
Absolutely! This is a perfect dish to prep and then pack away in small individual containers to freeze once dish is cooled completely. Remove from freezer to thaw the day before you want to enjoy and heat up in a pan or oven for best results.
As always, I love seeing your creations. Please leave a review or share your dish with me on social media #cosetteskitchen which lets me know what is working for you! You can find me on Facebook, Instagram, Twitter and Pinterest. For more delicious recipes to your inbox, sign up for my newsletter!
xoxo,
Cosette
Other Dishes You May Enjoy
Sumac Citrus Cod with Couscous
Crispy Lamb Salad with Yogurt Dressing
Print
Pan Seared Salmon with Arugula and Cream Sauce
Author:

Cosette's Kitchen

Prep Time:

10 minutes

Cook Time:

20 minutes

Total Time:

30 minutes

Yield:

4

servings

1

x

Category:

Fish

Method:

Pan-fry

Cuisine:

Seafood
---
Description
This simple, yet elegant dish is made with beautiful Copper River salmon. The salmon you choose will make a difference in the dish. Choose the highest quality salmon you can.
Recipe inspired by Half Baked Harvest, Garlic Butter Creamed Spinach Salmon
---
1

pound

Copper River Salmon - 3-4 center cut pieces

¼

cup

toum - can sub 3 tablespoon olive oil mixed with 1 teaspoon garlic powder

1 tsp

kosher salt

½ tsp

black pepper

1 tsp

coriander

4 Tbsp

olive oil, divided

1

large onion, sliced

6

oz

fresh arugula or spinach

½

cup

half and half - can sub coconut milk for dairy free, it will give the dish a slightly sweet taste

¼

cup

freshly grated parmesan

1 Tbsp

toum - can sub freshly minced garlic
salt and pepper to taste
---
Instructions
Preheat your oven to 350 degrees.
Begin by preparing your salmon. If you're salmon is whole, cut into 3-4 portions using a large, sharp knife. You can leave the skin on or remove.
Lightly pat your fillets with a paper towel to ensure any additional moisture is removed. 
Next, combine your toum, salt, black pepper and coriander together.
Slather the mixture on your fillet pieces, both sides of the fish.
In a large non-stick pan heat up 2 tablespoons of olive oil on medium-high heat. Once pan is hot, add your salmon fillets to pan skin side down. DO NOT TOUCH, let cook for 3 minutes until skin is crisp and are easily lifted.
Flip and cook the other side for 3 minutes, remove from pan and allow to rest while you complete the dish. 
In an oven-safe pan, add your additional 2 tablespoons of olive oil on medium-high heat. Add your onions and begin to cook until they become translucent. Sprinkle with a touch of salt and add your fresh arugula. Allow the arugula to wilt and combine with onions.
Next, add your half and half and season your sauce with any additional salt and pepper to taste. 
Add your fresh parmesan and allow to cook for 5 minutes on medium heat.
Add your salmon back to the pan and nestle into the cream sauce.
Place your oven-safe pan in the oven for another 10 minutes until fish is cooked through.
* Please read notes below about cooking time based on temperature and salmon cuts/thickness.
---
Notes
Cooking time:
If you are using a different variety of salmon, cook time can vary. Copper River Salmon are thick cuts, upto 1.5" thick. Center cuts are also best for this dish. 
Adjust your cooking time based on the internal temperature of your fish. Internal temperature should read between 110-125 for medium-rare. If fish is reading that temperature before you place in oven, skip the oven step.
Keywords: pan seared salmon, creamy salmon recipe, dairy free option, coconut milk pan sauce, cream sauce, crispy salmon, crispy salmon skin, healthy dinner, how to pan sear salmon, parmesan cream sauce, weeknight salmon, alaskan salmon