March brings us a sense of newness with spring on the way, more sunshine and of course St. Patrick's Day! I'm thrilled to partner with my friends at Crate and Barrel to share a delicious new recipe with you - Pistachio Bundt Cake with Labneh Glaze. Definitely middle eastern flavors but festive and green for your St. Patrick's Day festivities.
History of St. Patrick's Day
I'm a stickler to celebrate any holiday but I also like to know the history and origin of what I'm celebrating. St. Patrick was the patron Saint of Ireland. March 17th, it is actually the anniversary of his death. For centuries St. Patrick's Day was celebrated in Ireland as a religious holiday, a day to pay honor and tribute to St. Patrick who was born in Roman Britain. He was kidnapped and brought to Ireland as a slave at the age of 16. He later escaped, but returned to Ireland and was credited with bringing Christianity to its people.
As years went on, homesick soldiers serving in the English military marched in New York to honor St. Patrick. Irish immigrants flourished in the United States and groups formed to celebrate patron St. Patrick. Today, the United States has more St. Patrick's Day celebrations than any other nation. Parades, green-dyed rivers, bagpipers and big celebrations to honor Irish roots and patron St. Patrick. And of course, like with all good celebrations - good food follows.
https://www.history.com/topics/st-patricks-day/history-of-st-patricks-day
Pistachio Bundt Cake
What better way to combine flavors of my own Middle Eastern culture with a tradition that is popular in the united states. On March 17th tables are filled with corned beef and cabbage, Irish soda bread and for fun - lots of green food. Pistachios are a common ingredient in Middle Eastern desserts and obviously green, I thought they would be the PERFECT ingredient to create a beautiful and subtle tribute to St. Patrick's Day. If you've ever baked with pistachios, you'll know that the flavor and green color is very subtle. You can certainly enhance your cake with a hint of food coloring to make it pop (I've added ever so slightly here). This cake is lovely for breakfast or dessert, it reminds me a lot of a simple Irish soda bread - not too sweet but full of flavor.
Bundt Cake
Bundt cakes may be one of my favorite types of cakes to make, they are low fuss, don't require much decoration and always full of flavor. I'm using this Nordic Ware® Anniversary Bundt® Pan from Crate and Barrel which has a capacity of 10-15 cups, this cake definitely needs that capacity to allow it to rise properly. I also love the shape of this particular Bundt, almost like a rainbow and/pot of gold with it's curved arches. It's not only beautiful but so effective with it's nonstick coating - Nordic Ware® is my go-to brand for Bundt cake molds.
Many people are intimidated by making layer cakes which take more time, precision and definitely decorating skills. But a bundt cake is beautiful on it's own, the mold is where the beauty comes in and with so many different choices - you can really create something special just by pouring and baking. A simple glaze or powdered sugar to top is all these cakes need to glam them up.
Ingredients for Pistachio Bundt Cake
There are THOUSDANDS of recipes for pistachio cakes out there, I am in love with this recipe mostly because of its natural pistachio flavor - 2 full cups of pistachios are in this cake giving it a delicious rich flavor. I wanted a cake that was elegant and natural - if this was to be a pistachio cake, I wanted to use REAL pistachios. I love seeing the little flecks in each slice and tasting the subtle flavor in each bite.
Pistachios - As I just mentioned, to me, I can't have a pistachio cake without pistachios. I used over 2 pounds of pistachios to get this recipe JUST right. I know they are an expensive nut so I needed to be sure every element was perfect. Another trick to enhance the flavor is to slightly roast the nuts before grinding them for your cake - this releases the oils and creates a more of a concentrated flavor. For this cake, we'll be using raw unsalted pistachios.

All purpose flour - Nothing fancy here, just good old all purpose flour to make our Bundt.

Baking Powder + Salt - Basic cake ingredients, our leavening agent is baking powder and always add a hint of salt to any baked good.

Eggs - Most yellow and white cakes are egg heavy, this one is no exception. With a combination of whole eggs and egg whites, you get the richness and also airiness in the texture.

Sugar - Granulated sugar is essential to this cake and helps to give it it's structure, no substitutes will work here.

Extracts - Anytime a cake has a number of eggs, your extracts are important. In this cake we are using vanilla extract and a bit of almond extract. Almond extract is much easier to come by than pistachio extract - it still gives us a hint of nutty flavor. If you have pistachio extract, you can absolutely substitute.

Oil - Yes, we are using oil instead of butter in this cake. Any neutral oil will do, I typically use canola. Baking cakes with oil usually yields a moister cake and more even crumb which is especially important in such a large cake.

Yogurt - We're using yogurt to incorporate more fat which will result in a richer and more moist cake. I prefer a full fat yogurt, you can also substitute sour cream in its place.

Orange Juice - Orange juice and zest, it may seem odd to add these to a pistachio cake but that bit of citrus helps with balancing the eggs in the cake and also creates more moisture. Don't be too worried about a heavy orange flavor - you'll only taste slight notes of citrus in the background but won't overpower the cake itself.

Food Coloring (optional)- Pistachios are very subtle in their green color - you can certainly add a hint of food coloring to enhance the green. Less than a drop will do the trick to tint a pale green.

Labneh or Greek Yogurt - To jazz this cake up, I've added a little glaze to the top using labneh or Greek yogurt. I love this glaze because of the tanginess. It's best to top just before enjoying the cake as it does require refrigeration.

Powdered Sugar - Adding powdered sugar to our glaze will give it some structure and sweetness to balance the tartness of the labneh.
Assembling Your Bundt Cake
What I love about Bundt cakes is their simplicity, one bowl, one mixer, bake and done! It's the kind of cake I can make the night before for a dinner party and be confident that it will be perfect the next day with little fuss.
Roasting Pistachios - The first thing I like to do is pop my pistachios in the oven when it's preheating, 10 minutes in the oven before processing really helps to enhance the flavor.

Dry Ingredients - It is important to spoon and level your flour when measuring or use a scale for an accurate amount. Since this cake has ground nuts, we want to be sure and have a balanced amount of flour to ensure it stays moist and not dense. A kitchen scale is best, but you can also spoon your flour into a measuring cup then level off with your hand for accurate measurement. In a small bowl, add your flour, baking powder, salt and processed pistachio pieces - set aside.

Combining Wet Ingredients - In the bowl of a stand mixer fitted with paddle attachment, add your eggs, egg whites and sugar mix to combine. You want to allow your mixer to go on medium high speed to really get volume from the eggs - you can stop and scrape down sides as needed. After 5 minutes, add in your extracts and orange zest.

Dry ingredients - With your mixer on low, add in your dry ingredients: flour, pistachios, baking powder and salt. Mix until just combine.

Final wet ingredients - Finally, orange juice, yogurt and oil are added to your mixture to create a thick batter. If you choose to use food coloring, you may add a hint here as well.

Coating your Bundt - Bundt pans vary and many have little crevices that are hard to coat properly. A few tips and tricks for the perfect Bundt release:
1. Use a Nordic Ware®Bundt pan, they are truly the best in releasing cakes and baking evenly.
2. One of the only times I use a nonstick spray for cakes is for Bundt cakes, Baker's Joy specifically is the PERFECT formula that includes a nonstick agent and flour to perfectly coat your pan. I make sure to spray the sides and especially the middle column. Don't be afraid to spray and coat well.

Bake - Bundt cakes are thick cakes with thick batter, typically will bake for 1 hour. Allow to cool for 15 minutes before flipping.

Glaze - Once your cake is completely cooled, you may glaze when ready to eat. This particular glaze must be refrigerated so be sure only glaze what you want to enjoy immediately. Top with additional pistachios.
Tips and Tricks to the Perfect Bundt
Do I need to combine dry ingredients?- I know it sounds tedious to combine your dry ingredients but it is to make sure they are evenly combined and are dispersed throughout the cake.

Room temperature ingredients? - It is best to have your eggs and yogurt at room temperature. This helps to incorporate the ingredients evenly and create that velvety batter. If you need to speed up your egg warming - place them into a bowl of warm water for about 10 minutes.

Why do we need to toast the pistachios? - Toasting the pistachios really helps to enhance the flavor of the cake. When nuts are warmed they release oils which in turn are filled with flavor and create a deeper concentrated flavor in the cake.

What about pistachio extract? - Pistachio extract is pretty hard to come by, I recommend using almond extract in its place which is much more readily available at your local grocer. It's really to enhance that subtle nutty flavor in the cake.

Can I use something other than orange juice? - The added citrus in this cake makes it extra special, you can absolutely sub out for milk if you don't have orange juice on hand.

Can I use something other than yogurt? - Full fat yogurt is recommended my top choice, but another variety will certainly work or sour cream in its place. I have not tried a plant or nut based yogurt but would suspect it would work well - the more fat the better, so choose one that is full fat.

What if I don't have Baker's Joy? - One of the only times I use Baker's Joy is for Bundt cakes - it truly is my #1 defense for cake release. If you don't have it on hand you can brush melted butter in your pan then lightly coat with flour, be sure to get EVERY spot on your Bundt, especially the center tube section.

What about the glaze? - This labneh glaze is something kind of special, I love the tanginess from the labneh and sweetness from the sugar, it gives the cake a little something extra and enhances the pistachio flavor. You can certainly use thick Greek yogurt in its place. I always find it best to use organic powdered sugar when making this glaze, it really does have a different flavor and can make a big difference. Since this is yogurt based, you'll want to top the cake only before eating and store in fridge until you're ready.

How do I store the cake? - Cakes are best stored covered on the counter or frozen - putting cakes in the refrigerator actually dries them out much quicker. If you are only going to enjoy half the cake immediately, cut the other half, wrap with plastic wrap then foil and freeze for up to 3 months. Remove when you want to enjoy!
St. Patrick's Day Celebration
St. Patrick's Day celebrations may look a little different this year but that's no reason to not celebrate with good food and family. With the help of Crate and Barrel I've taken this simple cake and made it a party cake. And who's to say it can't be a party for 1 or 2? Or even a breakfast party? This cake would be amazing as part of a Sunday brunch! The Pistachio Bundt is displayed on this gorgeous Gold Hammered Cake Stand which is my new favorite. Whether you're having a mimosa or just straight champagne, I found the pot of gold in these gorgeous coupe glasses from Crate and Barrel! These coupe glasses are the perfect bit of elegance for an at home St. Patrick's Day celebration and all throughout the year. Probably my favorite celebration piece are these chestnut branches in this gorgeous large blue vase - they remind me of truffula trees from Dr. Seuss, such a fun pop of color to any tablescape. Some other bits of elegance from Crate and Barrel include: grey appetizer plates, appetizer forks, ivory linens, cake serving set, round copper placemat, Nordic Ware® Anniversary Bundt® Pan and egg crate.
However you decide to celebrate St. Patrick's Day this year, I hope you'll do it with some cake and champagne - we all deserve it.
If you make this Pistachio Bundt with Labneh Glaze, please let me know by leaving a rating and review below!
As always, I love seeing your creations. Please leave a review or share your dish with me on social media #cosetteskitchen which lets me know what is working for you! You can also tag my friends at Crate and Barrel if you try this recipe. You can find me on Facebook, Instagram, Twitter and Pinterest. For more delicious recipes to your inbox, sign up for my newsletter!
xoxo,
Cosette
This post is sponsored by Crate and Barrel, all opinions and ideas are my own.
Print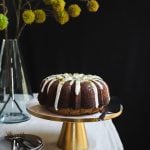 Pistachio Bundt Cake with Labneh Glaze
Author:

Cosette's Kitchen

Prep Time:

20 minutes

Cook Time:

60 minutes

Total Time:

1 hour 20 minutes

Yield:

1

bundt cake

1

x

Category:

Cake

Method:

Baking

Cuisine:

Dessert
---
Description
A simple and elegant dessert filled with pistachios and delicate orange flavor.
---
Pistachio Bundt Cake
2

cups

raw, unsalted pistachios -

275

grams

3

cups

all purpose flour - spooned and leveled -

415

grams

3 teaspoons

baking powder

½ teaspoon

salt

3

whole large eggs

2

egg whites

2

cups

sugar -

400

grams

1 teaspoon

vanilla

½ teaspoon

almond extract (or pistachio extract)
zest of

1

large orange
½ cup orange juice -

125

ml

½ cup yogurt -

146

ml

½ cup neutral oil: canola/vegetable/avocado -

100

ml

1

small drop of green food coloring (optional)
Labneh Glaze
½

cup

labneh or Greek yogurt

½

cup

powdered sugar
additional chopped pistachios
---
Instructions
Pistachio Bundt Cake
Preheat oven to 350 degrees Fahrenheit  and place oven rack in center of oven.
Measure your pistachios and place on a sheet pan - pop into preheated oven for 10 minutes. After 10 minutes, place roasted pistachios in the bowl of a food processor and pulse until small crumbs form. Don't allow to process too long as you don't want to turn it into butter.
Take care when measuring flour, use a scale or spoon flour into a measuring cup then level top to avoid adding too much.*
Combine your pistachio crumbs, flour, baking powder and salt into a bowl - set aside.
In the bowl of a stand mixer fitted with paddle attachment, place your whole eggs, egg whites and sugar and begin mixing on medium high for 5 minutes. Be sure to stop and scrape sides down as needed. After 5 minutes, mixture should be fluffy and pale yellow. Add your extracts and zest of one orange. Mix for another minute.
With your mixer on low or off, add your bowl of dry ingredients. Mix for just a few moments until combined - batter will be thick.
Next, add your yogurt, orange juice and oil (food coloring if using) and mix for another 1-2 minutes on low until just combined, be sure to scrape bottom and sides.
Prepare your 

Nordic Ware®

 Bundt pan by spraying Baker's Joy or coating with melted butter and dusting with flour, be sure to cover every part of the inside cavity - especially the center tube.
Pour your batter into prepared pan and bake in preheated oven for 1 hour or until tester comes out clean.
Remove from oven and allow to cool on rack for 15-20 minutes. You may run a knife gently around edges to ensure it is loose and then flip your cake over on a rack.
Allow cake to cool completely before glazing.
To make the glaze mix equal parts labneh and powdered sugar in a bowl - drizzle a bit on each slice you are serving and top with additional chopped pistachios. Store any remaining glaze in fridge.
Enjoy cake at room temperature (unglazed) for 5 days.
---
Notes
*Unsalted, raw pistachios are best for this cake. If using salted raw pistachios - omit the additional salt.
*Be sure to measure your flour properly, I recommend a scale. If you don't have a scale the best way to measure is to spoon your flour into a measuring cup then level off with a butter knife. This method is better and more accurate than scooping from a container, where we often get too much flour.
*Be sure your Bundt pan is a large capacity 10-15 cup (2.4-3.5 liters), if using a smaller pan cake may not bake properly. Batter should fill to about halfway up sides of larger pan.
*If using food coloring - add slightly less than 1 drop, you only want to hint of green to intensify the color of your cake.
*Cake may be frozen unglazed for up to 3 months - wrapped in plastic wrap then foil to ensure freshness. Avoid storing cake in fridge as it will dry it out.
Keywords: middle eastern dessert, st. patrick's day, st. patrick's day dessert, pistachio bundt cake, pistachio bundt cake with orange juice, pistachio bundt cake from scratch, pistachio bundt cake with almond extract, how to make pistachio bundt cake, best pistachio bundt cake, pistachio bundt cake recipe, pistachio bundt cake no pudding, how to make pistachio bundt cake, labneh glaze