This Tangy Lemon Loaf is just the right breakfast or tea cake. Lemon juice, lemon zest and sumac create an intense tangy lemony flavor. Paired with rich olive oil for an intense flavor and depth and a bit of turmeric for that bright yellow color! It's a cake worth having on repeat for your weekly breakfast!
Lemon Loaf: Turmeric + Olive Oil + Sumac
I love all things lemon - especially in the springtime. The flavor is so fresh - when creating this recipe I knew that I needed more than just lemon juice and zest to create a really intensely tangy cake. Sumac is my go-to spice for so many things - it's a Middle Eastern spice that has a strong lemony flavor and PERFECT to enhance the lemony taste in this lemon loaf. One of the best applications is when it's used in fattoush salad but you can use it on potatoes, chicken or even eggs for a savory application! Definitely a spice worth stocking in your pantry.
Turmeric
Why turmeric? Turmeric is a wonderful earthy spice, it also creates an intense yellow color in food. A very common and popular Arab cake, Sfouf gets it signature yellow color from this exact spice, turmeric. I really wanted to create the idea of strong, bold, lemon flavor and adding a hint of turmeric gives that beautiful intense yellow color. It does have a bit of an earthy flavor that I think helps balance the sweetness of this lemon loaf as well. It's not 100% necessary to add - but think of it as adding natural food coloring to the cake. It's so fun to cut into the cake and see the beautiful color!
One Bowl Cake - No Mixer
My favorite thing about this lemon loaf is that it's made in ONE BOWL - no mixer required, just simply a whisk. It's the kind of cake you can put together in about 10 minutes and have ready for guests on short notice. Pair it with some vanilla ice cream for an extra special treat or toast the slices to enhance the lemon flavor.
Loaf Texture
This loaf cake is a little denser than a traditional cake. It holds its shape and has a very deep flavor, rich flavor.
Jump to:
Ingredients
Most of the ingredients are simple pantry staples you have on hand at all times. The only slightly different ones are sumac and turmeric.
Sugar - Simple granulated sugar for this cake, we'll actually blend the lemon zest in with the sugar to create a lemony sugar.
Lemon Zest - One of the most important ingredients - the zest has MUCH more lemon flavor than the juice, especially when baked.
Lemon Juice - In addition to the zest, we'll be adding lemon juice.
Eggs - Eggs to bind the cake together.
Olive Oil - I loved the idea of continuing to play with the yellows and slightly intense flavors bordering on savory. I've used olive oil in the cake but it can certainly be made with any oil you'd like. If you have a lemon olive oil - that would be PHENOMENAL and give a VERY intense lemon flavor!
Yogurt/Sour Cream - Somehow a yogurt cake feels like breakfast - am I right? Adding yogurt or sour cream for more tangy flavor. Both work well as I have tried both with success.
Vanilla Extract
All Purpose Flour
Baking Powder
Baking Soda
Salt
Sumac - I purchase my sumac at my local Middle Eastern grocery store - you can also purchase online, this is a great one with a nice intense flavor.
Ground Turmeric - The turmeric is definitely used mostly for color but also gives the cake a hint of earthiness - a little bit goes a long way! Any grocery store will have ground turmeric. Or grab online.
See recipe card for quantities.
Instructions
Begin by preheating your oven to 350 degrees Fahrenheit and placing rack into the center most position. Spray your loaf pan - I like to use Baker's Joy, you can also butter the pan and sprinkle a bit of flour to coat completely - dump excess flour. Set aside.
In a large bowl, add your sugar and lemon zest. With clean hands, rub your lemon zest into the sugar thoroughly. I learned this trick from Dorie Greenspan in a class I took with her. Blending the lemon zest and sugar together helps to release the oils and creates a more in depth lemon flavor.
Once your lemon zest is fully incorporated with your sugar, add your liquid ingredients: lemon juice, yogurt, olive oil, vanilla and eggs. Whisk until smooth.
Next, sift your flour, baking soda, baking powder, salt, sumac and turmeric into the bowl and whisk until just combined. You DO want to whisk the flour in but JUST until combined. Simply folding the flour in will leave flour clumps in your final baked product.
Pour batter into prepared pan and bake for 55-65 minutes or until a skewer comes out clean from the center most point of the cake.
Allow loaf to cool for about 10 minutes then flip onto a cooling rack and allow to completely cool. You can add an optional glaze of lemon + powdered sugar. I typically add about ½ cup of powdered sugar and a squeeze of lemon, mix well - use a pastry brush to apply a thin layer or make a larger batch and fully ice. Slice and enjoy!
Substitutions & Variations
Our pantries are a world of wonder and sometimes we don't have exactly what we need when making recipes. Here are a few common substitutions that would work if you need to swap ingredients.
Flour - I'm not a gluten free baker, but if you successfully use a gluten free flour in other baked goods, you can certainly swap out the all-purpose for your trusted brand.
Yogurt - I have made the cake with both yogurt (whole milk, not Greek) and sour cream. Both are great options and create a successful tender cake. If you are dairy free, choose a dairy free yogurt to substitute.
Olive Oil - You can sub butter for the olive oil - soften slightly then whisk in with the sugar/liquid mixture.
Lemon Zest & Lemon Juice - Unfortunately I don't think these are negotiable. This is a lemon cake so using fresh lemon juice and zest are the most important part to create the best flavor. Bottled lemon unfortunately doesn't have the same fresh flavor and you also won't have access to lemon zest.
Sumac - I love the addition of sumac in the cake, it's subtle but there. You can always omit or add a little extra lemon zest.
Turmeric - Mostly used to add the vibrant yellow color and a hint of earthness, easily can be omitted if you'd like.
Poppy Seeds - If you want a poppy seed cake, you can certainly throw some in, or try this Poppy Grapefruit Bread.
Equipment
Such a simple one bowl cake - the biggest must haves are:
Storage
Store the cake in a sealed container for 3-4 days, I like to warm up or toast slightly when enjoying it the second day. Avoid storing in the fridge as it will become dry.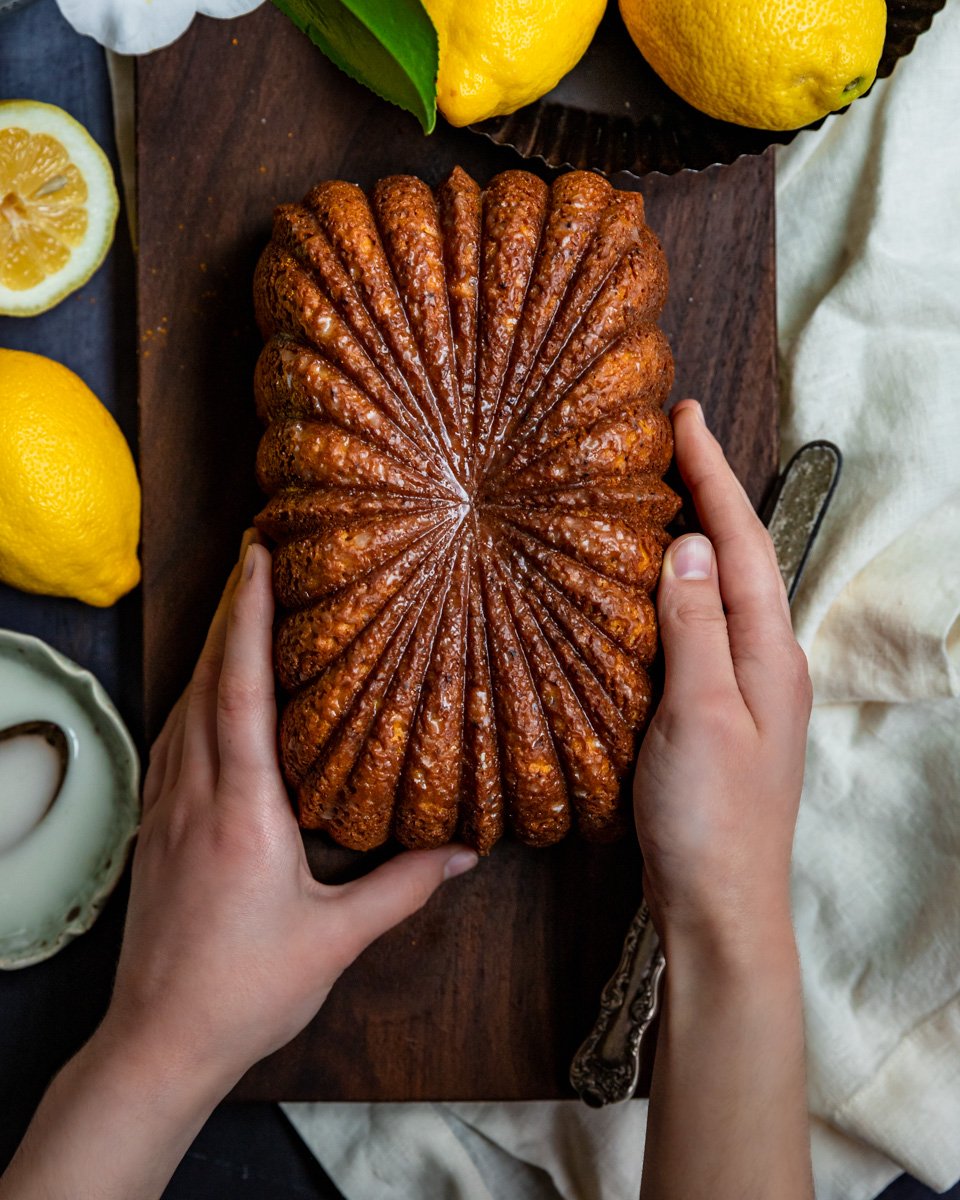 FAQ
Can this cake be frozen?
Yes, you can absolutely freeze this cake whole or in slices. Once the cake is cool, wrap the whole cake or individual slices in wax, parchment or plastic wrap then in foil. Store in freezer for 3-4 months. Simply remove from freezer and allow to come to room temperature to enjoy.
Why did my cake sink in the middle?
When baking it is really important to measure ingredients accurately. Too much flour will cause the cake to take longer to bake and create a different texture. I always recommend using a scale when baking to get the most accurate weights for ingredients.

Allowing the cake to cook fully, checking with a skewer or toothpick for the center to be completely done is important. If you notice the top browning too much, you can always cover with a bit of foil until it is fully baked through.
Does my cake need a glaze?
I know many lemon loafs have a HEAVY glaze on top - I personally don't feel it's necessary and takes away from the simplicity of the cake. I did add a bit of lemon juice and powdered sugar glaze to the top but just brushed on with a pastry brush for a hint of sugared crust. Feel free to add more or less according to your own tastes.
Does this taste like the Starbucks Lemon Loaf?
I can't say it tastes like the Starbucks Lemon Loaf, to me it's much better - more intense lemon flavor, less sweet and the perfect snacking cake. If you are a fan of it, I think you would enjoy this one greatly!
The top of my cake is browning too fast.
Loaf cakes tend to take about an hour to bake in the oven, they are thicker than a standard round cake - and closer to a bundt. After the 55 minute mark, check the center of your cake and if it still needs time but your top is browning too much, cover loosely with foil and allow to continue to bake. This will ensure you don't burn the top but give the cake time to bake properly.

Oven temperatures vary greatly - as well as size and position of racks, etc. I am baking this in the center of my oven to allow for as much room as possible around the cake. If you are baking in a smaller countertop oven - you may definitely need to drape foil on the top since the heating element will be much closer to the cake.
My flour clumped together - why?
When adding your flour mixture to combine with the wet ingredients - be sure to whisk until smooth. I tried simply folding but the flour created pockets and baked unevenly in the loaf. Give the batter a quick whisk until it's smooth.
---
I hope you enjoy this Tangy Turmeric Lemon Loaf with Olive Oil and Sumac as much my family does - feel free to adjust and make your own!
If you make Tangy Turmeric Lemon Loaf with Olive Oil and Sumac, please let me know by leaving a rating and review below!
As always, I love seeing your creations. Please leave a review or share your dish with me on social media #cosetteskitchen which lets me know what is working for you! You can find me on Facebook, Instagram, Twitter , Tiktok and Pinterest. For more delicious recipes to your inbox, sign up for my newsletter!
xoxo,
Cosette
Print
Tangy Turmeric Lemon Loaf with Olive Oil and Sumac
Author:

Cosette's Kitchen

Prep Time:

10 minutes

Cook Time:

60 minutes

Total Time:

1 hour 10 minutes

Yield:

1

loaf

1

x

Category:

Baking

Method:

Oven

Cuisine:

Lebanese
---
Description
This tangy lemon loaf is paired with earthy olive oil, turmeric and sumac. It's a lovely balance of flavors and strong lemon flavor. Made in one bowl for ease - great for breakfast or with coffee or tea.
---
1 ¼

cup

granulated sugar - 250 grams
Zest of

3

large lemons

¼

cup

+

2

tablespoons

olive oil - 74 grams (you can sub in any oil)

⅔

cup

whole milk plain yogurt or sour cream - 170 grams

⅓

cup

fresh lemon juice - 77 grams (about 2 large lemons)

3

large eggs

2 teaspoons

vanilla extract

2

cups

all-purpose flour - 272 grams

1 teaspoon

baking powder

½ teaspoon

baking soda

½ teaspoon

salt

2 teaspoons

sumac spice

1 teaspoon

ground turmeric spice
Optional Glaze
½

cup

powdered sugar
Squeeze of fresh lemon juice
---
Instructions
Begin by preheating your oven to 350 degrees fahrenheit and placing your oven rack in the center of your oven.
Grease an 8.5 x 4.5 loaf pan either by spraying with Baker's Joy or brushing a thin layer of butter or shortening around the entire inside. Add a teaspoon of flour and rotate pan around to ensure flour adheres to all the butter/shortening. Shake out an excess flour. Set aside.
In a large bowl, add your sugar and zest from your lemons. Using your hands, gently rub the lemon zest into the sugar. This step is really important to achieve a great lemon flavor. The lemon zest releases oils which infuses the sugar creating a more intense lemon flavor.

1 ¼ cup granulated sugar - 250 grams
Zest of 3 large lemons

Add in your wet ingredients and whisk until fully combined.

¼ cup + 2 Tablespoons olive oil - 74 grams (you can sub in any oil)
⅔ cup whole milk plain yogurt or sour cream - 170 grams
⅓ cup fresh lemon juice - 77 grams
3 large eggs
2 teaspoons vanilla extract

Sift in your dry ingredients - I like the texture much better if sifting in the dry ingredients so definitely give it an extra minute to do so. Whisk until JUST combined. You want all the flour pieces to be worked into the batter but not overwork. 

2 cups all-purpose flour - 272 grams
1 teaspoon baking powder
½ teaspoon baking soda
½ teaspoon salt
2 teaspoons sumac spice
1 teaspoon ground turmeric spice

Pour your batter into prepared loaf pan and bake for 55-65 minutes. At the 55 minute mark, check your cake for doneness by inserting a skewer in the center. If it's clean, it's done - if not, put back in for another 10 minutes until skewer comes out clean from batter.

If the top of your loaf is browning too quickly, loosely drape a piece of foil on top 

Remove from oven and allow to cool for 10 minutes in the loaf pan - after 10 minutes flip onto a cooling rack. Allow to cool for 30 minutes then slice and enjoy!
Optional Glaze
Add ½ cup of powdered sugar to a bowl and a squeeze of fresh lemon juice - mix until a paste forms. Add more powdered sugar to make thicker or more lemon juice to thin. I like to simply brush on a THIN layer but you can certainly make as much as you want and create a thicker glaze.
---
Notes
It's highly encourages to weight your ingredients using a kitchen scale for the most accurate recipe.
If you are not weighing your ingredients - be sure to spoon and level your flour to ensure you don't have too much in the recipe.
You can sub any oil for olive oil - olive oil does have a strong flavor. A lemon olive oil would give even more lemon flavor or a light olive oil would give a lighter oil taste.
Keywords: lemon loaf, starbucks lemon loaf, easy lemon loaf with sumac and turmeric, easy lemon loaf, one bowl lemon loaf, easy lemon loaf with olive oil, no butter lemon loaf, sumac lemon loaf, lemon cake, breakfast cake
Other Recipes You May Enjoy!