Ahhhhh...pizza! It's really a dream food: cheese + carbs + toppings. No wonder 94% of Americans eat pizza regularly!!! I grew up eating pizza as my dad owned several pizza shops in the early years. His first shop was situated across the street from a high school. My earliest memories are of me sitting in the shop as a little girl, enjoying a slice and watching high-schoolers come in after school. My dad was and still is, The Talk of the Town, he makes pizza like none other, although these days he's making ice cream instead!! Like everything else in my life, I learned how to make some delicious pizza from my dad. I took what he taught me and made my own twists and turns along the way and placed my stamp on it.
After I moved to the West Coast, I had a REALLY, REALLY hard time finding the perfect slice. I went from pizza shop to pizza shop looking for that NY style Neapolitan pizza, but over and over I couldn't find what I was looking for and yearned to go back East. I've been here 15 years now and Portland definitely has some stellar pizza shops, but the best shop in town has become my own kitchen!!!
Once kids came along, going out kind of ended. Unlike my childhood, my kids don't have the glory of living with a pizza shop in the family. Cooking took over my world and since I wanted yummy pizza I started making it myself. We rarely go out for pizza these days a few simple reasons:
1. It's kind of crazy expensive to get out as a family of 5. Especially when I can't guarantee my kids are actually going to eat the $7 kids meal...$7 x 3 = $21 potentially down the drain!
2. Once I figured out how to make crazy good pizza, it became a non-issue to find the best West Coast slice!
3. For the cost of some flour, yeast and cheese...I could make my own specialty pizza for a fraction of the cost.
The Dough
My pizza dough doesn't consist of any beer, long rise times, overnight proofing or anything else that fancy. It's a simple recipe that combines: flour, yeast, water, sugar, olive oil and salt to make a perfect dough for pizza. I do use my KitchenAid mixer which is "almost" as precious as my first born (kidding, not kidding!) That beast is my saving grace and on my counter 90% of the week, my friends can attest to that fact!
The dough recipe I use will make 2 large pizzas (one pizza almost fills a half sheet pan). You can certainly wrap up and freeze some of the dough and use another time. Since our pizza night is Saturday, it's also a chance for me to clean out the fridge. I experiment with toppings and basically make kitchen sink pizzas. I take veggies that need cooking or chicken that needs to be used up to create fun different pizza creations. This week's pizza showcased: garlic scapes, sun-dried tomatoes, garlic ricotta mixture, green olives, mozzarella and fresh oregano.
Check out my recipe below to start your pizza loving journey! Here is my basic dough recipe, to get you going! I hope you enjoy and use to create your own special pizza night. If you make your own pizza, I would love to see! Tag me on Instagram @CosettesKitchen or post on my Facebook Page!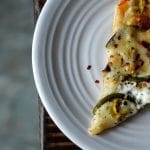 Pizza Dough
Author:

Cosette Posko

Prep Time:

5

Cook Time:

120

Total Time:

125

Yield:

2

1

x
---
3

cups

all purpose flour**

1 tsp

kosher salt

2 tbsp

olive oil

1 tbsp

instant dry yeast

1.5 tsp

sugar

1

cup

(8oz) warm water (110 F)
Italian Seasonings/Garlic Powder/Oregano ***optional mix-ins
---
Instructions
The Dough
In a small bowl or measuring cup, add your yeast, sugar and ½ cup (4oz) of warm water. Let sit for 5 minutes in a warm place. (I usually stick in my microwave)
Fit your KitchenAid mixer with the dough hook.
Add your flour, salt and olive oil into the bowl of your mixer, gently mix on low until combined.
After 5 minutes, your water/yeast mixture should have bubbled up, with your mixer on low, slowly add in.
Fill another ½ cup (4oz) of warm water and slowly continue adding in. Your dough should begin to come together and form a smooth, elastic ball of dough.
Continue to let mix for 5 minutes on medium speed.
Once the dough has formed, remove and add a few drops of olive oil to the bowl and place dough back into bowl and coat with oil.
Cover with plastic wrap and set in a warm place, if your oven has a proof setting even better!!!
Let rise for 1-2 hours until the dough doubles in size.
Pizza Making
Place your racks to the lowest 2 spaces in your oven.
Preheat your oven to 550 F and place 2 sheet pans or your pizza stone to heat up as well.
Once your dough is ready, remove from bowl and divide into 2 even balls. (If you want to freeze one, coat the dough lightly in olive oil and wrap in plastic wrap then place in ziplock bag. The dough will freeze well up to 3 months.)
Work with one dough piece at a time and leave the other covered with a damp towel until ready to use.
Flour your clean surface well and begin to work your dough, first with your hands to smooth out then gently with a floured rolling pin.
Begin to roll and shape to your desired thickness. I tend to roll mine pretty thin and leave a bit of a thicker edge for a nice crust. One of my dough pieces is usually an oval shape and covers most of the half-sheet pan.
Remove one of the hot sheet pans or pizza stone from the oven and drizzle a bit of olive oil, let it spread and coat the pan.
Quickly, place your rolled pizza dough onto the hot oiled pan. It will sizzle a bit, stretch and adjust to your liking.
Then proceed to layer your sauce and toppings. Repeat with additional pizzas.
Bake pizzas for 10-12 minutes rotating at the halfway mark.
Remove from oven, let cool slightly, slice and enjoy!
---
Notes
**Using half whole wheat or spelt flour works very well.
*If you would like to double the recipe, double everything but the yeast quantity. Proceed the same way, you will yield 4 large pizzas.