Tahini + Bananas
Here's a little secret for you that's BANANAS, pun intended! I can buy a bunch of bananas and within two days, two things can happen: they are all eaten immediately while still in their beautiful yellow state, or the latter, they have all turned into brown spotty messes! So you better believe when they turn, banana bread is in the works. Banana bread, the quintessential breakfast food, at least at our house. There are literally THOUSANDS of recipes out there, I know, I know! What makes this one stand out you ask? Well, first off - it's baked with tahini IN the bread AND in one other special way!
Nuts About Tahini
If you've been here a while, you know I'm nuts about tahini, not because it's the latest trend but because Arabs have been using it since the beginning of time! It's a Middle Eastern condiment that is used in savory dishes such as hummus, baba ganoush and in sauces or dressings. I think folks also forget how much it lends itself to sweet dishes too. Cookies and cakes and it even is a great alternative to nonstick agents like butter or shortening. The beauty of using tahini as your nonstick agent is it really lends itself to this lovely, subtle nutty flavor in your dessert. We use this method is a Lebanese dessert, Namoura and we're going to use it today baking this banana bread!! It really gives an extra boost of flavor.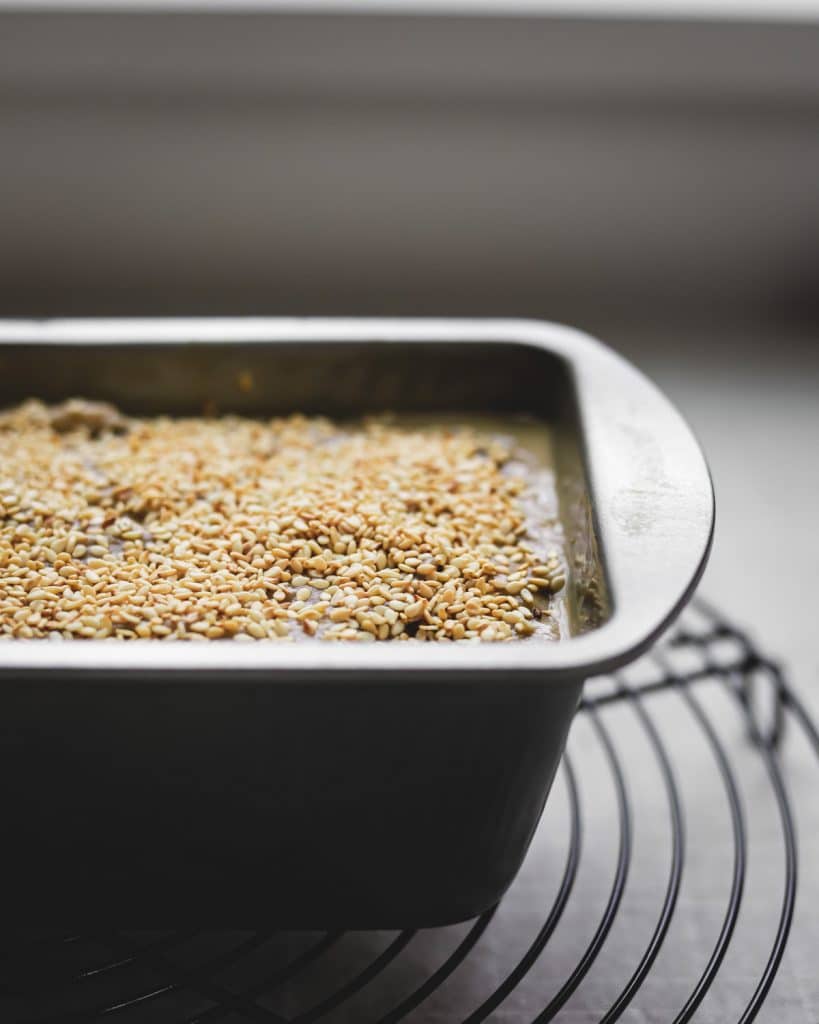 Storing Tahini
I get so many questions about how to store tahini once you've opened it. Tahini, much like a natural nut butter will separate - oil will come to the top and you'll be left with a chunky clump at the bottom of your canister. The best method is actually to store your tahini upside-down in your cabinet. This allows the mixture to fully incorporate and less stirring when you open. Be sure to place in a container in case any drips - tahini is messy!
Fridge or No Fridge? This is a debatable one and will also depend on how frequently you use tahini. If you plan on using within 2-3 months, storing tahini in a cabinet/pantry is ideal - must be out of direct sunlight and heat. It's much easier to use at room temperature vs out of the fridge.
However, if you aren't using as frequently, you may consider storing in the fridge. Stored in the fridge, tahini can last 6 months to a year opened. Just note you'll need to allow it to warm up before using. You could always buy a larger jar to store in the fridge and pour some out to store in your pantry.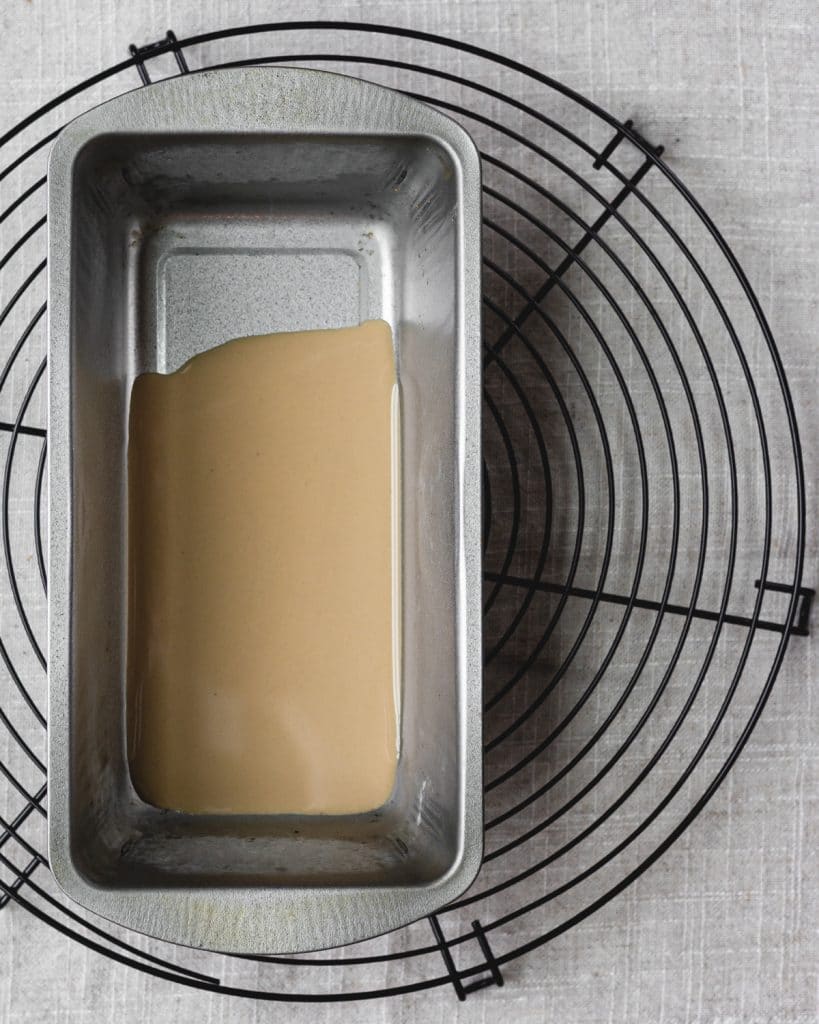 Ingredients
Banana breads are simple and delicious, they are typically one bowl, a few pantry ingredients but truly pack a ton of flavor. Not to mention, it's the perfect avenue for using up those bananas no one ate. I love doing add-ins to my bread, today I've shared a version that has dates, but feel free to sub out to your favorite add-in as I've shared below.
Bananas - Our star ingredient, bananas! But not just any bananas, you want them brown and spotted. The more ripe they are the better (aside from completely rotten) - they will yield more sugar and give you a sweeter bread.

Coconut Oil - Coconut oil isn't completely necessary, you really could use any oil in this baked good. I like to think that using a less refined oil we're staying on the healthy train - with me?? But you do you and use whatever oil you prefer.

Tahini - Our magic ingredient! Tahini is another oil component to our bread. Not only is it a flavor booster but it helps to create a moist bread, kind of like adding butter and oil to a cake. Not only will we add it into our bread but we'll also use as a non-stick agent to give the bread an extra nutty flavor.

Eggs - Our binding agent!

Brown Sugar - If I could, I'd write a love song about brown sugar and browned butter, isn't everything brown better? Brown sugar combines granulated sugar and molasses and is a richer and more caramelly in flavor. It's the lovely balance with the sweet bananas.

Sugar - Adding a bit of granulated sugar as well to balance the texture of the bread.

Flour - I'm using all-purpose flour is this recipe, you could more than likely swap out HALF for spelt or whole wheat if you choose. But the all-purpose gives this bread it's fluff.

Spices - Our basics include baking powder, baking soda, salt, vanilla and some all-spice for added flavor.

Add-ins - I adore dates and they are such a healthy part of the Mediterranean diet. Adding some chopped dates to the breads adds a bit of sweetness but also another healthy component. You can certainly add nuts and/or chocolate chips if you'd prefer. But I do urge you to try with dates!

Sesame Seeds - Finally, a little topping of sesame seeds gives this bread such a glorious extra boost of flavor and crunch. I added toasted sesame seeds, but raw would work as they'll toast up while baking.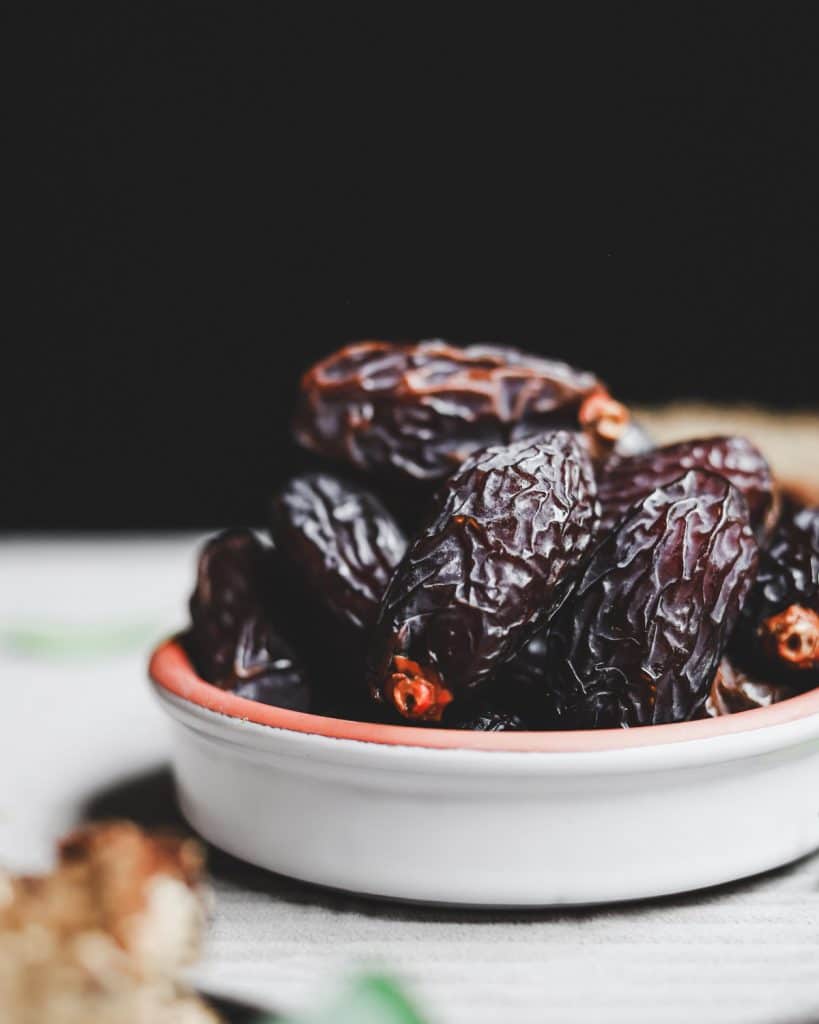 Making Banana Bread
The best part of making banana bread is ONE BOWL, so less cleanup and such an easy breakfast to make ahead of time. The other beauty is that this is such a wonderful bake for beginning bakers. Pretty much fool-proof. Quick process of making in just a short few steps.
Mash bananas - So easy a toddler can do it, smoosh those bananas up using a fork or potato masher.

Add in your wet ingredients - We're going to add in our coconut oil, eggs, tahini, vanilla and sugars at this time. Whisk all together!
PRO TIP -
Melt your coconut oil in your measuring cup FIRST, then add your tahini and it will slide right out, no waste or sticking!
Dry ingredients - Next, add your dry ingredients and fold into your wet batter. Add your dates or other add-ins just at the end.

Grease - To get that extra tahini flavor, use a bit of tahini and coat your baking pan using a pastry brush or paper towel like you would butter/flour. Coat the bottoms and sides entirely then pour batter and top with sesame seeds.

Bake - Bake your bread until golden brown and tester comes out clean.
Substitutions and Questions
Can these be baked into muffins?
I have tested this recipe in muffin form and unfortunately it is not the best. If you're looking for a banana muffin recipe, try this one.

Do I have to grease my pan using tahini?
You certainly don't HAVE to but it's something that makes this recipe unique and imparts a bit more of a nutty flavor to the end result. You can simply grease using butter and flour or shortening and flour if you'd prefer.

I don't have a loaf pan, what can I use?
Loaf pans are classic for banana bread, but an 8x8 or 9x9 would work well, bake time would need to be adjusted. It would be closer to 35-45 minutes.

Can I use something other than coconut oil?
Yes, you may use any neutral oil in this recipe.

I don't have allspice, what can I replace it with?
Allspice is commonly used in Arab cuisine so it's a nice subtle flavor that melds well with the tahini. But you can certainly omit or sub cinnamon or even cardamom.

Can I sub flour?
I like to use a standard all-purpose flour in most of my bakes as they lend themselves to lighter baked goods. But you can certainly swap part of your flour ratio for whole wheat or spelt, I'd say the ¾ cup worth without sacrificing texture.
I hope you enjoy this bread as much as my family does, it's a true staple and the perfect way to use up those bananas on the counter. I actually enjoy it even more the 2nd day toasted and a little slather of butter. The bread gets a little toasted and the smell of sesame seeds wafts through the kitchen.
As always, I love seeing your creations. Please leave a review or share your dish with me on social media #cosetteskitchen which lets me know what is working for you! You can find me on Facebook,  Instagram, Twitter and Pinterest. For more delicious recipes to your inbox, sign up for my newsletter!
xoxo,
Cosette
Print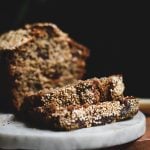 Tahini Banana Bread
Author:

Cosette's Kitchen

Prep Time:

5 minutes

Cook Time:

60 minutes

Total Time:

1 hour 5 minutes

Yield:

1

loaf

1

x

Category:

Bread

Method:

Baking

Cuisine:

Lebanese
---
Description
Simple and classic banana bread with a little Middle Eastern twist - tahini!
---
3

ripe bananas, browned and spotted is best, mashed (

290 grams

)

⅓

cup

coconut oil, melted (3 oz)

⅓

cup

tahini (3 oz) - + 2 extra tablespoons for coating loaf pan

2

eggs

1 teaspoon

vanilla

⅓

cup

brown sugar (68 grams)

⅓

cup

granulated sugar (76 grams)

1 ¾

cup

all-purpose flour (245 grams)

½ teaspoon

baking powder

¾ teaspoon

baking soda

2 teaspoons

all spice

½ teaspoon

kosher salt

½

cup

chopped dates, about 4 medjool dates (optional)*

2

-

3

tablespoon sesame seeds
---
Instructions
Preheat oven to 350 degrees Fahrenheit and set rack to upper middle of oven. 
In a large bowl, mash your bananas using a fork or potato masher until bananas resemble a paste.
Add your wet ingredients; coconut oil, tahini, eggs, vanilla  and sugars to the banana mixture and fold until just combined.
Next, add your dry ingredients; flour, baking powder, baking soda, allspice and salt. Fold until just about no streaks remain.
Just before all your flour is incorporated, add your chopped dates and fold until just combined.
Prepare your 9" loaf pan  by pouring about 2 tablespoons of tahini in the bottom and with a pastry brush or paper towel, spread along bottom and sides until fully coated.*
Pour your batter into prepared loaf and top with sesame seeds.
Bake for 55-65 minutes until top is golden brown and tester inserted comes out clean.
Allow to cool for 15 minutes and then remove from pan and allow to fully cool.
Enjoy!
Store on counter for up to 5 days or freeze for later use.*
---
Notes
Dates are optional but a great addition for some natural sweetness. You may add chocolate chips or nuts in place if desired.
You may simply coat your loaf pan with butter or shortening then dust with flour if you don't want to use tahini as your non-stick agent.
Store bread covered at room temperature for 4-5 days. You may also freeze the entire loaf or individual slices. Wrap with plastic wrap then with foil and store in freezer for up to 3 months. Remove slice or loaf and allow to come to room temperature. Best when toasted for best flavor.
Keywords: tahini banana bread, tahini banana bread recipe, authentic tahini banana bread recipe, lebanese tahini, tahini and banana bread, healthy tahini banana bread, tahini banana bread with dates, cosette's kitchen tahini banana bread, the best banana bread, the best tahini banana bread, toasted sesame seeds, tahini as nonstick coating, quick bread, easy breakfast, one bowl baking