Naturally vegan + gluten free
Stop what you are doing right this second and grab a bag of garbanzo beans and take them for a soak! Seriously, you NEED to make this hummus right away and you will thank me. I have strived to get the super creamy hummus many, many times. I will say, that having a very high powered blender or food processor is key, I recently got a Wolf Blender and couldn't be happier with it! If you don't have one, definitely invest in one that you can use for dips, soups, spreads and smoothies. It's worth it! 
I grew up eating hummus, so basically before it was cool and popular. What's not to love? Garlic, lemon, creamy beans, and tahini, it's a superfood like none other! I'm glad it's gained popularity and people have come to realize how amazing it really is for you. There are so many variations to making hummus, some that don't even require chickpeas! This is a VERY classic Mediterranean version, nothing fancy, just simple ingredients that meld together so incredibly well.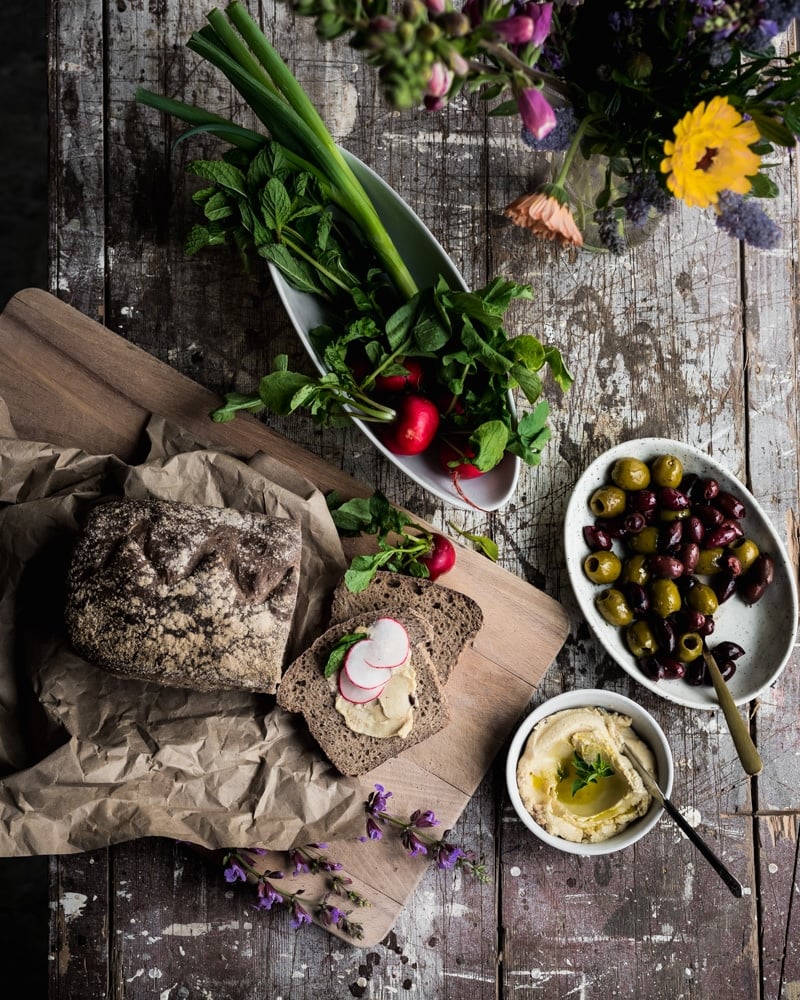 Traditional Method
There are definitely shortcuts to making hummus but the classic way includes an overnight soak then cooking to ensure very soft and creamy hummus. Another trick is adding baking soda to your garbanzo beans to help them soften even more, it changes the pH in the water creating a better environment for the skins to soften. The baking soda also helps to reduce the gas that beans will generally give you, bonus! With all these great tips and tricks, you are just a few hours away from beautiful and delicious hummus and you will NEVER go back to store bought. 
Instant Pot
My Instant Pot is one of my favorite kitchen appliances, especially with beans!!! It makes a long process super quick. The beauty of using the Instant Pot is the ability to skip an overnight soak if you forget.
Place dried beans into your Instant Pot and cover with water by 2 times. Omit your baking soda but add in your garlic and bay leaves.
Set your Instant Pot to high pressure, beans for 45 minutes.
Quick release after 5 minutes and check the texture of your beans. 
They should be soft and ready to process after cooling, continue with same steps as traditional method. 
Canned Beans
You can ABSOLUTELY still use canned garbanzo beans if you don't have time to soak or just want hummus a little quicker. It is still crucial to boil down your beans, without this step you'll be left with chunky hummus. Once boiled and cooled, you'll follow the same steps to creating the perfect hummus.
Ingredients
The key to this recipe is tahini, tahini is simply ground sesame seeds. It gives hummus it's slightly nutty flavor and creaminess. Many recipes call for adding olive oil to the hummus mixture itself, however, traditionally it is just used to top the hummus. The tahini is what gives it that creamy texture and depth of flavor, so be sure you are using good quality tahini when preparing, I prefer to use an Arab brand.
Garbanzo beans (dry or canned will work)
baking soda
garlic
bay leaf (optional)
tahini
lemon juice
water
salt
olive oil + pine nuts for topping (optional)
Tips and Tricks
A few things to consider when making hummus that will ensure you have the BEST results!
Process cooled beans: Processing the chickpeas when they are too warm/hot can make your hummus too thick and more like a paste instead of that creamy texture that you want. I recommend processing once your mixture has fully cooled to room temperature. 
Ice cubes: Some folks may think it's weird to add in ice cubes to make hummus but it allows the mixture to stay creamy and also gives it that bright and vibrant color.
Baking soda: Adding baking soda to your cooking beans is a old trick that helps to soften the skins. If making traditional dried beans adding it during the soak process and then again when boiling really gives the best texture. If using canned beans, adding to the boiling process helps to break down the skins - no more peeling skins!!!
Thinning out: If you process your hummus and realize it's too thick, you can always thin out by adding some more cold water and or lemon juice if it needs a little more zing. 
Instant Pot: If you choose to use the Instant Pot without soaking beans, be aware that they may cause more gas. Yes, the soaking process actually helps to eliminate some of the properties that cause gas. The hummus will still taste amazing and you'll have wonderful results, but maybe a little more gas.
More about the degassing process (oligosaccharides) from Taste of Home
Bean Texture: This process of preparing garbanzo beans is very specific to making hummus, this creates a very, very soft bean that is perfect for hummus. If you're preparing garbanzo beans for salads or anything else, these will be too soft. 
I hope you enjoy this hummus recipe as much as my family does. Remember, eating healthy and balanced doesn't need to be expensive. A bag of beans goes a long way and is a great way to enhance your family's diet and menu.
As always, I love seeing your creations. Please leave a review or share your dish with me on social media which lets me know what is working for you! You can find me on Facebook,  Instagram, Twitter and Pinterest. For more delicious recipes to your inbox, sign up for my newsletter!
xoxo,
Cosette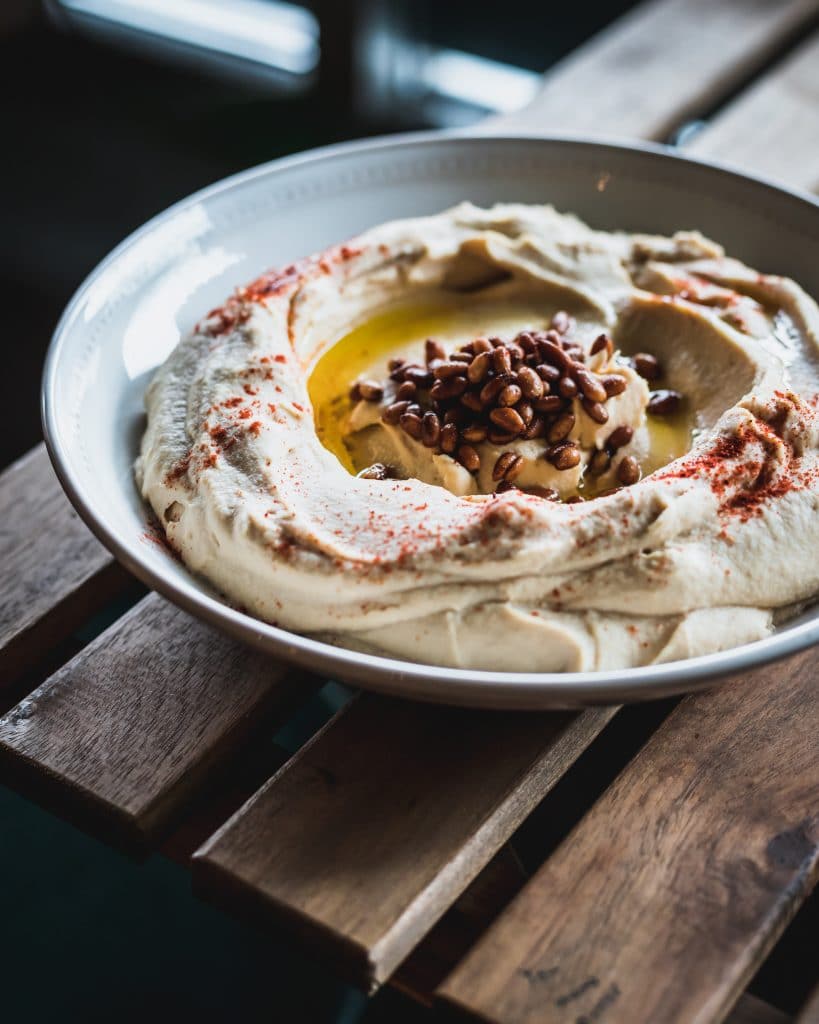 Recipes to try:
Toum - garlic sauce
Baba Ganoush - eggplant dip
Fasolia - bean dip
Loobieh - green bean side dish
Lamb skewers with hummus
Print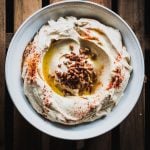 Creamy Hummus
Author:

Cosette's Kitchen

Prep Time:

20 minutes

Cook Time:

1 hour

Total Time:

1 hour 20 minutes

Yield:

4 cups

1

x

Category:

Dips

Method:

Stovetop

Cuisine:

Lebanese
---
Description
Creamy hummus is the perfect appetizer. It's naturally gluten free and vegan.
---
1

cup

dry garbanzo beans (or 2 cans garbanzo beans - drained and rinsed)

1 tsp

baking soda, divided

1

bay leaf

4

cloves of garlic, divided - additional as needed

5

-

6

ice cubs

¼

cup

tahini

⅓

cup

fresh lemon juice - adjust to taste

2

-

4

tablespoons of cold water - adjust as needed to thin hummus

1 tsp

salt - adjust to taste
Garnishes
olive oil
chopped parsley
toasted pine nuts
paprika
---
Instructions
Preparing Dry Beans
The night before you want to make your hummus, soak your dry beans in a large bowl filled with the beans and water to cover the beans about 2". You'll want to leave room for them to expand. Add ½ teaspoon of your baking soda to this mixture and let sit 8 hours or overnight.
Making Hummus
Drain your soaked beans and give them a quick rinse. (if using canned beans, rinse and drain then continue as directed). See instructions below if using Instant Pot method.
Add beans to a large pot, fill with water to cover the beans about 2" or more. Add in your bay leave and 2 cloves of peeled garlic and your additional ½ teaspoon of baking soda.
Bring beans to a boil on medium-high heat, continuously skimming the top foam.
Continue this process for 45 minutes to an hour on medium-high heat.
Once the beans are soft, drain (you can reserve the liquid if you'd like, this is aquafaba which is used in place of eggs in many dishes). Remove the bay leaf, keep the garlic cloves with the beans.
You'll want to let your beans cool to at least room temperature, processing warm beans will result in a very thick and paste like consistency.
Once your beans have cooled, in a high powered blender or food processor, add your beans, ice cubes, remaining 2 garlic cloves, tahini and lemon. Blend, add a few tablespoons of water as needed to thin. You may opt to use toum garlic sauce in place of fresh garlic, it gives it a more mellow garlic flavor. I would add 3 heaping teaspoons to start and adjust to taste, same with fresh garlic.
Taste and add in salt and any additional lemon (to taste). If your mixture is too thick, thin out with some additional water, one tablespoon at a time.
Scoop out into dish, and top with your garnishes.  Enjoy with pita bread, veggies or chips.
Instant Pot Method:
Place dried beans (better if soaked overnight but can be done dry) into your Instant Pot and cover with water by 2 times. Omit your baking soda but add in your garlic and bay leaves.
Set your Instant Pot to high pressure, beans for 45 minutes.
Quick release after 5 minutes and check the texture of your beans.
They should be soft and ready to process after cooling, continue with same steps as traditional method.
---
Notes
*Hummus can be frozen in a freezer safe container, top with a thin layer of olive oil on top, seal and can be stored for up to 4 months. Remove from freezer and place in fridge when ready to use.
Keywords: gluten free, creamy hummus, hummus instant pot, hummus dry beans, hummus canned beans, easy hummus, vegan hummus, vegetarian hummus, hummus recipe, hummus and pita, easy hummus, quick hummus, hummus platter