An Ode to Caramel
I'll start this post with an ode to caramel:
Oh Caramel how I love thee
With your silky texture
And dreamy consistency
I want to drizzle you on everything
Yeah, caramel is a thing of beauty! Over the years I have made my fair share of caramel, especially to use as drips on tiered cakes. The thing about it, you HAVE to make sure you have the right consistency. I like a thicker caramel, something that will really stick and solidify. I began my journey searching for the perfect recipe and low and behold (not surprised) I found the best caramel recipe by Sally's Baking Blog. For years I had been making caramel by combining water and sugar - the wet method. But I really needed to start the journey with the dry method - melting straight sugar, no water and no thermometer!!! I have made her recipe on countless occasions and usually have a jar in my fridge ready to go.
Tahini - are you surprised?
As I obsessed over Sally's Caramel, I wanted to try a variation her perfect sauce. Add a little something that elevates and ring true to my style of baking. Enter one of my favorite pantry staples: TAHINI. Yes, you all know my love of tahini for savory and sweet dishes. Caramel is nothing different. The thing about tahini is that it is not sweet, but has a rich, deep flavor that pairs so well with just about anything. Adding tahini to a sweet caramel gives it a whole different flavor profile.
The Science
Over the years when making caramel I felt that using the water and sugar method (wet caramel) lent itself to too many errors and would often result in a soupy or rock hard crystalized mess. Using the dry method of simply melting the sugar until it reaches a liquid state (caramelization) takes the guess work out of the accurate water to sugar ratio and leads to a thicker, more foolproof method to make caramel.
The Wet Method
When we're referring to the wet method we're basically taking sugar and water combined to create a simple syrup. As the syrup begins to thicken, water evaporates leaving you with caramelized sugar - the start of your caramel. Now this method can also leave to crystallization if temperatures are not just right or too much water remains in the sugar mixture. To me, it feels more difficult to achieve the perfect caramel. But there are many recipes out there if you're looking for that method.
The Dry Method
The dry method is the way we are going to make our Tahini Caramel today. It's a modified version of Sally's Baking Salted Caramel but since we are adding tahini to our mixture, some of ratios will change. While we want to add fat (ie: butter and heavy cream) to our caramel, the tahini itself lends some of that so we're going to make adjustments. The dry method is simply melting granulated sugar until it reaches it's liquid state. Once you place dry sugar in a pot over heat, it will slowly begin to clump, caramelize and brown into what I like to call liquid gold. Once this state of caramelization occurs with your sugar, the next step is to add your fats; butter, heavy cream and in our case tahini to create that thick and luscious caramel. I also find that making caramel using the dry method leads to a thicker caramel sauce vs the wet method.
Safety First
Before you begin your caramel making process, be sure you are safe. Make sure little ones aren't undertow or you're not carrying your baby or toddler on your hip like you might while stirring dinner. Boiling hot sugar and adding cold cream creates a bubbling reaction and you need to be sure to be alert and have all hands available. A few tips to consider before making your caramel.
Pot size - Be sure your pot is large enough to give you enough room to stir and also allow room when your caramel bubbles up. This is a good size - 2 quart

Spoon - You'll want to use a non-reactive spoon to mix your sugar and eventually caramel. I love my rubber spatulas (this is my favorite set as they are all one piece) for this but can also use a wooden spoon.

Mise en Place - Mise en place is a French term for having all your ingredients measured, cut, peeled, sliced, grated, etc. before you start cooking. Pans are prepared. Mixing bowls, tools and equipment set out. It is a technique chefs use to assemble meals so quickly and effortlessly. When making caramel, this is especially helpful. Be sure to have all your ingredients ready to go before beginning as timing is crucial.
Ingredients
Caramel is simply made from sugar, butter and heavy cream - hence it's gloriousness! We're going to add tahini to our mixture today to elevate the flavor and give it a hint of umami. The flavor of tahini isn't overpowering, you will still know you're eating caramel, but at the end of your bite - you'll taste this rich flavor peek through.
Granulated Sugar - Without sugar, we wouldn't have caramel. Simple, plain granulated sugar is our starting point.

Butter - I prefer to use an unsalted butter in this recipe and add in salt as needed.

Heavy Cream - There are different types of heavy cream: heavy cream or heavy whipping cream at 36% fat, light whipping cream 30% fat or double cream often at 48% fat. Any of these will work in our caramel - milk or milk substitutes are NOT acceptable in this recipe.

Tahini - We're going to finish our caramel with tahini, I prefer to use an Arab brand like this one, but your favorite variety will do. Check out my most recent post Tahini Banana Bread for tips on storing your tahini like a pro!

Salt - If you want to make this into a salted caramel, adding some flake salt is so good. You may also add flake salt to your individual application if you'd prefer. For example, I don't like using salted caramel in my lattes - so I leave out and just salt to make desserts or top on ice cream.
How to Make Caramel
We're going to melt our granulated sugar until it comes to a deep, amber color and no longer has chunks - caramelization! Next we'll add our butter, stir, then finally heavy cream until it becomes silky and smooth. Our last step is to add our tahini and salt if you'd like. It's about a 15 minute process and yields about one glorious cup of caramel. Head to the recipe card for full details on how to make.
Storing Caramel
Once your caramel cools, it will solidify and thicken - that's what you want!!! You can store your caramel in a sealed jar for up to a month in the fridge. Before using, you'll need to warm up in a saucepan on the stove or a simple few seconds in the microwave works too. Caramel can also be frozen - be sure your container is air tight, store for up to 3 months. Remove from freezer and allow to thaw in fridge or countertop before using.
I hope you love this recipe as much as my family does. My favorite way to enjoy is definitely on some vanilla ice cream and salted peanuts on top! A simple but elegant dessert that anyone can enjoy. But don't stop there, add to cakes, cookies and even your morning latte!
As always, I love seeing your creations. Please leave a review or share your dish with me on social media #cosetteskitchen which lets me know what is working for you! You can find me on Facebook, Instagram, Twitter and Pinterest. For more delicious recipes to your inbox, sign up for my newsletter!
xoxo,
Cosette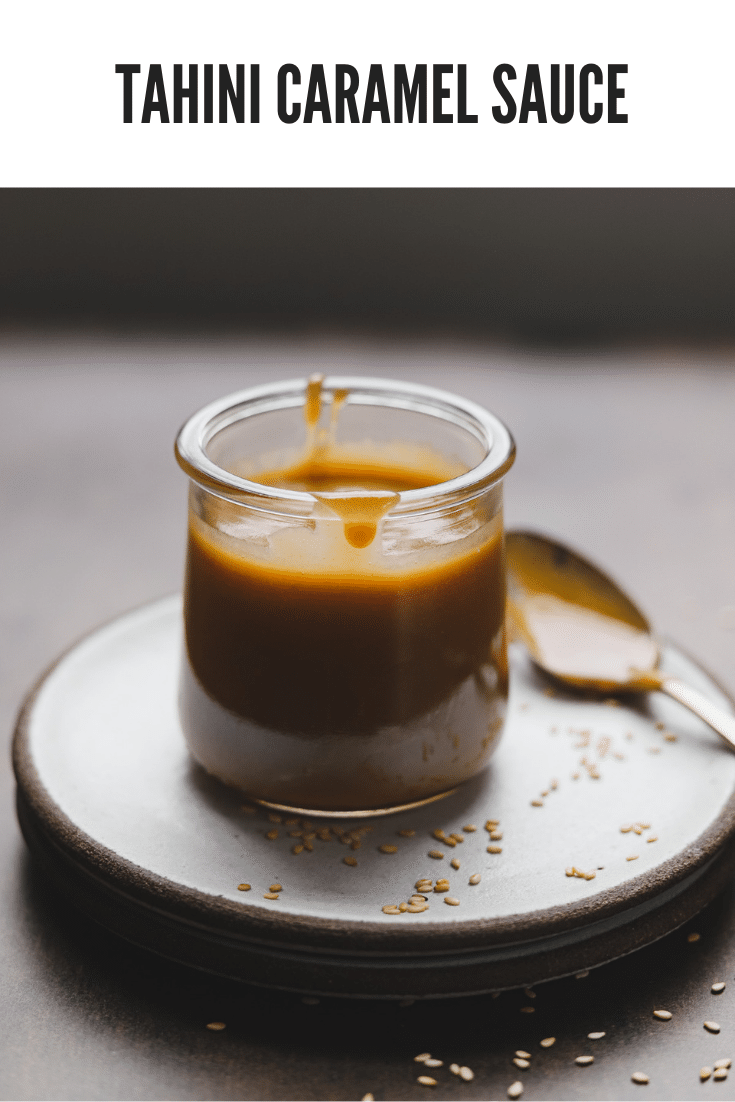 Print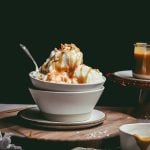 Tahini Caramel Sauce
Author:

Cosette's Kitchen

Prep Time:

5 minutes

Cook Time:

15 minutes

Total Time:

20 minutes

Yield:

1 cup

caramel

1

x

Category:

Sweets

Method:

Stovetop

Cuisine:

Dessert
---
Description
Simple, smooth and delicious homemade caramel sauce with tahini ready in 15 minutes. Original recipe adapted from Sally's Baking Blog.
---
---
Instructions
Place your sugar in a medium saucepan (2 quart is a good size) and begin to melt over medium heat. With your rubber or wooden spatula, continuously stir. After about 4-5 minutes,  you'll begin to see the sugar clump as it heats up. Continue stirring until all the sugar melts and no clumps remain. The color should begin to turn amber at about 10 minutes, in the final stages, break up any remaining bits of sugar until smooth. Be sure not to allow mixture to burn. 
*WARNING - splatter may occur* Immediately after your sugar has fully melted. Add your butter and continue to stir with spatula then switch to whisk. This is the part where your mixture may begin to splatter and bubble. Take caution. You may always choose to wear kitchen gloves to protect if you're nervous.
Once butter has been fully incorporated into your caramelized sugar, allow to continue to cooking for 1 minute on medium heat. 
Next SLOWLY add your heavy cream and continue to stir with a whisk until fully combined and smooth. You'll also get some bubbling when the cream is poured, take caution. Once fully combined, allow to heat for another minute.
Remove from heat and add your tahini and stir to combine. 
You may now add in your salt if you'd like or leave as is. Any type of salt works - if doing a full salted caramel I like to add in flake salt. You may also add a ¼-1/2 teaspoon of table or kosher salt. Start small, you can always add more.
Pour into a glass jar and allow to come to room temperature and thicken. Once cool, store in fridge for up to 1 month or freeze for up to 3 months.*
Reheat on stove or in microwave when ready to use as caramel will solidity. 
---
Notes
You may use salted butter in place of unsalted if you choose - especially if you are aiming to make a salted caramel.
One of my favorite brands of tahini you can buy online or at any specialty store or natural section at your grocer. Check out this post which includes ways to store your tahini.
Take caution with adding salt, start slow and add more if needed to your taste. 
This recipe does NOT make caramel candies, but rather a caramel sauce. Check out this recipe for caramel candies. 
Do not substitute heavy cream in this recipe - dairy substitutes won't work.
Tools that may be helpful in this recipe: 2 quart pot, heat resistant gloves, rubber spatula, wooden spoon, mason jars
Keywords: tahini caramel sauce, caramel, caramel sauce, tahini and caramel, salted caramel, caramel recipe, salted caramel recipes, salted caramel sauce, vanilla ice cream with caramel, middle eastern caramel
Other Recipes You May Like