Sometimes we all just want a little boost of energy without eating a big meal or crashing from something sweet and sugary. These No Bake Date Energy Bites pack a big punch in a little package. They are packed with: dates, oats, coconut, tahini, walnuts - stuffed with an almond and then the best part is the Tahini Magic Shell made with tahini, coconut oil and white chocolate. Simply irresistible!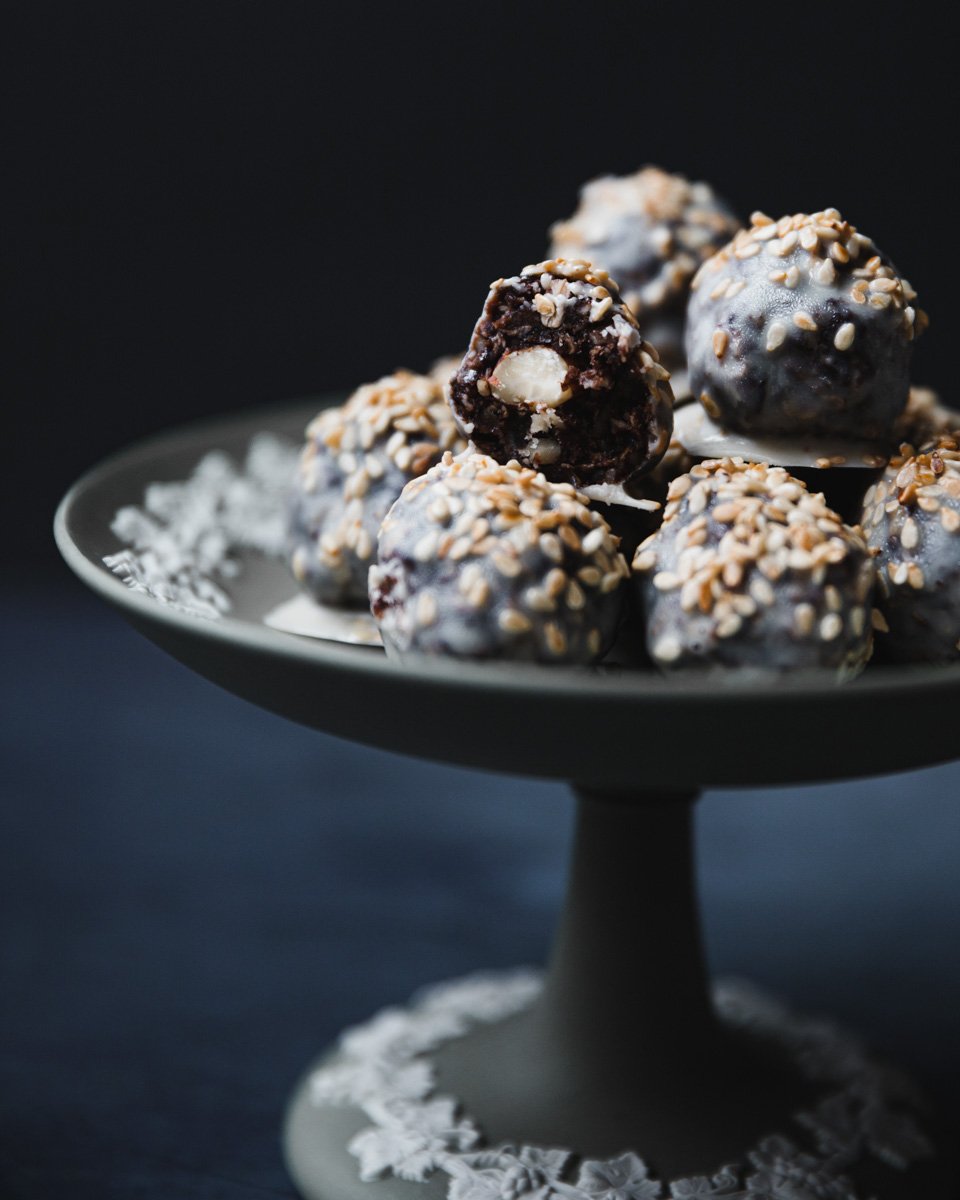 If you've been here a while you know that I love using tahini in savory dishes but truly I enjoy it more in sweets. The earthy, nutty flavor is just something magical and also very common in Arab desserts. But using tahini is also a way to pack good fats into your food and replace oil at times. My favorite uses are in my ever so famous Tahini Banana Bread where not only tahini in the bread but your loaf pan is coated for an ultra nutty flavor. The same process is used in Namoura, a popular Lebanese dessert.
If you're new to using tahini in your baking - these bites are a great place to start! Once you start, you won't be able to quit.
What is Tahini
I feel like tahini gained popularity in recent years - it has become the new almond butter. The truth is, Arabs have been using tahini in cooking and baking for centuries - it's a staple ingredient and used in sauces, dips (like hummus), dressings and desserts regularly.
Tahini is simply ground toasted hulled sesame seeds. You can certainly make your own but grinding toasted sesame seeds. The oils are released and you end up with what we know as tahini. If you aren't planning on making your own - these are a few brands I like to use for my dishes: Mid-East and Ziyad. You can also find some other varieties at a local Middle Eastern grocery store - personally, I prefer a Middle Eastern brand over a grocery brand such as Whole Foods or Trader Joe's - the flavor is really different.
Tahini Magic Shell
I first saw Adeena Sussman making a version of tahini magic shell on Instagram - a brilliant idea! And while I love tahini, I do think it needs a little sweetness when using in sweet treats - I decided to add some white chocolate which also helps with the hardening when frozen. The result is a slightly sweet magic shell that is perfect to coat these energy bites or ice cream!
Jump to:
Ingredients
I love these little no bake bites - you truly can use whatever type of mix-ins you'd like. These are some items I had on hand and enjoyed the flavor combination.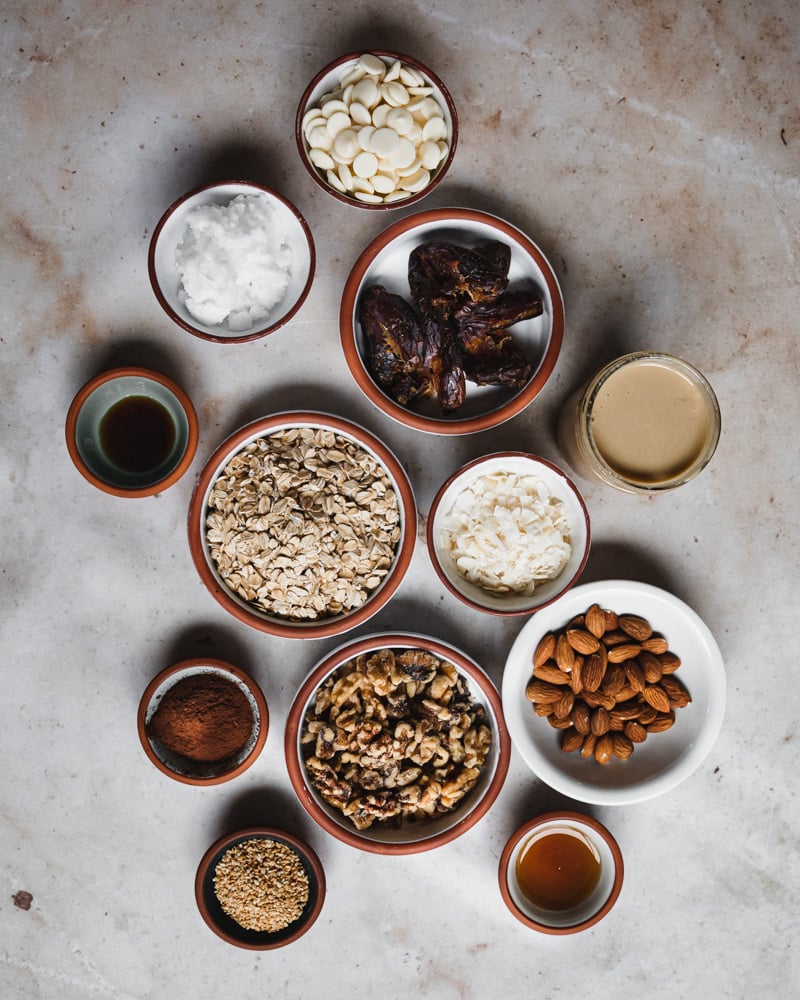 Medjool Dates - I love using medjool dates for these mostly because they are very tender and "meaty". They are also much larger than other dates - if you choose to use another type, definitely use weight measurements to get the right amount.
Maple Syrup - I use maple syrup as a natural sweetener often - just a bit to add a little moisture and sweeten the mixture.
Rolled Oats - I'm using traditional rolled oats but quick oats would work just fine as well. Also, if you are gluten free, definitely use the gluten free variety!
Cocoa Powder - Just a bit of chocolate to give these a richer flavor, the cocoa powder is unsweetened, it just lends a chocolatey note.
Coconut Flakes - We're using some coconut flakes in here to help mirror and enhance the coconut flavor the oil will give us in the coating.
Walnuts - I love adding some nuts to the mixture for more protein and help keep you full, feel free to sub another nut if you'd like.
Almond - These have an almond joy/samoa cookie vibe to them so I love the idea of popping an almond in the center would be delish - totally optional!
Tahini - We are using tahini in both the mixture as well as our magic coating.
White Chocolate - The addition of white chocolate to the magic shell coating gives a hint of sweetness since tahini is definitely not sweet at all. It benefits from a bit of the white chocolate to enhance.
Coconut Oil - The coconut oil is what give us that "magic shell" quality to make the coating harden, it also gives a nice coconut flavor.
Vanilla + Salt + Toasted Sesame Seeds (optional)
See recipe card for quantities.
Instructions
Super simple recipe but it does require a food processor or blender to mix all the ingredients together. This would be a fun one for kids as well since there is no oven use.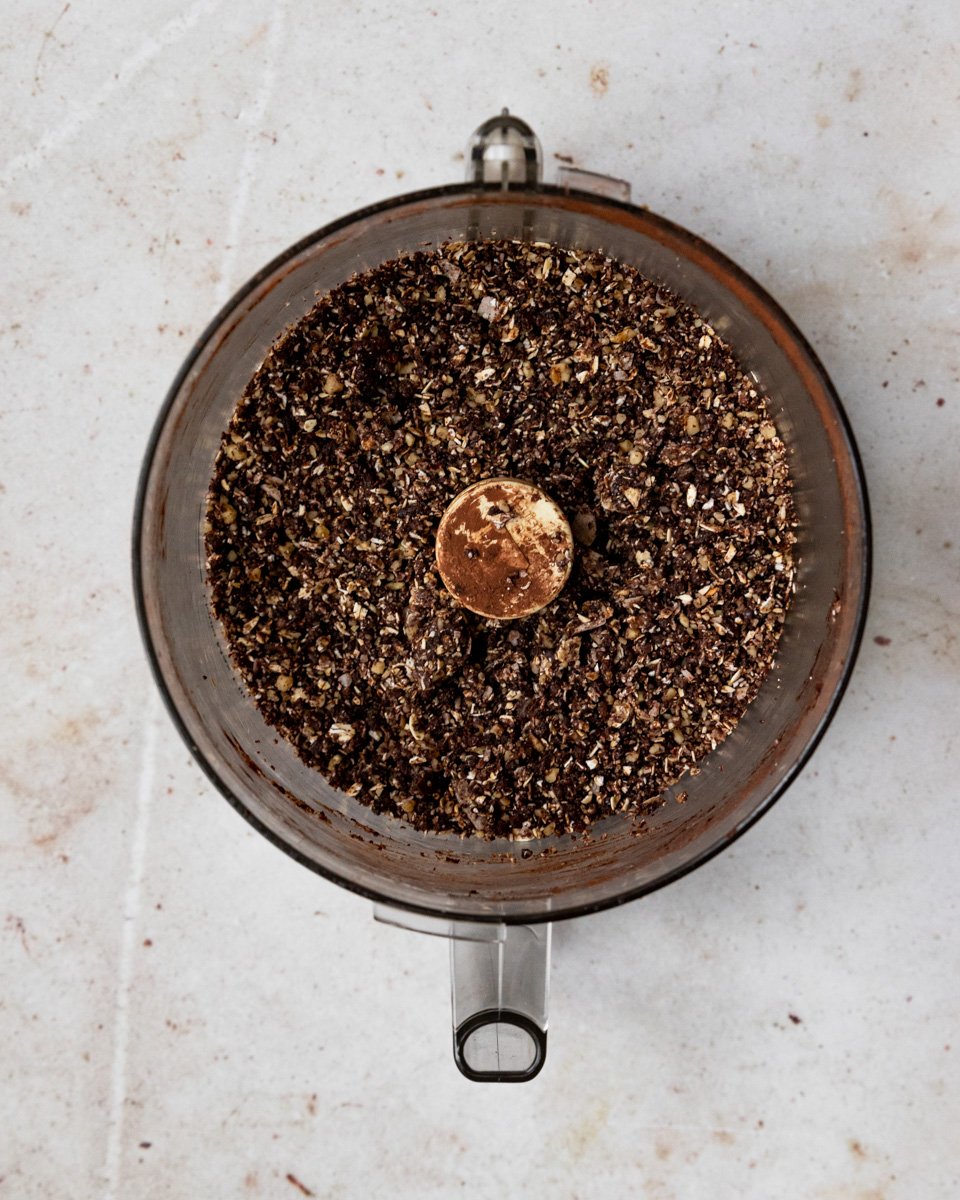 In the bowl of a food processor combine your bite ingredients: dates, maple syrup, oats, tahini, cocoa powder, coconut flakes, walnuts and salt. Blend until a fine mixture forms and holds together when pinched.
Form your date dough into small round balls - you can make them as big or as small as you'd like. I made mine smaller, about 1" diameter and got about 25 in total. Pop an almond inside and cover. Set these on a wax paper lined sheet pan and pop into the fridge or freezer.
**I like to wash my hands off after rolling a few - this allows the excess to be removed and the next batch is easier to roll and sticks less.
While your date balls chill, combine your white chocolate, coconut oil and tahini into a microwave safe bowl. Heat for 30 seconds, stir, then another 30 seconds and stir. You want everything to combine and melt evenly. Microwaves vary so increase by 15 second increments after the initial minute if needed.
Once smooth and melty, add your salt and vanilla.
Remove your date balls from the fridge/freezer and dip each one into the tahini coating. Remove with a fork and set on wax paper. Top with toasted sesame seeds if you'd like.
Once they are all dipped, pop into the freezer so the coating hardens. Then enjoy. I like to keep stored in the freezer (or fridge) for best flavor and quality.
Hint: If you don't have a microwave, you can combine your tahini magic shell coating ingredients into a bowl and set over a pot with simmering water (don't allow the bowl to touch the water). The steam from the water will begin to melt the ingredients (double boiler). Proceed as normal.
Substitutions + Variations
I love that this recipe is adaptable to your needs and liking. Here are a few swaps:
Dates - Feel free to use any type of date, dried figs would also be quite delicious in this recipe. You do want a very "meaty" dried fruit to make these work. Prunes would be another great one. Just be sure to measure by weight to ensure accuracy with wet/dry ingredients.
Nut Butters - These are definitely a tahini focused treat but you can sub another nut butter in its place if you choose. Almond, sunbutter or peanut butter would all be great options! I would lean and go with more natural butters for this recipe, especially in the magic shell.
Walnuts - Feel free to use any nut or even pepitas in their place.
Almond - I love the little extra crunch from the center almond but you can leave out if you'd like or simply just do half.
Coconut - You can certainly omit the coconut in the date balls, the coconut oil unfortunately is the way the magic shell hardens and becomes MAGIC! Refined coconut oil is much more flavorless so that may be the best way to go vs. unrefined.
Equipment
A food processor and a microwave are your two big equipment pieces. My Cuisinart is one of my favorite tools in the kitchen, it's what I use to make toum regularly! But a high powered blender will also work.
Storage
These are fabulous stored in the freezer - I keep them there to pull and snack. Once the coating is solid, I transfer to a container and line wax paper in between layers. Good for 3-4 months.
FAQ
How do I store the Tahini Magic Shell?
This stuff is literally MAGIC! You will have a bit left, store in a jar and label - keep in a cool pantry. When ready to use, pop into microwave in 15 seconds intervals until smooth. Use on ice cream - pour a little on ice cream and watch it freeze into a magic shell! It's epic! Good for a month.
Can I make this refined sugar free?
These are ALMOST refined sugar free, the only sugar comes from the white chocolate - I recommend using Enjoy Life chips - they are a very clean brand and tailor to allergy friendly needs.

You can also omit the white chocolate if you'd like - just note the tahini magic shell will not be sweet at all. I would do a ratio of 1 cup tahini to ½ cup coconut oil.
---
I hope you enjoy these No Bake Date Energy Bites with Tahini Magic Shell as much my family does - feel free to adjust and make your own!
If you make No Bake Date Energy Bites with Tahini Magic Shell, please let me know by leaving a rating and review below!
As always, I love seeing your creations. Please leave a review or share your dish with me on social media #cosetteskitchen which lets me know what is working for you! You can find me on Facebook, Instagram, Twitter , Tiktok and Pinterest. For more delicious recipes to your inbox, sign up for my newsletter!
xoxo,
Cosette
Print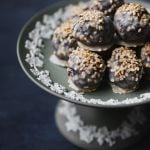 No Bake Date Energy Bites with Tahini Magic Shell
Author:

Cosette's Kitchen

Prep Time:

10 minutes

Cook Time:

0 minutes

Total Time:

10 minutes

Yield:

25

energy bites

1

x

Category:

Snacks

Method:

No Cook

Cuisine:

Lebanese
---
Description
These simple No Bake Date Energy Bites with Tahini Magic Shell are the perfect afternoon pick me up or toddler snack. Sweet, natural and definitely fuels you. I first saw Tahini Magic Shell shared by Adeena Sussman on Instagram (no white chocolate). 
---
Energy Bites
5

pitted Medjool dates - 108 grams

1.5 Tablespoons

maple syrup - 27 grams

¾

cup

rolled oats - 72 grams

3 Tablespoons

room temperature stirred tahini - 50 grams

2 Tablespoons

unsweetened cocoa powder - 10 grams

3 Tablespoons

unsweetened coconut flakes - 18 grams

⅔

cups

walnuts - 70 grams
pinch of kosher salt
whole almonds
toasted sesame seeds
Tahini Magic Shell
½

cup

white chocolate - 85 grams

⅓

cup

coconut oil - 73 grams

¼

cup

room temperature stirred tahini - 63 grams

½ teaspoon

vanilla extract
pinch of kosher salt
---
Instructions
Energy Bites
In the bowl of a food processor or blender, combine your ingredients and blend until fully combined. Mixture should press together when between two fingers.

5 pitted Medjool dates - 108 grams
1.5 Tablespoons maple syrup - 27 grams
¾ cup rolled oats - 72 grams
3 Tablespoons room temperature stirred tahini - 50 grams
2 Tablespoons unsweetened cocoa powder - 10 grams
3 Tablespoons unsweetened coconut flakes - 18 grams
⅔ cups walnuts - 70 grams
pinch of kosher salt

Take about a tablespoon of your date mixture and roll into a ball, place a raw almond inside (if desired) and set on a wax lined sheet pan. Continue until dough mixture is finished.
Place in fridge or freezer to harden while you prepare tahini magic shell.
Once your magic shell is ready, remove your date bites and dip each into the tahini magic shell mixture until coated and remove with fork. Place on wax lined sheet pan and top with toasted sesame seeds. Place in freezer to harden.
Enjoy straight from the freezer!
Tahini Magic Shell
In a microwave safe bowl - place your coconut oil, tahini and white chocolate. Microwave for 30 seconds on high, stir then microwave for another 30 seconds and stir. If your chocolate is melted fully after stirring for 1-2 minutes you're done. If you still have large clumps of chocolate, place back in microwave and continue heating in 15 second increments - stirring between. The mixture should be thin and loose but not HOT. Stirring encourages the chocolate to melt without heating heavily.

½ cup white chocolate - 85 grams
⅓ cup coconut oil - 73 grams
¼ cup room temperature stirred tahini - 63 grams

Once at the right consistency, add your vanilla and a pinch of salt.

½ teaspoon vanilla extract
pinch of kosher salt

Store in airtight jar and place in dark cool pantry. 
---
Notes
Used refined coconut oil if you want less of a coconut taste.
These should be stored in the fridge or freezer for best results and taste.
Extra tahini magic sauce can be used over ice cream or another batch of energy bites.
For best results, use weight measurements - especially with the dates as sizes vary.
Keywords: energy balls with dates and oats, tahini magic shell, date protein balls recipe, healthy date balls recipe, healthy date ball recipe no peanut butter, date energy bites, high protein energy bites
You may also like: