Warm spices and hints of orange are the makings of a delicious holiday treat. Winter time is prime time for all things citrus and these bars hit the spot! Try these Spiced Shortbread with Orange Marmalade for your holiday gatherings!
This recipe uses a similar base as my Anise Citrus Cutout Cookies. With some changes in spices they become tasty bar treat. Ginger and cinnamon paired with orange marmalade, topped with chocolate and finally a sprinkle of pistachios make these a holiday must!
Jump to:
Ingredients for Spiced Shortbread with Orange Marmalade
I love these cookies because they come together quickly, are easy work with and you can make with simple ingredients on hand.
Butter - The base for most cookies - BUTTER! I like to use an unsalted butter and use the best quality you can. Since these are mostly butter, you want a rich and creamy variety. European butters are typically a great go-to for these types of cookies.
Powdered Sugar - Powdered or Confectioner's sugar is much finer than granulated sugar. The sugar almost melts into our dough and gives a hint of sweetness.
Egg - An egg will act as our binder in this recipe.
Flour - All purpose flour is great for shortbread style cookies, one thing to note is to weight or ingredients or use the spoon and level method. Incorporating too much flour into your dough will leave your cookies hard and dense. Simply spoon your flour into your measuring cup to the top then level out with your finger. This ensures you aren't overpacking your flour.
Baking Powder - Since we don't have an acid in our cookies, we are strictly using baking powder as our leavening agent.
Ginger - Ground ginger gives the shortbread a bit of spice. I have not tried freshly grated but I would imagine it would be an incredible flavor pop!
Cinnamon - A hint of cinnamon in the dough gives the cookies a bit of warmth.
Salt - We always want to add a hint of salt to our baked goods to enhance the flavor. If you are using salted butter, omit the salt.
Orange Marmalade - While homemade would be amazing, it's a time consuming process. Simply use a brand that you like, I actually used this one from St. Dalfour with a hint of ginger in it as well.
Chocolate - I tried this recipe several times and what I loved was a light drizzle of chocolate rather than dipping or coating the top. Since the bites are small, I wanted the marmalade and spices to shine over the chocolate.
Coconut Oil - The coconut oil gives the chocolate the ability to harden.
Pistachios - The crunch from the pistachios as well as the color is so delightful in this cookie!
See recipe card for quantities.
Instructions on Making Spiced Shortbread with Orange Marmalade
I love how easy this dough is to come together. Butter, flour, sugar and spices. Using a stand mixer fitted with paddle attachment is the best method but you can also use your hands.
In the bowl of your stand mixer combine your softened butter and powdered sugar. Mix on slow until combined then increase speed to medium high and allow butter and sugar to fully incorporate. Next add your egg, mix for 1 minute. Finally, slowly add your flour, baking powder, salt and spices. Keep mixer on low speed and allow dry ingredients to combine. Once dough is cohesive, remove from bowl and knead for a few minutes until it comes together.
The dough is easy to work with and won't require any chill time, however you can certainly chill until you are ready to use. Simply wrap in wax paper or plastic wrap and pop into fridge. Allow to soften slightly if using from the fridge.
When ready to bake, preheat oven to 350 degrees Fahrenheit.
Once your dough is done, use a rolling pin (or wine bottle) to slightly flatten into a 9x13 rectangle. Place your dough into a quarter sheet pan or 9x13 pyrex dish. Shape and press into place using the bottom of a glass. Try to ensure all spots are even throughout your shortbread.
Once your dough is pressed into your pan, spread your marmalade and bake for 30-35 minutes until shortbread is cooked through and jam is bubbly.
Once out of the oven, sprinkle with pistachios and set aside to cool. Once cooled, prepare your chocolate. Place chocolate in a microwave safe bowl and add your coconut oil. Microwave in 15 second increments, stopping and stirring after each 15 seconds. It should take anywhere from 2-3 minutes until the chocolate is fully melted depending on the strength of your microwave. Once melted, you may drizzle onto your cooled bars or using a small ziplock bag, fill a bit of chocolate and snip the corner ever so slightly to make a little piping bag. Zigzag design on your bars and allow to harden. Once chocolate has hardened, cut into squares and serve.
Substitutions for Spiced Shortbread with Orange Marmalade
Shortbread is such a magical cookie - it really can be used anyway you like. Feel free to swap out spices in the dough to personalize. Here are some suggestions:
Spices - Swap out the ginger for cardamom for a warm flavor, cardamom is a much stronger spice so I would cut in half. You can also add some nutmeg or even add in some pumpkin pie spice. For an Arab twist, if you have mahlab, add a bit of that in. This will give you an earthy flavor.
Zest - I'm all about some extra zest in your cookies! Since we are using orange marmalade, feel free to zest a bit of orange in your dough, or even lemon!
Marmalade - If orange marmalade isn't your favorite or you don't have it on hand, feel free to swap out for your favorite jam or marmalade. I think fig would be AMAZING and give that wintery vibe.
I have not tested this recipe with gluten free flour, but if you use a 1 to 1 flour that works for other cookies, definitely give it a try. Please leave a note in the review if you make any substitutions, that helps others know what works.
Equipment for Spiced Shortbread with Orange Marmalade
No special equipment is needed for recipe, your hands work well to mix the dough if you don't have a mixer. I personally bake these in a quarter sheet pan, they are wonderful to have on hand for small bakes and often fit into your countertop oven. You can find a full list of my favorite items in my Amazon Storefront.
How do I Store Spiced Shortbread with Orange Marmalade?
These cookies have a great life, they can be on the countertop in a sealed container for up to 14 days. They also stand up to the fridge well if you need to keep them longer. If freezing, wrap and store in ziplock bag and pop into freezer. Good for 3-4 months frozen. Remove from freezer and allow to come to room temperature - enjoy!
Can Spiced Shortbread with Orange Marmalade be made ahead?
Absolutely! Check tips about storage and freezing! These are perfect to make ahead and unlike a chocolate chip cookie, they get better with time.
Can I Freeze Spiced Shortbread with Orange Marmalade?
You can also simply freeze the dough, flatten the dough and wrap tightly with plastic wrap then pop into ziplock bag. Store in freezer for 3-4 months. Place in fridge to thaw, once thawed, roll and work as normal.
I hope you enjoy these  Spiced Shortbread with Orange Marmalade as much my family does! If you make  Spiced Shortbread with Orange Marmalade , please let me know by leaving a rating and review below!
As always, I love seeing your creations. Please leave a review or share your dish with me on social media #cosetteskitchen which lets me know what is working for you! You can find me on Facebook, Instagram, Twitter , Tiktok and Pinterest. For more delicious recipes to your inbox, sign up for my newsletter!
xoxo,
Cosette
Other Cookie Recipes You May Love
Print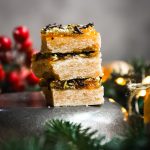 Spiced Shortbread with Orange Marmalade
Author:

Cosette's Kitchen

Prep Time:

10 minutes

Cook Time:

30 minutes

Total Time:

40 minutes

Yield:

1

9x13 tray

1

x

Category:

Cookies

Method:

Baking

Cuisine:

Lebanese
---
Description
A subtle hint of ginger and cinnamon make this shortbread stand out. Pair with orange marmalade, pistachios and chocolate for the ultimate treat.
---
13 tablespoons

unsalted butter, or

190 grams

- softened

½

cup

of powdered sugar, or

64

grams

1

large egg

3

cups

all-purpose flour, spooned and leveled, or

375

grams

½ teaspoon

baking powder

½ teaspoon

salt

2 teaspoons

ground ginger

1 teaspoon

ground cinnamon

10

ounces

orange marmalade

1

cup

chopped pistachios

1

cup

chocolate chunks or chips

1 Tablespoon

coconut oil
---
Instructions
Preheat oven to 350 degrees Fahrenheit.
In the bowl of a stand mixer, add your softened butter and powdered sugar. Start to mix on low until powdered sugar is combined. Then increase speed to medium-high and allow mixture to get light and fluffy, about 3-4 minutes.
Add your egg, mix to combine. Be sure to scrape down sides and mix again.
With the mixer on low/stir, slowly add your flour, ginger, cinnamon, baking powder and salt. Mix on low until combined. 
Increase speed to medium and mix for another 2 minutes until a soft dough forms.
On a clean work surface, place your dough and roll into about ½" thickness to the approximate 9x13 of your sheet pan. 
Once rolled, place into sheet pan and using hands and the bottom of a glass press into place. Do not create an edge, keep dough even all the way around.
Once your dough is evenly pressed, spread your marmalade on top and bake for 25-30 minutes, the crust should be cooked and marmalade bubbling.
Sprinkle chopped pistachios on top and set aside until cooled.
Once cookies have cooled, melt your chocolate and coconut oil in a microwave safe bowl. Place in microwave and heat in 15 second intervals. Stopping every 15 seconds to mix. It should take 2-3 minutes until your chocolate is smooth depending on the strength of your microwave.
You can simply drizzle on top of your bars with a spoon or place chocolate in a sandwich sized ziplock baggie and snip a VERY tiny corner of the bag. Begin to pipe diagonals across your bars with bag. 
Allow chocolate to set then cut into bars and enjoy!
---
Notes
Be sure to soften your butter before you begin. Quick tip, if your butter isn't softened I pop into microwave for 10 second intervals rotating until just softened.
You certainly can use salted butter, just omit the salt if you do.
I like to cut into tiny 1"x 1" bars but you can cut them in any size you'd like
If you're doubling the recipe, bake in a standard half sheet pan.
Keywords: shortbread marmalade bars, orange marmalade bars, orange marmalade cookies, shortbread jam squares, spiced shortbread bars, spiced shortbread cookies, marmalade shortbread, cookies with marmalade, cookies, easy recipe