Ejjeh is Lebanese egg dish, it's a cross between an omelette and an egg fritter. This herby egg dish is perfect for brunch and best eaten room temperature or even cold. Loaded with herbs, grated zucchini and then shallow fried for crispy edges. Enjoy ejjeh with pita bread and a side of labneh.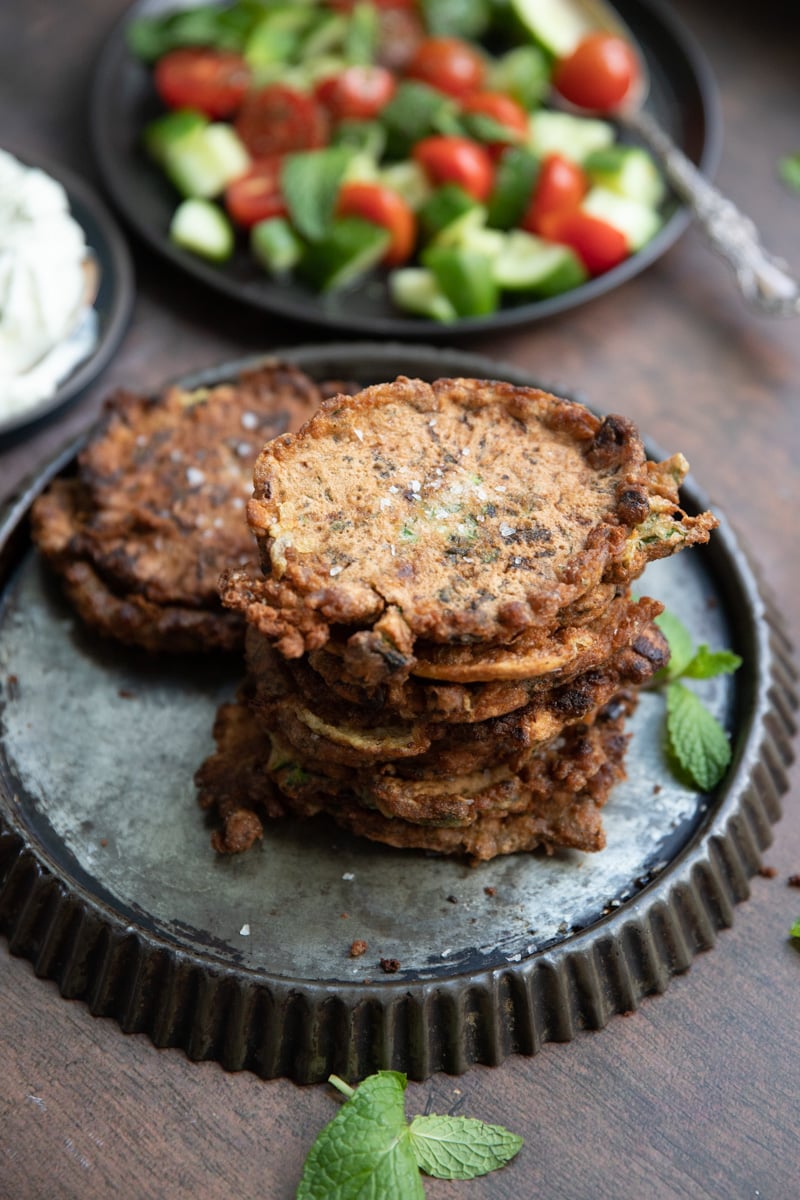 Background of Ejjeh
As with many traditional dishes I share on this page, they evoke memories of my own childhood. Ejjeh was a dish that my mom prepared often during the season of Lent when we were refraining from eating meat. Honesetly, when I was younger, I never compared Ejjeh to an omelette. It wasn't until I began making it and getting into food that I had that ah-ha moment. The flavors and texture are so different than a traditional omelette that it became a dish in it's own category.
We would often eat Ejjeh for dinner along with fasolia, hummus, fattoush, labneh and olives. A mezze spread of food that is suitable for both breakfast and dinner. An ejjeh fritter sandwiched between a piece of pita bread and dipped in tangy labneh is all the comfort you need. Simple and flavorful food.
I think what sets this apart from a traditional omelette is the spices, the heavy herb flavor and really never an addition of meat (ie: sausage or bacon). These fritters or omelettes are made with the simplest of ingredients and often based on what each village had on hand during the time of year. Like a traditional omelette, you have free reign on what to add to make it your own. Most commonly fresh parsley and scallions are added and from there - the world is your oyster. Ejjeh is also shallow pan fried so you are getting that fried taste and texture and a bit of poof from the addition of baking powder. They are really delightful and I hope you try making them for your family.
Jump to:
Ingredients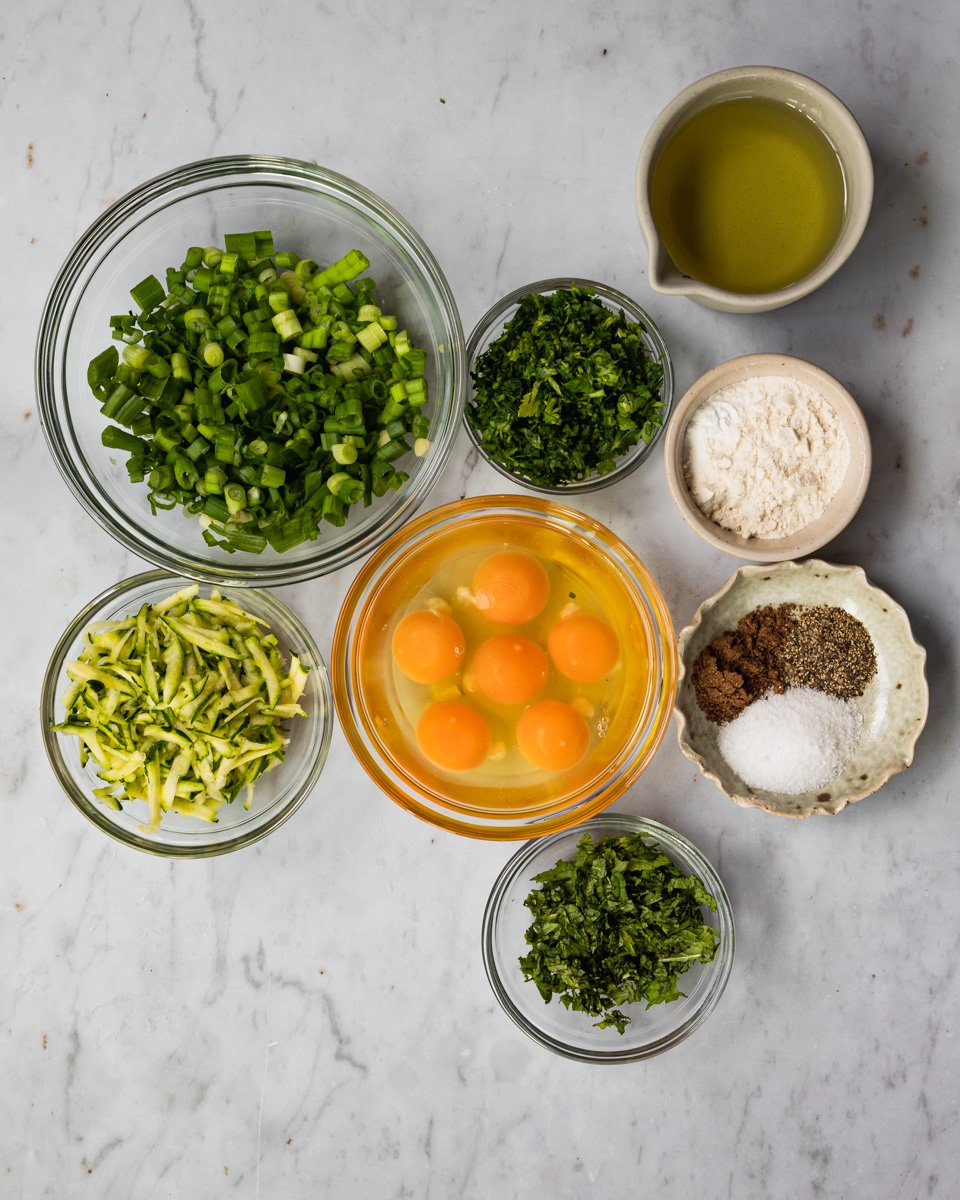 Eggs - The base of our dish is eggs. Simple.
Parsley - Fresh Italian parsley is added to the mixture, you can certainly use cilantro if you prefer.
Scallions - Loads of scallions, this mild onion gives so much flavor to the ejjeh
Fresh Mint - Fresh mint is very readily available in the summer months, in the winter months I still like to purchase from the grocery store and add in for extra flavor. Something about the freshness it adds to the ejjeh. Usually I would prefer dried mint but for the ejjeh, fresh is best.
Flour - The flour will give them a bit of structure and stability
Baking Powder - Ejjeh has a little puff and sponginess to it, it gets some of that rise from the addition of baking powder
Zucchini or Potato - Shredded zucchini or shredded potato is also added for additional structure to the ejjeh. In this recipe I added zucchini, I love keeping with the green color trend and more veggies!
Mixed Spice - Mixed spice/7 Spice or allspice can be used, whatever you have on hand. Any can be found online or at a Middle Eastern grocery store.
Salt & Pepper
Neutral Oil - You'll need a neutral, high-smoke point oil for the pan frying. Canola, vegetable, avocado, peanut or grapeseed.
See recipe card for quantities.
Instructions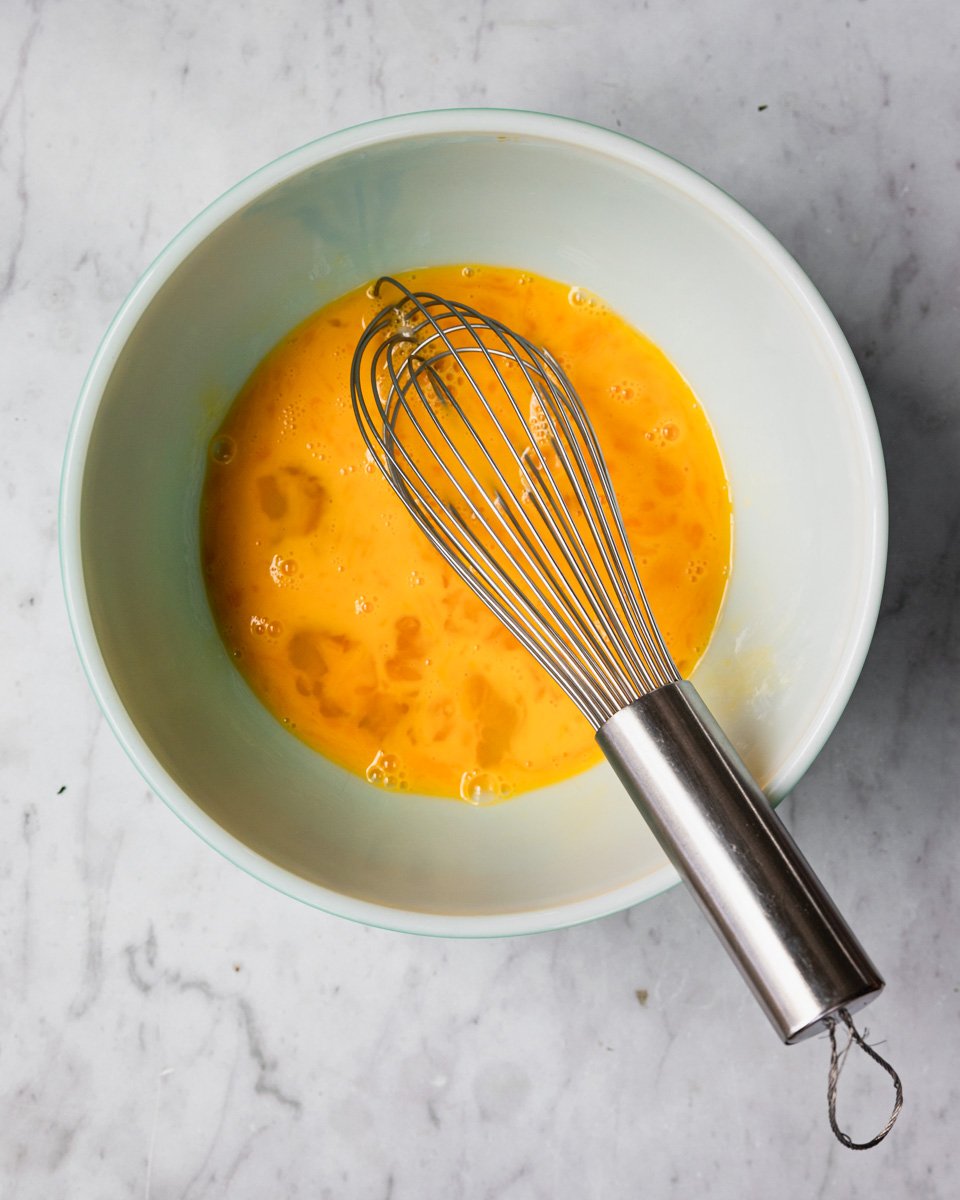 Begin by whisking your eggs in a large bowl.
Add your spices, flour and baking powder. Whisk again to combine.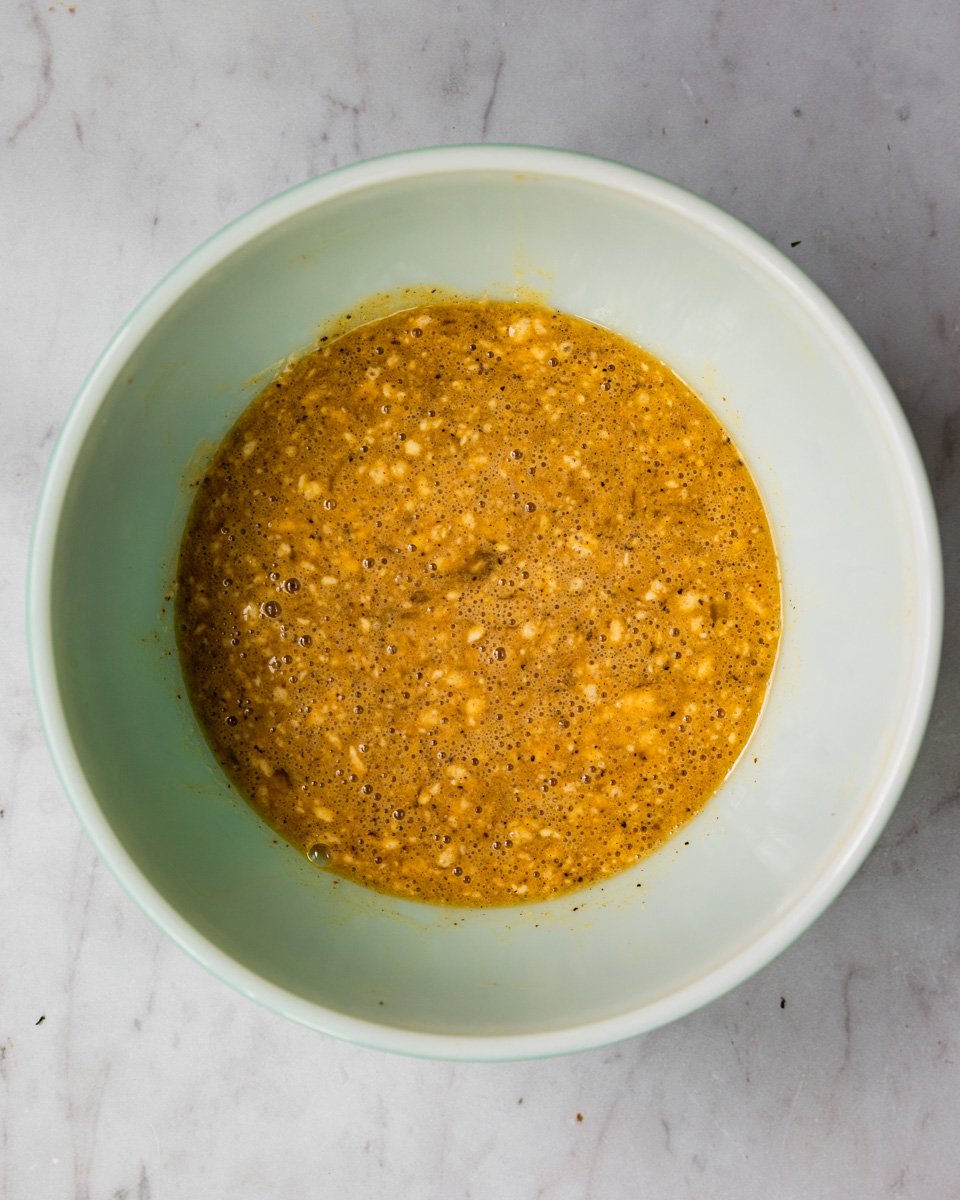 Egg batter will be clumpy - it's ok!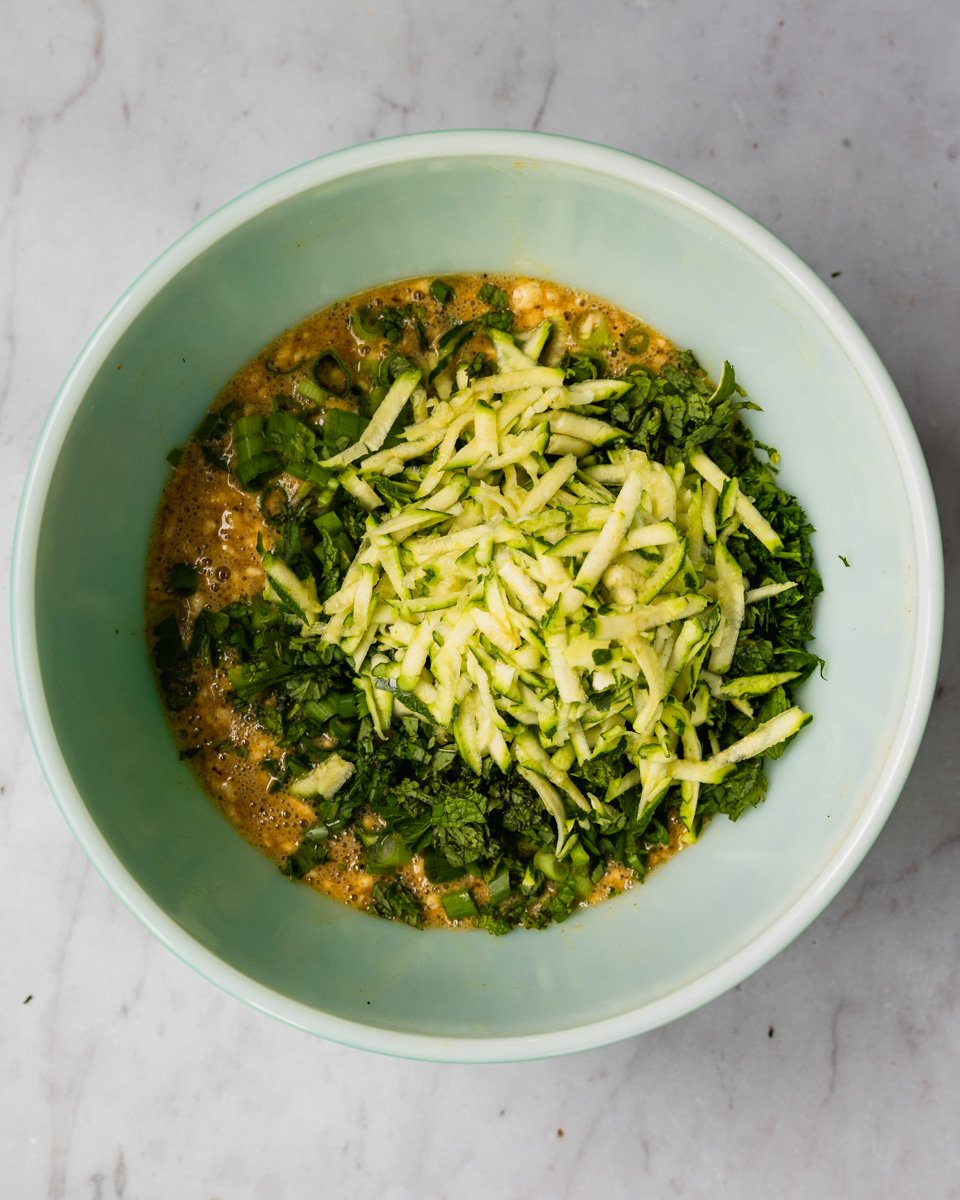 Add your chopped herbs and grated zucchini. Whisk to combine and allow batter to rest for 15-20 minutes.
Heat skillet with 1" of oil. Pour ¼ cup batter and allow to fry on one side for 3-4 minutes until it becomes golden brown.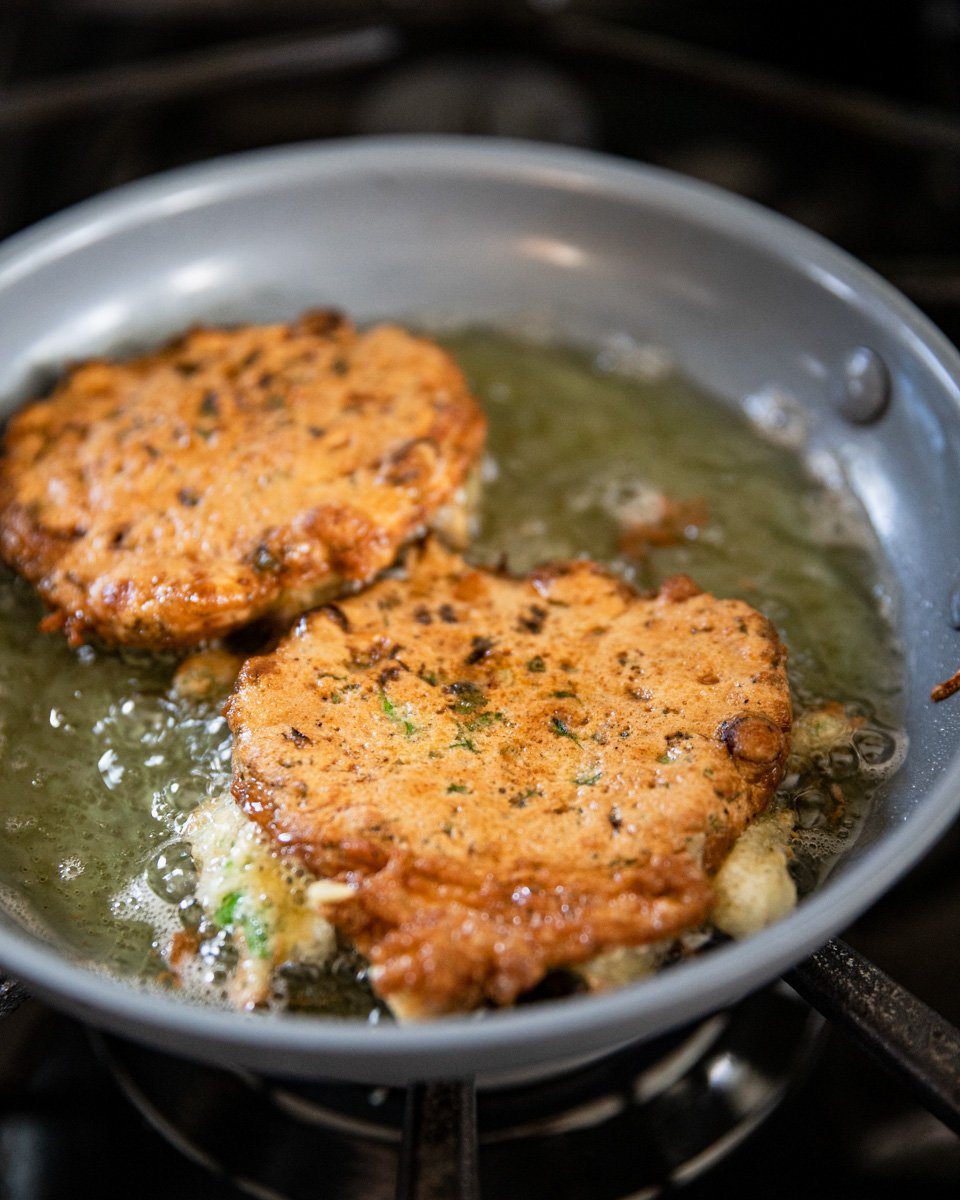 Flip and repeat on second side.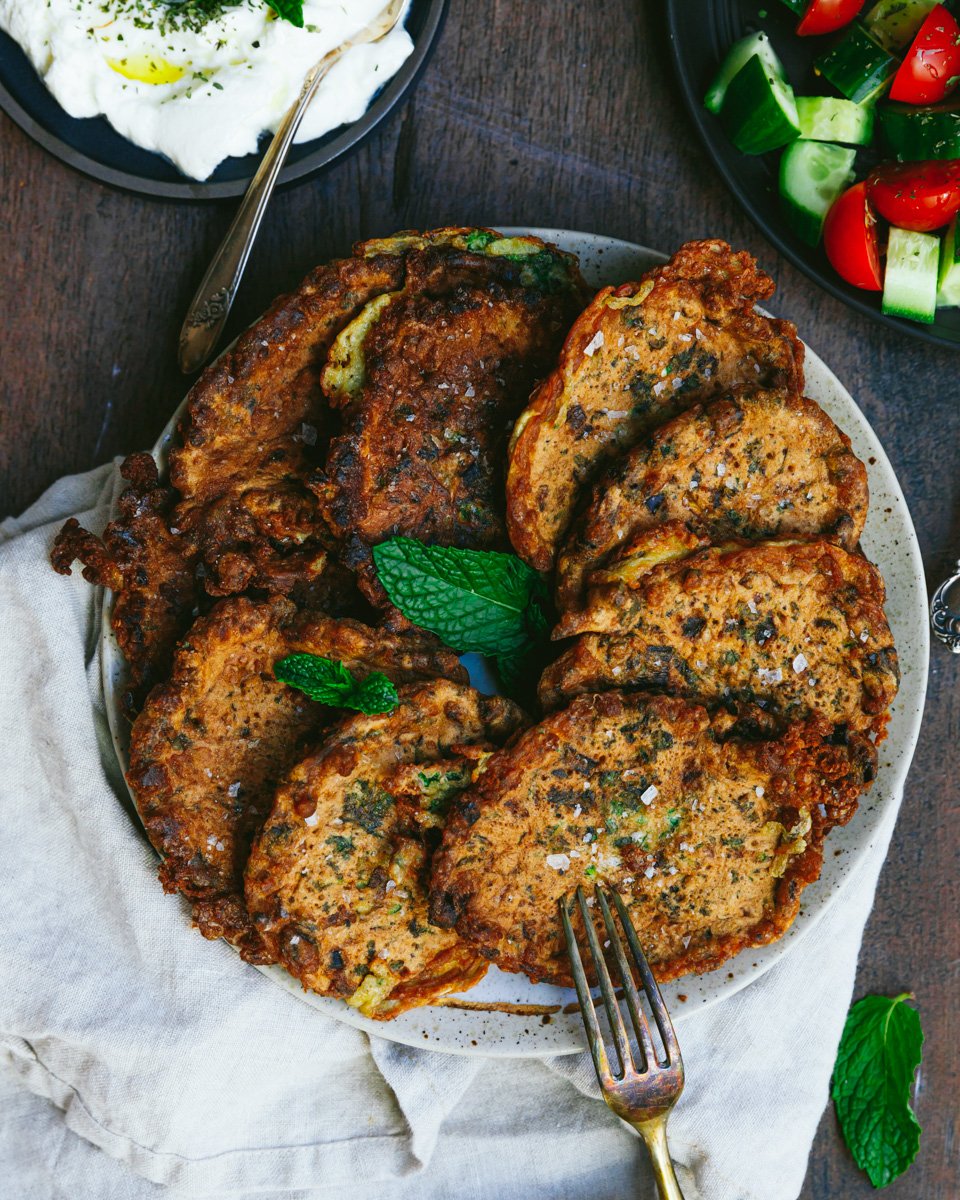 Remove from pan and place ejjeh on a paper towel lined plate to absorb excess oil. Top with flake salt if desired. Enjoy with labneh, pita, fresh tomatoes and cucumbers.
Substitutions and Variations
This is a straightforward recipe with lots of wiggle room. Use what herbs you have on hand to make it your own. Here are a few ideas of others that would work great in the dish:
Cilantro - Cilantro would be an addition you can include to the ejjeh, I still love the flavor of the parsley but you could sub the mint or do half parsley and half cilantro.

Chives - Chives could replace the scallions - I would double the amount since they are finer and have a slightly different flavor.

Marjoram or Oregano - Marjoram and oregano would be a lovely additions to the mix, especially if you have them growing in your garden.

Basil - Basil certainly isn't traditional in ejjeh but adding a bit would give a nice flavor.

Aleppo Pepper - Spice it up with a hint of Aleppo pepper, about ½ teaspoon would be a good addition.
Storage
Ejjeh should be stored in the fridge after preparing. They are best eaten within 3 days.
Reheat - Place ejjeh on a rack in your oven or airfryer at 350 degrees and allow to warm through about 10 minutes.
Freezer - You can freeze the ejjeh fritters for up to 3 months. Place a piece of parchment paper between each one and store in freezer safe bag or container.
Tips for Making Ejjeh
Don't use too much oil. You only need enough oil to coat the pan. This is a shallow fry, not a deep-fry.
Use non-stick skillet. You don't want the fritters to stick to the bottom of the pan.
Don't overcrowd your pan. Cook in patches, depending on how large your skillet is.
Pro Tip
You can make your ejjeh batter a few hours or even the night before. This allows the flavors to really meld together well and gives time for the baking powder to react and puff the ejjeh.
FAQ
Can I make these gluten free?
These don't require too much flour but you can certainly substitute a 1:1 gluten free flour in its place. Bob's Red Mill makes a great option.
I don't want to fry these, can I bake?
I imagine these would still be tasty even baked, however they will not have the signature look or flavor of traditional ejjeh. They will certainly be more like a traditional egg bite. If you want to bake, I would spray a mini-muffin tin with cooking spray and fill each one. Bake at 350 for about 8-10 minutes until they puff up. For a traditional muffin tin, 15-18 minutes.
Can I bake into one large egg dish?
Again, that would definitely be tasty but would not be quite what ejjeh is - it would resemble more of an egg casserole. I would check out this egg bake recipe for more details on how to make an egg casserole which requires more liquid and fat. You can certainly add the spices and herbs to a traditional casserole.
Can I use olive oil?
The short answer is NO! Olive oil does not have a high smoking point which does not make it a good choice for frying. That being said, it also has a strong flavor which won't translate well with the ejjeh. You want the flavor of the herbs and spices to shine.
I hope you enjoy this Ejjeh - Vegetarian Lebanese Herb Omelette as much my family does - feel free to adjust and make your own!
If you make Ejjeh - Vegetarian Lebanese Herb Omelette, please let me know by leaving a rating and review below!
As always, I love seeing your creations. Please leave a review or share your dish with me on social media #cosetteskitchen which lets me know what is working for you! You can find me on Facebook, Instagram, Twitter , Tiktok and Pinterest. For more delicious recipes to your inbox, sign up for my newsletter!
xoxo,
Cosette
Print
Ejjeh - Vegetarian Lebanese Herb Omelette
Author:

Cosette's Kitchen

Prep Time:

15 minutes

Cook Time:

15 minutes

Total Time:

30 minutes

Yield:

12

ejjeh fritters

1

x

Category:

Breakfast

Method:

Frying

Cuisine:

Lebanese
---
Description
Ejjeh are Lebanese egg fritters or mini omelettes. They are filled with herbs, spices and shallow fried for an unbelievable flavor and texture.
---
1

bunch of parsley - flat leaf is preferred, (chopped to obtain

1 cup

)

1

cup

fresh mint leaves, (chopped to obtain 1 cup)

1

bunch of scallions - whites and greens, (chopped to obtain

1 cup

)

1

small zucchini, (

½ cup

grated)

6

large eggs

4 Tablespoons

all-purpose flour

½ teaspoon

baking powder

2 teaspoons

kosher salt, (half for table salt)

1 teaspoon

mixed spices, (can use

7

spice or allspice)

1 teaspoon

ground black pepper

½

cup

, divided (more as needed) of canola, vegetable, avocado, peanut or grapeseed oil
Flake salt (optional)
---
Instructions
Chop and wash your herbs, grate your zucchini and set aside.

1 bunch of parsley - flat leaf is preferred, (chopped to obtain 1 cup)
1 cup fresh mint leaves, (chopped to obtain 1 cup)
1 bunch of scallions - whites and greens, (chopped to obtain 1 cup)
1 small zucchini, (½ cup grated)

In a large bowl, whisk your eggs. Add your flour, baking powder and spices. Whisk well - clumps will remain, it's ok.

6 large eggs
4 Tablespoons all-purpose flour
½ teaspoon baking powder
2 teaspoons kosher salt, (half for table salt)

Add your herbs and zucchini and whisk well to combine. Allow mixture to sit for 15-20 minutes before frying. This allows the batter to activate with the baking powder and create the poof in each ejjeh.
While your batter is resting, line a plate with paper towels and set aside - this will be used to place ejjeh on after frying to absorb any excess oil.
Heat an 8" nonstick skillet and add about ¼ cup of your oil and heat on medium-high heat until glistening, 350 degrees on a thermometer.
Once your oil is heated, place ¼ cup of batter in your skillet and allow to cook for 3-4 minutes on the first side. You should see it begin to get golden brown on the bottom and edges crisp.
Using a fork and spatula, flip and repeat on second side until fully golden brown. Remove and set on paper towel to absorb excess oil. Top with flake salt if you'd like. I like to taste this first one and adjust seasoning as needed. 
Repeat with remaining batter, you should be able to fit 2 in the skillet at a time. 
Enjoy with pita and labneh!
---
Notes
Please be sure to use a high smoke point oil as mentioned in instructions, olive oil is not a suitable substitute.
Always half your salt if using table salt. Fry your first ejjeh, taste and adjust as needed.
I use mixed spices in my ejjeh but 7 spice or ground allspice is a great alternative.
Keywords: ejjeh kousa, lebanese ejjeh, lebanese omelette, egg fritter, herb omelette, paper towel lined, egg fritters
Related
Looking for other recipes like this? Try these: