I'm here to save you THOUSANDS of dollars a year by making your own Deli-Style Roast Turkey, I've seasoned mine with garlic and coarse black pepper! Yes, it's possible and infinitely better tasting. You need about an hour, a few very simple pantry ingredients and then a little patience as it cools. You won't be sorry and will be making this on your weekly rotation for the perfect deli sandwiches!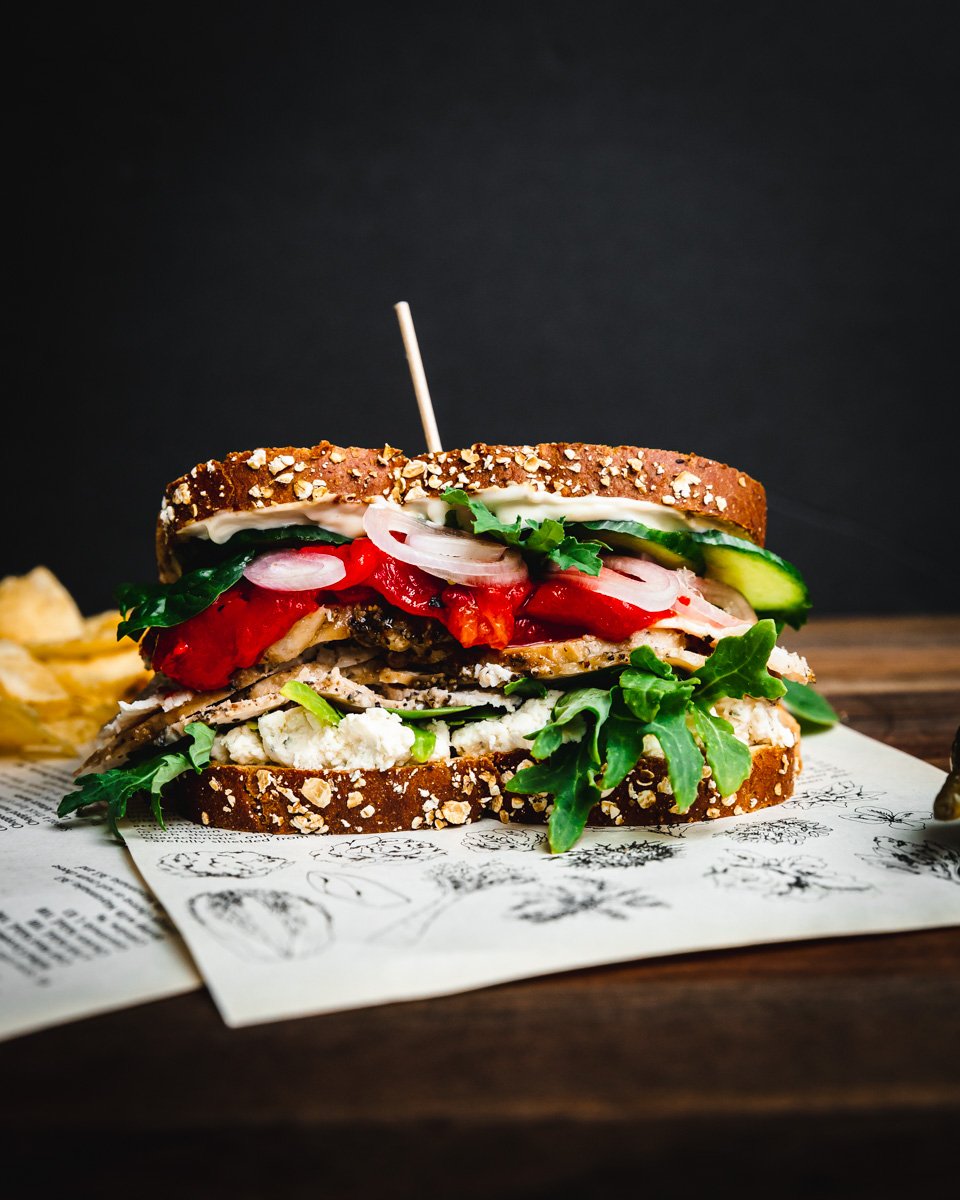 Background of Deli Sandwiches
I know many of you know my father owned a pizza shop when I was a little girl, hence where my love of all things dough came from perhaps? But after the pizza shops closed, my dad actually opened a mini-mart and deli. I walked to middle school every day and I was fortunate enough to walk by my dad's shop - so naturally I would pick-up a freshly made deli sandwich and all my snacks on my way to school.
Truth be told - at the time I did NOT appreciate this incredible masterpiece of freshly sliced turkey, cheese on fresh bread. In fact, I wanted to be like the "norm" and bring a peanut butter and jelly to school - WHAT WAS I THINKING? It's like the scene from My Big Fat Greek Wedding when Tula brings moussaka and she just wants a PB&J to fit in. A fancy deli sandwich did NOT help anyone fit in as an Arab kid.
Money Saving
Fast forward 30 years later and I'm the one making fancy deli sandwiches for my kids - sans fancy deli! Times have changed immensely and my kids LOVE taking leftovers to school including all the arabic food like hashweh, spinach and rice and bazella with rice. Kids are actually ENVIOUS of the incredible lunches they bring from home - do you blame them?
Being on the West Coast, at least Portland - I always had a hard time finding places that sliced lunchmeat the way I LIKED IT - thin and stacked! And when I did find the places that did it, it was upwards of $12-15/pound which for a family of 5 isn't a sustainable regular lunch. I bought a slicer a few years ago and began slicing my own lunchmeat - it takes time and dedication when you are purchasing a large hunk of ham, turkey or beef to slice. That quickly ended as it was too much for our family - we couldn't eat that much and I didn't love it frozen.
Fast forward to today - making a small roasted turkey and hand slicing for the BEST and freshest sandwiches. It's been a GAME CHANGER! I've been doing it with both turkey and roast beef (coming soon). The smaller size is enough for about a week worth of sandwiches and stays super fresh as it's freshly cooked. So keep on reading to CHANGE YOUR WORLD and make some incredible sandwiches with deli-style roast turkey!
Jump to:
Ingredients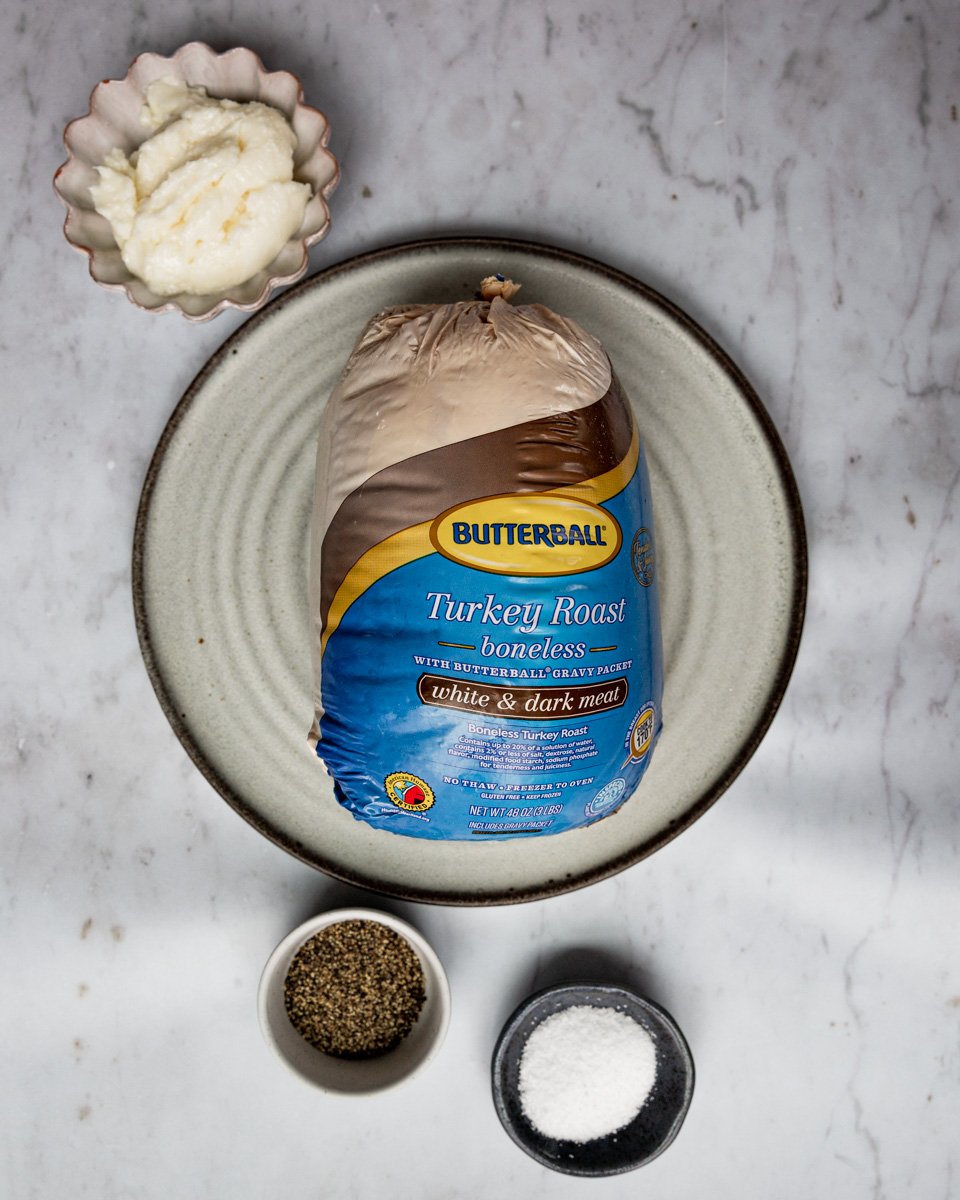 3 pound boneless turkey - I find the Butterball boneless turkey in the freezer section and it's a mix of both white and dark meat which yields a delicious flavor. You can use whatever boneless variety you find at your local grocery store. These 3 pound turkey roasts are about $13-14, which is less than $5 a pound! They thaw quickly in the fridge overnight.
Toum - Toum is one of the key ingredients in making ultra tender turkey, although you can substitute butter and garlic powder - see substitutions below. If you don't make your own toum yet - you can always use the Trader Joe's variety.
Coarse Black Pepper - I love my pepper grinder but when I'm cooking and need to add a bit of pepper, I prefer a larger container of black pepper and typically a coarse variety. You can certainly omit if you don't like a peppered turkey but I find it really gives a nice flavor. I use half in the mix and the rest to coat the exterior for a peppered crust.
Kosher Salt - I can't stress enough how much kosher salt works best in food, especially when you have so few ingredients. I prefer Diamond brand - salting your turkey is important to ensure a flavorful bite.
See recipe card for quantities.
Instructions on Making Deli-Style Roast Turkey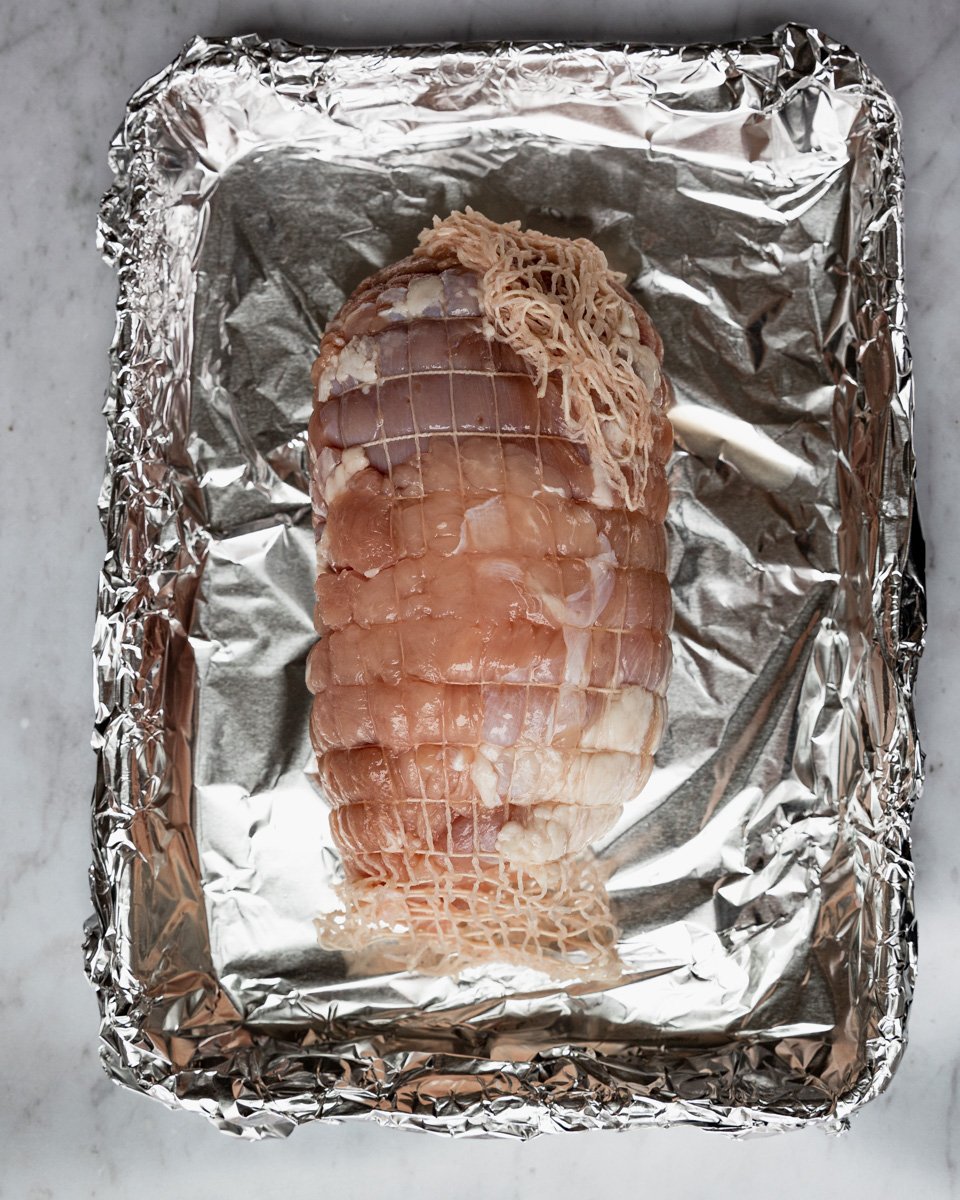 Line your sheet pan with foil and then remove the netting from the turkey. This netting is NOT oven safe. Once you remove the netting - the turkey pieces will separate slightly.
Turkey after netting is removed. We'll use twine to tie together after seasoning.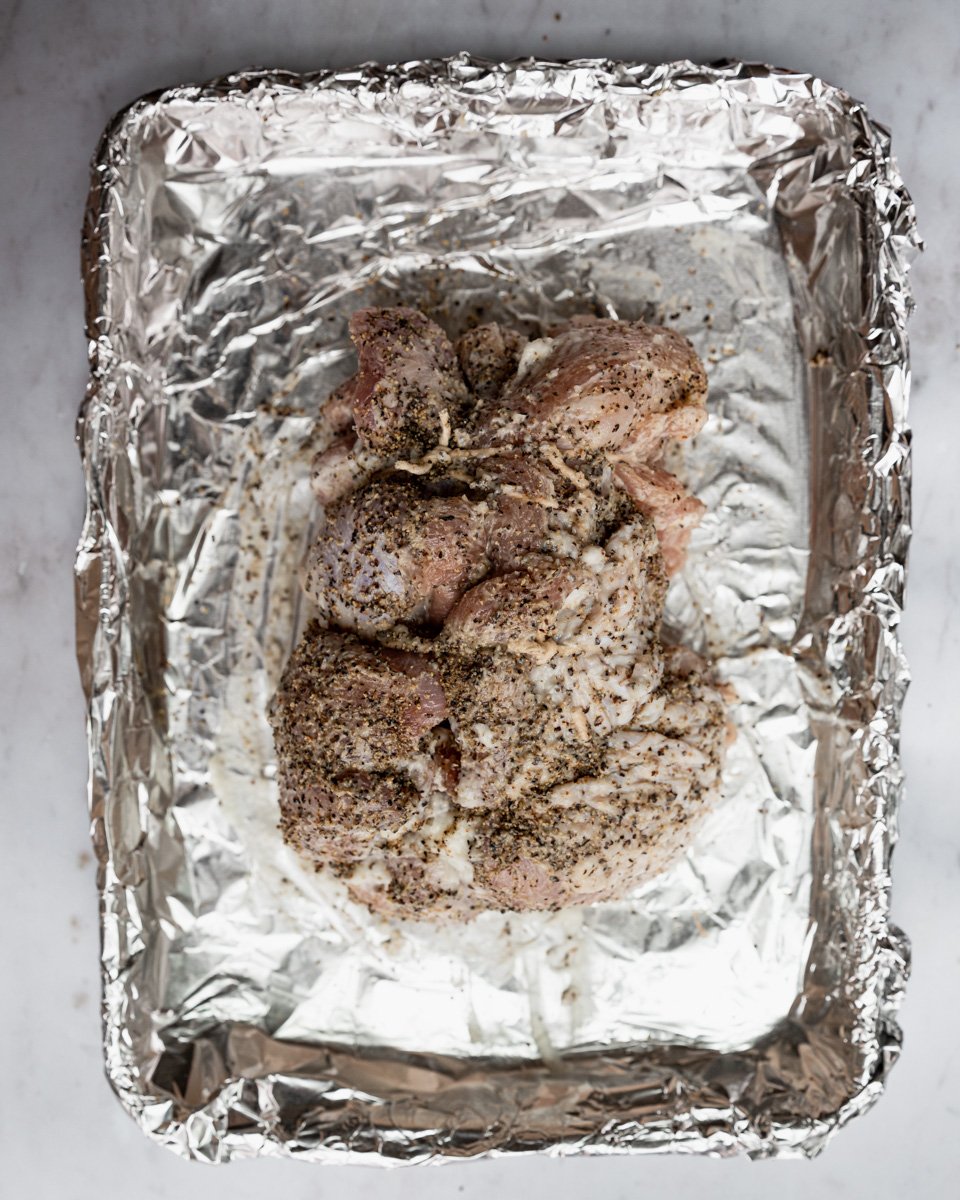 Slather toum, salt and pepper onto your turkey - ensure it coats all areas. Then tie 3-4 pieces of twine to hold together once again.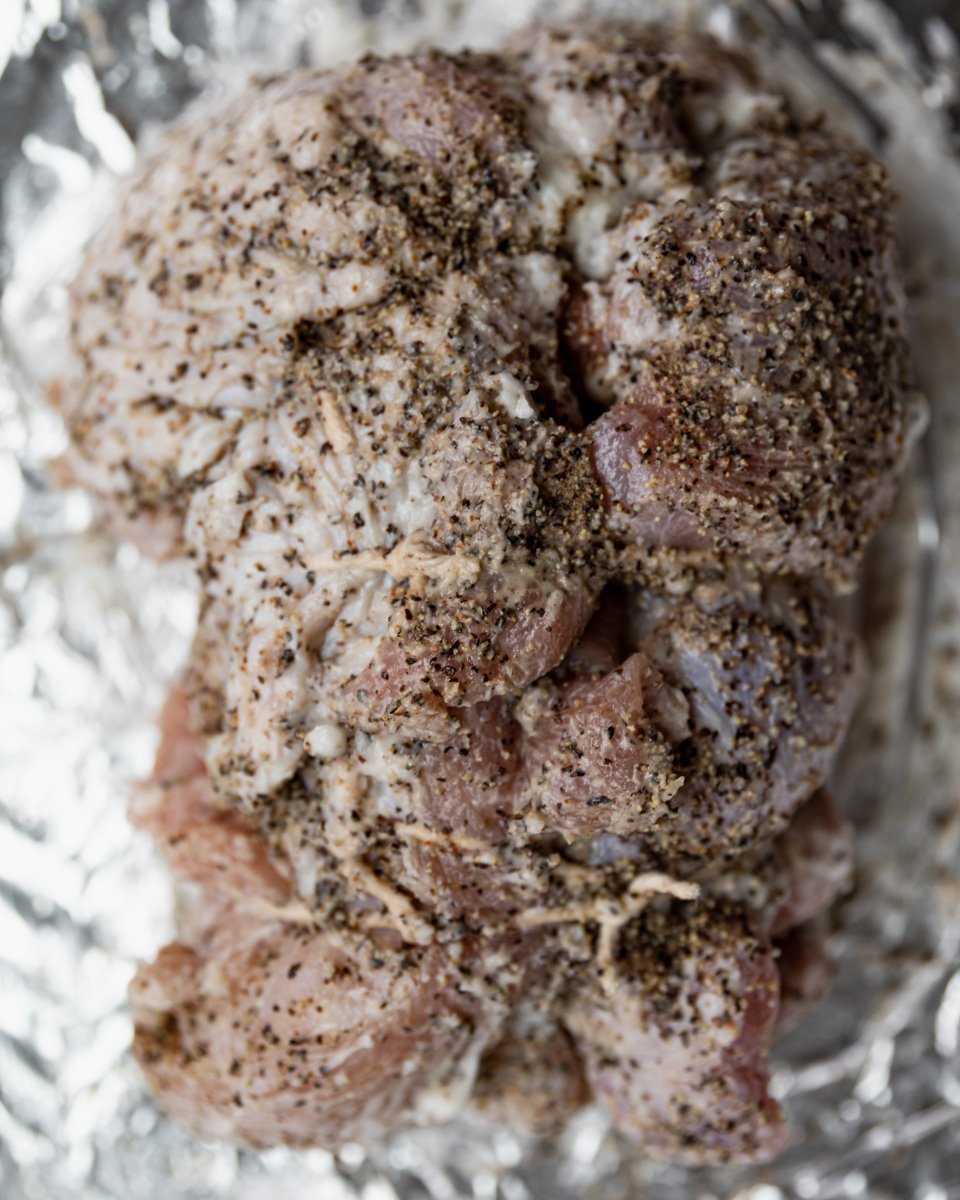 Twine across 3 sections of turkey - finally coat the top with additional coarse pepper.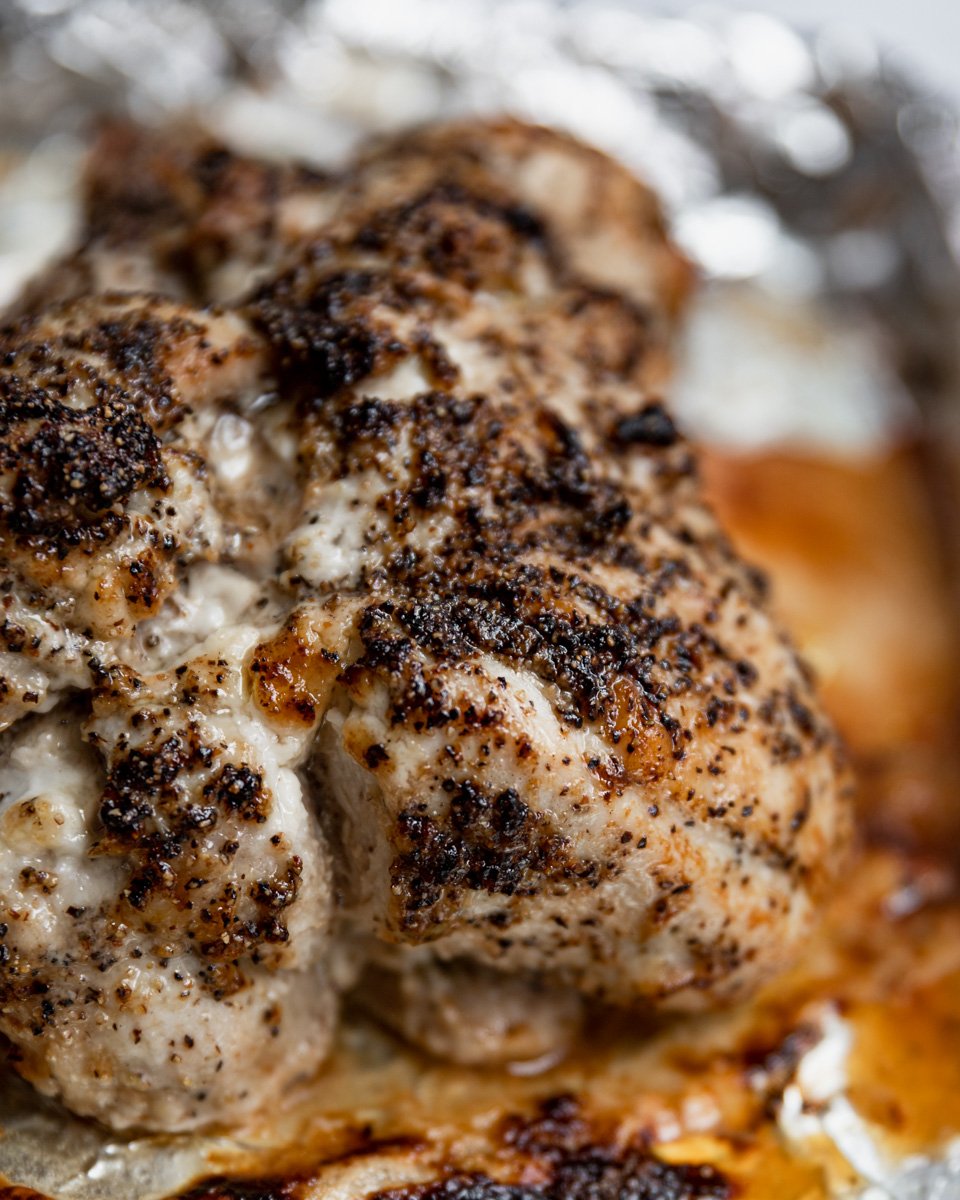 Cook half the time uncovered and 2nd half with foil draped until golden brown and temperature reads 165 degrees.
Immediately wrap with foil, allow to come to a warm temperature then place in fridge before slicing - preferably overnight.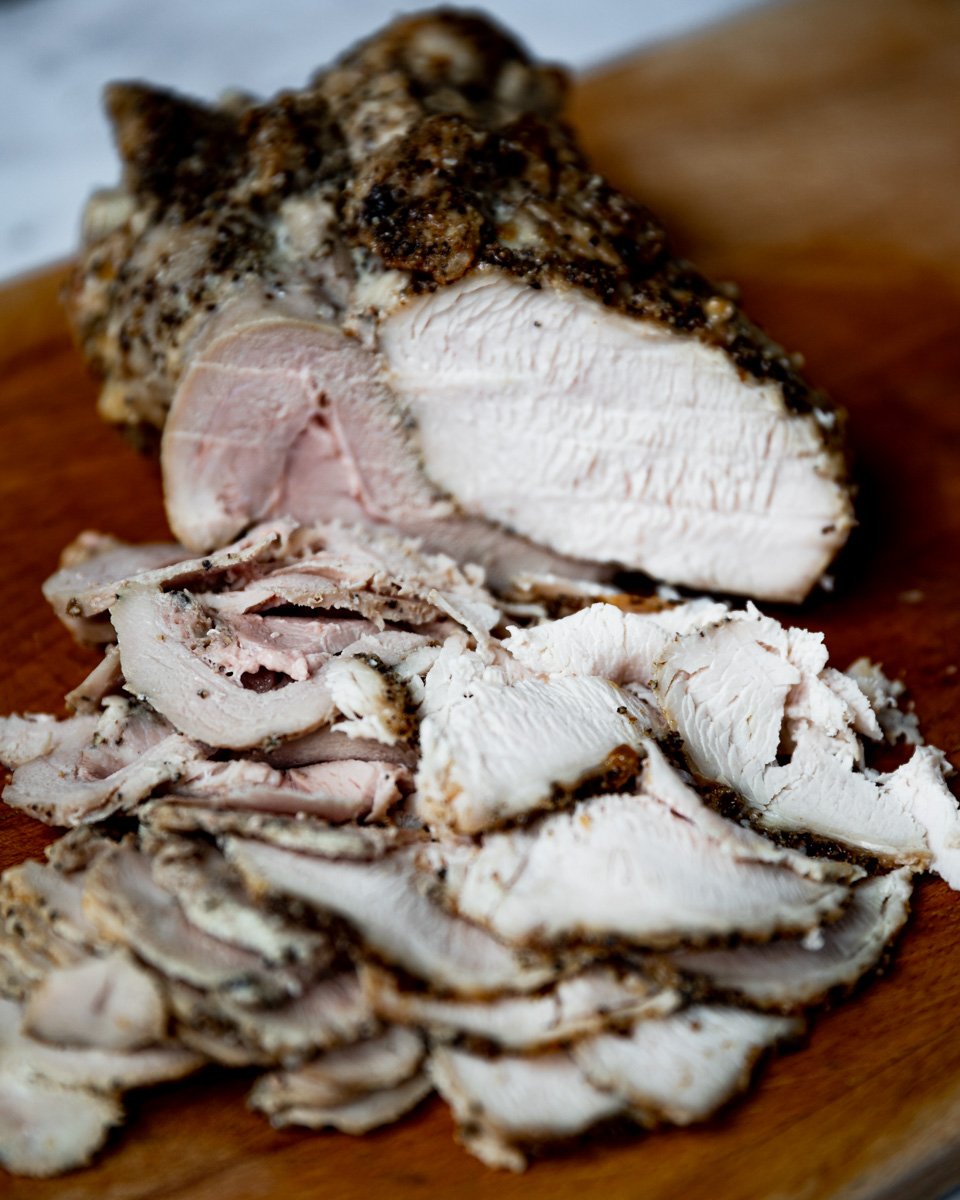 Once turkey is cold, remove from foil and using a sharp knife, thinly slice. The turkey should hold together - you can see the variation in white and dark meat here in the photo.
Slice what you need for sandwiches then store in fridge.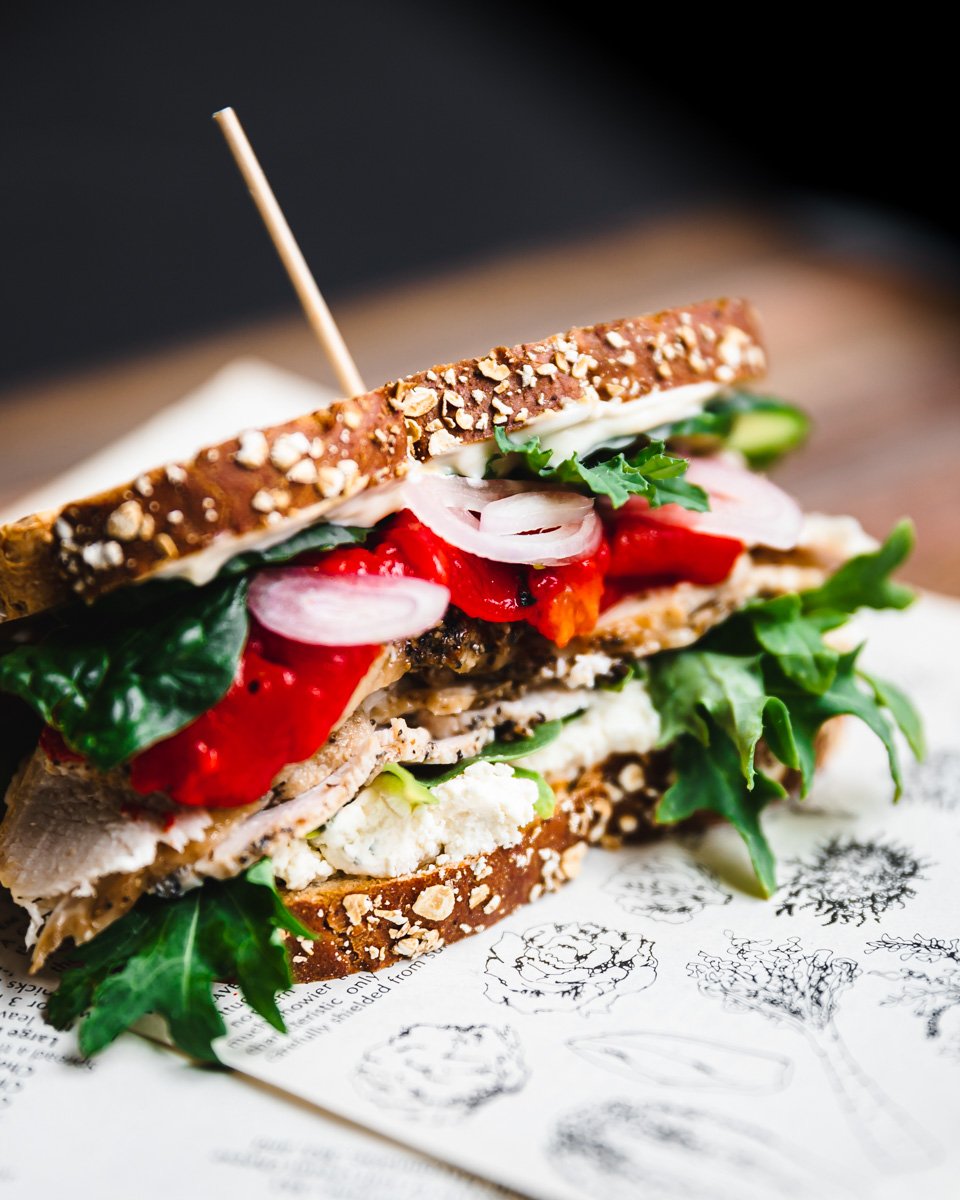 Variations and Substitutions
Bone-in Turkey - You can certainly substitute a bone-in turkey breast for this recipe but it will yield less meat, more difficult to slice and take longer to cook. The flavors will also be slightly different since you aren't able to really get all the sides coated around the bone. If cooking bone-in, I would follow this cooking guide. But always best to have a thermometer to check for proper temperature:
| | |
| --- | --- |
| Weight in lbs | Roasting time at 350 |
| 3-5 lbs | 1 - 2 ¼ hours |
| 5-7 lbs | 2 ¼ - 3 hours |
Substitute for Toum - If you don't have toum in your fridge yet, you should quickly make a batch - it's a game changer! But you can substitute butter and garlic powder in its place:
Original
Substitution
2 Tablespoons Toum
2 Tablespoons softened butter
1 Tablespoon garlic powder
Spices - Feel free to add your own flair and spin on the recipe with your mix of spices, some ideas include:
Dried Rosemary
Smoked Paprika
Pesto
Aleppo Pepper
Equipment & Kitchen Tools
This recipe really doesn't require much besides a small sheet pan, foil (I like using the heavy duty) and twine! I do recommend an instant read thermometer to ensure your turkey is cooked properly - an invaluable kitchen tool.
The foil is KEY for easy cleanup but also for wrapping the turkey after its cooked to lock in flavor and juices. Since the turkey comes in a few pieces - I use some basic kitchen twine to hold together while cooking.
I typically bake this in my countertop oven after dinner - prep, cook, wrap and pop into the fridge for the next morning to slice.
How to Store
The turkey is good in the fridge for 5-7 days - you can also slice and freeze or simply freeze a larger chunk for later use. Wrap with plastic wrap or parchment then place in ziplock with air removed and pop in freezer for 3-5 months. Remove from freezer and place in fridge to thaw.
FAQ
Can I use turkey breast only?
You certainly can, however most of the boneless turkey is a mix of white and dark meat. Please refer to the substitutions and variation section on how to cook bone-in.
Can I slice this straight from the oven?
You can certainly EAT the turkey hot from the oven, but if you want thin slices for sandwiches, it's best to allow to sit in the fridge overnight. Slicing warm turkey won't allow for thin pieces.
How do I slice thin for sandwiches?
Make sure you have a sharp chef's knife - that is your best kitchen tool. If you haven't had it sharpened in a while (or ever) definitely get that done. A dull knife is more dangerous than a sharp one. Once your turkey has cooled, simply slice as thin as you can using your sharp knife.
How long does this last in the fridge?
I will keep the turkey for 5-7 days, I typically only slice what I need to keep the turkey fresh and moist. Once sliced they can dry out faster.
What temperature do I cook the turkey to?
Using an instant read thermometer, I cook to 165 degrees at the central point - there will be some heat carryover that will bring it to 170.
I hope you enjoy Garlic Pepper Deli-Style Roast Turkey for Sandwiches (lunchmeat) as much my family does - feel free to adjust and make your own!
If you make Garlic Pepper Deli-Style Roast Turkey for Sandwiches (lunchmeat), please let me know by leaving a rating and review below!
As always, I love seeing your creations. Please leave a review or share your dish with me on social media #cosetteskitchen which lets me know what is working for you! You can find me on Facebook, Instagram, Twitter , Tiktok and Pinterest. For more delicious recipes to your inbox, sign up for my newsletter!
xoxo,
Cosette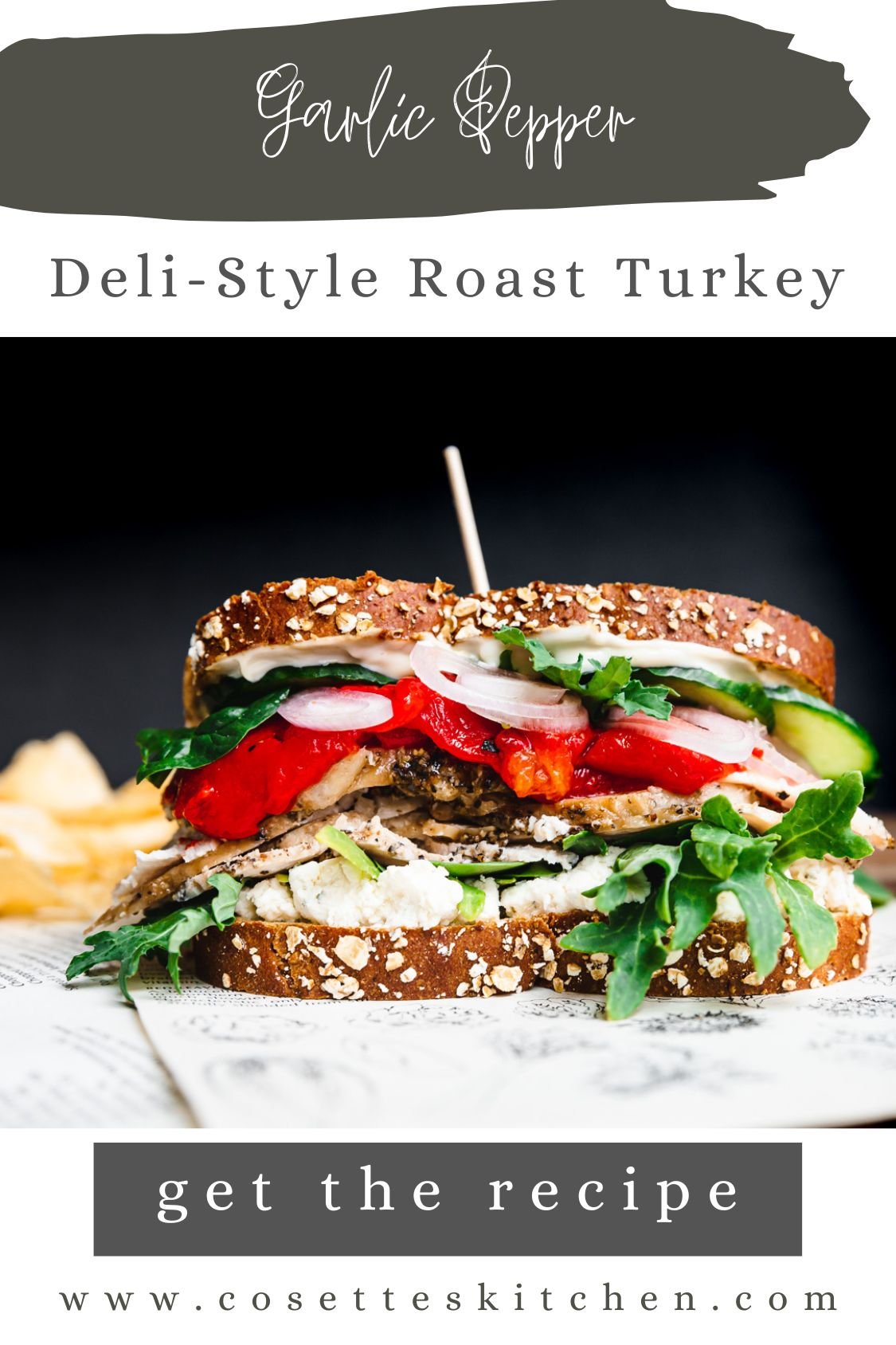 Print
Garlic Pepper Deli-Style Roast Turkey for Sandwiches (lunchmeat)
Author:

Cosette's Kitchen

Prep Time:

5 minutes

Cook Time:

1 hour

Total Time:

1 hour 5 minutes

Yield:

3

pounds turkey

1

x

Category:

Meat

Method:

Oven

Cuisine:

American
---
Description
A quick and inexpensive recipe to get Deli-Style Turkey Lunchmeat. This simple Garlic Pepper Deli-Style Roast Turkey will be on repeat at your house for the perfect sandwiches.
---
3

pound

boneless turkey roast - (white and dark meat mix is what I use but you can use all white)

2 Tablespoons

prepared toum - (see notes for substitution)*

1.5 Tablespoons

coarse black pepper, divided

1.5 Tablespoons

Diamond kosher salt (half for table salt)
---
Instructions
Preheat your oven to 425 degrees and prepare a sheet pan (a ¼ sheet pan is usually big enough) by lining with foil. Set aside.
On a large cutting board or work surface, remove your turkey from the packaging and remove the gravy packet (if included) and then the netting around the turkey - this netting is to hold the turkey pieces (white and dark meat together) however it is NOT oven safe. We'll use twine to combine pieces. 

3 pound boneless turkey roast - (white and dark meat mix is what I use but you can use all white)

Smear your turkey with toum, salt and half of your pepper. Ensure all areas are coated.

2 Tablespoons prepared toum - (see notes for substitution)*
1 ¾ teaspoon (this is the halved amount)
1.5 Tablespoons Diamond kosher salt (half for table salt)

Once your turkey is coated - lay pieces together and using 3-4 pieces of twine, simply wrap together until you form a "roast" shape again. This doesn't need to be perfect or tied to perfection. We just want the pieces to cook together as one piece.
Sprinkle the remaining black pepper (and more if desired) along the top of your turkey to get a peppered crust.

1 ¾ teaspoon (this is the remaining amount)

Place on prepared sheet pan and place in oven for 25 minutes in upper ⅓ of oven.
After 25 minutes loosely drape a piece of foil on top and bake for another 30-35 minutes until temperature reads 165 degrees.
Remove from oven and wrap tightly with foil. Allow to come to cool slightly then store in fridge.
When turkey is cold - it's ready to slice, remove from foil, slice and enjoy! 
---
Notes
TOUM: If you don't have toum, you can substitute 2 Tablespoons softened butter and 1 Tablespoon garlic powder. Or if you have a garlic rub of some sort, that would be a good option.
BLACK PEPPER: Add additional black pepper to the top for a more peppered turkey
SPICES: Substitute other spices to create your own unique flavor.
SLICING: Cold turkey is BEST for slicing, if you try to slice when warm - you won't achieve those thin deli slices.
Keywords: how to make deli-style turkey, deli turkey at home, roasted boneless turkey, how to make deli turkey, homemade turkey deli meat, boneless turkey roast recipe, boneless turkey roast
Related
Looking for other recipes like this? Try these:
Food safety
Cook to a minimum temperature of 165 °F (74 °C)
Do not use the same utensils on cooked food, that previously touched raw meat
Wash hands after touching raw meat
Don't leave food sitting out at room temperature for extended periods
Never leave cooking food unattended
Use oils with high smoking point to avoid harmful compounds
Always have good ventilation when using a gas stove