I don't know many people that don't LOVE Spinach Artichoke Dip! This classic dip is the perfect avenue to create a hearty, flavorful weeknight pasta dinner with simple ingredients and the addition of chicken for a protein packed punch.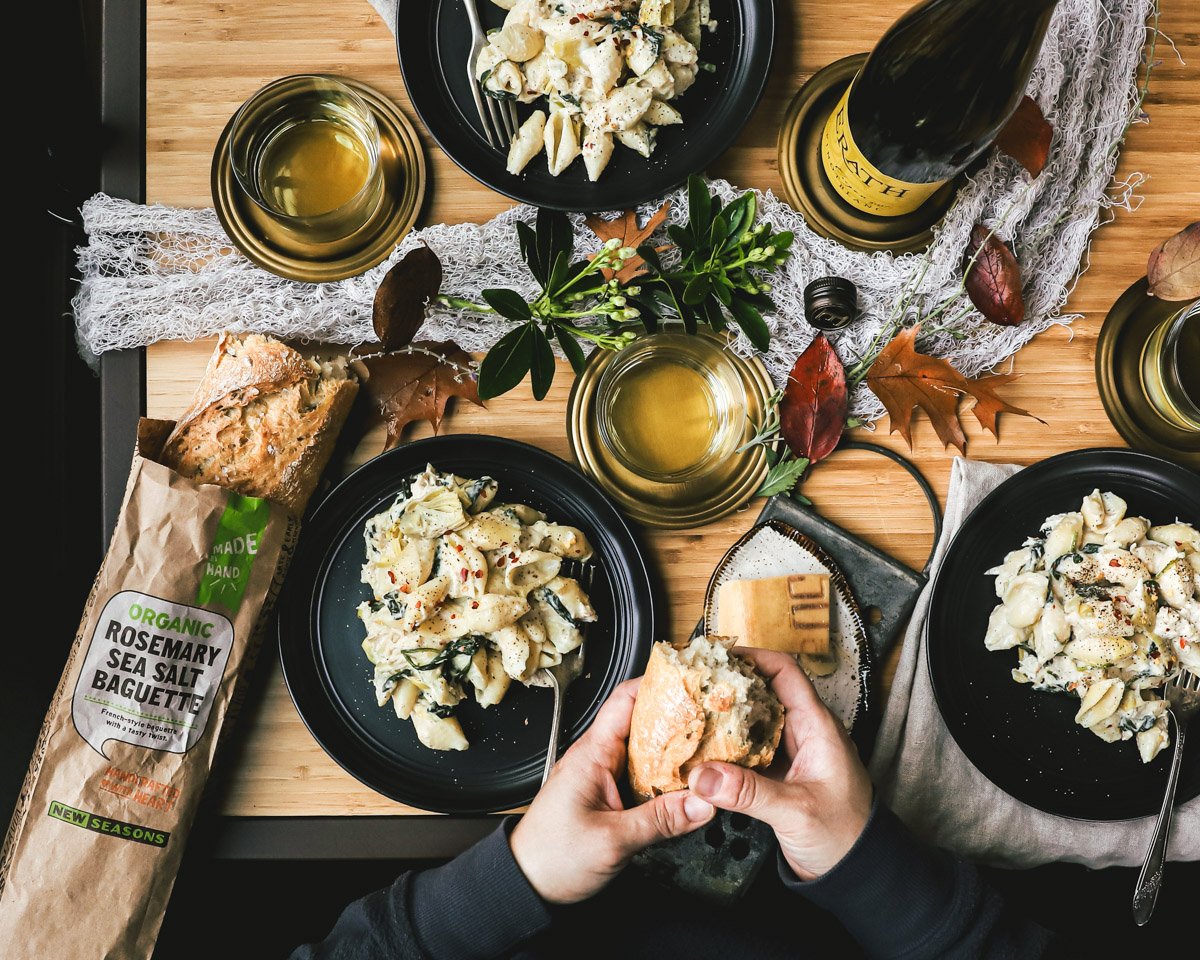 As the holidays approach, getting dinner on the table can often be stressful and overwhelming. I'm thrilled to partner with my friends at New Seasons Market to share this simple weeknight meal to keep you going and continue to nourish your family during between the holiday bustle.
With a few simple staple ingredients and the help of New Seasons Market rotisserie chicken from the deli, this meal comes together so fast and makes wonderful leftovers (if you have any). The idea of a creamy, cheesy dip turned pasta sauce just makes my mouth water. Pair it with local wine, a crusty baguette and your meal is complete.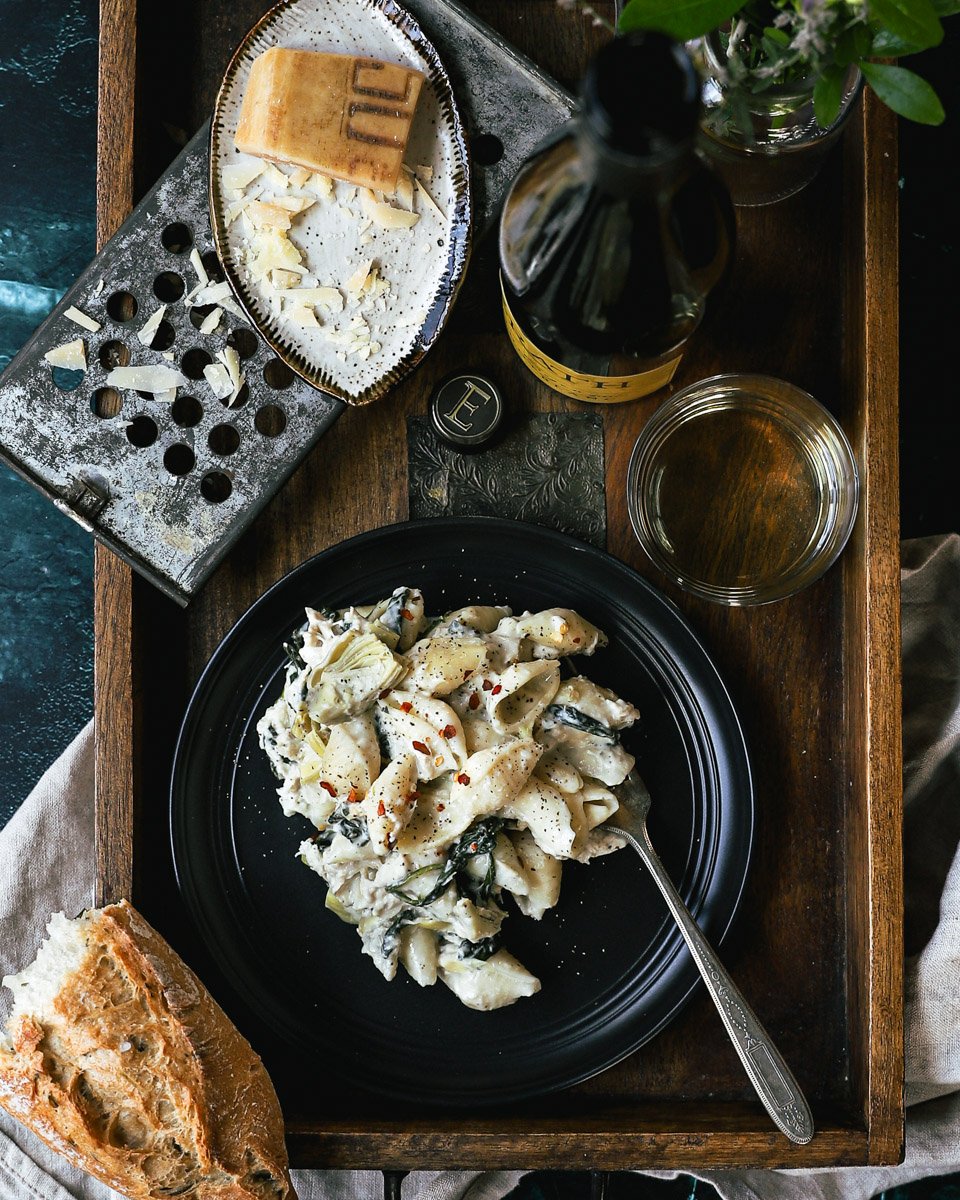 Jump to:
Ingredients for Spinach Artichoke Dip Pasta with Chicken
The star of this dish and the ingredient that really makes it a cinch, is the pre-cooked Rotisserie Chicken from New Seasons Market. I LOVE picking up a whole roasted chicken and using it for several meals throughout the week, including this delicious pasta dish. One chicken, endless flavorful possibilities. Roasted fresh daily and found warm at the deli counter or cooled in the fridge, it's one of the best staple items this time of year for a quick and easy meal.
Pasta - Any pasta will do for this dish but I love using the conchiglie shells, they really capture the sauce perfectly in every bite.
Milk - Whole milk is definitely preferred to keep this dish rich and creamy. I would not recommend an alternative milk in this dish unless you have cooked with it before.
Cream Cheese - Cream cheese is going to aide as our sauce thickener.
Garlic - Is there ever too much garlic? If you have toum on hand, feel free to add in a heap, otherwise, we're mincing 6 cloves to get a really good flavor in our sauce.
Spices - Good old kosher salt and black pepper make an appearance but I also like to add a bit of heat (as I like to do with my spinach artichoke dip) with red pepper flakes. You can add a touch as written in the recipe or a little extra for extra heat. I make as written and it's perfectly fine for my kiddos. You can certainly add a sprinkle on individual plates when serving as well.
White Wine - I'm definitely going to be enjoying a glass of wine with this dish, I've included a few recommendations below but you can also substitute chicken stock if don't want to use wine in your cooking. This will be our extra boost of flavor for our sauce.
Pasta Water - Yes, pasta water is a MAGICAL ingredient but one to definitely not disregard. Adding pasta water to our dish not only helps to thicken the sauce but adds a bit of salty seasoning to our dish. We'll be reserving 1 cup to add to our sauce.
Spinach - I love using fresh spinach in this dish because it's quick and easy, grab a handful and toss in. But if you have frozen spinach on hand in your freezer - that works fabulously, just a little thaw and drain! Bulk up on however much you want - I'm adding a full 4 cups of fresh to this recipe.
Rotisserie Chicken - Roasted fresh daily, these whole roasted chickens are lifesavers! New Seasons does an outstanding job of adding the perfect seasonings, cooked to perfection and the best part - the crispy skin! Yes, their chickens always retain their crispy skin which I love snacking on as I prepare dinner. For this recipe, we'll use the full breast, or any part you choose. Save the rest and make some chicken salad!!!
Parmesan Cheese - New Seasons carries a wonderful array of cheeses - I've chosen a Parmesan Reggiano to add to the dish for a bit of a bite, saltness and cheese factor. Find a whole block or pre-shredded at the cheese monger counter.
Mozzarella Cheese - To get extra cheese and delicious, add in some shredded mozzarella - that cheese pull is everything. I like using a bag of Wild Harvest pre-shredded cheese.
Artichoke hearts - You can find artichoke hearts in many different forms. The easiest is either a jar of marinated artichokes or a bag of frozen hearts. Today I used a jar of marinated artichokes that were drained and just tossed into my dish.
See recipe card for quantities.
How to Make Spinach Artichoke Dip Pasta with Chicken
The beauty of this recipe is it really comes together in one pot (maybe two if you want to use a different skillet to put your sauce together). But truly so easy, not a lot prep work, especially when you can pick up everything you need at New Seasons Market already ready to go! Pre-cooked chicken, pre-shredded Parmesan and mozzarella, pre-washed spinach and a few pantry staple items.
Pro Tip

Cook your pasta al dente, or just soft enough, especially in a dish where the pasta will be cooked in sauce a second time. This will ensure your pasta shells will stay in tact.
Begin by boiling your pasta according to instructions on the back of the box, ensure you salt your pasta water, these conchiglie shells took 9 minutes. Once your pasta has cooked, reserve 1 cup of pasta water and set aside. Drain your pasta and set aside.
Meanwhile in a large skillet - I'm using a 14" deep sauté pan, a wide braiser would also work, heat your cream cheese and milk on medium heat, breaking up your cream cheese with a wooden spoon and slowly working into milk. Once broken up, begin to whisk until fully combined and creamy, about 5-8 minutes.
Once your milk and cream cheese mixture has smoothed out, add your minced garlic, salt, pepper and red pepper flakes. Whisk to combine. Next add your wine and pasta water. Allow mixture to thicken for 3-5 minutes on high heat continuing to whisk.
Once your sauce slowly thickens, add in your spinach and work with tongs to combine and begin to wilt. This will take a few minutes. Next add your chicken, artichoke hearts and cheeses. Continue to mix and heat until fully incorporated. Finally add your pasta and combine everything until it's cohesive. Cover and turn heat to low for 5-10 minutes. Serve with additional parmesan cheese, red pepper flakes, wine and fresh bread.
Substitutions for Spinach Artichoke Dip Pasta with Chicken
Meals like this allow for lots of flexibility, here are some substitutions if you need.
Chicken - If you are making this after a holiday, feel free to sub out turkey or any leftover chicken you have at home. You can also omit and keep vegetarian.
Cheeses- I love the mix of Parmesan and mozzarella in this dish but you can certainly use what you have on hand: white cheddar, provolone, fontina, or pecorino would all be great substitutions.
Parmesan Cheese- I usually have a block of parmesan in my fridge so grating or chopping some up for a dish is pretty quick and easy. If you don't have fresh parmesan in your, grated parmesan will work or pick up some fresh pre-grated/shredded from your local New Seasons Market.
Pasta- A gluten free pasta would be a wonderful alternative if you are hoping to keep this dish gluten free for your family. I enjoy the shells, but any pasta shape will work.
Spinach- Fresh spinach is super quick and easy to work with and wilts immediately. If you have frozen spinach on hand, I recommend 16oz, thaw your spinach then squeeze and drain until dry. Once dry, add into your sauce mixture the same as fresh. Kale, escarole, or arugula would be great alternatives to spinach.
Cream Cheese- Mascarpone would be a lovely addition in place of cream cheese, it doesn't have quite the tangy flavor as cream cheese but would be an easy swap.
Variations for Spinach Artichoke Dip Pasta with Chicken
Spicy - Reduce or omit the red pepper flakes if you'd like it less spicy, 1 teaspoon is just enough subtle heat that isn't overpowering. You can always add more to up the heat factor.
Baked- I think this dish would be amazing as a baked pasta dish. Go through all the steps, then pop into a 9x13 dish, top with extra cheese and bake for 30 minutes. This would be wonderful to prepare the night before and cook the day you want to enjoy.
What to Serve with Spinach Artichoke Dip Pasta with Chicken
This pasta dish is best served immediately while warm and cheeses are fully melted. I've paired with an Oregon white wine, Erath Pinot Blanc which you can find locally at New Seasons Market. If you're looking for a red wine to enjoy with this dish, I recommend Ponzi Pinot Noir which can also be found at New Seasons Market. Be sure to check out the wine deals happening this month to stock up for weeknight dinner and holiday gatherings.
Carbs are life, so while enjoying delicious pasta, a fresh Rosemary Sea Salt Baguette from the bakery is the perfect addition to your meal.
Can This Be Made Ahead?
Yes, this would be a great dish to prepare ahead and heat and serve when ready. You can also make the dish ahead, place in a 9x13 baking pan, top with cheese and bake at 350 for 30 minutes and serve as a baked pasta dish.
How Long Will Spinach Artichoke Dip Pasta with Chicken Keep?
This dish will is best 3-5 days in the fridge.
Can I Freeze Spinach Artichoke Dip Pasta with Chicken?
Yes, this dish can be frozen in small portions or as a large casserole style dish. When ready to serve, remove from freezer and allow to thaw in fridge overnight then heat as normal.
Please be sure to allow pasta dish to cool completely before freezing. Will freeze well up to 3 months.
As always, I love seeing your creations! This is a perfect salad or side dish to serve all year long.
I hope you enjoy this Spinach Artichoke Dip Pasta with Chicken as much my family does! If you make Spinach Artichoke Dip Pasta with Chicken, please let me know by leaving a rating and review below! Don't forget to stop by your local New Seasons Market to pickup all the ingredients for this dish. Or check them out on Instacart and have groceries delivered to your doorstep, use code THANKFUL4U for $5 off $35 for a limited time.
As always, I love seeing your creations. Please leave a review or share your dish with me on social media #cosetteskitchen which lets me know what is working for you! You can find me on Facebook, Instagram, Twitter , Tiktok and Pinterest. For more delicious recipes to your inbox, sign up for my newsletter!
xoxo,
Cosette
*This post was sponsored by New Seasons Market. All opinions are my own. I only support and promote brands that I believe in and use in my own kitchen.
Other Weeknight Dishes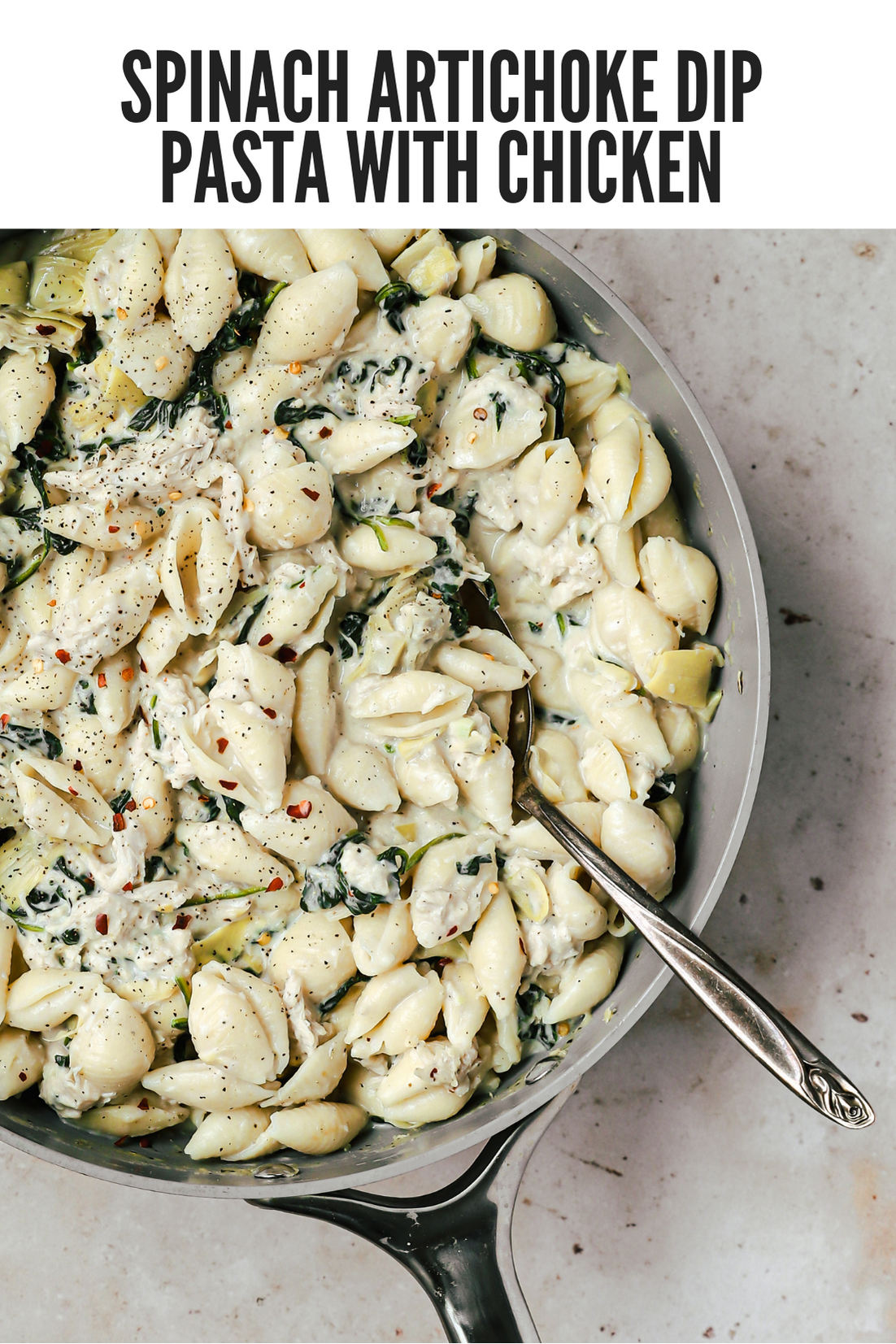 Print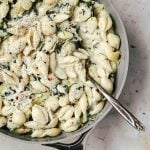 Spinach Artichoke Dip Pasta with Chicken
Author:

Cosette's Kitchen

Prep Time:

10 minutes

Cook Time:

20 minutes

Total Time:

30 minutes

Yield:

6

servings

1

x

Category:

Pasta

Method:

Stovetop

Cuisine:

American
---
Description
Spinach Artichoke Dip Pasta with Chicken is a simple weeknight dish perfect for a quick and easy family night dinner. Using a whole roasted chicken already prepared by New Seasons Market makes it a breeze to put together.
---
16 oz

box of Conchiglie pasta (shells)

1

whole New Seasons Market Rotisserie Chicken, 2 cups breast shredded

8 oz

block Organic Wild Harvest Cream Cheese, room temperature and cut into cubes

1 ½

cup

Whole Milk

1 teaspoon

black pepper

1 ½ teaspoon

kosher salt + additional for pasta water**

1 teaspoon

red pepper flakes

6

cloves of garlic, minced (or

2

heaping tablespoons of toum)

⅔

cup

Erath Vineyards Pinot Blanc (or Wild Harvest chicken stock)

1

cup

reserved pasta water

4

cups

fresh spinach (or 16oz frozen, thawed and squeezed dry)

1

cup

fresh parmesan cheese, grated or finely chopped

1

cup

shredded mozzarella

12

oz

artichoke hearts, drained if in marinade
---
Instructions
Pasta
Begin by preparing your pasta according to package instructions.
Bring 4 quarts of water to a boil, add in 2 tablespoons of salt to your water.
Add pasta and continue to boil for 9 minutes (or al dente).
Reserve 1 cup of pasta water and set aside.
Drain the remaining pasta and set aside.
Spinach Artichoke Sauce
Begin by removing the chicken breast from your New Seasons Market Rotisserie Chicken, set aside. Save the remaining chicken for another meal.
In a large 14" skillet or braiser, add your milk and cream cheese and heat on medium heat for 5-8 minutes until cream cheese fully melts. Use a wooden spoon to break up cheese and finally a whisk to incorporate together.
Once your milk and cream cheese mixture has melted, add your salt, pepper, red pepper flakes, white wine (or chicken stock) and reserved pasta water. Whisk and cook for 3-5 minutes on high heat until sauce begins to thicken and garlic becomes fragrant.
Reduce heat to medium low, add your spinach and allow to wilt, helping it by folding into sauce and ensuring it is fully combined. 
Once spinach is combined and wilted, add your chicken, artichoke hearts and remaining cheese; parmesan and mozzarella. Using tongs, to combine in sauce.
Once sauce is cohesive, add your pasta shells and again, mix to fully incorporate. 
Keep on medium-low and cover. Allow to thicken for 5-10 minutes.
Serve immediately with additional white wine and crusty Rosemary Salt Baguette.
---
Notes
**If you are using table salt or anything other than kosher salt, be sure to half the amount in recipe, adjust to your own taste.
Keywords: spinach artichoke dip pasta, spinach artichoke dip, weeknight meals, spinach artichoke dip pasta with chicken, pasta bake, chicken pasta bake, artichoke dip, one pot meal, one pot pasta recipes, chicken pasta meal, spinach artichoke dip