Cozy Fall Meal
This pea stew is a simple and classic Lebanese dish that uses finely diced beef, peas, carrots a light tomato sauce. Bazella in Arabic translates to peas and Riz to rice - simply peas and rice but we have some other additions to the dish to make it a standout dish! As with many dishes from Lebanon and throughout the Middle East, this meal is served with Vermicelli Rice which is a staple in Lebanese cuisine. Prepared similarly to my classic Spinach and Beef Stew - you will love this variation that is also vegetable forward for an easy weeknight meal!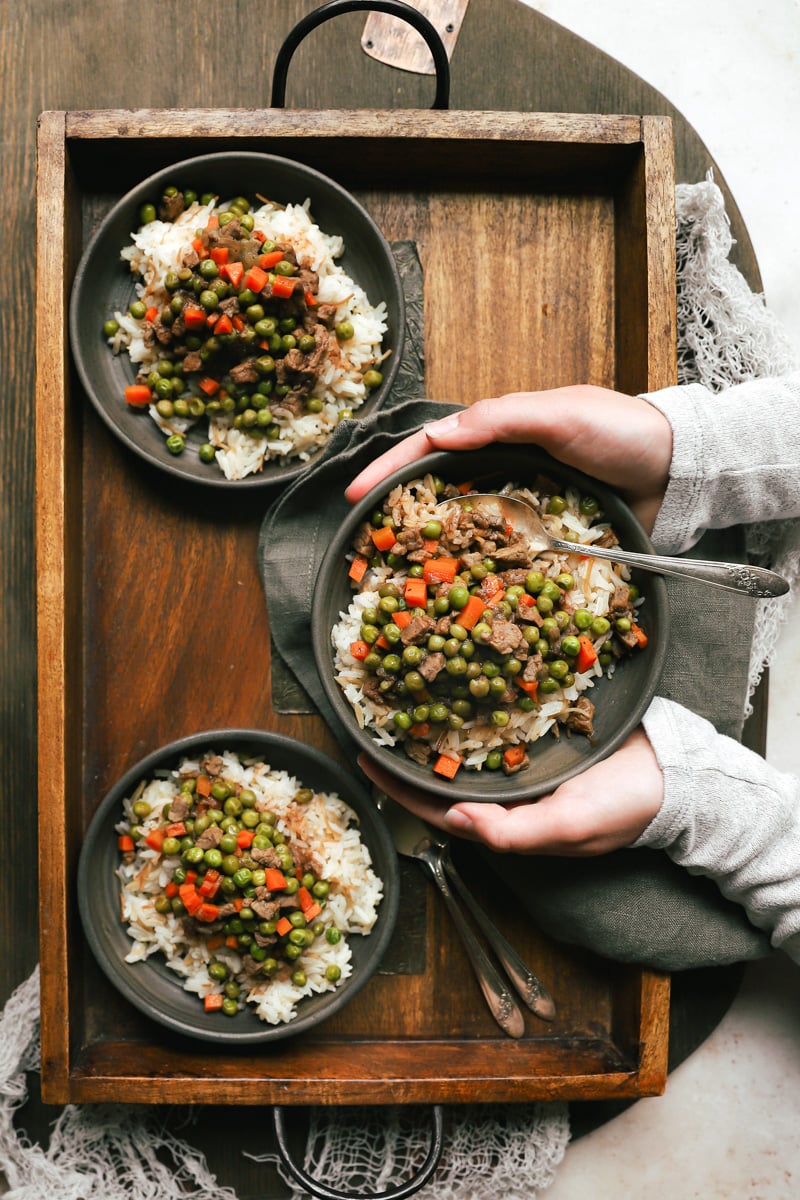 Stews such as this one are called, yakhneh. Yakhneh can be cooked in many forms and are usually served with meat and rice. Another form of yakhneh is my Braised Eggplant and Lamb Stew. The idea is a meal that is complete with meat, vegetable and grain, similar to an American casserole dish. Combining vegetables, protein as well as potatoes or rice for a filling component. Cooking dishes this way allows a balanced meal and also typically doesn't require expensive cuts of meat. Rather, less expensive cuts of meat are used and cooked down to soften making the meal more affordable for any household.
While this dish is marvelous on it's own, it's lovely to pair with some mezze items such as hummus, labneh or a salad.
I love that my kids adore this meal and others like it. Knowing they are getting a bowl of comforting food to nourish is the best in my book! I think your kiddos will too!
Jump to:
Ingredients
Simple ingredients make this dish very accessible and affordable for any budget.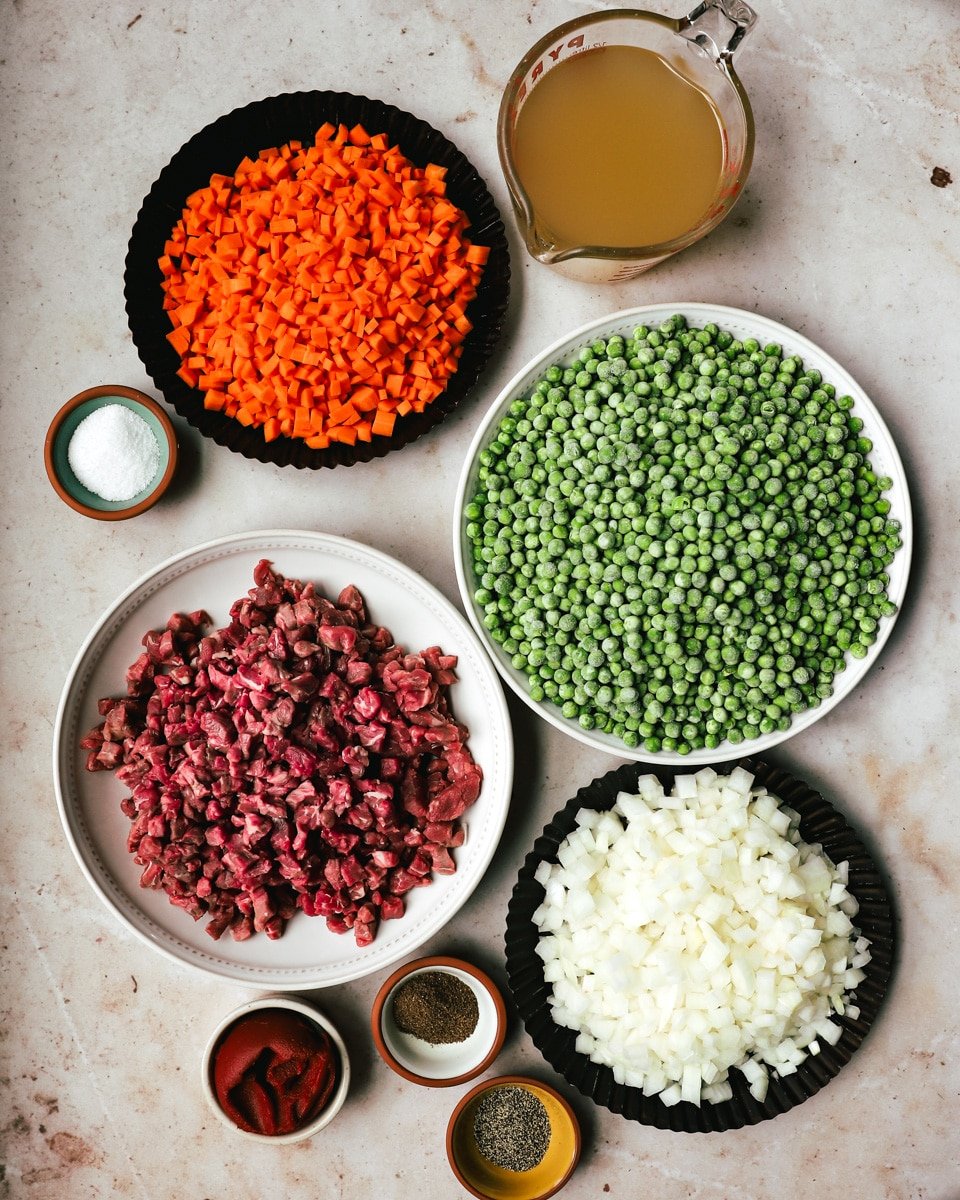 Petite Sirloin - I like to use petite sirloin for this dish as it's quite affordable. It also allows me to use several pieces diced with little fat or bone. You may also use top or bottom round or really any beef you choose. Once we begin to cook the small pieces, it will become tender and melt in your mouth. Another option is to use beef shank and boil it for several hours with aromatics: cinnamon, bay leaf, seasonings for 2-2.5 hours until meat is fall apart tender.
Onions - The base to most of our meals begin with onion and this one is no exception. Cooking the onions and beef together until they become translucent and sweet brings out such great flavor.
Peas - This is the time for your frozen veggies to shine! Frozen peas are used in this dish for a few reasons - fresh peas are hard to come by and for the quantity you need, it's more affordable. I really love Trader Joe's frozen peas as they are always sweet. Find a brand that you love and keep a stash on hand!
Carrots - You can go about carrots in 2 ways: my mom actually gets a pea and carrot frozen mix and adds in, personally, I like to dice my own carrots and add them in. This gives me a more plentiful carrot and pea ratio. Truly there is no right or wrong! If you do use a mix, be sure your peas are more plentiful than the carrots.
Beef/Chicken/Vegetable Stock - I'm a firm believer of using what you have on hand and what works best for you in meals like this. I tend to have chicken stock on hand much more often than beef or vegetable but any of those will work beautifully. You can also simply use water (which I have done many times) with the same results.
Tomato Paste - Using our stock/water and combing it with tomato paste, we get a very light sauce that is perfectly balanced and not too acidic.
Mixed Spices - A staple in the Middle Eastern pantry. Mixed spice is a blend of various spices often: allspice, black pepper, coriander, clove, cumin and nutmeg, often called Baharat in Arabic. You can purchase at any Middle Eastern grocery store or simply online. If you don't have access to mixed spice/7 spice, you can sub allspice in it's place which is more common in general markets. Note that the blend of spices can vary with each brand but truly any variety will work and bring out the flavors in the dish immensely.
Salt and Pepper & Olive Oil - I strictly use kosher salt in cooking, my preferred brand is Diamond, remember - if you are using traditional table salt you want to make sure you half the amount and continue to taste for flavor. Black pepper is added to enhance the mixed spices. Finally, olive oil to cook onions and beef - any oil will work in it's place.
Vermicelli Rice - You can find the full Vermicelli Rice recipe linked here, you can certainly use your favorite rice as a side whether it's in a rice cooker, instant or your own recipe. This vermicelli rice is so delicious and a classic pairing that I hope you do try it one day!
See recipe card for quantities.
Instructions
Begin by preparing your beef, cut your beef into small cubes - the small cubes cook faster and become tender much quicker than larger chunks of meat.
Pro tip: Pop your meat into the freezer for about an hour before preparing. Having your beef slightly frozen will make it much easier to cut. Also, be sure you're using a sharpened knife to allow for safe cutting.
Prepare your onion by dicing and cook for 3-4 minutes until they begin to soften slightly with a bit of olive oil. Next add in your diced beef and begin to brown and cook on medium-high heat. You'll brown the meat for 5-10 minutes then add 1 cup of your broth or water and allow to continue cooking for another 5-10 minutes until liquid is absorbed. Repeat this step 3 times (3 cups of broth/water) or until your beef is tender when tasting. On the 3rd addition, add your diced carrots if using fresh and allow to cook with the beef and onions.
Once your beef is tender and carrots are added (if using fresh), add your peas, additional stock/water, tomato paste and additional: salt, pepper and mixed spices.
Allow mixture to come to a boil then reduce heat and cover for 15-20 minutes until sauce forms and peas begin to change from a bright green to a darker green.
Serve over your favorite rice, mine is Vermicelli Rice of course!
Substitutions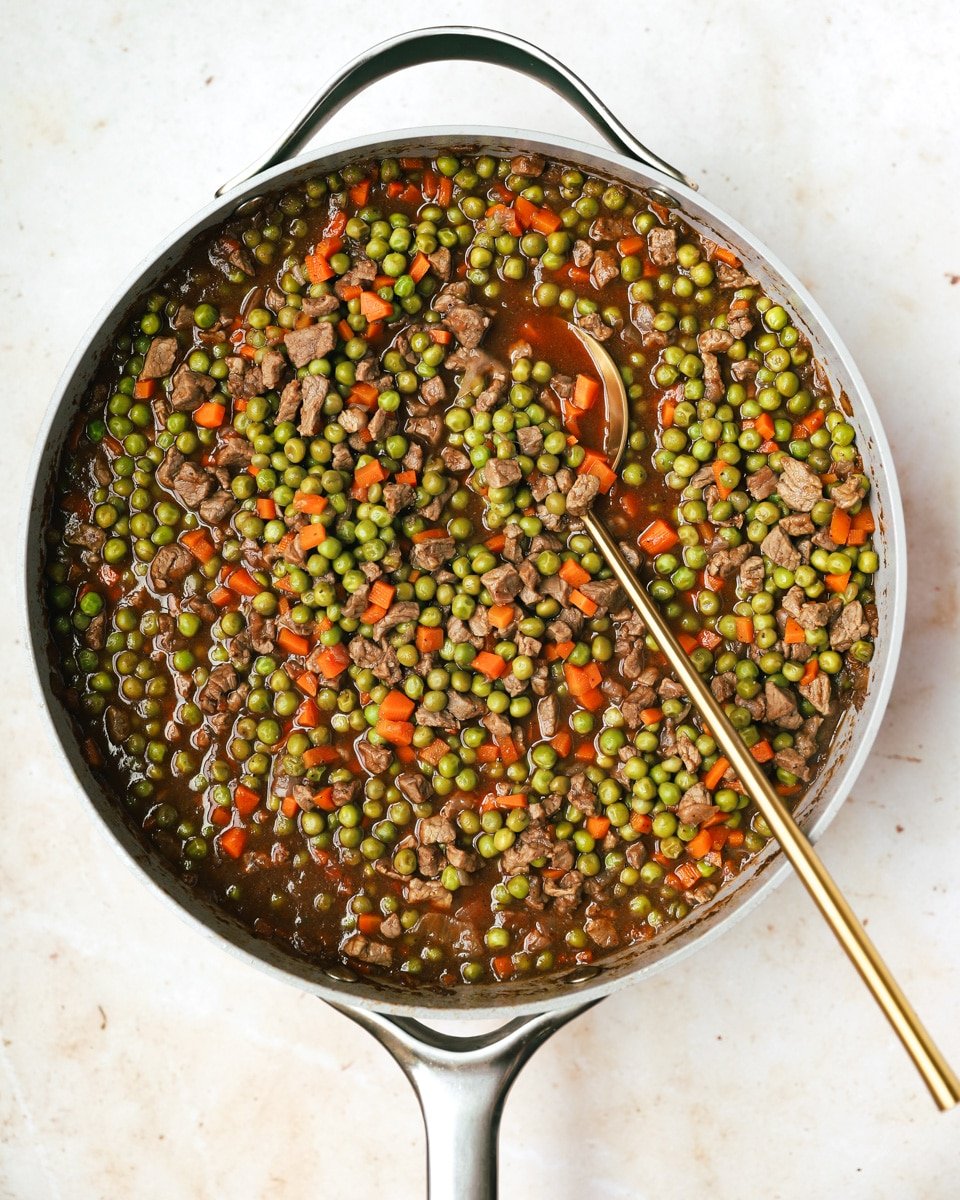 Let's chat substitutions if you need to make them.
Beef- As I mentioned above, you can really use any cut of beef that works for you - a more tender cut such as NY strip wouldn't need quite as long to cook. I highly recommend NOT using ground beef if you can avoid it. It will change the texture and overall flavor of the dish but if it's what you have - it certainly won't be a bad choice. That being said, ground turkey or cut pieces of chicken could also work if you are not using beef.
Vegetarian - If you want to have a similar dish but vegetarian - I would replace the beef with eggplant. Instead of cutting the eggplant in small diced pieces, I would simply cut into chunks and pan sauté until caramelized. You may need to do it in a few batches. 2 traditional large eggplants would be ideal. Continue with the dish as written.
Mixed Spices- Lebanese mixed spices are an essential pantry component but you can certainly use allspice in it's place if you don't have it on hand or even cinnamon.
Gluten Free - This dish is naturally gluten free, if you plan to keep it gluten free, I would avoid the vermicelli noodles in the rice and use a rice that works for your diet.
Equipment
This is a simple one pan meal - I love using my large, deep 4.5 quart sauté pan from Caraway (click to get 10% off). You want something that is large enough to hold liquid and all your components. If you don't have a wide deep sauté pan - a large pot would be ideal. Here are a few options that would also work well:
Storage
This dish is great as leftovers simply heated in the microwave or stove top. Store in fridge for 5 days. You can also freeze this. Allow dish to cool completely then package in freezer safe containers. When you want to enjoy, remove from freezer and place in fridge to defrost. Freezing is best for 3-4 months. You can even place rice then stew mixture and freeze together.
Top tip
This dish is VERY versatile! Truly, you can make it your own with ingredients that work best for you and your family. I know that whatever variations you make will be delicious. Do share any changes you make in comments below which helps other readers know what works.
As always, I love seeing your creations! This is a perfect salad or side dish to serve all year long.
I hope you enjoy this Lebanese Stew with Peas and Rice (bazella w riz) as much my family does! If you make Lebanese Stew with Peas and Rice (bazella w riz), please let me know by leaving a rating and review below!
As always, I love seeing your creations. Please leave a review or share your dish with me on social media #cosetteskitchen which lets me know what is working for you! You can find me on Facebook, Instagram, Twitter , Tiktok and Pinterest. For more delicious recipes to your inbox, sign up for my newsletter!
xoxo,
Cosette
Other Recipes You May Like:
Lebanese Spinach and Beef Stew
Lebanese Baby Stuffed Eggplant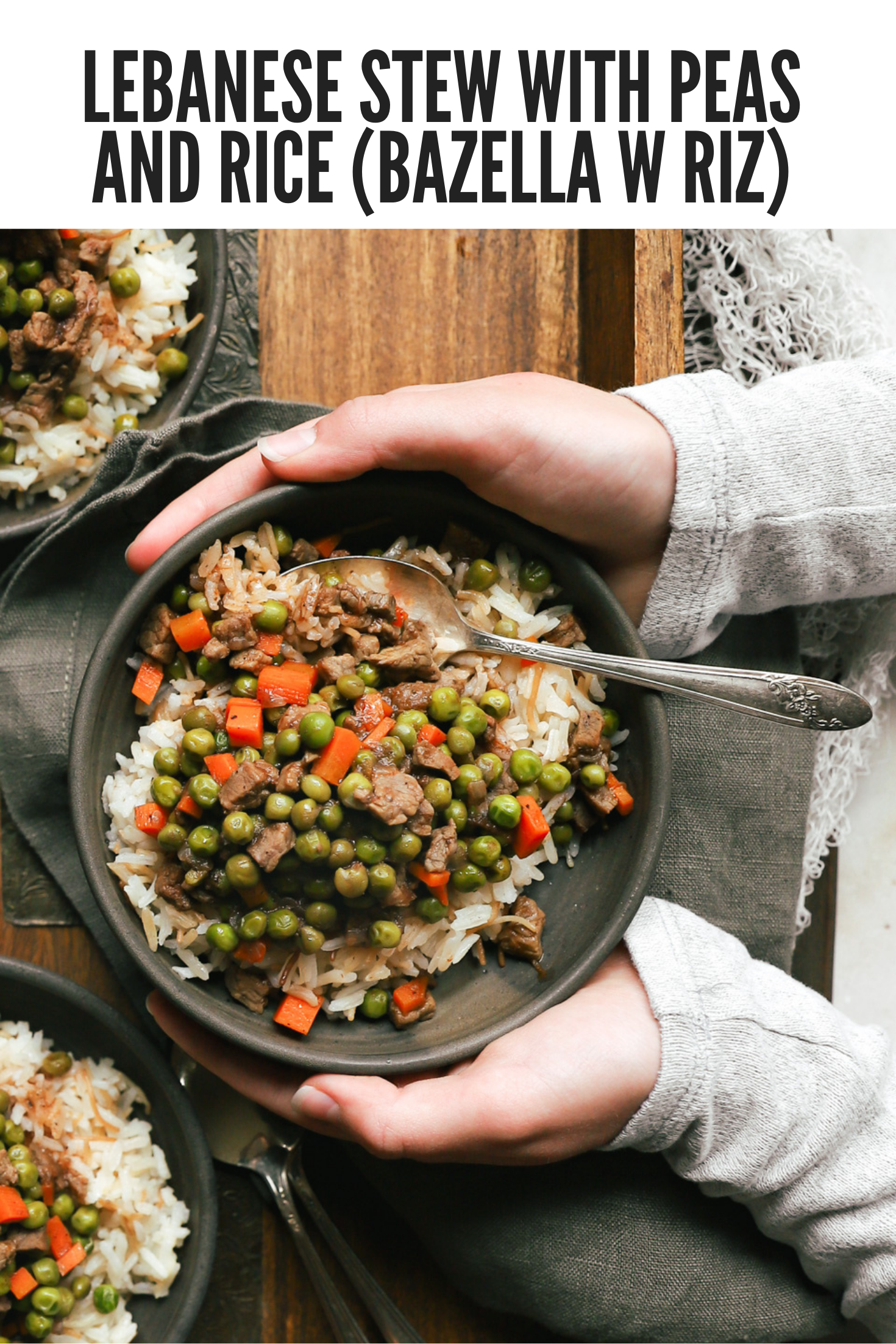 Print
Lebanese Stew with Peas and Rice (bazella w riz)
Author:

Cosette's Kitchen

Prep Time:

15 minutes

Cook Time:

1 hour

Total Time:

1 hour 15 minutes

Yield:

8

servings

1

x

Category:

Stew

Method:

Stovetop

Cuisine:

Lebanese
---
Description
A hearty family favorite meal that is packed with vegetables and beef. Serve with rice to make a complete meal.
---
3

large carrots - about

13oz

, peeled and diced

2

medium onions, diced

1.5

pounds

petite sirloin (or similar), diced into ¼" cubes

3 tablespoons

olive oil - or any choice oil

4

cups

beef/chicken/vegetable stock or water

1

additional cup of water

2

pounds

frozen peas

3

oz

tomato paste (about 4 tablespoons or half a small can)

2 teaspoons

mixed spice (

7

spice, allspice or cinnamon)

2 teaspoons

black pepper

2

-

3

teaspoons kosher salt, adjust to taste, cut in half if using table salt

1

recipe for Vermicelli Rice
---
Instructions
Begin by preparing your beef, onions and carrots.
Onions and carrots should be diced into small cubes and beef in the same manner. The smaller the beef cubes the quicker they will cook and become tender. 
**Pro tip: pop your beef into the freezer an hour before cutting and it makes slicing much easier
Once your onion, carrots and beef are prepared, heat your oil in a large sauté pan/skillet that has tall sides on medium-high heat. Add your onions and allow to cook for 3-4 minutes until they begin to soften slightly and turn translucent.
Add your diced beef to the oil + onion mixture and begin to brown. Continue cooking on high heat for 5- 10 minutes until fully browned.
Next, add in 1 cup of broth/water to the skillet and continue to cook on high for about 10 minutes or until liquid mostly evaporates.
Continue this with 3 more cups of broth - add broth, allow to evaporate then add next cup.
On the last cup of broth, add your carrots (if using fresh) and allow to cook for the 10 minutes.
Finally, add in your spices, tomato paste, peas and a final cup of water or broth and allow to come to a boil.
Once combined and boiling, lower heat and cover for 25 minutes. You will notice the peas change from a bright green to a dull green.
Adjust seasonings as needed and serve with rice and enjoy! 
---
Notes
As always be sure to taste for salt - kosher salt is less salty than table salt and I always recommend cutting in half if using table salt.
If using a frozen carrot/pea mix, be sure your peas are more plentiful and simply add the bagged mix when adding peas in recipe (omit carrot step)
Adjust seasonings to your preference. If you can't locate mixed spice or 7 spice, allspice is the next best replacement.
Keywords: bazella w riz, stew peas and rice, bazella w riz recipe, lebanese stew recipe, bazella w riz lebanese recipe, lebanese beef stew, lebanese pea stew rice, pea carrot stew, peas and carrot stew, lebanese stew recipes,