A bread easy for anyone to make
More than anything I love a warm slice of bread with butter and flake salt, how about you?? Something about that simple pleasure of bread and butter is nostalgic, maybe reminiscent of our childhood or just simpler times.
During our extended time at home, I find myself cooking and baking a lot more than normal, which is A LOT! One of the things that goes the quickest around here is a loaf of bread. Going to the store daily is out of the question and I know many folks have had a hard time finding yeast. So I bring you a simple, no yeast bread that will satisfy that craving and is versatile enough to create a plethora of options.
No Yeast
So how does this bread work with no yeast? It is a basic quick bread so it bakes and rises more like a cake, where it rises during the bake time vs rising pre-bake. The reaction for rise comes from mixing baking soda with an acid, in this case we are using yogurt. That chemical reaction gives the bread it's rise, also sometimes known as soda bread. Pretty cool, right?
Ingredients
Simple breads require simple ingredients. The idea behind this loaf is that almost anyone can make it with pantry staples. Not all of us have yeast on hand regularly so this is a great option to create a tender loaf of bread.
All purpose Flour - it's best to use all-purpose flour in this recipe, however, you are certainly able to swap out half of it with some whole wheat flour. Replacing all of it will create a much too dense bread.
Salt - I always use kosher salt in my kitchen in most applications. In this case, using 2 teaspoons. Check notes for subbing table salt.
Honey - I like the hint of honey in this loaf but replacing it with brown sugar is great option if you don't have honey on hand.
Baking Soda - baking soda and baking powder are NOT interchangeable. You do need baking soda in this recipe as that is what reacts with the yogurt.
Baking powder - a hint of baking powder is also added to include an extra rise in the bread.
Egg - since we are trying to achieve a tender bread, the egg gives a nice enhancement. You can always sub a flax egg, see notes.
Yogurt - I'm convinced that the reason this bread is as delicious as it is, is because of the yogurt. It creates such a nice flavor and tenderness to the bread. If you don't have yogurt, you can substitute buttermilk or sour cream, or check notes to see how to make your own soured buttermilk at home.
Butter - Since this is more like making a cake rather than traditional yeast bread or even scones. We're going to melt our butter to incorporate. You can sub a neutral oil in it's place if you'd like.
Seeds - The topping is absolutely optional! I like a seedy bread so I sprinkled some Everything But the Bagel Seasoning on top before baking. Other options include sesame seeds, poppy seeds, caraway seeds or even pepitas and flake salt.
The Process
The beauty of this bread is it doesn't involve any special equipment! One bowl, a spatula and a loaf pan. No heavy mixer, no waiting to get your hands on some fresh bread.
In a large bowl, combine your wet ingredients and blend until combined.
Next add your dry ingredients and fold gently with a spatula until a shaggy dough forms.
Pour into your prepared loaf pan and bake!!!
Once the bread has cooled, slice into nice thick slices and enjoy with butter or a delicious sandwich. The bread holds well wrapped in beeswax or in a ziplock bag. Although if not eaten quickly, storing in a bag will create moisture. You can keep in fridge to help slow the moisture. Bread can also be wrapped and frozen whole or in slices. When ready to enjoy, remove slice or whole bread and allow to thaw in fridge, or take slice and toast immediately.
As always, I love seeing your creations. Please leave a review or share your dish with me on social media which lets me know what is working for you! You can find me on Facebook, Instagram, Twitter and Pinterest. For more delicious recipes to your inbox, sign up for my newsletter!
xoxo,
Cosette
Print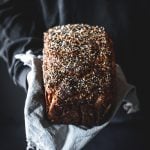 ---
Description
This delicious, simple homemade bread is perfect for toast or sandwiches. No yeast required and instant results!
Recipe adapted from: The Kitchn
---
¼

cup

honey - warmed if not a runny consistency

1

egg

2

cups

yogurt - or buttermilk

2 tablespoons

melted butter

3

cups

all-purpose flour

½ teaspoon

baking powder

2 teaspoons

baking soda

2 teaspoons

kosher salt

2

-

3

tablespoons Everything But the Bagel Seasoning - or other seeds (optional)
---
Instructions
Preheat your oven to 350 degrees.
Prepare a 9x5 loaf pan by spraying cooking spray and then lining with a sheet of parchment paper, allowing the sides to spill over each side. The parchment isn't necessary if you spray, but I like that it gives a way to easily remove the bread to cool once baked.
In a large bowl, combine your wet ingredients: honey, egg, yogurt butter. Using a spatula, mix until combined.
Next add in your dry ingredients: flour, baking powder, baking soda and salt.
Your dough should just come together and appear shaggy.
Pour into your prepared loaf pan and smooth gently with your spatula or knife.
Sprinkle with any of your toppings: seeds, salt, etc.
Bake in preheated oven on center rack for 50-60 minutes. Just like a cake, you'll want to check the inside with a tester to make sure it's fully cooked. Insert into center of bread and make sure it comes out clean.
Once baked, remove from oven and allow to cool for 5 minutes. Then using sides of parchment, life and allow to cool fully on wire rack.
Enjoy after it has cooled for at least 30 minutes.
---
Notes
You can substitute brown sugar for honey
You can use a flax egg in place of a traditional egg: 1 tablespoon ground flax seed + 3 tablespoons of water - let sit for 10 minutes
If you don't have yogurt or buttermilk, create your own. Add ¼ cup white vinegar or lemon juice and 1 ¾ cup milk (whole milk is preferred but 2% would work) allow to sit for 5 minutes to "sour" use in place of yogurt or traditional buttermilk
Any neutral oil can be substituted for melted butter
You can absolutely use bread flour 1:1 in this recipe. If wanting to add wheat flour, sub only 1 or 1 ½ cups and the rest should remain traditional flour. I have not tested any gluten free flours in this recipe.
Keywords: no yeast bread recipes, no yeast bread dough, no yeast bread, no yeast sandwich bread, sandwich bread, quick bread, soda bread, sandwich bread recipe, sandwich bread no bread maker, sandwich bread without yeast