Alright, alright, I'm definitely NOT a bread expert! But I do love to bake and making simple breads is easier than you think. This no knead bread is exactly how it sounds, no kneading, little work and BIG results.
Why No Knead Bread
Why not? First off, it's simple to make. Requires one bowl and can be prepared the night before. Making artisan bread takes time, skill and a bit of focus. I don't always have time for that, but one bowl + a few simple ingredients and I can have some incredible bread the next morning.
The Process
The ingredients and process are very simple and it will make the inexperienced baker look like a PRO!!!
all-purpose flour
yeast
salt
water
mix-ins (I'm sharing a chocolate cacao nib and cranberry bread today as well as a roasted garlic)
This is a bread you should plan to make, meaning, prep the dough the night before and bake up the next morning. Or prep in the morning and bake later that evening. It takes time to rest and rise before baking, longer than traditional dough like pizza dough. This allows the yeast to work it's magic and create that artisan, bakery style bread that we know and love. Another essential tool is a dutch oven. You can use your fancy Le Creuset or something as simple as a Lodge cast dutch oven. I really love enamel ones for less upkeep, this Lodge one is affordable and gives you that nice coating. Since we will be baking these at a high temperature, we need an ovenproof baking vessel that can withstand heat to at least 450 degrees so check specifications before purchasing.
What if I don't have...
No dutch oven? Try using a heavy duty pot (be sure it can withstand 450 degrees) and cover with a heavy duty sheet pan as the lid. Simple and effective way to makeshift a dutch oven.
No parchment paper? You can absolutely pop the dough directly into the hot dutch oven or vessel you're using. It's often just easier to handle with the parchment paper. Be sure to flour underneath the dough well before transferring so it doesn't stick to the counter. It should roll freely as you shape.
Help...what kind of yeast??
There are two types of yeast: active dry yeast and instant yeast
Active dry yeast and instant yeast both help leaven bread and provide an airy, light texture, but they do so in slightly different ways and there's one major difference in how you use them: Active dry yeast needs to be dissolved in water before using, while instant yeast can be mixed right into dry ingredients.
For this particular recipe, either yeast will work, so whatever you have on hand is fine. Just be sure your yeast isn't old, if it expired it will not activate. I store my yeast in the fridge or freezer to stay as fresh as possible.
Mix-ins
I love just a plain crusty loaf, don't get me wrong. And it's absolutely so easy! But at the same time, I adore jazzing up my bread. It makes it that more special. Here is a list of some combinations that are favorites of mine.
rosemary and scallions
olives + za'atar (3 tablespoon za'atar + ¼ cup diced olives)
jalapeno & cheddar
roasted garlic
cinnamon and raisins
cacao nibs + cranberries (chocolate bread - see below)
or any combination you think would be tasty!
A slice of this in the morning with a smear of butter + flake salt is all I'll ever need in life, especially quarantine life. Find your favorite combination and make your creations today. I've linked my Chocolate Cacao Nib + Cranberry recipe below.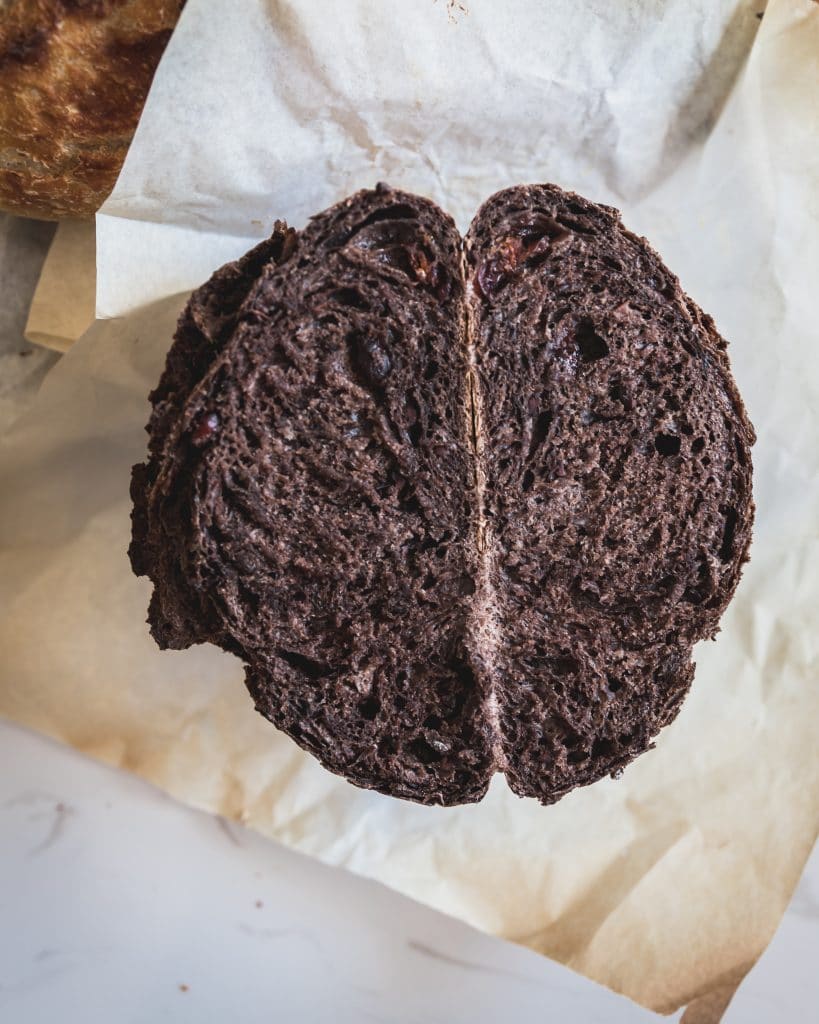 As always, I love seeing your creations. Please leave a review or share your dish with me on social media which lets me know what is working for you! You can find me on Facebook, Instagram, Twitter and Pinterest. For more delicious recipes to your inbox, sign up for my newsletter!
xoxo,
Cosette
For more bread recipes and sourdough details, check out my dear friend Leanne at Lion's Bread.
Other recipes you may like:
Almond Orange Semolina Muffins
Molasses Raisin Bran Muffins
Ka'ak el Eid
Olive Oil Chocolate Chip Cookies
Print
No Knead Bread
Author:

Cosette's Kitchen

Prep Time:

5 minutes

Cook Time:

45 minutes

Total Time:

50 minutes

Yield:

1

loaf

1

x

Category:

bread

Method:

baking

Cuisine:

french
---
Description
You can choose any add-ins you'd like to this bread. To create a chocolate version, you'll add ¼ cup cocoa powder to your mixture.
---
3

cups

all-purpose flour

2 tsp

kosher salt

½ tsp

yeast - both instant and dry active will work

1 ½

cups

room temperature water
**for this chocolate version add ¼ cup cocoa powder
add-ins - ½ cup of any of your favorite mix-ins
I added ¼ cup dried cranberries and ¼ cup cacao nibs
---
Instructions
In a large bowl, add all your ingredients in and mix slowly with a spatula.
You'll want all your flour to be incorporated but don't work too hard, remember, it's no knead. Just fold over enough to incorporate everything.
Next, cover bowl with plastic wrap and set aside on your counter for 12 hours (overnight is great)
Once your dough has sat for 12 hours, preheat your oven to 450 degrees.
Place your EMPTY dutch oven and lid in the oven and heat for 30 minutes. Meanwhile, prep your bread.
Flour a clean work surface and gently dump your dough. It will be sticky, so gently allow to settle into the flour and flour your hands as well.
Gently flour the top and begin rounding the dough into a ball. Be gentle. No knead!! Just gently ball and then place on a sheet of parchment paper.
Set aside and drape the plastic wrap over top while your oven heats up.
Once 30 minutes has gone by, remove your hot dutch oven carefully and remove lid.
Remove the plastic wrap from the top of your dough and make a cut on the top of your dough, this will allow steam to escape.
With the 2 sides of the parchment, lift and pop into the hot dutch oven.
Cover and bake at 450 for 30 minutes.
After 30 minutes, remove lid and bake for another 10-15 until the top crust is nice and golden brown.
Remove from oven and let cool! The hardest part, let cool!!! You don't want to cut into it when it's piping hot or the bread will be doughy and gummy. Let it cool and enjoy!!!!
---
Notes
All-purpose flour is preferred- you can certainly use bread flour. If you want to use wheat, I'd only do half, otherwise you'll have a dense bread.
You do not have to add any mix-ins
Cheese isn't my favorite mix-in as it gets a bit lost in the bread. You can always add to the top for the last 15 minutes and let it melt to have a cheesy top
Keywords: no knead bread in dutch oven, no knead bread artisan, artisan no knead bread, chocolate bread, artisan bread, overnight no knead bread, overnight bread, bread, simple bread, overnight bread dutch oven, overnight artisan bread, crusty bread, crusty bread dutch oven, crusty bread artisan bakery