If you've ever sat down to a Lebanese style breakfast one thing you'll notice is the lack of sweet dishes. A typical Arab style breakfast is heavy on savory and light on the sweets. This simple egg dish is perfect for breakfast or even dinner. Batata Wa Bayd which translates to Potatoes with Eggs is a common dish you'll find on many tables. Part omelet, part hash, part torte and simply full of flavor.
Ingredients for Lebanese Potatoes and Eggs
Ingredients for this dish couldn't be simpler, it's really the spices that give it the flavor and dimension that is sometimes missing in traditional scrambled eggs.
Potatoes - You can't have a potato dish without potatoes! I love a tender red or golden potato but for this dish, I go to a straight russet potato that is peeled and diced into small cubes. Usually about ½". I find they have a little more stability when cooking for a long time and hold their shape better than a softer potato.

Eggs - It wouldn't be an egg dish without them! I am using 4 in this recipe but you can certainly add a few more if you want to add a bit more protein to the dish.

Onions - Onions are really crucial to making this dish shine. Taking the time to allow the onions to caramelize slightly and become almost sweet gives such a great balance of flavor with the savory spices.

Spices - Spice is my life and really can make a dish stand out and give a whole different dimension than something similar. We're going to be using: allspice or mixed/7 spice, coriander, salt and black pepper. All very common spices in Arab cooking. It's really that allspice or mixed/7 spice that give the dish such a warmth.

Parsley + Tomatoes - As with many dishes, chopped parsley is added for color but also flavor. You'll find chopped parsley in our traditional potato salad as well. I like to add some tomatoes for a bit of freshness - a lovely side salad would work great too.
How to Make Lebanese Potato and Eggs
I find dishes like this are PERFECT for young aspiring chefs. Just a handful of ingredients and some time to learn how to gauge using the stove and chopping skills.
We'll begin by dicing our onion and potatoes. You can check out this short little video on how I cube my potatoes so we have uniform shape and size. We want to keep the potatoes the same size to allow them to cook evenly. Next, you want to heat oil in a nonstick pan and add your chopped onions and allow to cook over a medium heat for about 10 minutes. They will begin to slightly caramelize and will continue to cook through with the potatoes. Once your onions become slightly translucent, a pinch of salt and next add your diced potatoes. Continue to cook for another 15 minutes stirring every 3-4 minutes to ensure browning on all sides. I like to add a touch more oil when browning the potatoes as well.
While your onions and potatoes are cooking, prepare your eggs. In a small bowl add 4 large eggs and your spices: allspice or 7/mixed spice, coriander, salt and pepper. Whisk until fully combined. Once your potatoes and onions have browned, add your egg mixture to the pan and begin to slowly work through until eggs are just set, about 2 minutes.
Remove from heat and top with chopped parsley, tomato and enjoy with pita bread - YES, you want to scoop and make little bites with pita right from the pan, I promise you will LOVE it!
Frequently Asked Questions
My potatoes are too hard - Allowing your potatoes to cook through is important, slow and low is the way to go! You also want to make sure you have small ½" cubes so they cook quickly in a skillet. Any larger and they will need additional cook time.

My potatoes are too soft - This is generally due to the type of potato uses, as I mentioned above, a russet potato is great for this dish. If you are using a red or golden potato, I'd increase the size to about 1" cubed.

Can I cook my eggs differently? - You can absolutely allow your eggs to nestle in your potato mixture and allow for a dippy/sunny side up egg if you prefer. In that case, I would add your spices to the potato mixture while cooking just after the onions.

Spices - Feel free to experiment with spices if you don't have these on hand. Even a hint of cinnamon + black pepper and salt will absolutely elevate your dish! Cinnamon is used in many savory dishes throughout Lebanon.

My onions burned- Definitely check your burner temperature, you want your onions to cook and slightly brown but if your burner is too hot - they will burn. Keep watch and if you notice them turning too brown before the time allotted, lower your heat slightly.
As always, I love seeing your creations! This is a perfect breakfast dish and would be amazing to prepare for mom on Mother's Day. Serve with some labneh, fattoush, fasolia and you will have quite the spread.
I hope you enjoy these Batata Wa Bayd as much my family does – and feel free to adjust and make your own!
If you make Batata Wa Bayd, please let me know by leaving a rating and review below!
As always, I love seeing your creations. Please leave a review or share your dish with me on social media #cosetteskitchen which lets me know what is working for you! You can find me on Facebook, Instagram, Twitter , Tiktok and Pinterest. For more delicious recipes to your inbox, sign up for my newsletter! Don't forget to check out the upcoming cooking classes happening this month as well, would love to have you there.
xoxo,
Cosette
Other Dishes You May Enjoy
Print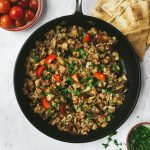 Lebanese Potato and Eggs (Batata Wa Bayd)
Author:

Cosette's Kitchen

Prep Time:

10 minutes

Cook Time:

20 minutes

Total Time:

30 minutes

Yield:

4

servings

1

x

Category:

Breakfast

Method:

Stovetop

Cuisine:

Lebanese
---
Description
A simple potato and egg hash commonly eaten in Arab homes for breakfast.
---
1

large onion, diced

3 tablespoons

olive oil or grapeseed oil, divided

1

pound

russet potato, cleaned + peeled, cut into ½" cubes

1.5 teaspoons

kosher salt, divided (

¾ teaspoon

if using table salt)

4

large eggs

1 teaspoons

allspice or

7

spice/mixed spice

½ teaspoon

black pepper
sprinkle of fresh parsley, chopped
tomatoes for garnish
---
Instructions
Heat 2 tablespoons olive or grapeseed oil to a 10" nonstick pan on medium-low heat.
Add your diced onion and allow to cook for about 10 minutes until they just begin to turn translucent.
Add your ½" diced potato pieces and an additional tablespoon of olive oil to your onion mixture and continue cooking for about 15 minutes on medium-low, stirring and turning every 3-4 minutes. Add ½ teaspoon kosher salt.
In a small bowl, crack your eggs and add your spices: additional teaspoon of kosher salt, 1 teaspoon allspice or 7/mixed spice and ½ teaspoon black pepper. Whisk until combined.
Once your potatoes are browned and softened, add your egg mixture to the pan and slowly mix for 2-3 minutes until just set.
Remove from heat, top with fresh parsley and tomato. Enjoy with pita bread straight from the pan!
---
Keywords: batata wa bayd, batata wa bayd recipe, batata recipe, eggs and potatoes, skillet eggs and potatoes, potato and egg breakfast, potato hash, potato egg skillet, lebanese potato and eggs