Breakfast is always a struggle at our house: cereal, bagels and oatmeal are always on repeat but when I want to be that extra special amazing mom - I make scones!!! My kids are scone connoisseurs now, they know what to expect in texture, height and taste. Most of my scone recipes use the same basic recipe with different additions. A fall favorite and served EVERY Thanksgiving morning are these Cranberry Orange Scones. As we approach spring, these Lemon Poppy Scones are probably my favorite. The bright lemony flavor is just so good and pairs perfectly with for any breakfast or brunch.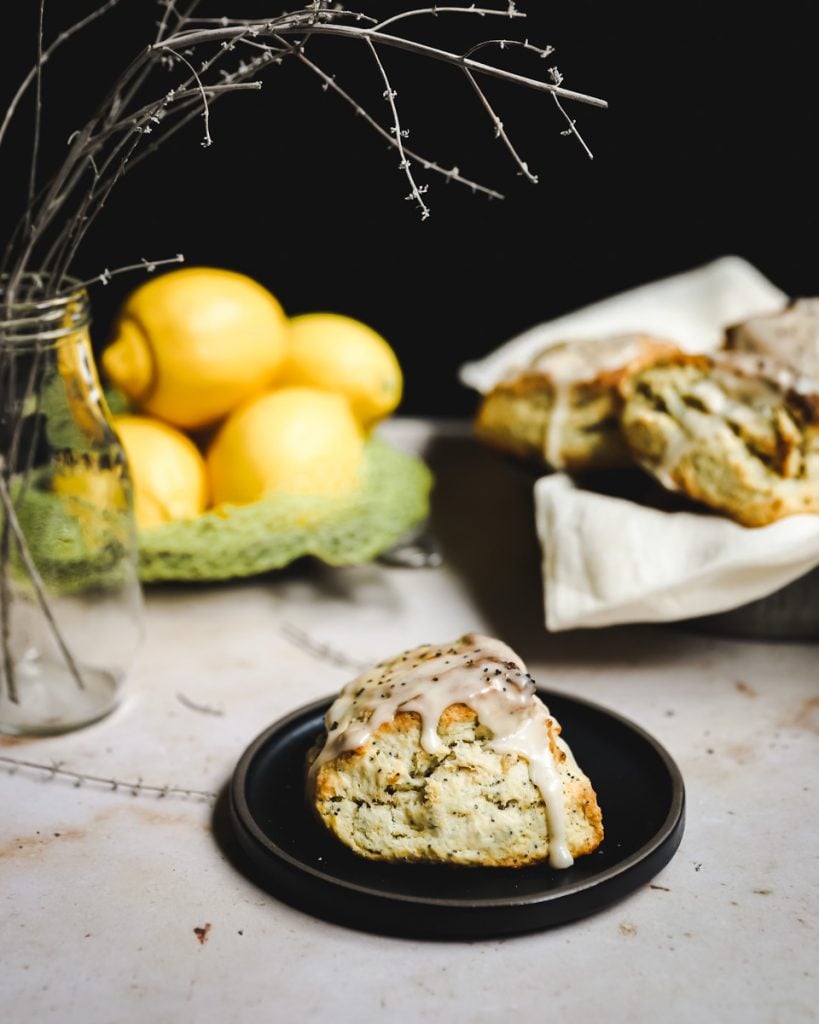 History of Scones
When I think of scones, my first instinct is high tea. Probably my first time enjoying a scone was in Victoria, BC for exactly that, high tea. British Columbia has a largely British influence and many of those traditions are in play. High Tea usually includes some type of scone, mini sandwiches, jams and butter. I mean, you really can't go wrong!
It is believed that historically scones were round and flat, usually as large as a medium-sized plate. It was made and baked on a griddle (or girdle, in Scots), then cut into triangular sections for serving. Today, many would call the large round cake a bannock. In Scotland, the words are often used interchangeably.[

When baking powder became available to the masses, scones began to be the oven-baked, well-leavened items we know today.[13] Modern scones are widely available in British bakeries, grocery stores, and supermarkets.

https://en.wikipedia.org/wiki/Scone
After having my first true taste of scones, I knew I wanted to replicate them myself. One of my favorite basic recipes is from King Arthur Flour - most of my recipes are adapted off their basic cream scone recipe.
Ingredients
I loved the idea of a cream scone and for a while was solely using cream to make all my scones - sweet and savory. But I realized there was something missing - not detrimental but adding a bit of butter to the scones (substantially less than a more traditional butter scone) made a huge difference. So my recipe combines the lovely heavy cream as well as butter for the ultimate scone. Here is a little more information about the difference between butter and cream scones.
All purpose flour - Like with most baked goods, starting off with flour is crucial. Scones are simple and don't require any special flour - in fact, you want to stick with a light flour vs something heartier like whole wheat or spelt. All-purpose flour gives us the light and airy texture.

Butter - As I mentioned above, the addition of butter really gives these scones a little something extra. I love the combination of butter and cream to give a bit of that scraggly, crackly texture but the ease of using cream.

Sugar - These are a sweet scone, if we were making savory scones, the sugar would be cut down. The lovely thing about scones is they are not overly sweet. You could even adjust the sugar to ¼ cup and be fine.

Baking Powder - Baking powder is our leavening agent in this recipe. Be sure your baking powder is fresh - after time it will lose it's effectiveness. Baking powder and baking soda CANNOT be interchanged, pickup a fresh can if you need to make these scones.

Salt - Every sweet recipe needs a hint of salt, if you use salted butter, you can omit the salt.

Lemon Zest - When we think of lemons - the flavor is actually in the skin. All the zest from lemons, oranges, grapefruits are what give us those bold flavors. Oils are released and give our baked goods a lemony delight.

Poppy Seeds - Can't have lemon poppy seed scones without poppy seeds!!! You can certainly omit if you want to just make plain lemon scones.

Heavy Whipping Cream - Of course, to make cream scones, we need cream. Heavy cream comes in different fat percentages - you want to choose one that is at least 36% fat content

The Glaze - To get that lovely glaze on top which adds a hint of extra tangy lemon and sweetness we're going to use powdered sugar and lemon juice. For an extra kick - add some vanilla paste to get those beautiful vanilla specks.
Making the Scones
Making scones is not like making a cake. There's the good and the bad. The good is is doesn't require any special equipment, it's a one bowl mix and can be enjoyed immediately. The bad is that you don't want to overwork your scones or they will be tough - the key is undermixing.
Making scones is quite simple - really a combination of ingredients in a bowl, cut and bake! But make sure to work them dough just enough and lightly so they don't become tough is key.
Begin by adding your dry ingredients - weighing your ingredients is also helpful to ensure the fluffiest scones. Next, add your butter pieces and lemon zest. Work the butter pieces and zest into the flour mixture - aiming to get little pea size granules of butter throughout. Working the lemon zest in also helps to enhance the lemon flavor throughout the scone, releasing the oils. Next add your poppy seeds, give a mix and finally your heavy cream. Your heavy cream is your binder - we start with 1 ⅓ cup and only add more as needed. The thing with scones it that your dough will slowly come together and become cohesive but you will have some dry spots that will work themselves together as you form your scones. Here is a link to a combo pastry cutter if you prefer not to use your hands and a bench scraper that works perfectly for cutting scones. They are two great tools to have on hand for baking!
Once you've added enough heavy cream and have a cohesive dough, we're going to form into a large disc, cut in half then 2 disc from there. These discs will get slightly flatted and leave about 1" thickness. From there, cut into 4 even quarters for each for a total of 8 scones. One thing I love about making scones is at this point, you can actually pop them into the freezer, kind of like cookie dough. Freeze solid on a sheet pan then pop into a ziplock bag and bake whenever you want a fresh scone.
If you're not freezing scones and want to enjoy right away, lay your scones on a sheet pan lined with parchment or silpat mat and bake for 18-20 minutes. Once they are cool, mix your powdered sugar and lemon juice to create a delicious sweet and tangy glaze.
Troubleshooting
Here are some common things to consider when making scones to ensure you get that fluffy height every time!!!
My scones didn't get tall and fluffy -
This can happen for a few different reasons. Weighing your ingredients is a great way to ensure you don't have too much flour in your mix. If you don't have a kitchen scale - the best way to measure flour is to spoon it into a measuring cup then slightly level off. This ensures you don't have too much which can weigh your scones down.

Another possibility is that your baking powder has expired - yes it expires and once it does, it will no longer have the effectiveness to allow baked goods to rise. So if you haven't used your baking powder can in a while, grab a new one!

My scones are dense -
Remember the part about NOT overworking your dough? This is why - scones are delicate and we want to ensure they have beautiful layers. Ensuring that you don't knead and work your dough to hard is key. Just enough to get all the flour bits to stick and your scones will have that light airy bounce.

My tops burned -
We bake scones at a higher temperature to get that immediate rise. If you notice the tops are browning too quickly, adjust your oven rack closer to the middle to ensure they stay light and don't burn.

Scones are dry -
Scones are best baked the SAME DAY you plan to eat them. If you're prepping for a brunch - make them and freeze them just after cutting them into triangles. Then bake them frozen the next day and glaze. It's actually said it's better to freeze them ahead of time which helps to relax the gluten and get flakier scones. So if you have the time, I'd say freeze ALL the scones before baking.
I hope you enjoy these scones as much my family does - and feel free to adjust and make your own! Try them with orange or grapefruit - you'll be thrilled with the fun flavorings you can come up with.
If you make these Lemon Poppy Seed Scones, please let me know by leaving a rating and review below!
As always, I love seeing your creations. Please leave a review or share your dish with me on social media #cosetteskitchen which lets me know what is working for you! You can find me on Facebook, Instagram, Twitter , Tiktok and Pinterest. For more delicious recipes to your inbox, sign up for my newsletter! Don't forget to check out the upcoming cooking classes happening this month as well, would love to have you there.
xoxo,
Cosette
Other Recipes You May Like:
Cranberry Orange Scones
Pistachio Bundt Cake with Labneh Glaze
Ma'amoul Cookies
Ka'ak Cookies
Print
Lemon Poppy Scones
Author:

Cosette's Kitchen

Prep Time:

10 minutes

Cook Time:

20 minutes

Total Time:

30 minutes

Yield:

8

scones

1

x

Category:

Scones

Method:

Baking

Cuisine:

Baked Goods
---
Description
Delicious, delicate scones perfect for any holiday or weekend brunch!
---
3 cups

all purpose flour - 400 grams

4 tablespoons

unsalted butter, cut into pieces - 56 grams

⅓ cup

granulated sugar - 70 grams

1 tablespoon

Clabber Girl Double Acting Baking Powder

½ teaspoon

kosher salt*
Zest of

2

large lemons

3 tablespoons

Spice Islands Poppy Seeds + extra for topping

1 ⅓ cups

heavy cream (more as needed by 1 tablespoon)

2 teaspoons

vanilla extract

1 cup

powdered sugar

1

-

2

teaspoons lemon juice

vanilla paste (optional)
---
Instructions
Preheat oven to 425 degrees Fahrenheit and place rack in center of oven. Prepare a baking sheet with silpat or parchment paper. Set aside.

In a large bowl, add your flour, sugar, Clabber Girl Double Acting Baking Powder, salt and zest of 2 lemons.

With clean hands rub butter pieces into flour mixture until small crumbles form and ingredients are combined.

Add 3 tablespoons Spice Islands Poppy Seeds, mix.

Next, add your heavy cream and, beginning with 1 ⅓ cup and adding more by 1 tablespoon as needed combine dough with spatula. Add vanilla. Dough should just come together - some dry crumbles will remain.

Turn onto floured surface and form into a large disc, combining all the loose crumbles until fully formed and cohesive.

Divide in 2 and form those into 2 discs about 1" thick. Cut into 4s and place on prepared baking sheet, leaving 1.5 inches apart.*

Bake scones for 18-20 minutes until risen, golden brown.

Remove from oven and allow to cool completely before glazing.

Prepare the glaze by mixing 1 cup powdered sugar and 1-2 teaspoons of fresh lemon juice. Add more or less sugar/juice to achieve desired consistency. Add a hint of vanilla paste to get extra vanilla flavor and vanilla specks.

Once scones are cool, drizzle glaze on each scone and finally sprinkle additional Spice Islands Poppy Seeds on top.

Scones are best enjoyed the day of baking.
---
Notes
Pro tip - Make scones up to step 7 and freeze flat on baking sheet, then pop into freezer bag. When you're ready to enjoy fresh scones, remove from freezer bag and bake as directed.

If you'd like to swap out orange or grapefruit for lemon - they'd be delicious!
You can also add up to ¾ cup of an add-in such as: chocolate chunks, raisins, cranberries or fresh fruit to this recipe.
Keywords: easter, brunch, easter baking, scones recipe, cream scones, scones recipe easy, cream scones vs butter scones, cream scones recipe, lemon poppy scones, lemon poppy seed scones, lemon poppy scones recipe, lemon poppy seed scones with glaze, lemon poppy cream scones, lemon poppy seed scones king arthur, lemon and poppy seed scones