Making your own Caesar Salad Dressing at home is easier than you think - AND I'm showing you an eggless version using yogurt as the base for our dressing. It's unbelievably delicious, I promise you'll have it on repeat! Add in a mix of greens, salmon, homemade croutons and a bit of avocado for a perfect weeknight dinner.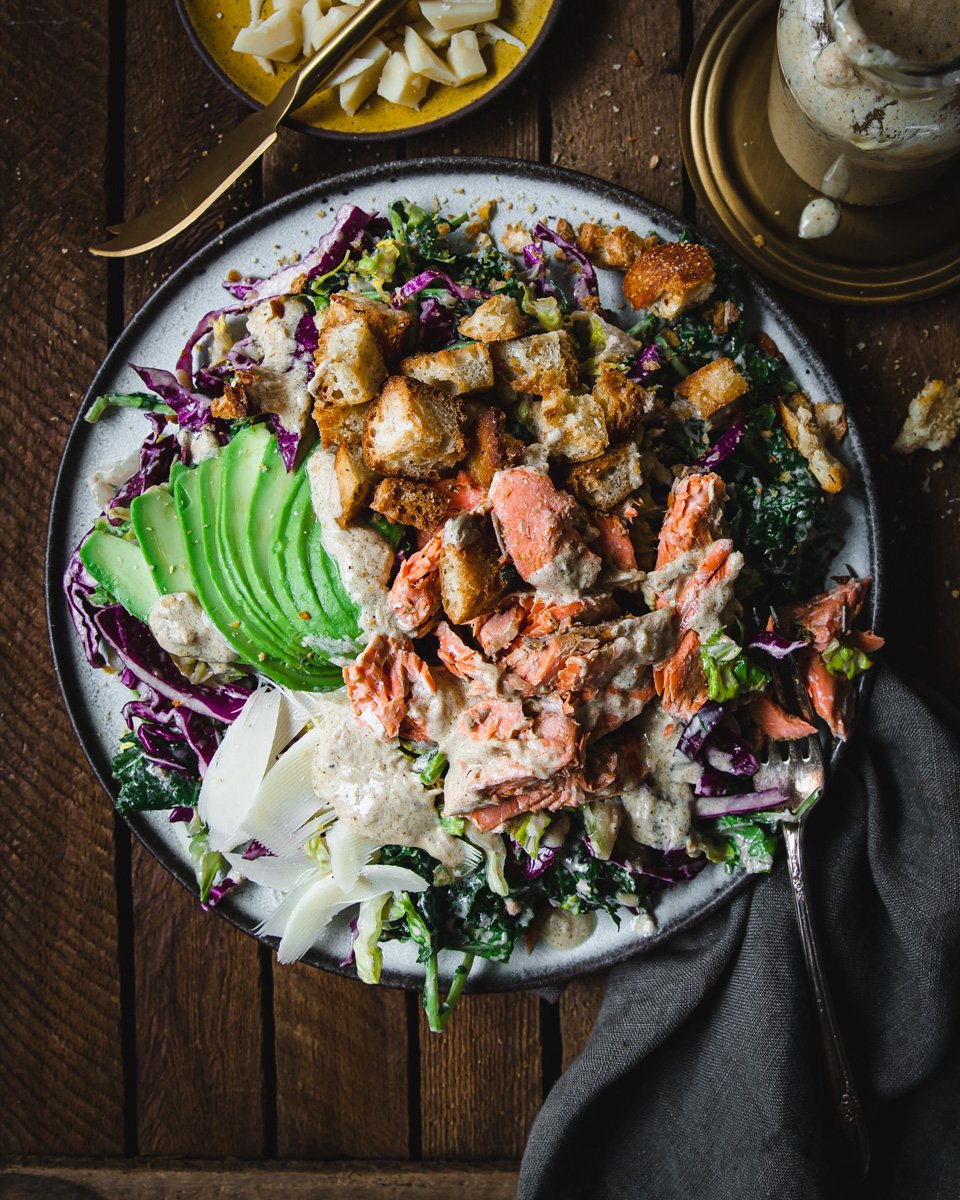 Yogurt Dressing
A typical Caesar dressing consists of lemon juice, olive oil, egg, Worcestershire sauce, anchovies, garlic, Dijon mustard, Parmesan cheese, and black pepper. The egg creates the creaminess and emulsifies when the oil is added. My daughter has an egg allergy so creating an eggless recipe that was flavorful but also easy to put together was on the to-do list.
This recipe uses a yogurt base which gives it some tanginess but also feels a bit lighter than a traditional Caesar dressing. All the same goodies are incorporated including: anchovies, olive oil, lemon juice, parmesan cheese, garlic, Worcestershire sauce, Dijon mustard, salt and pepper. The yogurt replaces much of the oil and creates a creamy dressing without the need to emulsify.
Salmon
I recently shared a whole salmon recipe which is so easy to throw together and yields quite a bit of leftover salmon. I love to pack the rest up and make a big Caesar salad the next day. You can absolutely choose to top with chicken, try this roasted chicken recipe or simply enjoy as is. My friend Ari at Well Seasoned Studio also has an incredibly easy weeknight salmon recipe if you're looking for a simply fillet to cook.
Jump to:
Ingredients for Salmon Caesar Salad with Yogurt Caesar Dressing
A few pantry staples bring this dressing and dish together. It's also wonderful to serve to a small dinner party, especially in the summer.
Dressing
Anchovies or anchovy paste - I know you are thinking you want to omit this from the dressing but PLEASE don't! I promise you I have made this for many people without telling them there are anchovies (who would have complained) and ZERO complaints! They had no idea - they really conceal themselves well in the dressing but provide great flavor. I am using anchovy fillets but you can also use paste in it's place. If you're close to a Trader Joe's they have tinned cans for about $1.50 - great pantry staple to have on hand.
Garlic - I don't skimp on garlic! 4 cloves - at least!
Greek Yogurt (or labneh) - This is the base to our recipe, choose a yogurt you really like. I have done it with simply plain yogurt (not Greek or labneh) and it works well too!
Olive Oil - A little bit of olive oil to thicken our dressing
Parmesan cheese - I am a sucker for freshly grated Parmesan!!!
Worcestershire sauce - Another big flavor booster in our dressing!
Lemon juice - Always fresh - just 1 lemon
Dijon mustard - Gives the dressing a little extra umpf.
Kosher Salt & Pepper - salt as needed to taste, the other flavors in the dressing are already quite salty so adjust accordingly.
Other Ingredients
Mixed Greens - I'm using a combination of romaine (traditional), purple cabbage, baby kale
Protein - I'm using salmon but you can certainly use chicken or tofu or simply enjoy as is.
Baguette - No Caesar is complete without fresh croutons!
Salmon - Find a fabulous salmon recipe here to cook and add in!
See recipe card for quantities.
Instructions for making Salmon Caesar Salad with Yogurt Caesar Dressing
Whiz in food processor or whisk - You can make this dressing 2 ways - toss everything into a small food processor or simply whisk by hand. I like to use the mortar to my mortar and pestle to smash my garlic and anchovies together to create a paste then incorporate the rest of my ingredients and whisk to combine.

Croutons - Once your dressing is prepared, you can prepare your croutons. Cut or tear apart small pieces of bread - it does not have to be fresh, it's actually better if it isn't. Place on a small sheet pan, add a little olive oil, parmesan cheese, salt and pepper and bake. Once ready - set aside while you assemble your salad.

Mixed Greens - For a large meal sized salad I like to mix about 3-4 cups of greens and toss in about ¼ cup of dressing, increase quantities accordingly. If you are using traditional or Tuscan kale you'll want to massage - add a touch of olive oil and massage the leaves then add your dressing. You can find out the full process on this kale salad recipe. Mix until fully combined.

Dress your salad - Top with your salmon, croutons, extra parmesan cheese and I love some avocado too! Drizzle with extra dressing and enjoy.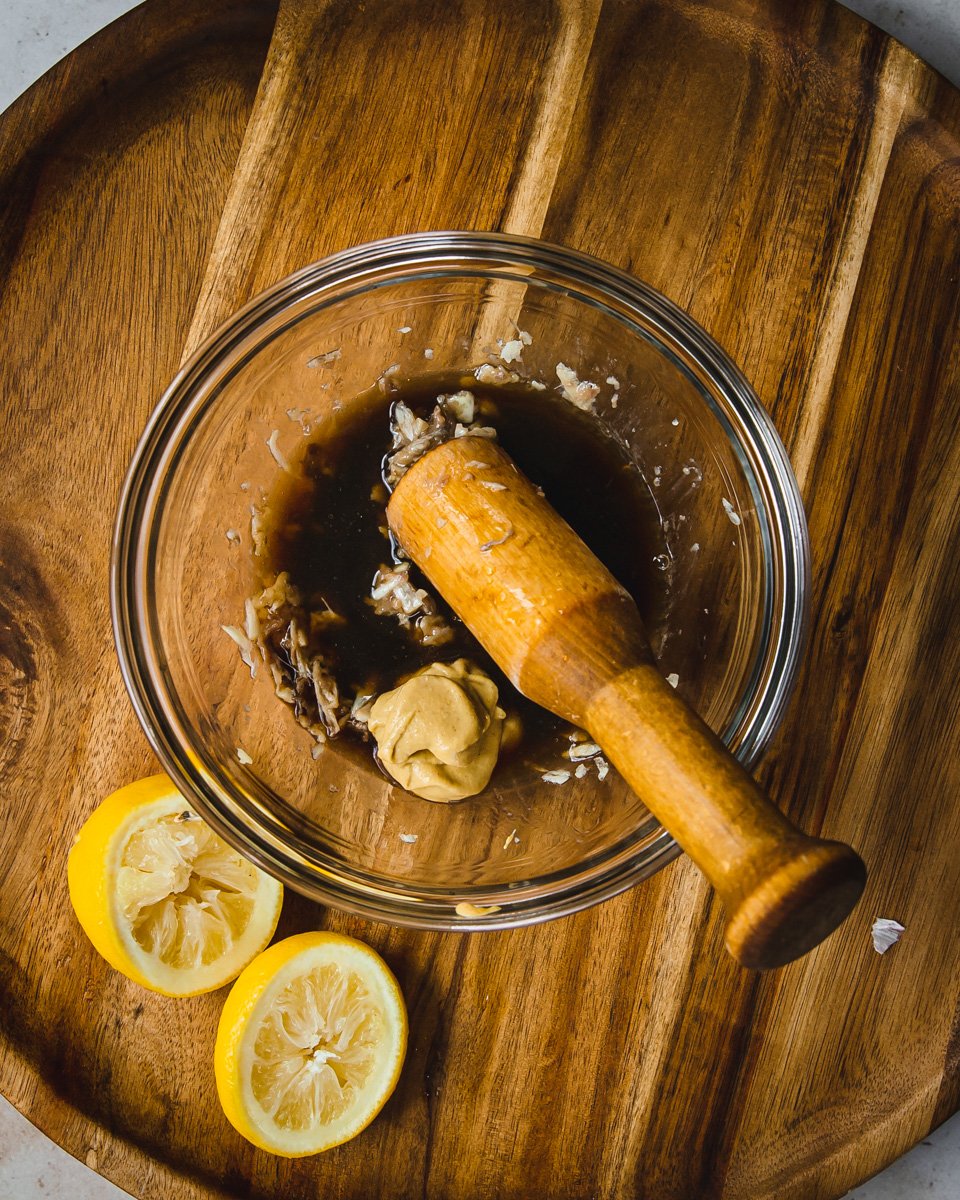 Substitutions
Substitutions are always an options, here are some that would work in this recipe.
Anchovies- If you can't find anchovies here are a few substitutions that would work in their place. You can also leave out and add another tablespoon of Worcestershire sauce.

Worcestershire sauce actually contains anchovies - you can simply add an additional tablespoon to your dressing as a substitute.

Shrimp paste can be found in Asian markets and would work as a substitute 1:1.
Anchovy paste can be used in place of fillets, ½ teaspoon for each fillet
Sardines can also be used in their place - half the amount as sardines are much larger

Yogurt - I have not tried making this with any alternative yogurts but if you have one that you love with a neutral flavor, it would be a great to use.
Vegetarian - If you are vegetarian, be sure to find a Worcestershire sauce that does not include anchovies and add an additional tablespoon as noted above in place of anchovies.
Greens - Traditional Caesar salad uses romaine lettuce. I love the variation of color and texture from a variety of greens. Feel free to use what you enjoy best. I tend to avoid soft spring greens for this salad - choose something heartier and firmer.
Croutons - Looking to go carb free? Try roasting some chickpeas.
How to Store
The salad is best enjoyed immediately and doesn't hold up well to refrigeration.
The dressing is good in the fridge for up to 3 days due to the anchovies - up to 7 if you are not using anchovies.
If you have extra anchovies - wrap a few together (4) in plastic wrap then pop into a Ziploc bag and freeze until next time you need them.
As always, I love seeing your creations. Please leave a review or share your dish with me on social media #cosetteskitchen, I love resharing your photos! You can find me on Facebook, Instagram, Twitter , Tiktok and Pinterest. For more delicious recipes to your inbox, sign up for my newsletter!
xoxo,
Cosette
Print
Salmon Caesar Salad with Yogurt Caesar Dressing
Author:

Cosette's Kitchen

Prep Time:

15 minutes

Total Time:

15 minutes

Yield:

4

servings

1

x

Category:

Salad

Method:

No cook

Cuisine:

French
---
Description
This zingy Caesar salad dressing is a play on the original - using yogurt in place of eggs for that creamy tangy taste. Pair with salmon for the ultimate salad.
---
4

cloves garlic, minced or crushed

4

anchovy fillets or

2 teaspoons

anchovy paste

⅔

cup

Greek Yogurt (or labneh)

6 Tablespoons

olive oil, divided

½

cup

freshly grated parmesan cheese, extra for topping salad + croutons

3 Tablespoons

Worcestershire sauce
Juice of

1

lemon

2 teaspoons

Dijon mustard

½ teaspoon

black pepper + for croutons
kosher salt, to taste + for croutons

½

baguette - about

1 ½ cups

bread in cubes
Mixed greens - I'm using romaine, red cabbage and baby kale
avocado, optional
Salmon - find a whole roasted salmon recipe here
---
Instructions
Caesar Dressing*
In a medium sized bowl, smash your garlic or add in your minced garlic.
Next, add your anchovies or anchovy paste and work together with fork or mortar until combined with garlic.
Add in 3 Tablespoons olive oil, Worcestershire sauce, lemon juice, Dijon mustard and pepper. Whisk to combine.
Add in your parmesaan cheese and yogurt, whisk and finally taste and season with salt.
Adjust for any additional lemon, salt or pepper.
Seasoned Croutons
Preheat oven to 400 degrees Fahrenheit (204 C)
Cut half a baguette into cubes and toss onto sheet pan.
Drizzle 3 Tablespoons olive oil and top with a few pinches of kosher salt, black pepper and some freshly grated parmesan. You can do all this to taste.
Bake into preheated oven for 8-12 minutes in upper ⅓ of oven until golden brown. Toss on sheet pan at the halfway point.
Assemble Salad
In a large bowl, add in about 3.5-4 cups of mixed greens. For every 3.5-4 cups of greens add ¼ cup of prepared dressing and mix until fully coated. Add additional dressing if needed.
Plate salad greens then top with croutons, avocado if using and cooked salmon.
Drizzle additional dressing to taste.
Repeat for additional plates.
Enjoy!
---
Notes
3.5-4 cups of greens is a healthy meal sized portion, divide in half if serving as side salads.
The dressing will serve 2-3 large portions.
You can also place your dressing ingredients into a food processor or blender.
Keywords: salmon caesar salad, yogurt caesar salad dressing, yogurt dressing, greek yogurt caesar dressing, how to make caesar dressing, yogurt caesar dressing, salad recipes, salmon salad, salmon salad recipe