An Easy Meal
I actually gasped when I realized I didn't have a whole roasted chicken recipe on the site. Especially considering it's an absolute staple at our house. If you're looking for a simple chicken thigh recipe, you can find that here as well as our favorite chicken salad which is what we do with a lot of the leftovers!
A simple, whole roasted chicken was a staple in our household growing up. Typical on a Sunday afternoon with a full spread of hummus, baba ganoush, kafta, fattoush, labneh and of course a side of toum. If you've been here a while you know toum is essential to my cooking but before I began using it on pretty much everything - its classic pairing is chicken. Kind of like the classic pairing of chicken and waffles - chicken and toum is a match made in heaven and a classic Lebanese dish.
We love chicken in any form at our house, but a whole roasted chicken really offers many options, mainly because the carcass is the way to make your own homemade broth, yielding more opportunities for soups and other savory dishes. When I make chicken, I typically roast two at a time -it's really the same amount of work and gives us leftovers throughout the week or leftovers transformed as I like to call it when I use something and create a new meal.
Ingredients & Tools
There's not much to roasting a chicken, spices are really a matter of preference, here is a quick list of ingredients and tools I'm using to roast our chicken today.
Whole Chicken - As I mentioned, I like to roast two chickens at once, why not? Who doesn't love leftovers. I typically find chickens that are about 4-5lbs in size.

Spices - I keep my own chicken spice mix on hand. Make a batch, jar it up and leave with your day to day spices that way it's crazy easy to season your whole chicken or even other dishes. The combination I use is: kosher salt, garlic powder, black pepper, sumac and mixed spice/7spice

Toum - I'm partial to using toum on my chicken after using my spice mixture, but you are totally able to sub and use some olive oil in place of it if you don't have it on hand.

Twine - I use a bit of twine to truss the legs of the chicken, if you don't have twine, you can make a "foil rope" and that works just as well.

Stainless Steel Racks - These stainless steel baking racks are one of my favorite kitchen tools. I know many folks have teflon coated racks which are fine for baking but these stainless steel ones are PERFECT for roasting chicken, making bacon or really anything that requires grease to drip. They clean up easily and best of all, dishwasher safe.

Half Sheet Pan - Besides my knives, these trays are one of my most beloved kitchen essentials. I have heavy duty, uncoated sheet pans. I use them for cookies, chicken, potatoes, you name it!!! In this case, you can use any vessel that works for you - a roasting pan, a cast iron skillet, really any vessel that works for you.

Thermometer - Chicken is a tricky one - especially when you're roasting a whole bird. One of the main times I like to use a thermometer is now. I really like this simple digital one - but any will work. If you don't have a thermometer, I'll share a trick below to help you determine if it's done.
Middle Eastern Spices
Spices are what make every chicken recipe different in my opinion. There are THOUSANDS of recipes online and in books but thinking about what spices will spark your palate is key. I'm going to use some common Mediterranean spices to create our mix. The beauty of making this is it will give you enough to season about four whole chickens - double it if you want to have more on hand. Salt is essential when making chicken - the base of our mixture is kosher salt. I prefer using kosher salt vs table salt. When creating this mix, be aware that if you are using another type of salt (table, Himalayan, etc.) you will need to HALF it.
Here is a good article that goes in detail about the different types of salts. I mention this tip in most recipes I publish.

- Country Living
Garlic powder gives a hint of garlic taste and I boost it with toum when preparing my chicken. Sumac, if you have never cooked with sumac it's a spice that has a lemony flavor, lemon and chicken goes very well together. Black pepper, a common seasoning and helps boost flavor. Finally, I use mixed spices - you can buy this online or any Middle Eastern grocery store. Mixed spices sometimes called 7 spice is usually a combination of: allspice, coriander, black pepper, cardamom, cloves and nutmeg. If you don't have access to this, I would sub some allspice in its place.
Steps to Roast Chicken
Roasting chicken is actually one of the simplest meals to make with a huge impact! There is no butchering, unless you want to spatchcock or butterfly it. But otherwise, it's a straightforward process of seasoning and popping into the oven. The BIGGEST thing I recommend when working with chicken is maintaining a clean work area and CONSTANTLY washing your hands. You don't want any cross contamination of chicken onto clean utensils, dish rags, counters. Set up your work space - you can even lay down brown paper bags to help contain, then pop them into compost when you're done! I always spray down my area with a bleach or vinegar based solution after I'm finished preparing the raw chicken.
Chicken must be cooked to 165 degrees Fahrenheit at the thickest part of the thigh. Using a thermometer is best but another way to tell for doneness is making sure all liquid running from the chicken are clear and not red or pink. For more information on cooking temperatures for all your meat, check out the link below.

FoodSafety.gov
On a clean surface away from any fresh fruit or vegetables, begin preparing your chicken. Line a half sheet pan with foil, I like to double up - this just makes cleanup easier. Preheat your oven to 400 degrees Fahrenheit and set rack to middle of the oven. Next, add your rack to the top, if you don't have a rack, that's okay - the chicken will cook just fine right on the tray.
Next, begin preparing your chicken by removing any giblets from inside of the cavity then use a few paper towels to remove any liquid on chicken. Using kitchen shears or a sharp knife, remove excess skin around the cavity. Place the bird with breast side up - slowly work your hand between the skin and the breast to loosen the skin and allow access to the breast meat. Begin rubbing your spice mixture on the breast, under the skin, this ensures your breast meat will be seasoned well and not just the skin. Continue rubbing your spice mixture on the outside of the chicken on both sides, ensuring to get into all areas.
Next, if you're using toum, slather on top of the skin to fully coat. If you don't have toum, use your olive oil and rub on the exterior. Finally, using a piece of cooking twine or making a foil rope, truss the two chicken legs together and adjust onto your rack. If you're making two chickens, repeat and nestle next to the first one once seasoned.
Place into a preheated oven and that's it! Now you can take time to relax and smell the intoxicating smells of your chicken cooking. This is great to do on a Sunday and prep for the week or for those of us working at home, prep and cook while you work - dinner will be ready when you're off from work.
Our favorite way to enjoy chicken like this is with pita bread, some extra toum and a salad on the side. A simple dressing of lemon, olive oil, garlic, dried mint and salt is perfect! Add in feta cheese, cucumbers and cherry tomatoes for the perfect accompaniment.
Tips for Perfect Chicken
Allow chicken to come to room temperature - It may not be obvious but it's best to allow all meat to come to room temperature before popping into a hot oven. Doing this allows your meat to cook more evenly.

Seasoning - The beauty of seasoning a chicken is the ability to do it the day before and it will not only make it easier but also create more flavor! Yes, basically adding our spice mixture to the chicken the day before will allow the chicken to absorb the flavors.

Stuffing Cavity - You can absolutely stuff the cavity with aromatics: lemon wedges, garlic, onion. I personally don't but many do - it will not effect the cooking time.

Cook time - All ovens heat differently, so an oven thermometer is best to have on hand. But with chicken it's really about cooking it thoroughly to the right temperature. Also, if cooking two chickens at once, you may need a little extra time in the oven. Roasting times vary with the size of your chicken, you always check for clear juice and/or use a thermometer. I'm using a high heat method with our cooking. General rule is about 20 minutes per pound . If roasting two chickens at once, you'll need to add another 20-30 minutes. My two chickens too just about 2 hours.
If you make this Roast Chicken, please let me know by leaving a rating and review below!
As always, I love seeing your creations. Please leave a review or share your dish with me on social media #cosetteskitchen which lets me know what is working for you! You can find me on Facebook, Instagram, Twitter , Tiktok and Pinterest. For more delicious recipes to your inbox, sign up for my newsletter!
xoxo,
Cosette
Other Recipes You May Enjoy
Chicken Noodle Soup
Chicken Tortilla Soup
Turkey Meatballs
Chicken and Rice Soup
Mediterranean Orzo Salad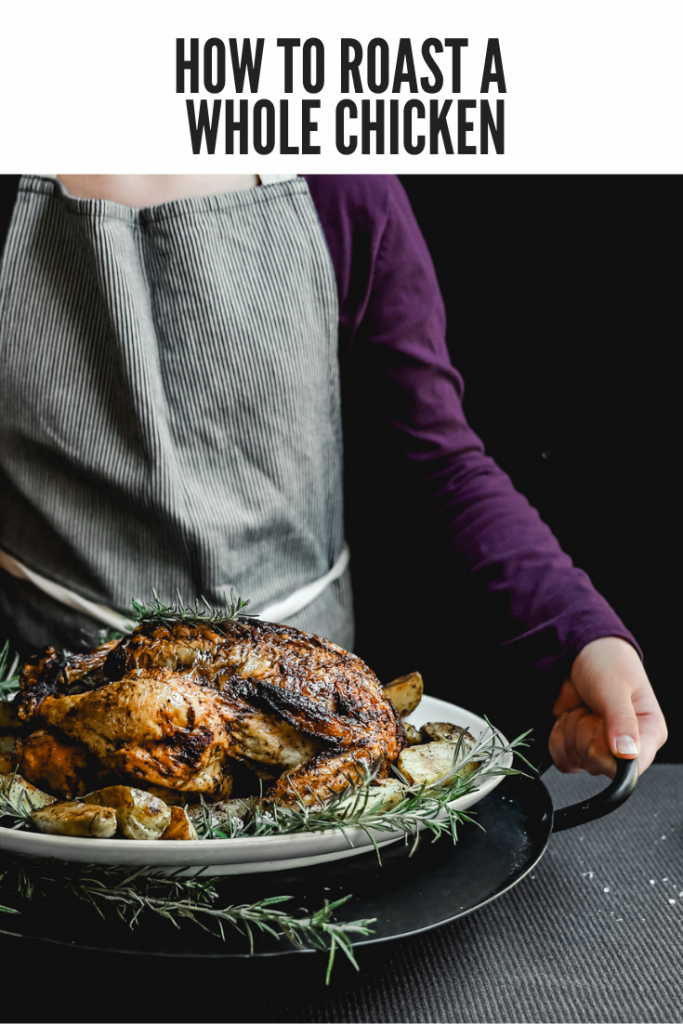 Print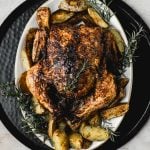 How to Roast Chicken | Whole Chicken
Author:

Cosette's Kitchen

Prep Time:

15 minutes

Cook Time:

2 hours

Total Time:

2 hours 15 minutes

Yield:

2

chickens

1

x

Category:

Chicken

Method:

Roasting

Cuisine:

Lebanese
---
Description
This simple and delicious roasted whole chicken is the answer to your weekly meals!
---
Spice Mixture - makes enough for about 4 chickens
3 Tablespoons

Kosher salt* (half if using any other salt)

2 Tablespoons

garlic powder

¾ Tablespoon

black pepper

3 Tablespoons

sumac

1 Tablespoon

mixed spices (or all spice)
Whole Chicken
1

whole chicken (approximately

4

-

5

pounds)

3 Tablespoons

chicken spice mixture (recipe above)

3 Tablespoons

toum (or olive oil)
Other aromatics for cavity of chicken if desired
Equipment
Half sheet pan or roasting pan with rack
Half sheet pan stainless steel rack
Twine
Foil
Thermometer
---
Instructions
Spice Mixture
Combine your spices in a small bowl until fully incorporated.
Place in a jar and store in pantry, use as needed for chicken.
Whole Chicken
Preheat your oven to 400 degrees Fahrenheit.
Prepare your sheet pan by covering in foil and place rack on top, set aside.
Measure out 3 tablespoons of your spice mixture into a small bowl.
Remove your chicken from the fridge and allow to rest and come to room temperature for about 20 minutes.
On a clean work surface/cutting board, place your chicken and remove giblets inside cavity and trim the excess skin around the cavity. 
Next, with a few paper towels, lightly pat the chicken to remove excess moisture.
With the chicken breastside up, slowly begin working your hand between the skin and the breast gently pulling until the membrane is released and you can access the breast.
Place about a tablespoon of your spice mixture and rub UNDER the skin directly on the breast. 
With your remaining spice mixture, cover the entire chicken on both sides and between legs and wings.
If using toum, add 3 tablespoons onto your chicken and rub all over, under breast skin until fully coated. If using olive oil, give a healthy coating all over the bird.
If you'd like to stuff your cavity with some aromatics, do so now.
Place on your prepared sheet pan - up to 2 chickens, breast side up. Using your twine, secure the legs of the chicken.
Place your chicken(s) in preheated oven and cook for 1.5-2 hours. Checking for juices to run clean and temperature of thickest part of thigh to reach 165 degrees Fahrenheit not touching the bone. Continue cooking until fully cooked. A good rule of thumb is about 20 minutes per pound for your chicken, if cooking 2, add an additional 20-30 minutes.
Remove from oven and allow to rest for 20 minutes before carving.
Enjoy with additional toum and pita bread.
---
Notes
*Be sure to check the type of salt you use when making your spice mixture.
*Measure out the spice mixture you'll need for your chicken BEFORE beginning and keep that bowl away from the rest of your mixture to ensure cross contaminating.
*My oven takes about 2 hours for 2 chickens at 400 degrees. Ovens vary so I would begin with 20 minutes per pound and continue to check from there.
Keywords: roasted chicken, cooking a roast chicken, how to roast a chicken, how to roast a chicken in the oven, how to roast a chicken without a roasting pan, how to roast a chicken and keep it moist, roast a chicken uncovered, roast a chicken in the oven, roast chicken temperature, best roast chicken crispy skin