With spring in the air so are spring vegetables and lighter meals. This Easy Spring Farro Salad will be one you put on repeat on season long. Paired with an Arugula Mint Dressing, spring asparagus, fennel and other spring veggies which are totally adaptable to your palate .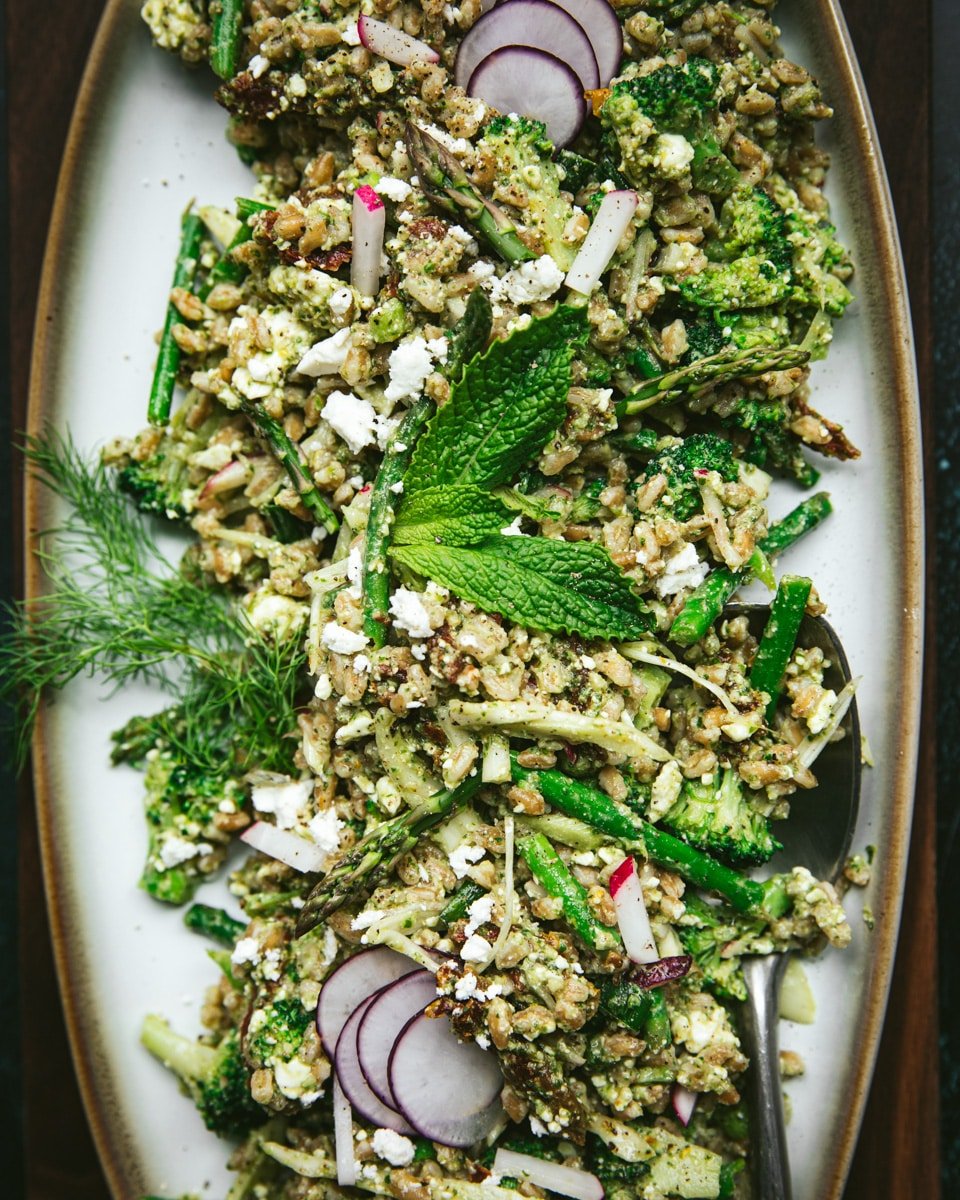 What is Farro?
Farro is a whole grain wheat that is high in protein and fiber. It is very similar in texture to barley - a slight chew and nutty flavor profile. The two can be used interchangeably.
The word Farro refers to three specific sizes of grain that also includes name variations: einkorn, emmer and spelt. Most farro sold here in the US is emmer. It's a popular grain in the Middle East and throughout the Mediterranean. It's lovely in soups, salads.
Most farro sold in the United States is emmer. It's a medium sized grain with a nutty flavor and pleasant chewy texture. This grain has gained popularity in the U.S. in recent years, but it's been a favorite standby for centuries in European and Middle Eastern countries. Farro recipes are on the rise as many people are looking for whole-grains that pack a great flavor and versatile.
Types of Farro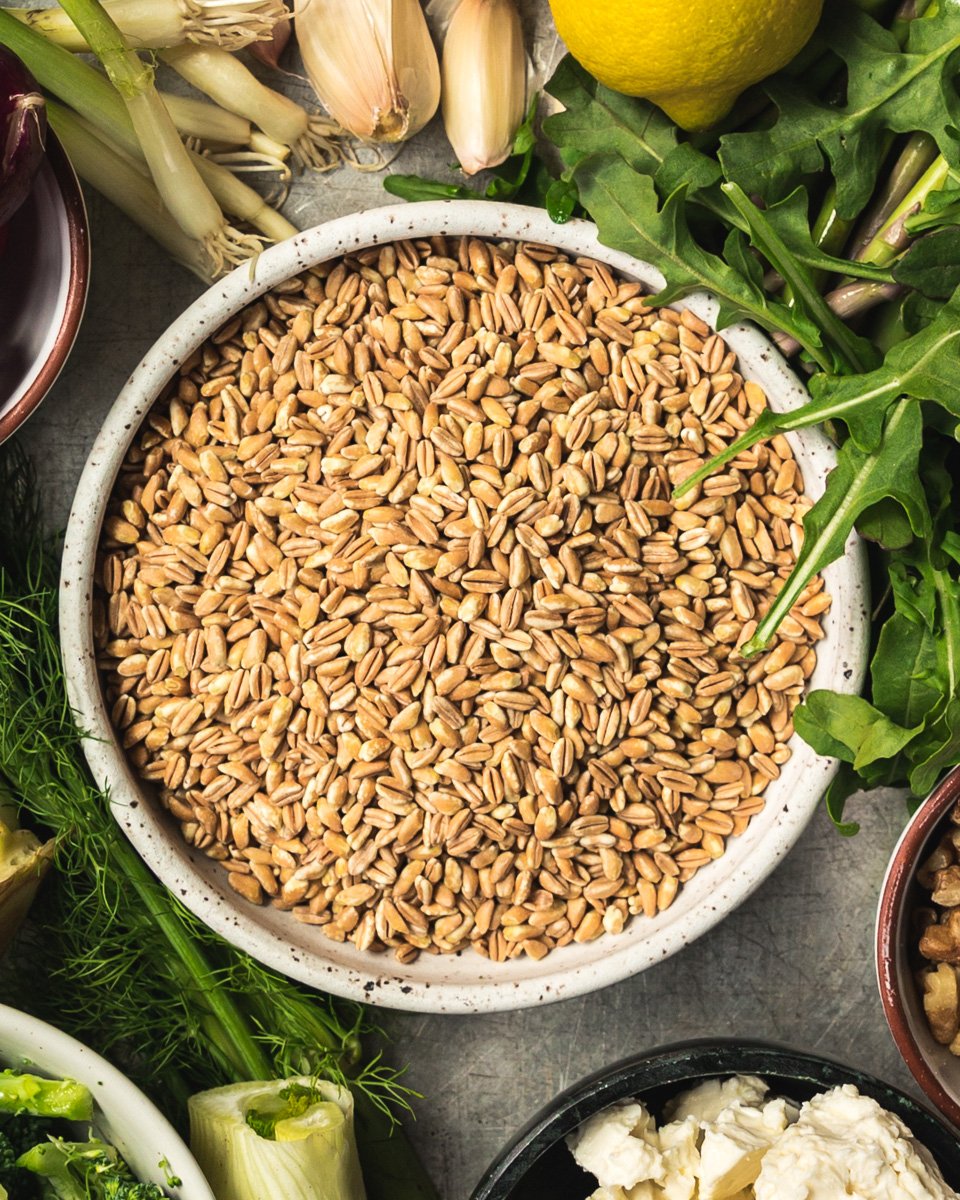 Pearled: Pearled farro is the most common type of farro here in the US, and it has the shortest cook time (because the grains do not include the bran).
Semi-Pearled: Semi-pearled farro, a version that has part of the bran. This contains more fiber than pearled but does take a bit longer to cook.
Whole: Whole farro. This is the most nutrient packed of the three but also takes the longest to cook.
Whichever variety you choose, it will be equally delicious. I err on the side of following the package instructions for the best method of cooking. I'll include some tips in the recipe notes as well.
Is Farro Gluten Free?
Farro is not gluten free, it comes from wheat so if you are celiac or simply avoiding gluten - this is not a good substitute. You can safely replace the farro in this recipe with brown rice for a gluten free option.
Where to Purchase Farro?
With popularity gained on farro, it's widely available in most grocery stores in the grain or organic whole foods aisle. If you have a Trader Joe's near you - they actually sell a smaller bag of par-cooked farro that is cooked in 10 minutes! A great option for busy weeknights. Bob's Red Mill also sells it and of course you can find online.
Jump to:
Ingredients
I love salad recipes, especially this Easy Spring Farro Salad because they are so adaptable to your liking - I always say, enjoy the dressing and adjust the main ingredients to whatever works best for you! This dressing is a play on pesto but much brighter with fresh mint, peppery arugula and feta cheese.
Salad Ingredients
Farro - Choose whatever farro you have on hand or pickup at the store. I used the Trader Joe's 10 minute farro and it worked beautifully!
Asparagus - Asparagus is a great springtime vegetable, one of my favorites! My kids on the other hand do not - I added it sparingly but if you love - GO ALL IN!
Broccoli - Since my kids prefer broccoli, I went with adding some to offset the asparagus.
Sun-dried Tomatoes - I love sun-dried tomatoes, I only use the ones packed in oil for salad recipes. These hold us much better and won't create extra liquid like regular tomatoes.
Fennel - Fennel is another great spring vegetable. You can find the fennel bulbs or the whole plant at most grocers, Trader Joe's sells the bulbs. They do have a bit of a licorice taste if you haven't had it before. But truly, most of the other flavors dominate, this gives you a nice crunch.
Radishes - Another great veggie to give some crunch and peppery flavor to the salad
Scallions - Using scallions or green onions two ways, once in the salad itself and once in the dressing. I love getting an oniony flavor without too much of an overpowering onion.
Feta Cheese - Used both in the salad and dressing!
Dressing Ingredients
Arugula - Arugula is a wonderful peppery green - it's one of my favorites and pairs very well with lemon and garlic.
Fresh Mint - We're getting into fresh mint season, it should be popping up all over (it's basically a weed). This really gives the dressing a lovely FRESH flavor.
Olive Oil
Walnuts
Lemons - Zest + juice, I only use fresh lemons.
Scallions - Using additional scallions to blend right into our dressing.
Feta Cheese - The feta cheese gives a nice salty, briney and almost creamy consistency to our dressing. We'll also add some to our salad.
Honey - That bit of honey adds just the right hint of sweetness to not create a too powerful garlic flavor.
Garlic - Because it's necessary!
Salt + Black Pepper
See recipe card for quantities.
Instructions
Cook your farro according to the package directions - I prefer the boiling method. It's much easier, hands off method and then also allows you to blanche your asparagus + broccoli at the same time!
Prepare your vegetables - slice the radishes, fennel, chop the scallions. You'll want to quickly blanche your asparagus + broccoli pieces in the boiling farro water. For the last 2 minutes of cooking - toss your asparagus + broccoli in. Once done cooking, drain all together and rinse with cold water to stop cooking.
In the bowl of a food processor or blender. Add your arugula, mint, walnuts, lemon zest, scallions and garlic. Blend until smooth.
Add your lemon juice, olive oil, feta, honey, salt and pepper. Blend again until creamy and smooth. Adjust your salt and pepper to taste.
Layer your salad ingredients in a large bowl with farro and then add your dressing. Mix to combine well. Taste and add additional salt if needed.
Mix well to combine and finish by salting as needed.
Substitutions and Variations
I love salads for their versatility! Here are some ideas for changing things up for items you may not have or may not be to your liking:
Farro - Many substitutes: brown rice, freekeh or barley are great ones. You can even use pearl couscous or pasta if you want to make it a pasta salad!
Fennel - Add in some chopped cabbage in its place.
Asparagus - Double up on your broccoli and omit the asparagus.
Broccoli - Switch it up and add some cauliflower.
Radishes - Try some kohlrabi or yucca in its place.
Arugula - You can certainly sub with spinach but you will lose some of that peppery bite, it will still taste delicious but just different.
Feta Cheese - Try using goat cheese in its place.
Honey - Use maple syrup to keep it vegan (if omitting cheese)
Equipment
Since this dressing is blended with leafy greens, you will need a food processor or blender. My go-to food processor is my tried and true Cuisinart, it's what I use to make my toum regularly! Such a great investment piece. I like this one because it doesn't have a rubber ring that collects odors.
You can also use a blender or even a nutribullet blender - depending on the size, you may need to split the recipe in half.
Storage
This salad is super hearty and great to make ahead. Good in the fridge for 3-4 days, I don't recommend freezing.
FAQ
Do I have to use farro?
Not at all, although it's a delicious hearty, healthy grain - this can be used with a variety of grains from brown rice to pasta. Check the substitutions and variations category above.
Is farro healthy?
Farro is a whole grain that is packed with fiber and nutrients - so it is definitely a healthy option when it comes to grains. It's a great alternative to pasta which doesn't contain the fiber and nutrients. It's also very filling which will keep your belly happier longer.
I don't like some of the vegetables you added, can I use others?
OF COURSE! Salads are a great way to experiment - this is what I created but feel free to adjust to your liking and what your family would enjoy. I do think the dressing is amazing and best as written but adjusting with notes from above will still give you something delicious and satisfying.
Can I add protein?
Absolutely - make it a full meal and add some chicken, salmon or a can of beans (garbanzo or cannellini would be my go-to). This is a fabulous way to make it a complete meal.
Can I half the recipe?
Yes - just simply cut the measurements in half to scale down. Same great taste, half the amount.
---
I hope you enjoy this Easy Spring Farro Salad with Arugula Mint Dressing as much my family does - feel free to adjust and make your own!
If you make  Easy Spring Farro Salad with Arugula Mint Dressing, please let me know by leaving a rating and review below!
As always, I love seeing your creations. Please leave a review or share your dish with me on social media #cosetteskitchen which lets me know what is working for you! You can find me on Facebook, Instagram, Twitter , Tiktok and Pinterest. For more delicious recipes to your inbox, sign up for my newsletter!
xoxo,
Cosette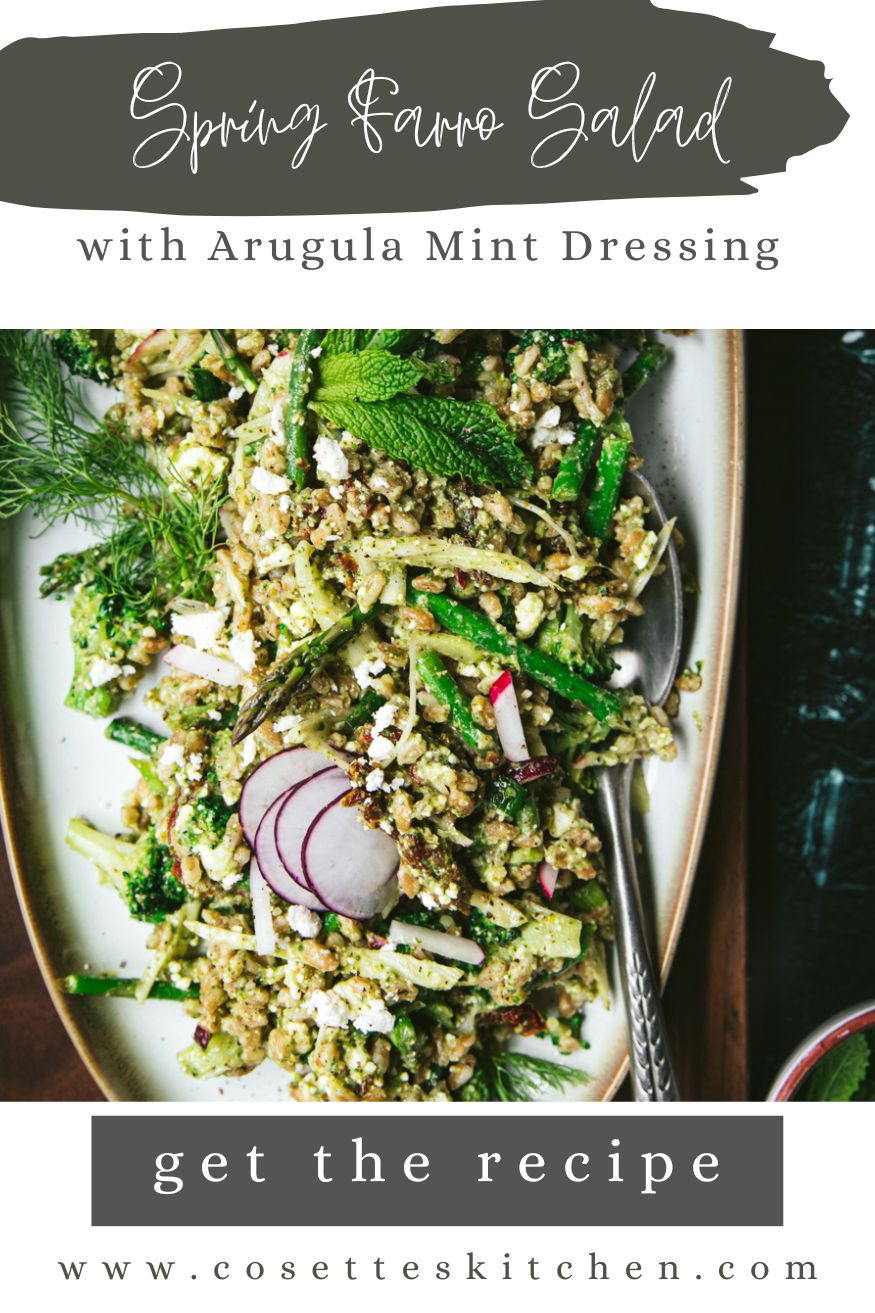 Print
Easy Spring Farro Salad with Arugula Mint Dressing
Author:

Cosette's Kitchen

Prep Time:

20 minutes

Cook Time:

10 minutes

Total Time:

30 minutes

Yield:

8 cups

1

x

Category:

Salad

Method:

Stovetop

Cuisine:

Lebanese
---
Description
A hearty and filling spring salad made with farro and an arugula, mint and feta dressing. Enjoy loaded with spring veggies. This Easy Spring Farro Salad with Arugula Mint Dressing is sure to wow guests or perfect for a weekday lunch!
---
Salad
2

cups

dry farro

1

head broccoli, about

2 cups

trimmed and cut into small pieces

½

pound

(8oz) or half a bunch of asparagus, ends trimmed and cut into thirds

2

fennel bulbs, sliced thin

3

-

4

radishes, sliced thin

5

-

6

scallions, sliced thin - greens and whites

½

cup

sun-dried tomatoes, in oil

1

cup

crumbled feta
Dressing
2

cups

packed fresh arugula

1

cup

lightly packed fresh mint leaves

¼

cup

walnuts, or any nut

5

green onions, ends trimmed

4

large cloves of garlic
zest of

3

lemons

⅓

cup

lemon juice, 2-3 lemons juiced

¾

cup

olive oil

2 Tablespoons

honey

½

cup

feta cheese

2 teaspoons

kosher salt, half for table salt

2 teaspoons

black pepper
---
Instructions
Salad
Cook farro according to package directions - because farro comes in many different forms, it's best to use the instructions on packaging. I do prefer the boiling method so choose that option so you can also blanche your asparagus and broccoli.

2 cups dry farro - cook according to package instructions

While your farro is cooking, prepare your vegetables and place in large bowl - set your asparagus and broccoli aside to blanche in your boiling water. Add your feta cheese and sun-dried tomatoes to your bowl as well.

1 head broccoli, about 2 cups trimmed and cut into small pieces
½ pound (8oz) or half a bunch of asparagus, ends trimmed and cut into thirds
2 fennel bulbs, sliced thin
3-4 radishes, sliced thin
5-6 scallions, sliced thin - greens and whites
½ cup sun-dried tomatoes, in oil
1 cup crumbled feta

The last 2 minutes of your farro cooking, place your trimmed and cut broccoli and asparagus into the boiling water. This will allow the greens to blanche (cook quickly). Once your farro is done - drain the farro and greens together and run under cold water. The cold water will stop the veggies from cooking and keep their crispness and bright green color. You can then spread onto a tray to allow to cool completely. 
Once cooled, add to your bowl with other veggies, feta cheese and sun-dried tomatoes.
Pour your dressing  and mix well until fully combined. Adjust salt and add fresh ground black pepper. Enjoy!
Dressing
In the bowl of a food processor or blender, place your arugula, mint, walnuts, scallions, garlic and lemon zest and blend together.

2 cups packed fresh arugula
1 cup lightly packed fresh mint leaves
¼ cup walnuts, or any nut
5 green onions, ends trimmed
4 large cloves of garlic
zest of 3 lemons

Add your remaining ingredients until a smooth light green dressing forms.

⅓ cup lemon juice, 2-3 lemons juiced
¾ cup olive oil
2 Tablespoons honey
½ cup feta cheese
2 teaspoons kosher salt, half for table salt
2 teaspoons black pepper

Taste and add any additional salt or lemon to taste.
Pour over your farro salad and mix well until fully combined. Adjust salt and add fresh ground black pepper. Enjoy!
---
Notes
Always half the salt if using table salt, measurements are based on Diamond Kosher Salt.
Keywords: farro salad, spring farro salad, arugula dressing, spring mint salad, easy farro salad, cold farro salad, spring salad with feta, spring salad with asparagus, farro recipes,
You Might Like These Recipes!