Spinach and Lemon Lentil Soup with Lemon is sure to be a family favorite. Brown lentils packed with spinach, lemon and sumac for a bright flavor. Naturally vegetarian and packed with protein.
Lentil soup is one of those one pot meals that is warm and comforting. I'm thankful that my children enjoy as much as me. This is a great option for a meatless Monday or simply anytime of year, but especially in these cold winter months. Lentil is the star but is supported with veggies and a bright lemon and sumac zest. Lentils are very popular in the Middle East, one of the most treasured dishes is Mujadara which is a more of a lentil puree. This soup comes together in less than an hour!
Jump to:
Ingredients
The simplicity of this dish is really a lot of pantry staple items and a few fresh vegetables. A great meal on a budget and very adaptable.
Carrots
Onions
Garlic
Diced Tomatoes
Brown Lentils - For soup, brown lentils are the preferred lentil. Brown lentils have a sturdier texture and keep their shape better than other varieties. Green lentils are another option to use in this soup, often times they need a bit longer to cook so be mindful when preparing your soup. Red and yellow tend to disintegrate and become mush and are not favorable in a soup recipe.
Orzo Pasta - Feel free to use any small pasta you'd like in this recipe.
Frozen Spinach - I opt for frozen spinach in this recipe to yield more spinach in the soup versus fresh. If using fresh, I would sautee with the tomatoes and you'll need 1.5pounds of fresh to get the equivalent of 1pound frozen. Throwing in that fresh is a great option if it's starting to turn in your fridge.
Lemon - The zest will be incorporated in the soup and we'll top servings with fresh lemon.
Sumac - Sumac is a spice use in many Arab dishes, it has a bright lemony flavor which goes well with the lemon base for this soup. There is a distinct difference between the sumac and lemon flavor when eating the soup - the sumac makes it really pop. Find in any middle eastern store, health food section of grocer or here online.
Broth - I typically use chicken stock, either homemade or store bought. You can certainly substitute vegetable stock to keep this fully vegetarian.
Salt, Pepper, Olive Oil
See recipe card for quantities.
Instructions for Preparing Lentil Soup
Making soup from scratch is really quite easy and doesn't take hours to slave over. The most difficult part is chopping your aromatics. The rest of the soup is simple pantry stocked items.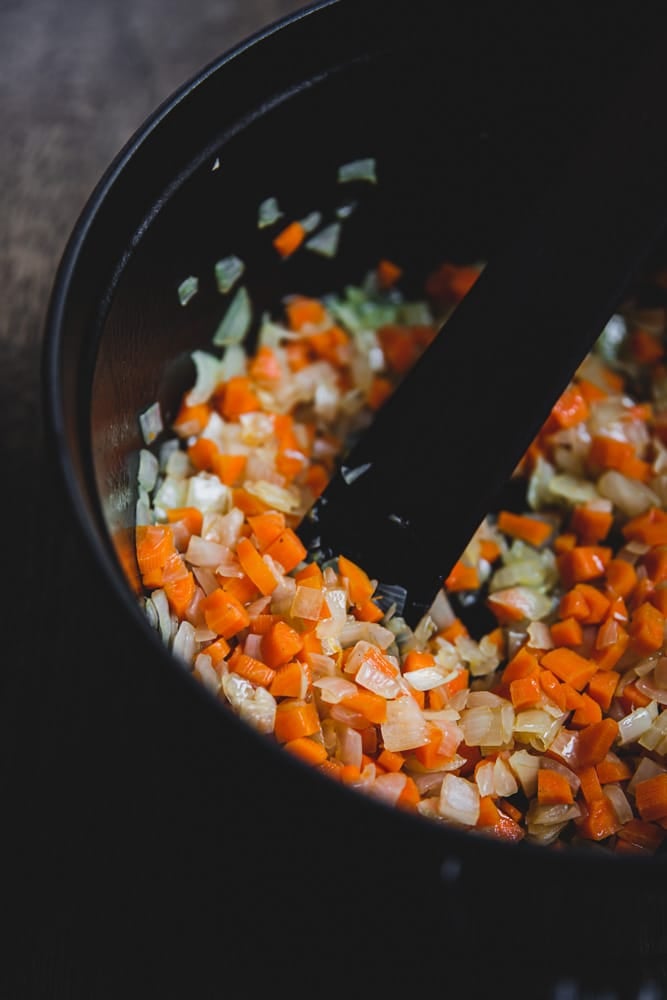 Begin by heating your olive oil and sauteing your onions and carrots until they begin to soften, about 10 minutes.
Next, add your garlic and spices. Combine and allow to cook for another 5 minutes until fragrant.
Add your tomatoes, lentils and broth and allow to come to a boil then simmer for 10 minutes.
Finally add your orzo, spinach and lemon zest and cook until orzo is tender.
Substitutions
Most items for this soup are basic pantry staples, but here are some substitutions if you need.
Sumac- instead of sumac, add the zest of 2 more lemons
Brown lentils- you can substitute brown lentils for green - they will take about 10-15 minutes longer to cook
Chicken Broth- feel free to substitute vegetable stock or even use bouillon cubes - follow package instructions for the equivalent for the number of cups
Frozen Spinach - rule of thumb is 1 pound of spinach to make 10 ounces of frozen spinach, you'll need roughly 1.5 pounds fresh is substituting.
Orzo - use any small pasta you have on hand, feel free to substitute a gluten free pasta.
Variations
I love this soup as is but here are a few variations to change things up.
Add Protein- If you'd like to add protein to this soup, I would recommend a ground sausage. If adding, saute right after the first 5 minutes of your carrots and onions and then continue as normal. You may need additional broth/water. Add a spicy variety for some heat.
Spicy- Add some red pepper flakes to your spice mixture, anywhere from 2 teaspoons to a tablespoon.
Rice - For a gluten free option, add rice in place of the orzo - white rice will take the same amount of time to cook as the brown lentils so add at the same time.
Equipment
You don't need much more than a pot to make this recipe. I do adore having a dutch oven when making soups since it really retains the heat. This is a super affordable one Lodge Enamel Dutch Oven, I love using it for No Knead Bread as well.
A microplane is another kitchen tool I can't live without - use it to zest citrus, grate garlic and ginger. It's a huge help!
Storage
This soup store well in the fridge up to 7 days. You can also portion and freeze some of it. Freeze for 3-4 months in tight sealing, freezer safe containers.
Top tip
Once the soup is finished, I like to keep on the stove with the lid and allow the soup to sit for at least an hour. This plumps up the pasta and allows the soup flavors to really meld. Using a dutch oven is a wonderful because it really retains the heat.
Frequently Asked Questions
Can I use any kind of lentil?
There are 4 main types of lentils: brown, green, red and yellow. Brown and green are closest related and both hold their shape while cooking so best when not pureeing. Brown lentils cook in about 20 minutes where green lentils can take 30-40 minutes to fully soften. Red and yellow lentils are much softer and texture and break down where their shape is no longer recognizable. I would avoid using red and yellow in this recipe.
Can I use other types of tomatoes?
If you have fresh tomatoes, you can dice and add to the soup just as you would the can (28 ounces). I don't recommend substituting tomato sauce in its place, tomato sauce would change the flavor and consistency of the soup.
What if I don't have sumac?
Sumac isn't necessary in the soup but it does give it a different punch of flavor than the lemon itself. You can certainly omit and add a little more lemon zest and I ALWAYS top my soup with fresh lemon juice.
Can I use fresh spinach?
You can certainly use fresh spinach in place of frozen - chop and add when you add your spices to allow it to saute and wilt down. You'll need about 1.5 pounds of fresh spinach. I like the ease of frozen spinach and always have on hand.
How long does the soup last?
Since there is no meat in this dish, this will last in your fridge for 7 days. It can also be frozen for 3-4 months.
As always, I love seeing your creations. Please leave a review or share your dish with me on social media #cosetteskitchen, I love resharing your photos! You can find me on Facebook, Instagram, Twitter , Tiktok and Pinterest. For more delicious recipes to your inbox, sign up for my newsletter!
xoxo,
Cosette
Print
Spinach and Lemon Lentil Soup
Author:

Cosette's Kitchen

Prep Time:

15 minutes

Cook Time:

30 minutes

Total Time:

45 minutes

Yield:

12

-

14

servings

1

x

Category:

Soup

Method:

Stovetop

Cuisine:

Lebanese
---
Description
A bright and light soup that is packed with protein from lentils, hearty spinach and a lemony zest from fresh lemon and sumac spice. A weeknight favorite dish!
---
3 Tablespoons

olive oil

8

carrots, diced - about

2 cups

1

large onion, diced - about

3 cups

6

-

8

cloves of garlic, minced

2 teaspoons

ground sumac

2 teaspoons

ground black pepper

2 teaspoons

kosher salt - half the amount of table salt, additional to taste*

1

can diced tomatoes - 28 ounces

1

cup

brown lentils - see notes for other varieties of lentils*

12

cups

of low sodium broth or broth and water combination, divided*

1

cup

orzo pasta

16

ounces

frozen spinach - see notes for using fresh spinach*
Zest of

3

lemon + juice for serving
---
Instructions
In a heavy bottomed large stock pot or dutch oven (5-6 quart size) heat 3 Tablespoons of olive oil over medium-high heat and add your diced carrots and onions. Sprinkle with a bit of salt, this will allow the onions to sweat and soften. Cook over medium-high heat for about 10 minutes until slightly softened.

3 Tablespoons olive oil
8 carrots, diced - about 2 cups
1 large onion, diced - about 3 cups

Next, add your minced garlic and heat until fragrant about 2 minutes. Then add your sumac, salt and black pepper. Stir to combine then add your canned diced tomatoes and allow to cook for 5 minutes.

6-8 cloves of garlic, minced
2 teaspoons ground sumac
2 teaspoons ground black pepper
2 teaspoons kosher salt - half the amount of table salt, additional to taste

Add your lentils and 8 cups of broth, turn your heat up to high and allow to come to a boil, then reduce to medium-low and cook for 10 minutes.

1 cup brown lentils - see notes for other varieties of lentils
8 cups of broth

After 10 minutes cook time, add in 4 more cups of broth, your orzo, spinach and lemon zest. Stir to combine and allow to cook for another 10-15 minutes on medium-low until lentils and orzo are soft.

1 cup orzo pasta
remaining 4 cups of broth
16 ounces frozen spinach - see notes for using fresh spinach*
Zest of 3 lemon

I like to then shut the heat off, put lid on and allow the soup to mellow for another 30minutes-1 hour. Season accordingly with additional salt and squeeze fresh lemon when serving.

 fresh squeezed lemon juice for serving
---
Notes
Salt - I always use kosher salt in my cooking, specifically Diamond brand which is LESS salty than Morton Kosher salt and all kosher salt is less salty than standard table salt. If using another brand or type of salt, adjust accordingly. Rule of thumb is usually HALF the amount of table salt and ¼ the amount of Morton Kosher salt. I always test along the way, start with less and add more as needed. Broths will also vary in salt levels.
Lentils - Brown lentils are preferred in this recipe, you can sub green lentils but they will take a little longer to cook. If using green lentils, allow lentils to simmer for 20 minutes instead of 10 before adding orzo pasta. Please see blog post for more details about types of lentils.
Broth - You can use a variety of broth for this soup, I always go with a low-sodium variety if using store bought. Use chicken or vegetable. You can also sub 4-6 cups with water if you'd like, salt will need to be adjusted for flavor. You can use bouillon cubes to help boost flavor as well.
Spinach - If using fresh spinach, use 1.5 pounds (or 24 ounces), chop and add to tomato mixture to cook well before adding broth.
Keywords: fresh lemon juice, brown lentils, soup recipe, lentil and spinach soup recipe, lebanese lentil soup, lentil soup recipe, vegetarian soup, greek lentil soup with lemon, 30 minute meal,
Related
Looking for other recipes like this? Try these: