At first glance, the thought of using dandelions in a salad may seem peculiar. A weed that we continuously try to AVOID in our gardens has now made its way to our dinner plate. Rest assured, dandelion greens are not only a nutritious green to enjoy as a salad but affordable and delicious!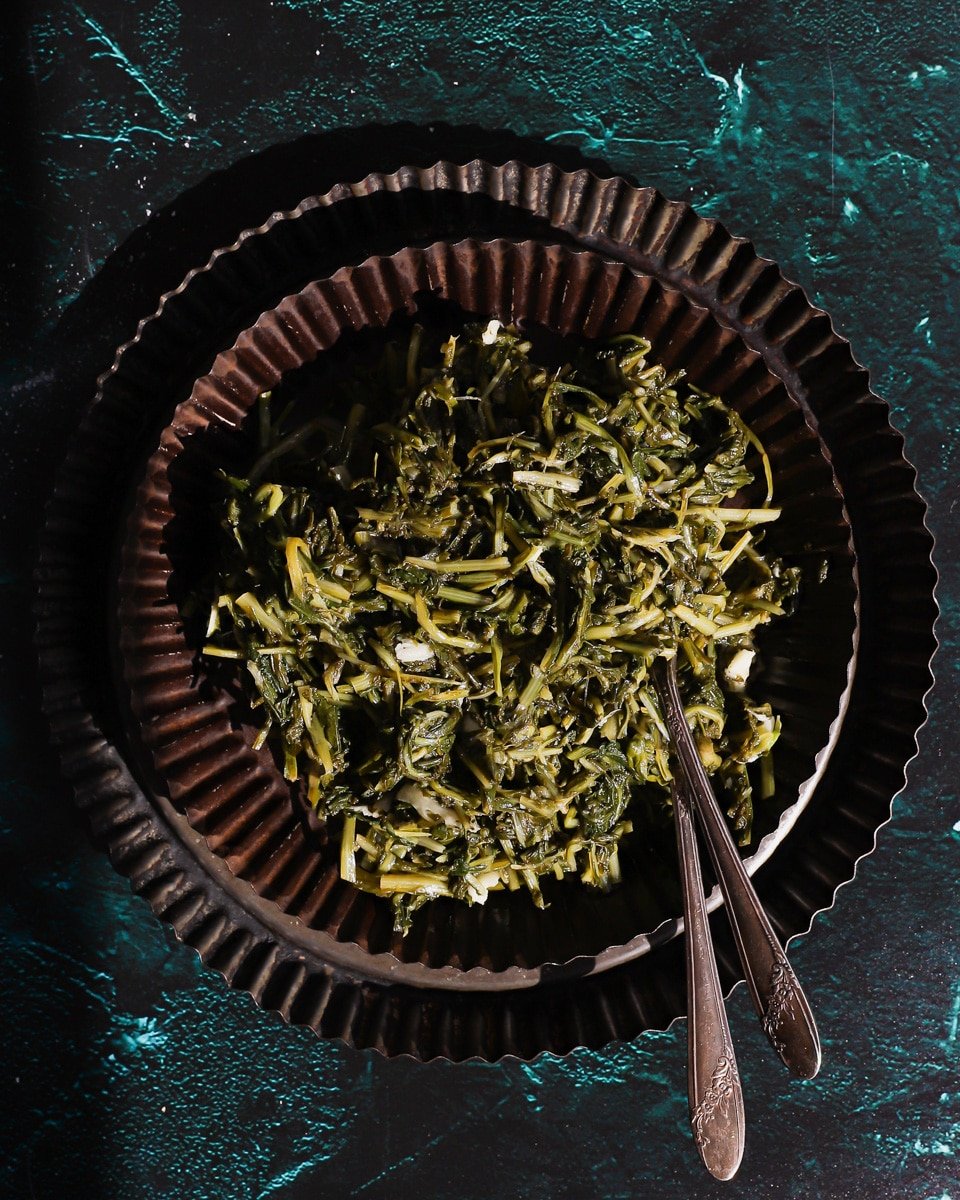 Benefits of Dandelion
I always find it fascinating when dishes from the Middle East make it into mainstream America. In Arabic, dandelion is called Hindbeh. Families in the Middle East have been enjoying dandelion greens or hindbeh for centuries - one of the simplest and most nutritious plants easily found throughout most parts of the world.
Dandelion is an extremely nutritious plant - from flower to root. In fact, dandelion greens are actually considered an herb much like basil or parsley. The greens are high in vitamins A, C, E and K. The are especially high in vitamin K, one cup contains 357% of your daily recommended amount based on a 2,000 calorie diet. Vitamin K also helps to prevent osteoporosis and coronary heart disease. And of course, they are a good source of fiber which is a great addition to any diet. And a perfect way to switch up your salad game!
Sourced from VeryWellFit.com
You can learn more about all the health benefits of dandelion plants linked here.
Where to Get Dandelion Greens
Sure, your yard is covered in dandelions - but is that where you want to pick them to use in your salad? Well, that answer is more complicated. Usually dandelion greens in a conventional backyard aren't used for culinary uses for a few different reasons.
Why backyard greens aren't best
Pesticides or chemicals from your lawn may be mixed within the dandelion greens
Mowing your lawn with a gas powered mower could also affect the greens in your yard
If you have pets or even animals in the area (cats, racoons, etc) you want to avoid using what's in your yard due to contamination
So if we can't pick the greens from our yard - where do we go?
Most grocery stores, especially more natural or ethnic grocery stores will carry dandelion greens right in the produce section. These greens are grown and harvested specifically for human consumption and is truly the best place to purchase your greens. Not to mention, you will need a large quantity to make a small salad which may not be possible harvesting from your yard. Much like cooked spinach, dandelion greens wilt down quite a bit after cooking.
If you have open fields near you and know they are not treated with pesticides and natural - you can absolutely try that as well!
How to Prepare Dandelion Greens
You may find some recipes using fresh dandelion greens, but please note - unless they are VERY young greens (and even young greens), dandelion greens are bitter. Close to arugula but even a little more intense. The best way to prepare dandelion greens to enjoy as a salad or a side dish is to boil them to remove the bitter taste. Allowing the leaves and stems to boil they become tender and more mild in flavor.
Begin by trimming the ends of greens just to showcase the fresh stems at the bottom. Next submerge your greens into cold water, working the greens to allow any dirt or debris to be removed, do this 2x until the water is clear from debris.
Next, simply place your greens in a pot of boiling, salted water for 15-20 minutes. This time allows the stems to become fork tender and the bitterness is removed leaving an earthy flavor.
After boiling your greens, drain and squeeze until completely dry. You want all the moisture to be removed before mixing with your dressing.
How to Make Dandelion Salad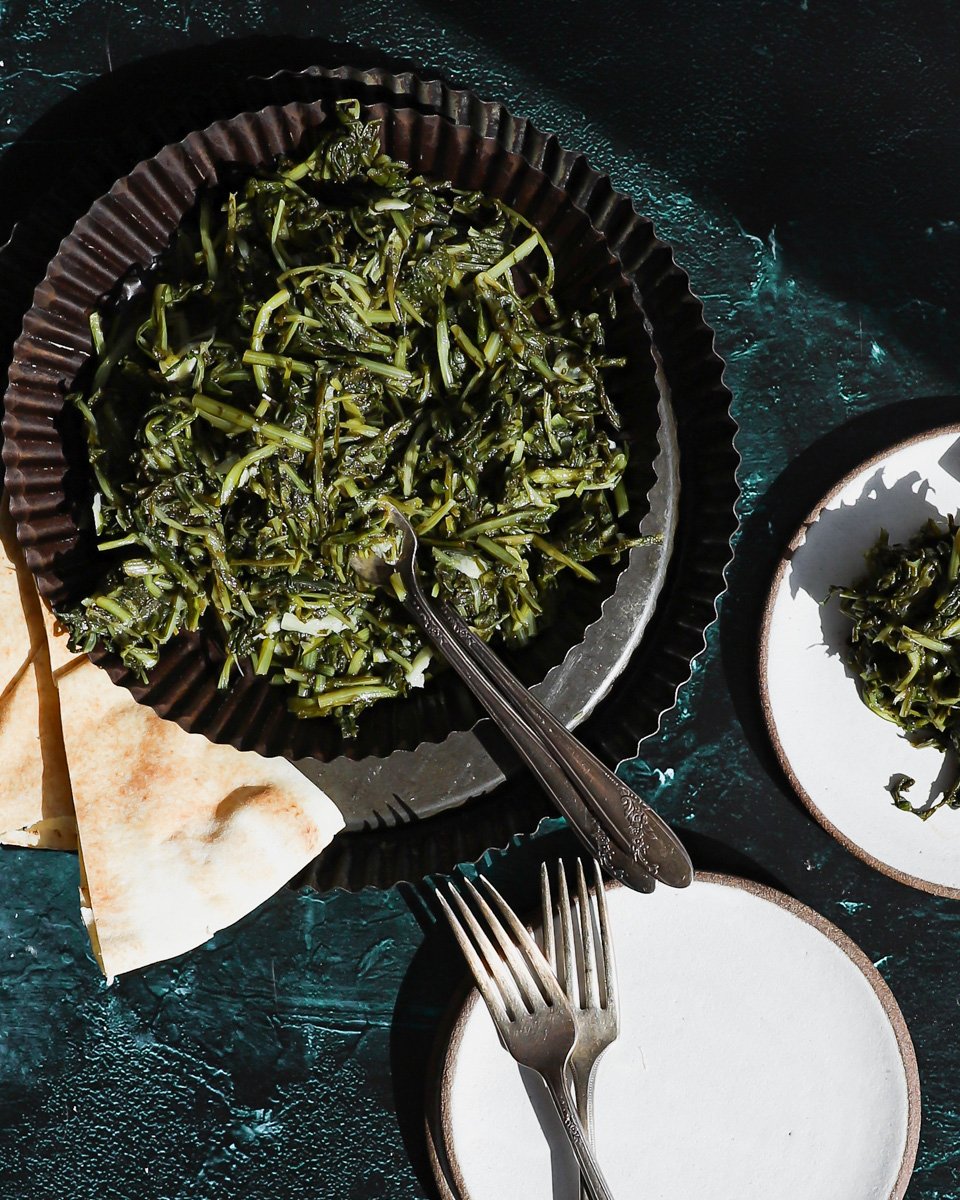 This salad is very simple and best enjoyed with some pita bread or even crackers. The combination of lemon, garlic and oil is simple enough to allow the dandelion to shine through but also creates a bold, vibrant flavor - one close to my heart. This basic dressing is one of the most popular and used dressings for any type of salad in Lebanese and other Middle Eastern cultures. What you'll need:
Ingredients
Dandelion Greens - You'll need anywhere from 1.5-2 pounds of dandelion greens to get a enough to serve 3-4. Most of the time dandelion is sold in bunches, for this recipe I used 4 bunches which was just under 2 pounds
Garlic - Most of my dishes contain garlic, it's really such a burst of flavor. In this salad I'm using 2 medium sized cloves of garlic either smashed with a mortar and pestle, crushed with a garlic press or minced very, very fine. I know many of you will ask if you can use toum - and of course you can!! Toum will produce a slightly less intense garlic flavor. You can also omit the garlic altogether if you choose.
Lemon - Fresh lemon juice, yes - FRESH, I really, really only use fresh lemons when cooking the flavor can't be matched to a bottle of lemon. Depending on the size of your lemons and how juicy they are you could use anywhere from 2-3, about ⅓ of a cup of squeezed juice.
Olive Oil - Since the ingredients are simple here, using the best quality extra virgin olive oil is key. Something light and fruity. You can also use avocado oil or another neutral oil if you prefer but traditionally olive oil is used in all our salads.
Salt - I use salt to both salt the water that the dandelion greens are cooking in as well as in the salad dressing. That pop of salt really makes a huge difference so definitely add it in.
Tips for Making the Best Dandelion Salad
Can I make this salad ahead of time?
Yes, you can absolutely make the salad ahead of time and pop in the fridge. I personally enjoy it at room temperature so if you do refrigerate pull out a little before you want to enjoy.
Can I add anything to this salad to make it a meal?
I don't think there is anything that says you can't, I truly enjoy it as is but I can see pairing it with a simple white fish or chicken. As far as adding additional ingredients to the salad, I think the simplicity is what makes it best.
How long can I store the salad?
It's best to consume within 3-5 days.
How do I choose dandelion greens?
Finding a grocery store or ethnic grocer that has greens in the produce section is ideal. Be sure they appear fresh, nothing dark or wilted. If you do find any pieces that look less than ideal when you begin to prepare - pull the out and compost.
What are the best dishes to pair?
These are a few of my favorites that would be lovely alongside a dandelion salad.
As always, I love seeing your creations! This is a perfect salad or side dish to serve all year long.
I hope you enjoy this Dandelion Greens Salad as much my family does! If you make Dandelion Greens Salad, please let me know by leaving a rating and review below!
As always, I love seeing your creations. Please leave a review or share your dish with me on social media #cosetteskitchen which lets me know what is working for you! You can find me on Facebook, Instagram, Twitter , Tiktok and Pinterest. For more delicious recipes to your inbox, sign up for my newsletter!
xoxo,
Cosette
Print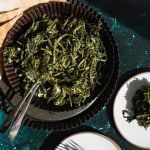 Dandelion Greens Salad
Author:

Cosette's Kitchen

Prep Time:

10 minutes

Cook Time:

20 minutes

Total Time:

30 minutes

Yield:

4

servings

1

x

Category:

Salad

Method:

Boiled

Cuisine:

Lebanese
---
Description
A simple salad or side dish of dandelion greens is not only nutritious but a very unexpected dish.
---
1.5

-

2

pounds

of dandelion greens (about 4 large bunches), ends trimmed

2

cloves of garlic, or a heaping teaspoon of toum

¼

-

⅓

cup

of fresh squeezed lemon juice, about 3 lemons

⅓

cup

extra virgin olive oil
kosher salt to taste, as well as to water*
---
Instructions
Begin by sorting through your dandelion greens and remove any that may be browned or wilted.
Place a large stock pot on the stove with water, ¾ of the way full and allow to come to a boil. Add 1 teaspoon of kosher salt to water.
Next, trim the ends just about 1" or so to remove any browning.
Once ends are trimmed, place your bunches of dandelion greens in a bowl of cold water, you may need to do this in batches. Allow to soak, working with your hands to remove any dirt and debris. 
Continue to clean 2 times until water is clear.
Once your water is boiling, add your greens. Cook your greens for 15-20 minutes until the stems are soft and tender and the bitterness is gone. Don't be alarmed, the water will be a brown color.
Drain in a colander and allow to cool slightly before handling to squeeze excess water.
Meanwhile, prepare your dressing. 
In a bowl, smash your garlic by using a mortar, garlic press or mince finely.
To your bowl add in ¼ cup lemon juice, ⅓ olive oil and a teaspoon of kosher salt* and whisk - once you add your greens you can adjust to taste with additional lemon juice.
Once your dandelion greens have cooled enough to handle, with your hands gather a bunch and SQUEEZE until all the excess water is removed. Continue until you have all the greens dried.
I like to chop my greens at this point to make them a bit smaller - then toss into your dressing. 
Mix well and adjust to taste - more salt or lemon as needed.
Enjoy room temperature or cold, we love with pita bread!
---
Notes
*If you are using salt other than kosher salt, make sure you HALF the amount
Keywords: hindbeh, vegan, vegetarian, salad, dandelion greens salad, dandelion salad, dandelion salad recipe, dandelion leaves salad, dandelion salad lebanese, wild dandelion salad, dandelion recipes salad, can you eat dandelion greens, are dandelion greens healthy