Potatoes are a huge part of the Lebanese diet. As with many foods from the various regions - taking simple ingredients and transforming them with bold flavor is the main goal. These Spicy Lebanese Potatoes - called Batata Harra in Arabic, which literally translates to Spicy Potato are a delicious and wonderful twist on roasted potatoes. They are roasted to perfection and then topped with a blend of spices and herbs to make these potatoes anything but bland!
Batata Harra
Batata Harra - Spicy Potatoes. This vegan and gluten free dish is popular in Lebanon and other Levantine countries throughout the middle east. Most commonly made by deep frying or shallow frying potatoes to give them their crispy texture. I have found just as much success roasting potatoes at a high temperature to give them a crispy exterior and soft pillowy interior without the fry time. Some methods also par-boil the potatoes to cook them faster - but simply roasting on a pan with olive oil, enough room between potatoes and a high heat does the trick and makes life 10x easier!
Various Methods for Cooking Potatoes
Double Fry - In Lebanon, the most common way to prepare these potatoes is by double frying. Deep frying your potato cubes once - then a second time in a shallow pan with your spices.

Par-Boiled - Par-boiling potatoes gives you the ability to then fry in a shallow pan with the aromatics simply to crisp sides and finish cooking the potatoes all the way through.

High Temperature Roast - This is my favorite way to cook most potatoes. High heat allows the potatoes to cook through but also create a crisp texture on both sides. For this recipe, I gravitate toward using bite-size medley potatoes. They cook faster, don't require peeling and have a soft texture. Roasting at high heat with olive oil, salt and pepper - then tossing with your aromatic sauce once baked is simply delicious!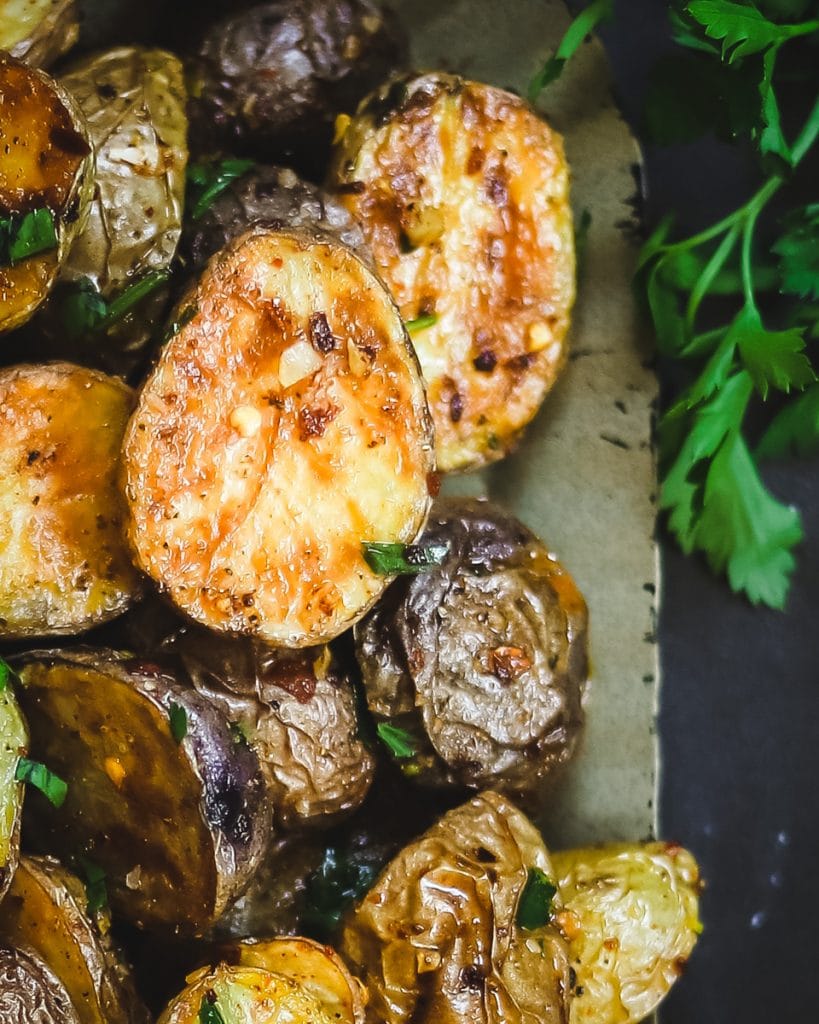 Ingredients for Batata Harra
Simple foods = simple ingredients. You probably have all of these ingredients right in your pantry!
Potatoes - For this dish, I really like using the bite-sized medley potatoes, sometimes called new potatoes or baby potatoes. They are small, cook quickly and require little effort. Not to mention I can keep the skins on and enjoy that extra crispness they give. If you have standard russet or yukon potatoes - those are perfectly fine too. You'll just want to cut them into smaller bite-sized pieces when preparing.

Olive Oil - We use a lot of olive oil in our day to day cooking and finishing. It's no surprise that we will roast the potatoes with olive oil but also use it as the base to our sauce.

Garlic - As with 90% of the savory dishes in the Lebanese culture, garlic is included in some way. For this dish, minced garlic is added to oil and spices to just barley cook off the bite and really creates this lovely flavor for the potatoes.

Spices - Different recipes call for different spices. Actually in the traditional Lebanese versions, red pepper flakes aren't used at all, most of the heat comes from the garlic as it can be spicy. I've taken some liberties and created my own personal spice blend to enjoy this dish.
Coriander - Coriander is actually the seed of cilantro and used quite a bit in Arab cooking. I personally am not a fan of cilantro but love the spice flavor of coriander.
Aleppo Pepper - I tend to use a lot of Aleppo pepper in my potatoes dishes, this lovely spice comes from Aleppo, Syria and while it has a bit of heat it isn't overpowering and mild enough that my kids can still enjoy the flavor.
Red Pepper Flakes - I do think that Western food bloggers began adding red pepper flakes to add some additional heat to this dish. I'm not a huge spicy person so I add a touch but you can certainly add more to make it spicier.
Parsley/Cilantro - Traditionally, cilantro is used in batata harra, since I'm not a fan of the flavor of cilantro I sub out Italian parsley in it's place. That bit of freshness adds good flavor! Some methods actually have you fry the coriander in the sauce but I like to add it just at the end when mixing together to keep the freshness.
Lemon - The final touch, a squeeze of lemon! It's not necessary but that bit of acidity gives the potatoes an extra pop of flavor.
How to Make Batata Harra
This dish can't be any simpler to prepare and enjoy. Begin by washing your potatoes, I will often use a little scrubber if I'm leaving the skin on as I do with these. I find that the smaller, bite-sized medley potatoes cook quicker and more evenly than even dicing potatoes. But you can certainly cut potatoes to about 1-1 ½"" cubes if you aren't using minis.
Cut your bite-sized potatoes in half or dice your standard potato into about 1- 1 ½" cubes. Give them a rinse after cutting and then pat dry. On a half sheet pan, add your potatoes and drizzle with olive oil, salt and pepper. These will go into a hot 450 degree oven for about 25 minutes flipping halfway through. You can certainly use a sheet of parchment paper to help with cleanup.
While your potatoes are cooking, it's time to prepare your sauce. The combination of hot oil, garlic and spices is so fragrant and poured onto the hot potatoes which helps them to absorb that amazing flavor!
In a small pan, warm your olive oil on medium-low for a minute then quickly add your garlic and spices. The key is to just heat the garlic and spices enough to warm through - you don't want to overcook or burn your garlic because it will be EXTREMLEY bitter. Leave to warm for 20-30 seconds and then remove from heat.
Once the potatoes come out of the oven - quickly pour your spice sauce, chopped parsley or cilantro and mix to combine. Plate with a squeeze of lemon and enjoy!
Frequently Asked Questions
How spicy are the potatoes?
You can control the spice to your liking - if you are sensitive to spicy food, I would stick with Aleppo pepper and/or even using paprika or chili powder in place of the red pepper flakes.
How do you store the potatoes?
The potatoes are truly best enjoyed immediately hot out of the oven. That being said, I have stored leftovers in the fridge and will heat back up in a skillet or pop into the oven when I want to enjoy. Even better, use them in a hash the next day!!!
What do you serve with these potatoes?
Just about anything! I love having them with chicken shawarma or kofta burgers. Think of them as street food, so anything that is a quick bite. They are also perfect to serve as part of a mezze spread - hummus, fasolia, fattoush.
I hope you enjoy these potatoes as much my family does – and feel free to adjust and make your own!
If you make Batata Harra, please let me know by leaving a rating and review below!
As always, I love seeing your creations. Please leave a review or share your dish with me on social media #cosetteskitchen which lets me know what is working for you! You can find me on Facebook, Instagram, Twitter , Tiktok and Pinterest. For more delicious recipes to your inbox, sign up for my newsletter! Don't forget to check out the upcoming cooking classes happening this month as well, would love to have you there.
xoxo,
Cosette
Print
Spicy Lebanese Potatoes (Batata Harra)
Author:

Cosette's Kitchen

Prep Time:

10 minutes

Cook Time:

25 minutes

Total Time:

35 minutes

Yield:

6

servings

1

x

Category:

Potatoes

Method:

Baked

Cuisine:

Lebanese
---
Description
Spicy and flavorful bites of potato.
---
2

pounds

bite sized/baby potatoes, cut in half
or 2 pounds standard russet/yukon potatoes diced into 1-1.5" cubes

5 Tablespoons

of olive oil, divided

3

cloves garlic, minced

½ teaspoon

coriander

1 teaspoon

Aleppo pepper

½ teaspoon

red pepper flakes (more if you want spicier)
small bunch of fresh parsley or cilantro, chopped

1 teaspoon

kosher salt* - more as needed
pepper
squeeze of lemon
---
Instructions
Roasting Potatoes
Preheat your oven to 450 degrees Fahrenheit
Prepare your potatoes by scrubbing the skins and cut in half if using bite-sized/baby or into 1-1.5" cubes if using larger potatoes. I prefer to leave the skins on but you can certainly peel them as well.
After cutting the potatoes, wash them a 2nd time and pat dry.
Place dried potatoes on a half sheet pan and drizzle with 2 tablespoons of olive oil, a teaspoon of kosher salt and a few grinds of fresh black pepper, mix with your clean hands to combine and coat entirely.
I like to arrange potatoes with the same size up and then at the halfway point, flip them.
Place in oven with rack in the upper 3rd section and bake for 12 minutes.
Begin making your garlic oil sauce (see below) while potatoes bake.
After 12 minutes, remove from oven and flip to the 2nd side and bake for another 12-14 minutes until golden brown.
Garlic Oil Spice Sauce
Mince your cloves of garlic and set aside.
In a small bowl, combine your spices: coriander, Aleppo pepper and red pepper flakes
In a small skillet 6-8" heat 3 tablespoons of olive oil on medium low heat for about 30 seconds.
Quickly add your garlic and spices to the hot oil. Allow to simmer for 30-40 seconds until just becoming fragrant. Once heated and fragrant, immediately move off of heat.
Assemble and Enjoy
Once potatoes are done, pour your hot oil mixture and a chopped parsley to your potatoes. Mix to combine.
Check to see if you need additional salt.
Enjoy with a squeeze of lemon! 
---
Notes
*If using table salt, half the quantity
*Leftovers can be stored in fridge for 5-7 days - heat in skillet or oven to rewarm. 
Keywords: batata harra, spicy lebanese potatoes, spicy potatoes recipe, spicy potatoes lebanese, batata harra recipe, batata harra arabic, batata harra baked, baked spicy potatoes, vegan, vegetarian, gluten free