If you have have the opportunity to walk down the streets of Lebanon, the smell of sweets and garlic will waft through the air. Shish Tawook (Shish Taouk) is a common street food, they are succulent and tender chicken kebabs marinated in a garlic, lemon, spiced yogurt mixture.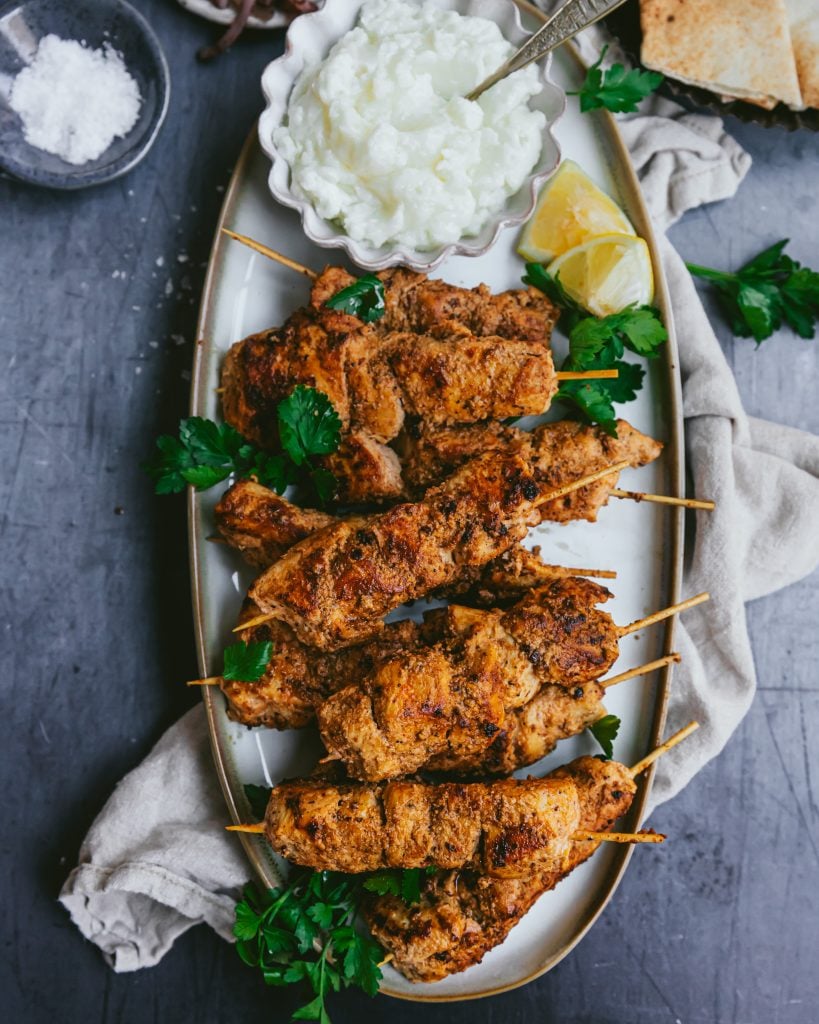 There are many variations to Shish Tawook that people have shared from their own family recipes. The origin of the dish and name is Turkish. Shish means skewers and tawook translates to chicken. There was heavy Turkish influence in Lebanon during the ruling of the Ottoman Empire. This dish remained a popular and iconic dish of Lebanon and other neighboring Middle Eastern countries.
Jump to:
Ingredients
Simple and fresh ingredients are the key to this dish - you can absolutely adjust and adapt to your needs - key flavors are garlic and lemon!
Chicken - Cubed chicken breast is typical for these kebabs but you can certainly use chicken thighs as well.
Laban or Yogurt - In Arabic, yogurt is called laban - I often make my own then use it to make labneh. Whole milk yogurt is most ideal for this dish. The yogurt is going to help create that very tender and flavorful chicken. (see substitutions for dairy free)
Lemon - Fresh lemon + lemon zest, helps with tenderizing the chicken but also packs a ton of flavor.
Garlic Toum - Truth - if you don't have toum in your fridge, make a batch right now, I promise you it's worth it! I'm specifically using toum in this recipe because it gives the chicken such a velvety texture and flavor. HOWEVER, if you really truly don't have toum, you can sub with 15 cloves of finely minced garlic. I know it sounds like a lot but it will be packed with flavor!
Olive Oil - Use a good quality olive oil in the marinade.
Paprika - The paprika adds a bit of color to these skewers but also a hint of flavor. Some versions of shish tawook call for tomato paste - you can certainly use that if you'd prefer (see substitutions).
Sumac - I love adding a bit of sumac to my recipe which adds an extra punch of lemony flavor.
Kosher Salt
Black Pepper
See recipe card for quantities.
Instructions
A simple mix of your marinade ingredients and a little time is all your need for these incredible shish tawook skewers. It really is ideal to marinade them for 4-12 hours.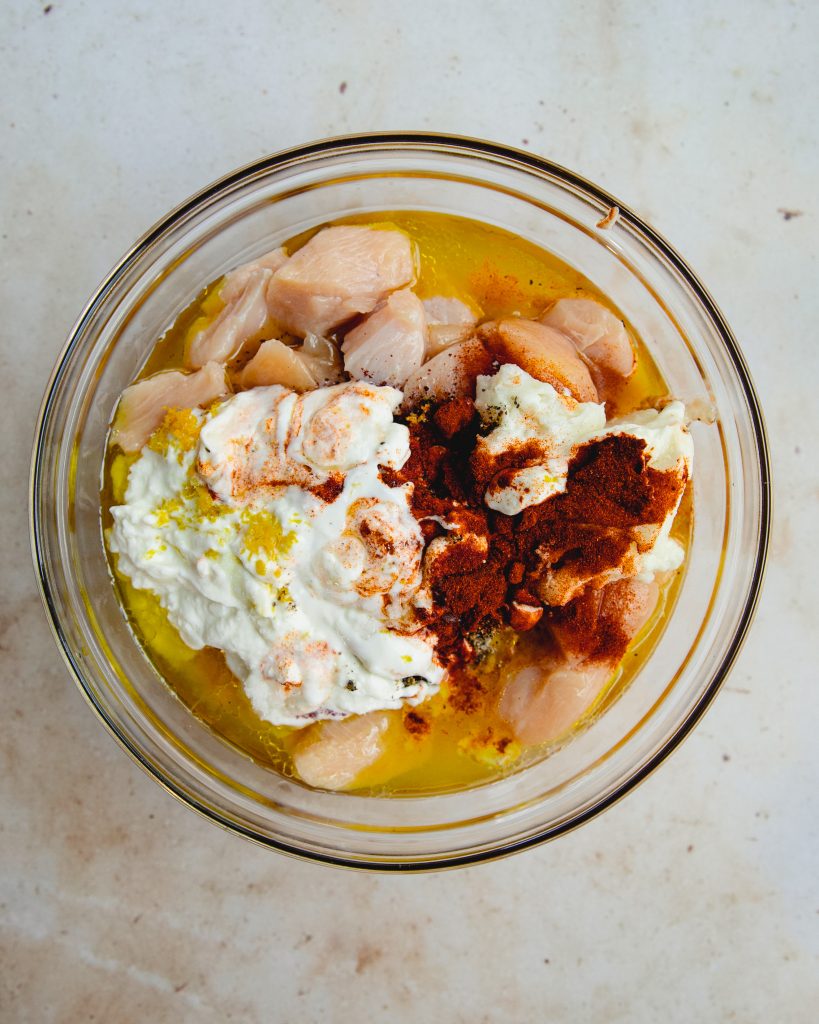 Combine all your marinade ingredients into a bowl and whisk until fully combined.
Place your cubed chicken into the marinade and allow to coat completely. You can skewer them now or when you are ready to cook.
Place 4-5 pieces onto a 6" skewer, or additional pieces on a larger skewer. The 6" skewers are great for party size appetizers.
Place marinated chicken kebabs on a hot grill or if cooking inside, drizzle a little oil on a skillet or grill pan and place your skewers. Allow to cook for 4-5 minutes on each side, flipping on all 4 sides until fully cooked. Temperature should read 165 degrees Fahrenheit.
Hint: It is best to keep chicken marinating no longer than 24 hours, longer than that and it should be frozen or chicken and marinade kept seperate.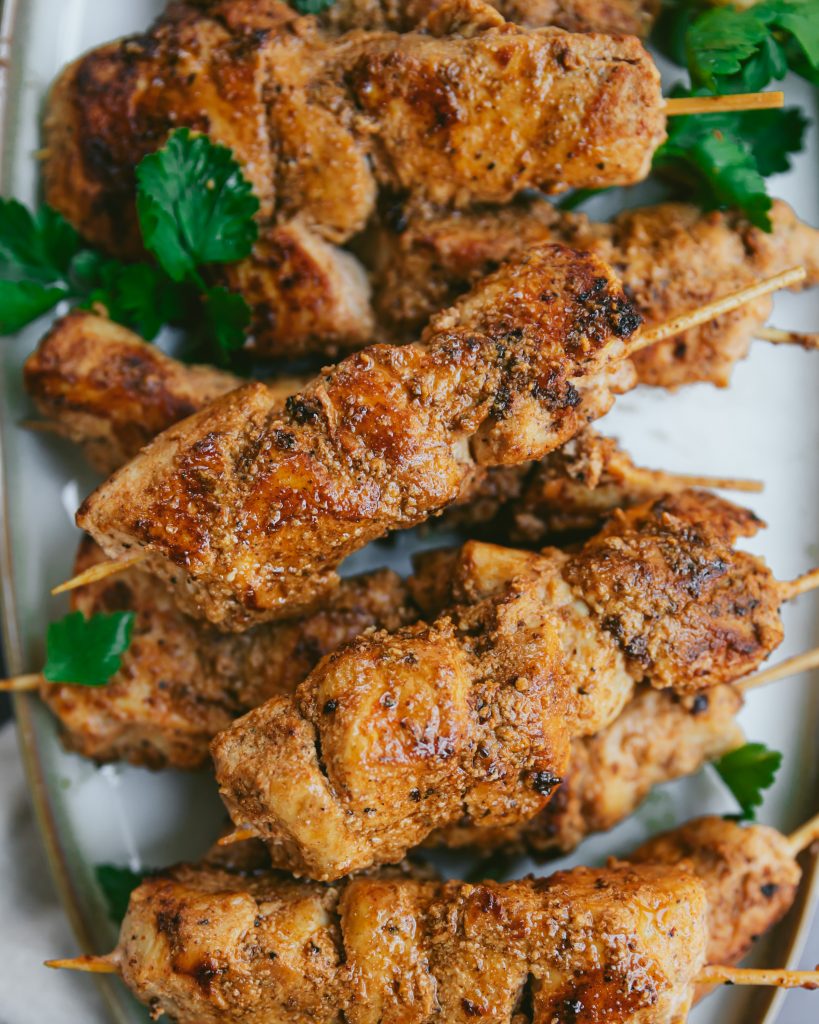 Substitutions - Dairy Free
Dairy Free - You can simply make by using all the ingredients and increase your toum to ⅓ cup. If you are omitting the dairy, using toum is crucial - you won't get the same flavor or texture with minced garlic.
Sumac - If you can't find sumac adding a little extra lemon zest is a great alternative. It's used for both some color and lemon zing.
What to Serve with Shish Tawook
Shish tawook is such a simple and versatile dish. I love a spread of hummus, toum, fresh tomatoes, parsley, pickled turnips, pickled or sumac onions and of course pita.
Great dishes to enjoy with your shish tawook if you are planning as a dinner: spicy Lebanese potatoes, fattoush, dandelion green salad, Lebanese potato salad. Shish Tawook is another flavorful dish but different than Chicken Shawarma - Chicken Shawarma has a much heavier spice mixture and unlike Shish Tawook is not marinaded with a yogurt base. The Chicken Shawarma spice mix is a bit warmer in flavor.
How to store leftovers
These kebabs are best when eaten fresh off the grill, but you can certainly store leftovers for 4-5 days in an airtight container in the fridge. To reheat, place in skillet or convection countertop oven. I also love enjoying them cold on a salad or as is, try them in chicken salad!
FAQ
How long should I marinade shish tawook?
For best results, marinating for 4-12 hours is ideal. This really helps to tenderize the chicken and meld flavors together.
Do I need to soak my wooden skewers?
This is a personal preference, I have personally never soaked my wooden skewers on any grill I've used (gas grill) and have had no problems. I'm currently using a flat top grill so no open flames to worry about. If you have done it successfully in the past and it works for you - you certainly can soak them for 30 minutes prior to skewering and cooking.
Do I need toum to make these?
I love the addition of traditional toum with these, it gives a garlic flavor but not as overpowering as minced garlic. If you are omitting the yogurt due to dairy restraints I'd say YES to ensuring you use toum. Otherwise, you'll get a delicious chicken dish even without it.
I'm dairy free, can I still make these without yogurt?
I have details on dairy free options above, it's best with the yogurt as that is what makes it's truly shish tawook, but if you have toum - you can still create a very comparable dish.
I hope you enjoy these Chicken Shish Tawook (Shish Taouk) Kebabs as much my family does!
If you make these Chicken Shish Tawook (Shish Taouk) recipe, please let me know by leaving a rating and review below!
As always, I love seeing your creations. Please leave a review or share your dish with me on social media #cosetteskitchen which lets me know what is working for you! You can find me on Facebook, Instagram, Twitter , Tiktok and Pinterest. For more delicious recipes to your inbox, sign up for my newsletter!
xoxo,
Cosette
Print
Authentic Shish Tawook - Lebanese Chicken Kebabs
Author:

Cosette's Kitchen

Prep Time:

15 minutes

Cook Time:

15 minutes

Total Time:

30 minutes

Yield:

12

6" skewers

1

x

Category:

Dinner

Method:

Grilling

Cuisine:

Lebanese
---
Description
Tangy, tender and flavorful Chicken Shish Tawook (Taouk) is a common grilled dish in Lebanon. Marinated with a combination of yogurt, garlic toum and spices it's flavor packed. You won't go back to eating plain chicken again! 
---
2.5

pounds

of chicken breast (or thighs) cut into 1.5" cubes

6

" wooden or metal skewers

¾

cup

plain full-fat yogurt*
zest of

2

lemons
juice of

2

lemons, ¼ cup

¼

cup

toum (sub 15 cloves minced garlic)

¼

cup

extra virgin olive oil

2 teaspoons

paprika (sweet or smoked, your preference)

1 teaspoon

sumac spice (add an additional zest of

1

lemon if you don't have)

2 teaspoons

Diamond kosher salt*

1 teaspoon

black pepper
---
Instructions
Begin by preparing your chicken, cut into large cubes about 1.5" each, set aside.
In a large bowl, combine all your marinade ingredients and whisk until fully combined.
Place your chicken cubes into marinade, cover and set in fridge for 4-12 hours.
When ready to cook, remove from fridge and place 4-5 pieces of chicken on your skewer (more if using a larger skewer).
Heat your grill, grill pan or skillet over medium-high heat. Grease your grill grates or drizzle a little oil on your skillet or flat top grill.
Place shish tawook skewers on heated grill and allow each side to cook for about 4 minutes, rotating on all 4 sides until charred and fully cooked through.
Chicken should be cooked to 165 degrees Fahrenheit if using a thermometer, if you don't have a thermometer, remove one piece of chicken, cut and make sure it is fully white on the inside.
Remove from grill and cover with foil to keep juices and moisture locked.
Enjoy with additional toum and pita! 
---
Notes
If using Morton's kosher salt, reduce to 1.5 teaspoons - if using table salt, reduce to 1 teaspoon
If omitting the yogurt, be sure to increase your toum or olive oil to ⅓ cup
Feel free to add onion chunks in between your chicken on the skewers.
Keywords: superbowl food, chicken shish tawook, lebanese shish tawook recipe, authentic shish tawook recipe, what is shish tawook, shish taouk recipe, grilled chicken kebabs, shish tawook vs chicken shawarma
Food safety
Cook to a minimum temperature of 165 °F (74 °C)
Do not use the same utensils on cooked food, that previously touched raw meat
Wash hands after touching raw meat
Don't leave food sitting out at room temperature for extended periods
Never leave cooking food unattended
Use oils with high smoking point to avoid harmful compounds
Always have good ventilation when using a gas stove