Spinach and Meat Pies
I have been wanting to create this post for a long time now. One of the most memorable foods of my childhood are Fatayer. Fatayer are savory pies, the most common varieties include spinach, meat and cheese. Truly, my father is and will always be know as "The Pie Man". From my earliest memories, my father has made fatayer pies in his business, starting at his pizza shop, later to the deli and now, even at his ice cream shop - he makes fatayer weekly to sell.
Moving across the states when I was only 22, I didn't realize that the thing I would miss most (besides my actual family) was the food my parents cooked. It took me a number of years to learn to recreate dishes I grew up with, mujadara, spinach and rice, fattoush, ma'ammoul, kofta and more. But truly, working on perfecting these pies was one of my number one goals. From working with the dough, to getting the filling seasoned just right and finally shaping each pie into its unique shape.
After baking some for the first time, the smell that wafted through the house reminded me of the smell of my father coming home after "pie day". The smell of spinach, dough, meat and oil - all those years and even now I can smell that distinct smell and know pies were made.
Today, in my own kitchen I work hard to recreate the dishes I learned from my parents. I still call my mom and dad often. A lot of what I do is take their recipes, scale them down to reasonable quantities or measurable quantities so that I can always make these incredible meals for my family. And hopefully one day - this blog or a book for that matter will be passed along to my children, nieces, nephews and their families.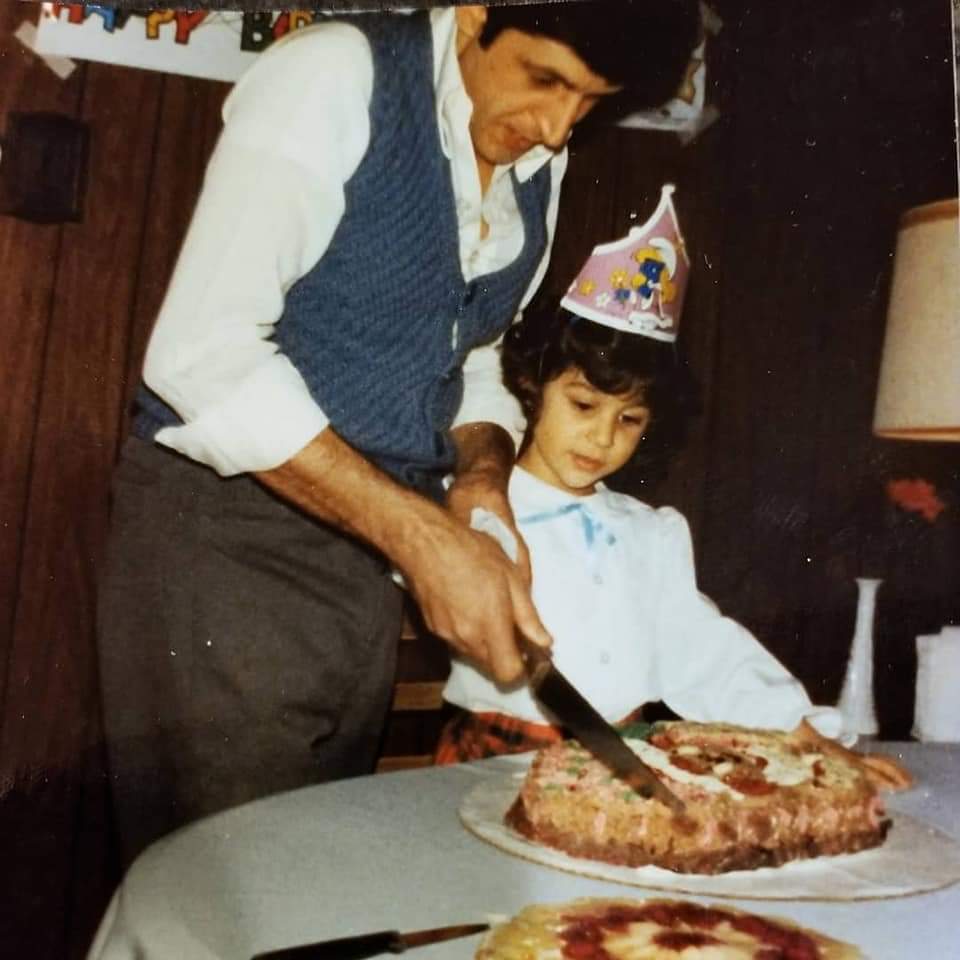 Fatayer
Fatayer are the Arab version of a savory pie, often served with mezze - an appetizer spread similar to tapas. Part of the Levantine cuisine, fatayer is eaten in Iraq, Syria, Egypt, Lebanon, Jordan and Palestine. We are not the only culture to have such a dish. Truly, most cultures throughout the world have their own version of a savory pie. Empanadas, Pastilla, Saltenas, Spanakopita, Samosa to name a few are varieties of pies throughout other cultures. Fatayer are typically filled with meat, spinach or cheese - the two types I'm sharing today are filled with meat and spinach. The dough is a simple pizza style dough that is made with yeast - store bought pizza dough would also work to make these.
Ingredients
Kind of like pizza, these fatayer are very versatile and can really be filled with whatever you'd like. We will be making some more traditional combinations today including a meat filling and a spinach filling. This meat filling is also the same that many hummus dishes are topped with - that is another amazing meal idea! The spinach pie is completely vegan which is a wonderful option when entertaining. The size of these fatayer pies is completely up to you. I'm sharing more of a meal sized portion today. Making the fatayer slightly larger as shown here is much easier, especially if this is your first time making them or working with dough. It gives a little more flexibility and room for error than the small mini pies. Let's breakdown ingredients:
Dough - Our avenue for creating these fatayer is dough. I do make my own dough using a simple mixture of flour, oil, salt, water and yeast. If you have a local pizza shop or even a Trader Joe's you can absolutely pickup some pre-made dough to try this recipe. I've linked my dough recipe for you and also have it below in the recipe details.

Ground Beef - For our meat pies, we're going to use a lean ground beef as our base. This is the classic meat pie fatayer.

Frozen Spinach - I know you're thinking, why frozen spinach? If you've ever cooked spinach you'll know that a large container will wilt down to almost nothing. We are using frozen spinach so we have a large enough quantity to fill our pies. Our spinach is thawed, squeezed dry and drained.

Onions - In both our spinach and meat pies we're going to use onions. In the meat pies, the onions will be cooked with the meat while we'll add them raw to our spinach and they'll cook while baking.

Spices + pantry items- These fatayer pies are very simple. For our meat mixture we'll add cinnamon, salt and optional pine nuts. For our spinach pies, simply salt, pepper, lemon and oil.
Shaping and Filling the Dough
One of the most important parts of making these fatayer pies is shaping the dough. Each pie with their distinct shape so you can distinguish what is in each pie. Spinach pies have their signature triangular shape, while meat pies have a crescent shape. A few things to consider when making fatayer, especially if you plan on making both varieties at once.
Meat Pies First - It may seem silly to have an order of how you make these fatayer pies but if you are making both varieties you'll want to make the meat pies FIRST if you plan on using the same trays. The reason is, the spinach pies contain oil and are often messier when filling as well as baking. The meat mixture is firmer, drier and much easier to deal with and has less "leakage" when shaping and baking.

Keep Clean Edges - Another big item to consider is to keep your edges clear - this is where you will be closing and pinching your pies to stay shut. Especially when you're working with the spinach mixture since it contains oil, you want to make sure to keep filling away from the edges.

Crescent Shape - When making meat pies, you'll want to place your meat filling at the bottom half of your circle and fold the other half over. Pinch shut and you can even go around and fold and pinch one more time.

Triangle Shape - As I said above, the spinach fatayer are a little trickier, messier and need a little more attention to detail. Keep a clean paper towel near you so you can keep clean hands. After rolling your circle, you want to place your filling directly in the center. Bring up two sides, pinch shut and then 2 more sides to form a triangular shape. Pinch tight all around and filling will settle in.
Troubleshooting + FAQs
I do think these fatayar pies are a recipe for someone experienced in the kitchen and especially working with dough. Here are some tips and tricks as you begin to make these.
Keep dough covered - It is important to keep your dough covered with plastic wrap or a damp towel as you are working with individual pieces. Leaving the dough exposed will cause it to dry out and not roll properly.

Don't be afraid of flour - When you are rolling your dough, if you notice it sticking to the surface or rolling pin - the one thing my dad taught me is to FLOUR! You want to add more flour as needed to ensure your dough is NOT sticking. It should roll easily and freely with your rolling pin.

Make ahead - When making meat fatayer pies, you want to be sure your mixture is fully cooled, this is a great time to prep ahead. Make the meat mixture the day before and fill cold from the fridge. If the mixture is hot it will melt your dough and not cook well.

Oily dough - As I mentioned, working with the spinach mixture can be a little messy. If you got some of the filling on your edges, it probably won't close very well. It's not the end of the world, all that means is it won't be a solid closed pie and some may leak onto the tray. They will still taste amazing!!! This is also why baking these 2nd is way better!

Do I have to use oil in the tray? - I know you all want to be healthy and avoid using oil, BUT the oil is what gives these fatayer pies their signature form and flavor. The fatayer pies are essentially being slightly fried only on the bottoms to give a nice crispy and hearty bottom to support your filling. Once you remove them from the oven, stack the fatayer to one side and allow the oil to pool at the bottom of your tray - remove your pies and place on a paper towel lined tray to absorb any excess. It's best to use a high heat, neutral oil such as canola or vegetable.

Can I try other fillings? - Absolutely!! We love a cheese filled fatayer pie - combine labneh (or Greek yogurt), feta cheese, parsley and even some black caraway seeds. Taste and fill your fatayer. I often will make a chicken, potato, garlic which isn't traditional but a great way to use up some leftovers. Mix cooked chicken, cooked potatoes a bit of toum, fill and enjoy!!
Culture Within Our Food
I can't leave this post without sharing a little bit about a movement that myself and many other food bloggers and food enthusiast are part of today. Food appropriation is something that many cultures deal with, especially in the food blogging and restaurant industry. In an effort to shine and create authentic recipes within our culture, I've put together #CultureWithinOurFood over on Instagram - a day where many of us are sharing dishes, stories and history of classic dishes from a variety of cultures around the world. I hope you'll check out the hashtag and support those folks sharing these special recipes. Here are also a few recipes for other types of savory pies from various cultures.
Samosa from Dishes from My Kitchen
Cinnamon Apple Empanadas from Dash of Color and Spice
Tuna Fish Empanadas form Laylita's Recipes
Keema Beef Samoas from Blend of Spice
Guava Empanadas with Bacon from Live Love Yummy
If you make Fatayer, please let me know by leaving a rating and review below!
As always, I love seeing your creations. Please leave a review or share your dish with me on social media #cosetteskitchen which lets me know what is working for you! You can find me on Facebook, Instagram, Twitter , Tiktok and Pinterest. For more delicious recipes to your inbox, sign up for my newsletter!
xoxo,
Cosette
Print
Lebanese Fatayer
Author:

Cosette's Kitchen

Prep Time:

35 minutes

Cook Time:

20 minutes

Total Time:

55 minutes

Yield:

20

fatayer pies

1

x

Category:

Savory Pies

Method:

Baking

Cuisine:

Lebanese
---
Description
Lebanese fatayer pies are a classic small bite and part of a mezze spread (appetizer). This recipe is robust and I've scaled it to make about 9-10 of each type of pie. If you want to cut in half  to make just one type, you are welcome to do so. You can also freeze half your dough to make another time. Feel free to email me or leave a comment with questions. 
---
Dough - this recipe will make about 18-20 medium sized fatayer
6

cups

all purpose flour

1 Tablespoon

dry active yeast

1 Tablespoon

sugar

2 teaspoons

kosher salt

4 Tablespoons

olive oil + extra for bowl

1 ½

-

2

cups

of warm water 110 degrees
Meat Fatayer Filling:
2 Tablespoons

olive oil

2

large onions, diced

2

pounds

lean ground beef - 7% or less fat content

3 teaspoons

kosher salt, divided**

3 teaspoons

cinnamon

½

cup

pine nuts - optional
Spinach Fatayer Filling: 
2

pounds

frozen spinach, thawed, squeezed and drained of all liquid

1

large onion, diced

½

cup

neutral oil - canola, vegetable or avocado

½

-

⅔

cup

fresh lemon juice - about 3-4 lemons, adjust to your own taste

1 teaspoon

kosher salt

1 teaspoon

black pepper
**Additional neutral oil for baking sheets and flour for rolling dough
---
Instructions
Dough Recipe
In the bowl of a stand mixer fitted with a dough hook, add your flour and salt, mix until just combined.
In a 1 cup measuring cup, add your yeast, sugar and 1 cup warm water. It should be about 110-115 degrees, warm to touch but not scold. Stir and allow to bubble for 5 minutes. 
Add your olive oil to the flour and salt mixture and mix. Slowly begin adding your yeast water to the mixture and allow the mixer to run on medium as dough begins to form. 
Fill your 1 cup measuring cup with another warm cup of water. Begin adding slowly to your flour mixture until your dough just combines and becomes silky and elastic. You may not use the full cup. 
Continue to mix for 5-8 minutes.
Once fully combined and smooth, drizzle a bit of olive oil (teaspoon) at the bottom of bowl and coat dough. Cover with plastic wrap or damp towel and leave to rise in warm place. 
Some ovens have a proof setting - otherwise I will often heat my oven for just 3-4 minutes, shut it off and pop the dough in there or same with microwave.
Allow dough to rise for 2 hours until doubled in size.
Meat Fatayer Filling:
Be sure you make your filling ahead of time and allow to cool before filling dough.
In a large skillet, over medium-high heat add your oil and allow to heat until glistening about 3 minutes.
Add your diced onions and cook for 3-4 minutes until they begin to soften and become translucent.
Add your ground beef and begin cooking, breaking up into small bits and chunks. Add 2 teaspoons of kosher salt. Continue cooking until fully browned, could be up to 10 minutes.
Drain the fat from your skillet and return meat and onion mixture to the pan. 
Allow to continue cooking until it appears "dry". Add your cinnamon and check for salt - add more if needed. Add pine nuts if using and then allow to cool fully.
Spinach Fatayer Filling:
Allow your frozen spinach to thaw completely either in the fridge or on the counter for several hours. In a colander, begin squeezing all the excess moisture from your spinach. Continue to squeeze until fully dry. 
Place prepared spinach in a bowl and add your diced onion, oil, ½ cup lemon juice, salt and pepper. Taste for lemon and salt - add more if needed.
Assembling and Baking Fatayer:
Preheat your oven to 400 degrees Fahrenheit and place rack in center of oven.
On a well floured surface begin to portion your dough out - I weighed mine to be about 100 grams. That will give you a medium sized pie.
Take each piece of dough and gently roll using a rolling pin until it's just about a 5" diameter and ¼" thickness. You don't want it to be too thin or your filling will puncture through. 



Meat Fatayer

Starting with meat if you are making those - fill the bottom half of the circle with about 3-4 tablespoons of filling, allowing the edge to remain clean. 
Fold over the other half of dough and pinch shut. Repeat with remaining meat fatayer.
 On a half sheet pan, add about 5 tablespoons of neutral oil (canola or vegetable) and place meat fatayer - I can usually fit about 8-9 on one pan. Bake at 400 degrees for 15-20 minutes on the center rack. You want the bottoms to turn a golden brown and tops to just slightly begin to brown. 
Remove when done and remove pies from sheet pan to a paper towel lined tray.


Spinach Fatayer

Fill the center of the circle with about 3-4 tablespoons of filling, allowing the edges to remain clean. 
Bring up two sides and pinch to form one part of your triangle.
Bring up two more sides to form a complete triangle and pinch shut on all sides. Repeat with remaining spinach fatayer.
 On a half sheet pan, add about 5 tablespoons of neutral oil (canola or vegetable) and place spinach fatayer - I can usually fit about 8-9 on one pan. Bake at 400 degrees for 15-20 minutes on the center rack. You want the bottoms to turn a golden brown and tops to just slightly begin to brown. 
Remove when done and remove pies from sheet pan to a paper towel lined tray.
---
Notes
This dough recipe will make about 20 medium sized fatayer pies, you can choose to do both fillings or even double one. You can also half the dough recipe if only making one filling. I do not know how much pizzeria or Trader Joe dough will yield. You can always store the extra filling or use in another dish if you have too much. 
I always encourage people to taste fillings along the way to adjust salt and lemon flavors to your liking. I like my spinach filling to be a little extra lemony as some will cook off.
Please use kosher salt in your cooking, otherwise cut salt IN HALF
Fatayer can be stored in a sealed container or ziplock bag for up to 5 days in the fridge.
Fatayer can be wrapped with plastic wrap, then foil and frozen for up to 3 months. Remove from freezer to fridge and heat before enjoying. 
Keywords: vegan, vegetarian, fatayer, fatayer recipe, fatayer joanna gaines, fatayer dough, fatayer spinach, fatayer meat, fatayer magnolia table, fatayer dough recipe, fatayer b'sabanekh, fatayer bi sabanekh, fatayer beef, fatayer arabic food, fatayer pronunciation