Lebanese Green Bean Stew or Loubieh (Loubia) bi Zeit in Arabic is a simple one-pot meal sure to satisfy. A simple, vegetarian dish Lebanese dish that is incredible during the summer months with fresh tomatoes and green beans but also a warming and cost effective dish in the winter months. This dish can be eaten warm or cold depending on what you're feeling that moment. Like many Arabic dishes, this Loubieh is naturally vegan and gluten free.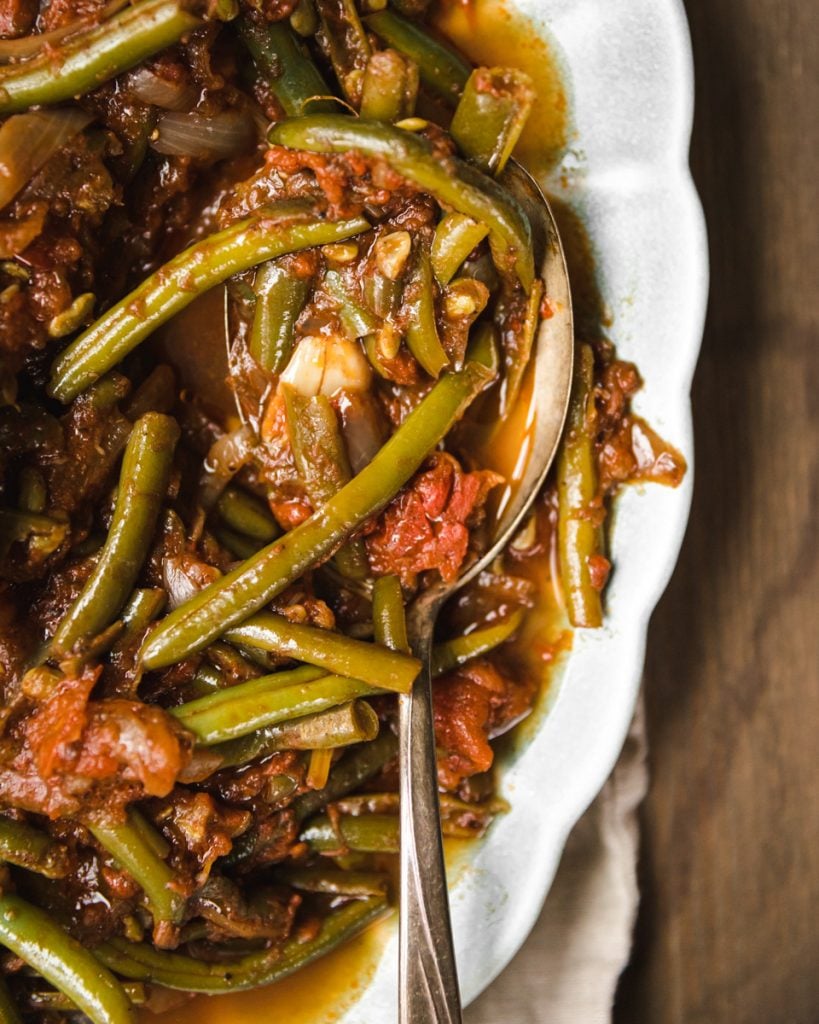 This time of year many people are observing Lent and looking for wholesome meatless dishes, Loubieh bi Zeit is so incredibly flavorful and comes together with just a few pantry ingredients and a little cook time on the stove. "Loubieh" translated in Arabic is green beans while "bi zeit" translates to with oil. Many dishes that are termed "bi zeit" are often enjoyed room temperature or cold - mostly vegetarian dishes. Like this Fasolia bi Zeit which is a bean dish or my favorite Dandelion Salad! I'm also sharing a full roundup of Middle Eastern veggie forward recipes to get you through your Meatless Mondays or Fridays! So don't miss out on that blog post!!
Jump to:
Ingredients for Loubieh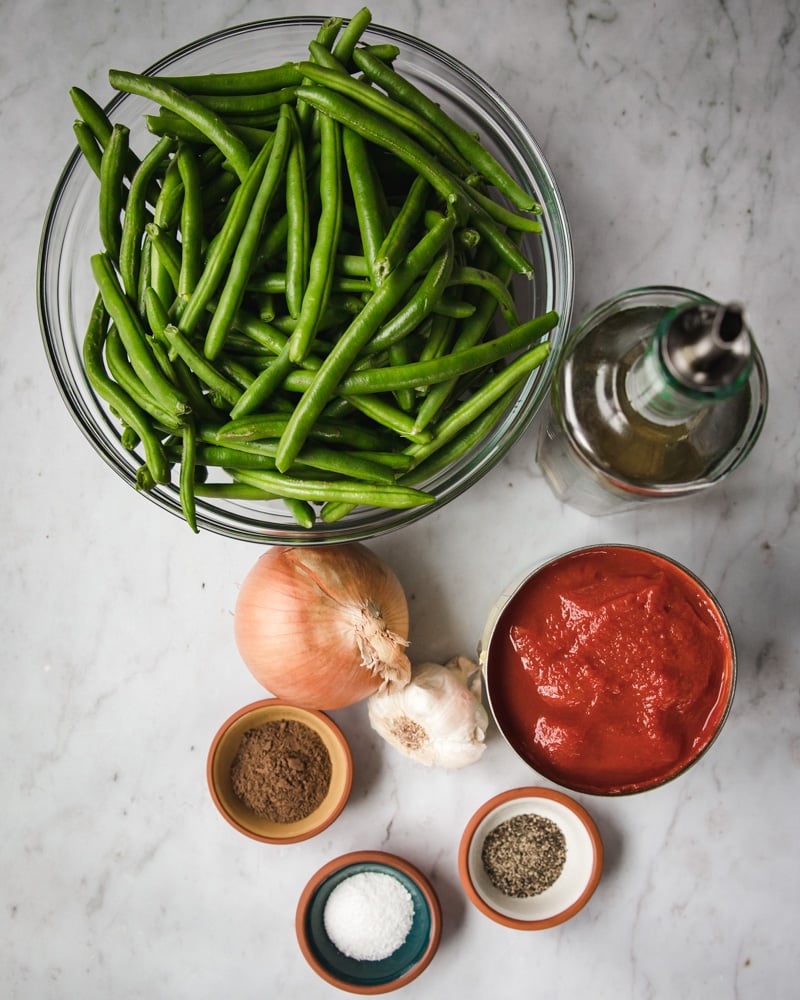 Green Beans - Green beans are the star of this dish, if it's summer where you are this is the perfect dish to make with garden fresh or Farmer's Market beans. However, if you're making this in the winter - any green bean will do, my mom will even make this with frozen beans. Use whatever you have on hand and enjoy!
Tomatoes - Summertime fresh tomatoes are incredible with this dish and when I really enjoy eating it cold/room temperature. But in the winter months I use a can of good whole peeled tomatoes. Often times I'll throw in a roma tomato or two if I have them lingering around. Very forgiving and adjustable.
Onions + Garlic - Truly the base of most meals, the onions and garlic are both cooked to allow for some extra sweetness in the dish. Onions are sliced and sautéed while whole cloves of garlic are added to create an almost roasted sweetness.
Olive Oil - Olive oil for cooking but also, a little drizzle before enjoying - especially if eating cold.
Allspice - Ground allspice gives the dish an earthy, warm flavor.
Salt and Pepper
See recipe card for quantities.
Instructions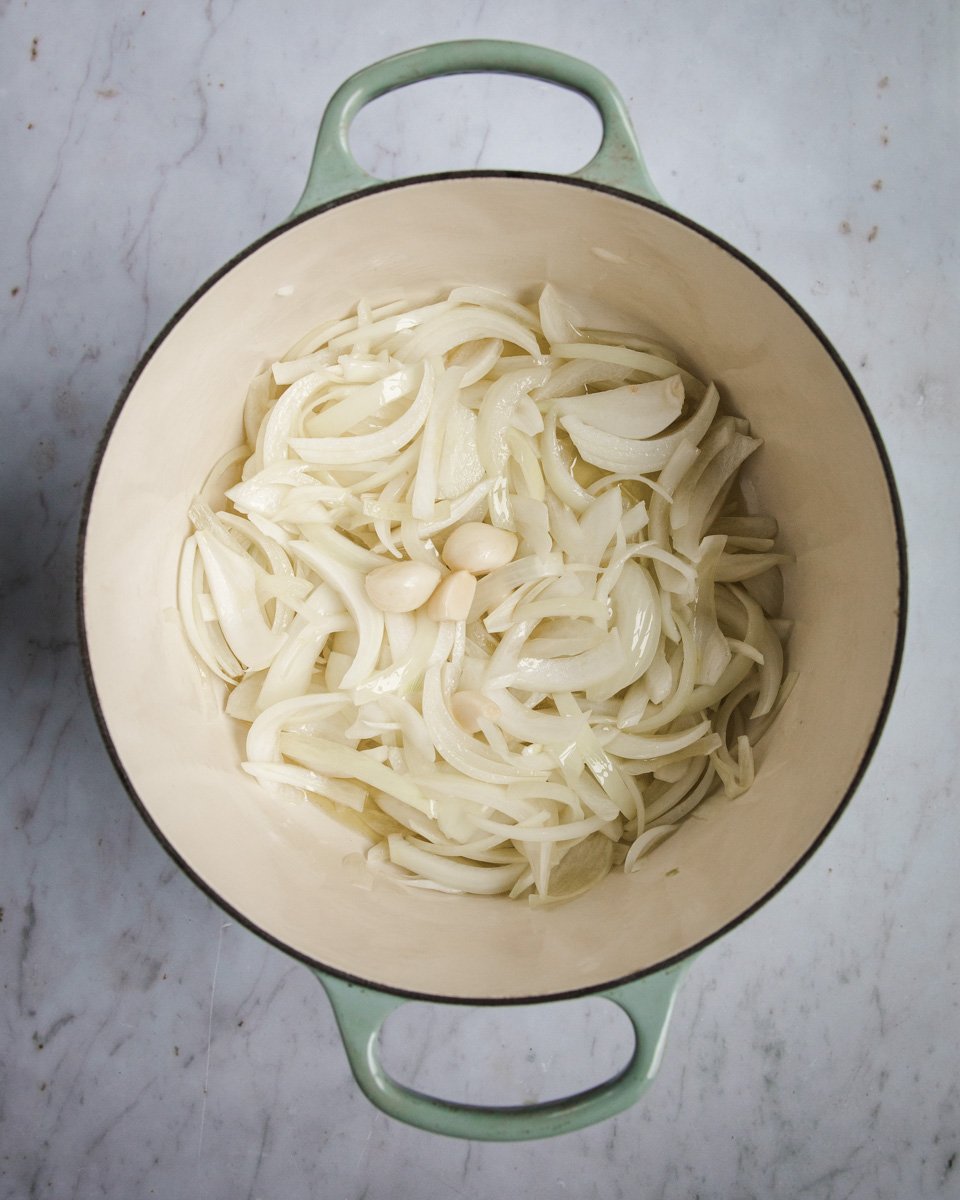 Over high heat, heat your olive oil and then add your sliced onions and whole garlic cloves to a large stock pot.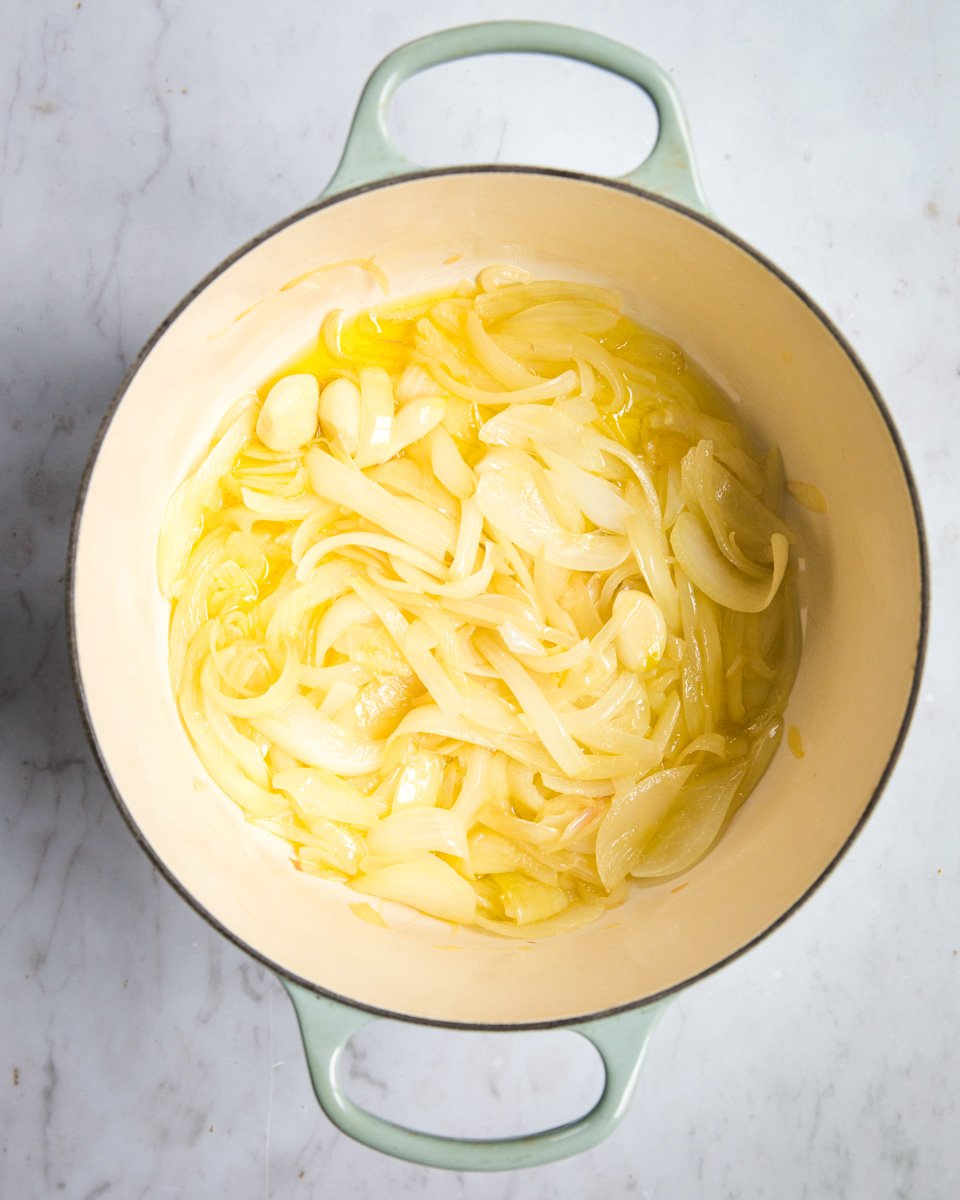 Cook for 10-12 minutes until they onions begin to turn soft and translucent.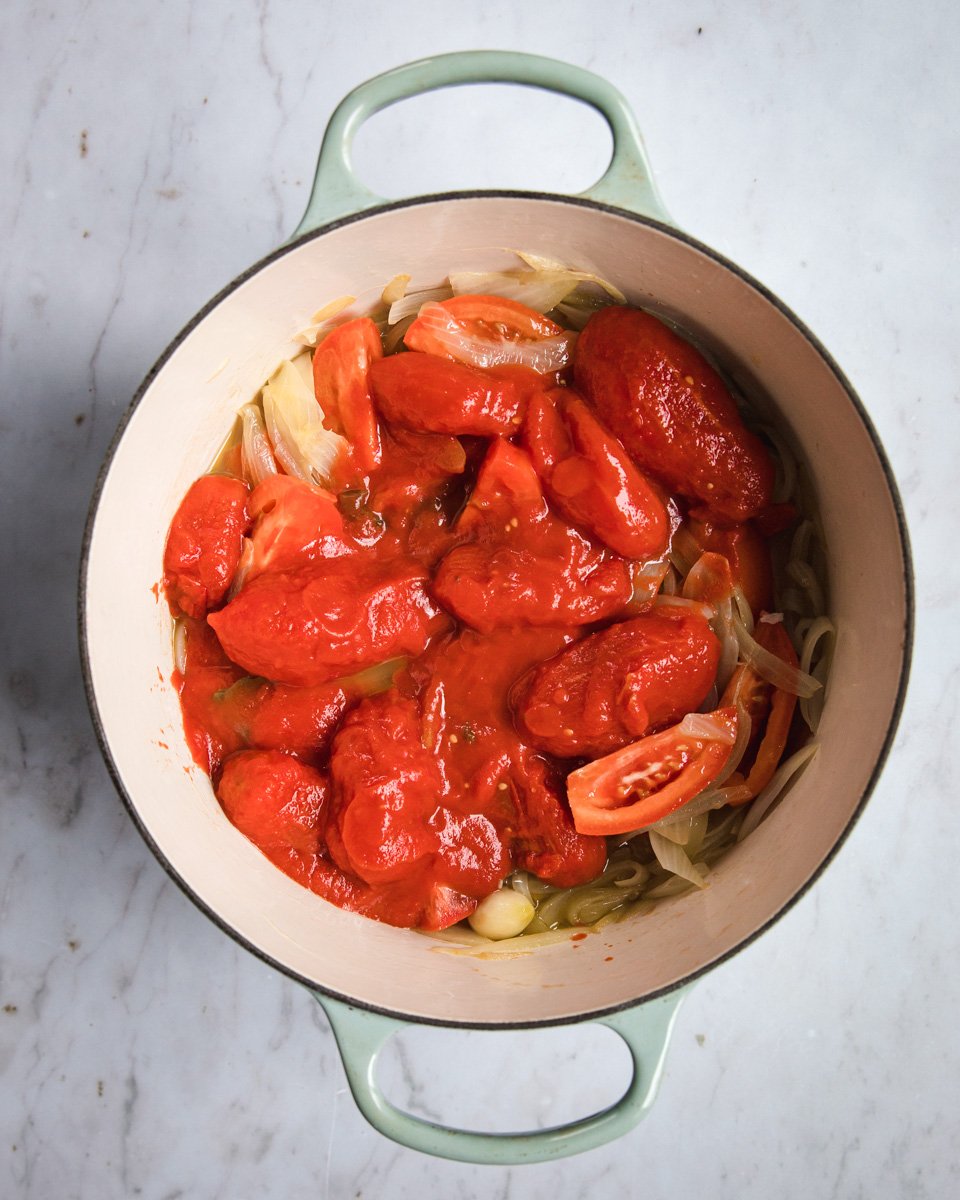 Add your tomatoes, I'm using a full 28oz can of San Marzano peeled tomatoes and also added a few fresh quartered roma tomatoes - if you have some fresh tomatoes toss them in. Cook on high, breaking up the tomatoes with a wooden spoon. Bring to a boil then reduce heat.
Add your spices.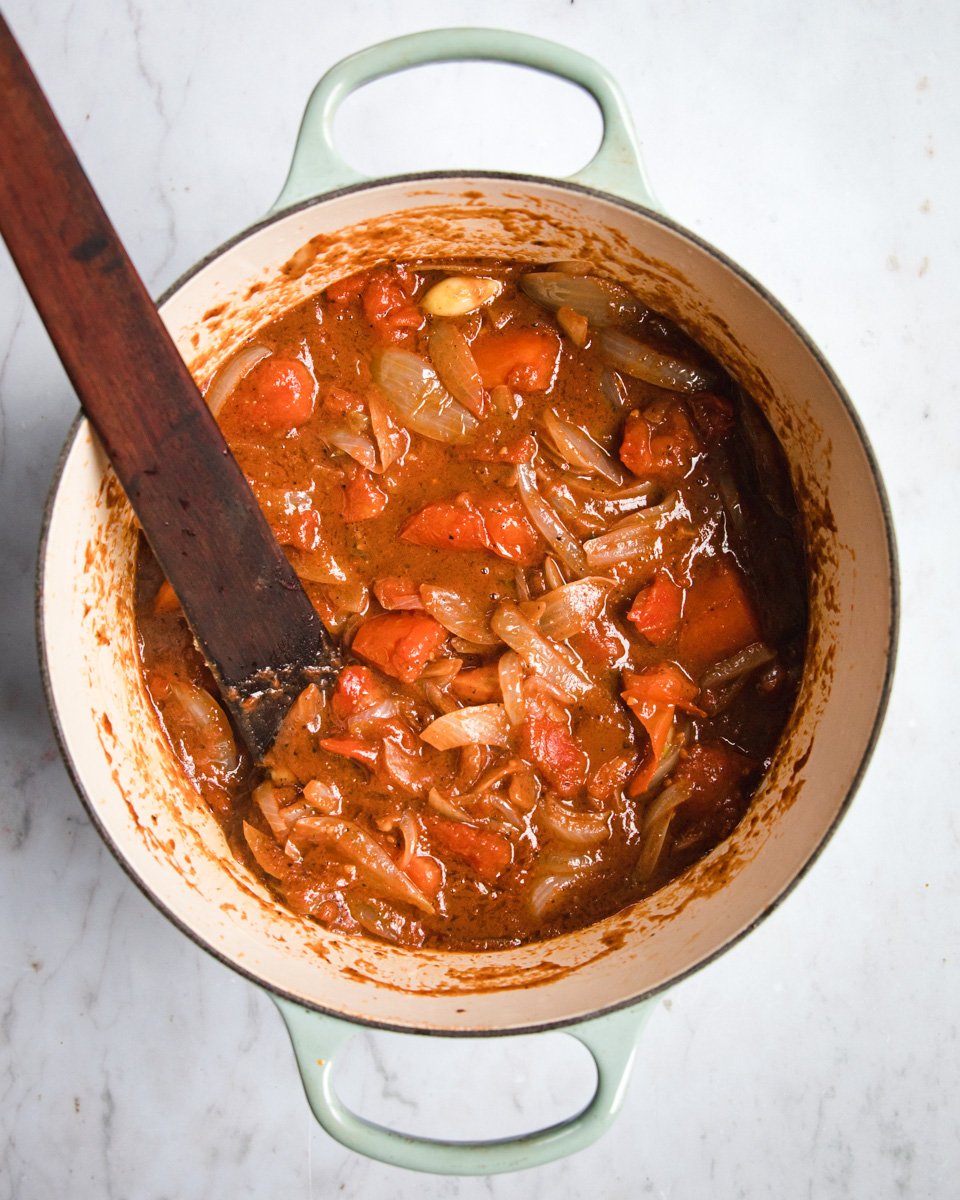 Cooked down tomatoes and spices after they are boiled and softened.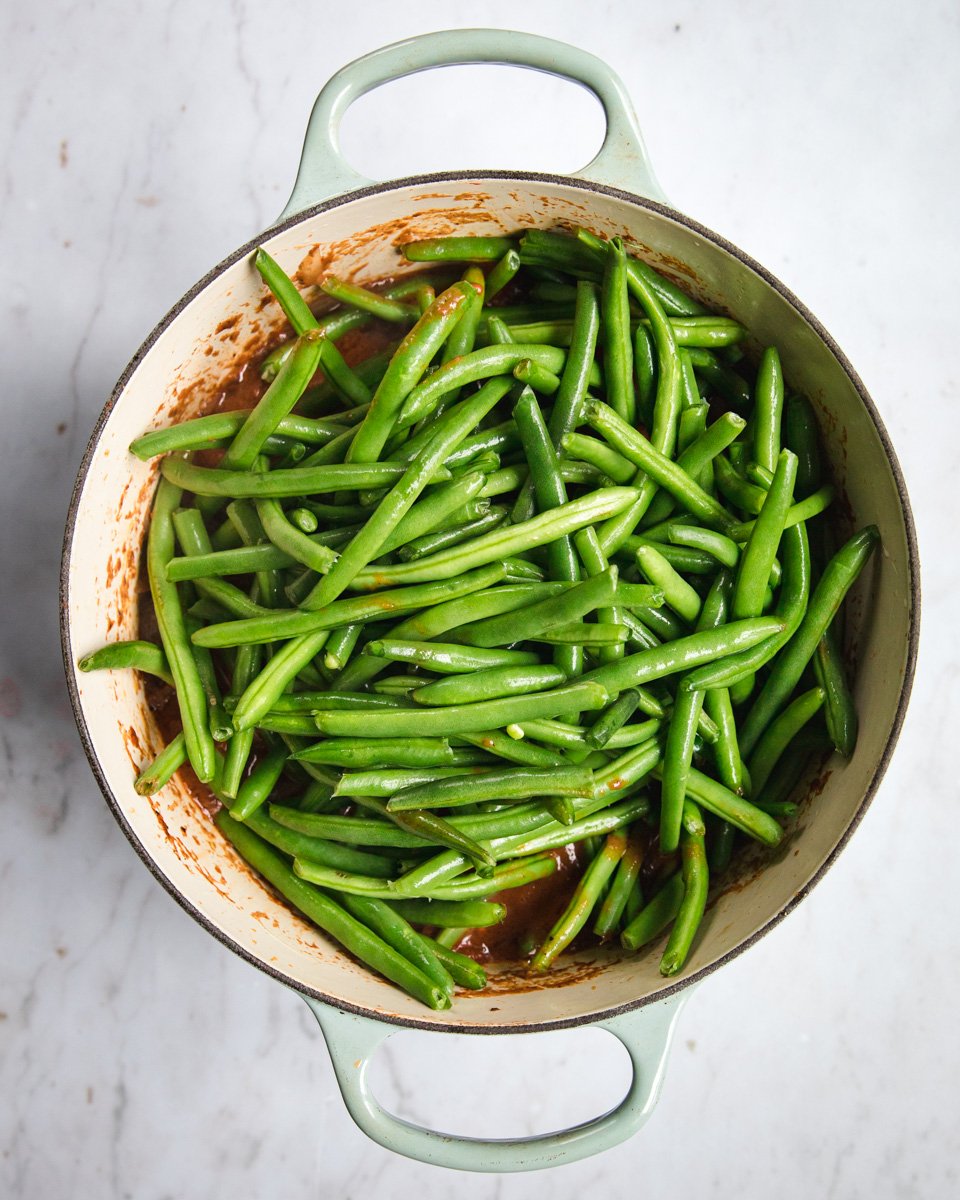 Add your green beans, set heat to medium and cover pot. Allow beans to cook down and soften. Open after 15 minutes and work the beans into the sauce, mixing. Cook covered for about 45-55 minutes, open and stir several times until the green beans are fully tender and cooked.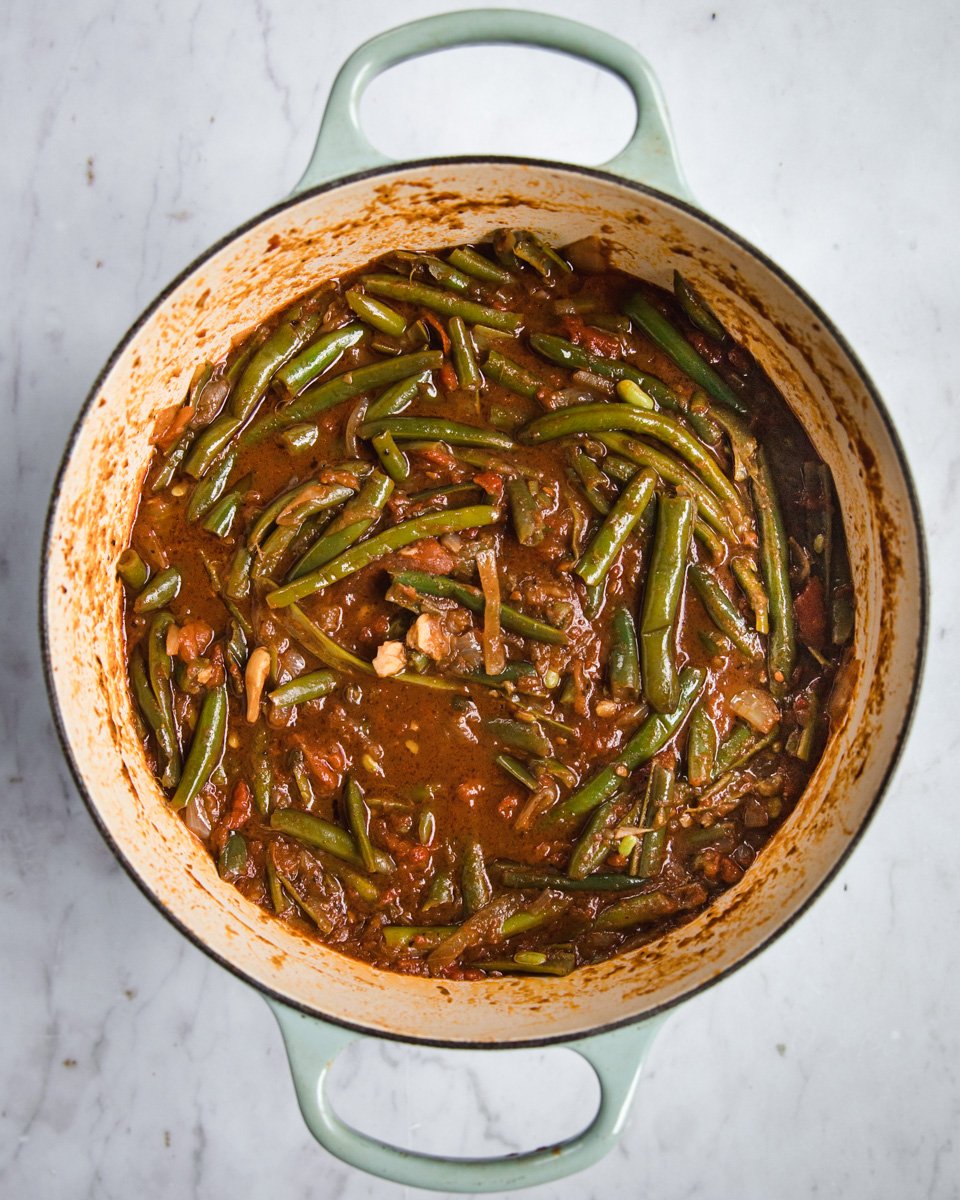 After 45-55 minutes, your beans should look soft and tender and a darker color - no longer bright green. I like to take a potato masher and press them down and break slightly apart. Be sure to taste your beans - if they still feel hard or rubbery, continue cooking until tender soft.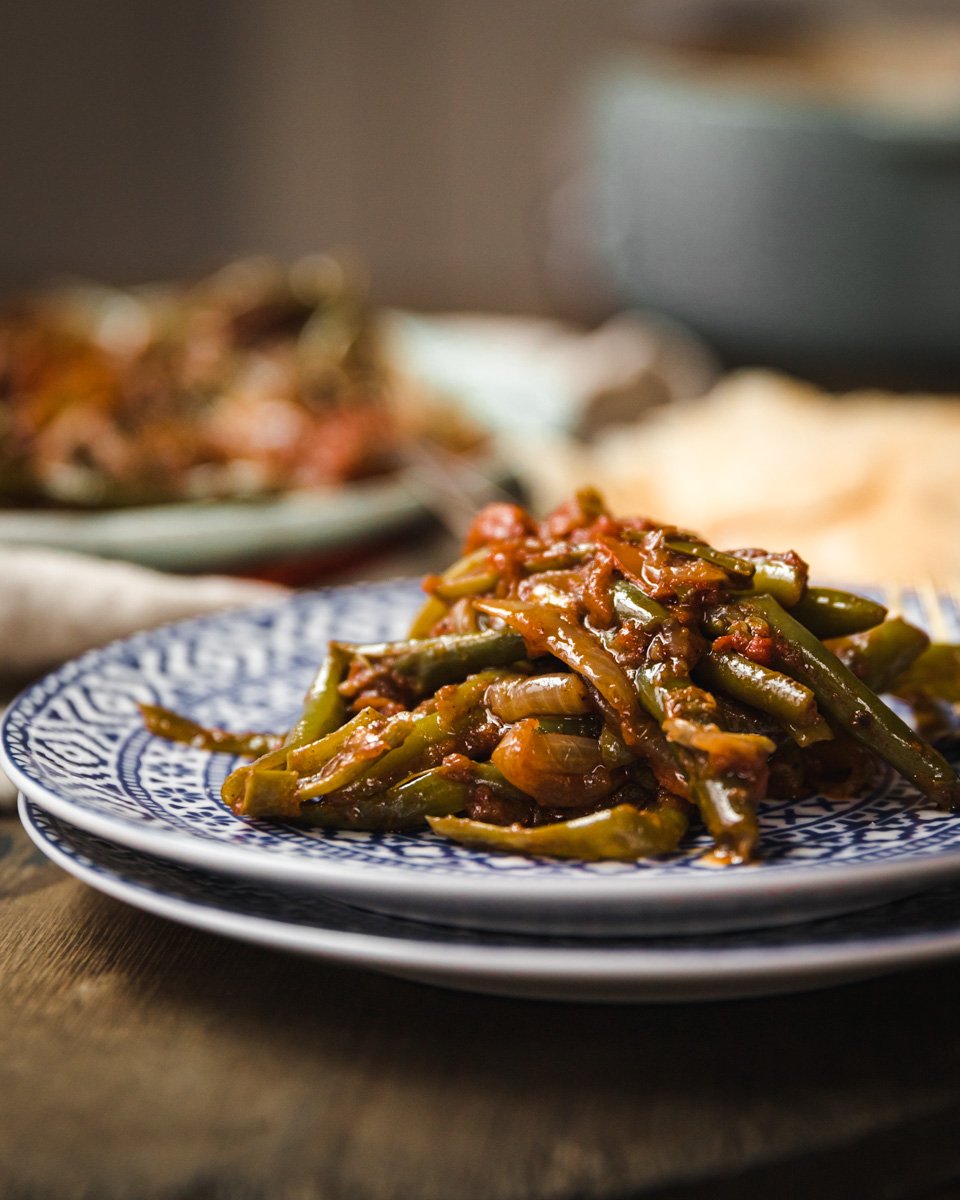 When done, plate on top of rice or enjoy with pita bread. Enjoy warm or room temperature.
Substitutions and Variations
Green Beans - Use your favorite green bean in this recipe. In the summer when I have more variety to choose from - I try and use a long, flat Italian style green bean. Again, frozen beans work equally well, especially since we are braising and not looking for a crisp bean in this dish.
Spice - Loubieh is not usually enjoyed spicy but you can certainly add a bit of Aleppo pepper, 1-2 teaspoons to your taste for a little kick.
Rice - When serving this warm you can absolutely use fresh pita bread (always an option) or make a batch of Lebanese rice to create a complete meal.
Protein Option - My family really enjoys this meal with meat added to it. Beef shank or small tender pieces of petite sirloin are my favorite options. See recipe notes for steps on including in your dish.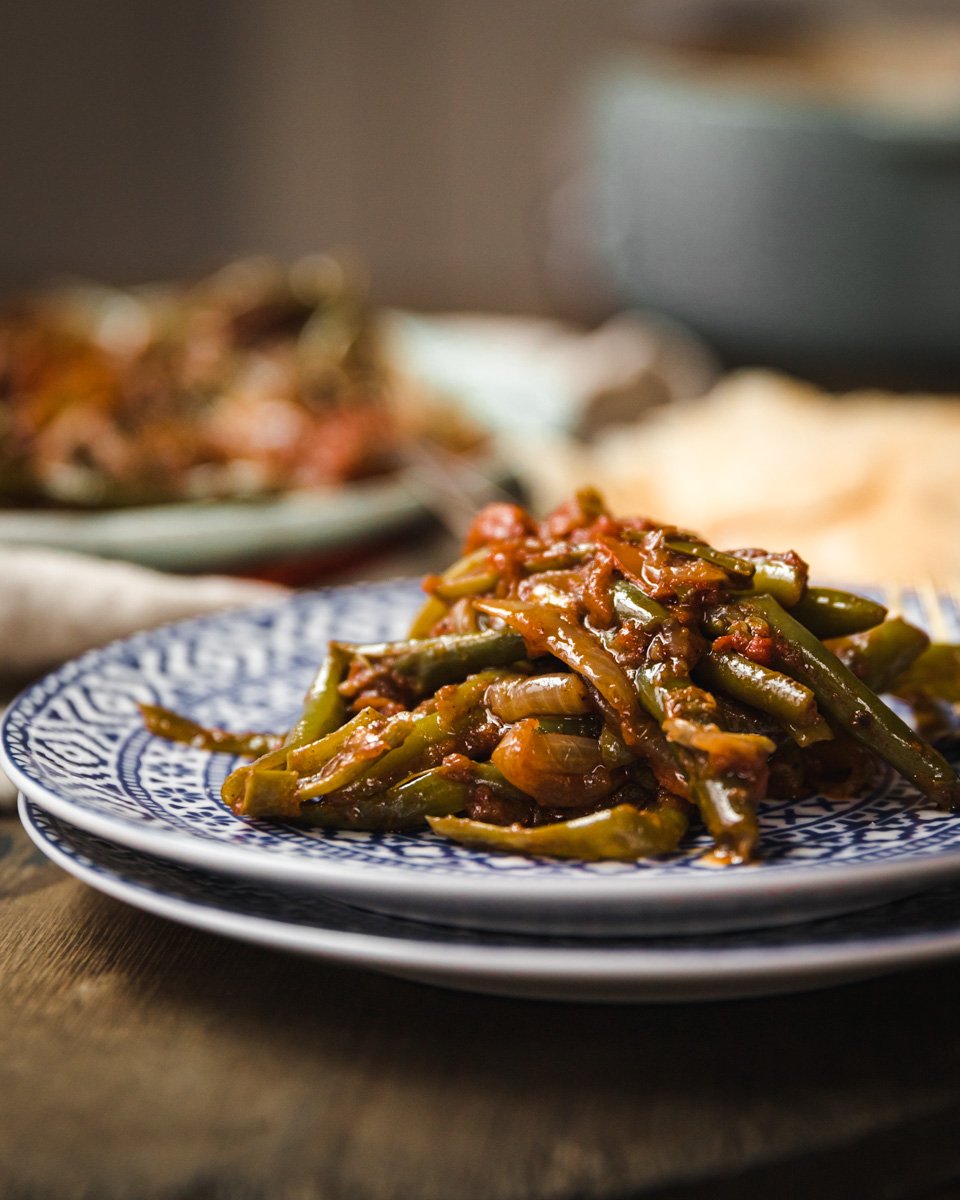 FAQ
How do you serve Loubieh?
When serving warm I most enjoy it with fresh pita bread or a bed of Lebanese rice. This dish can also be served cold or room temperature and scooped with pita bread.
How long does Loubieh last in the fridge?
You can store Loubieh in the fridge for up to a week in a sealed container in the fridge. If adding meat to your dish, 5 days.
Can Loubieh be frozen?
Yes! Loubieh can be frozen and if you're making in the summer with fresh ingredients it's a wonderful dish to freeze and enjoy in the colder months. Best frozen 3-4 months in a sealed container.
Why do my beans taste rubbery or tough?
The key to this dish is ensuring your green beans are really cooked through. A long, slow cook is the key. If your beans seem tough, let them cook a little while longer to get the tender, fall apart stew texture.
I hope you enjoy this Lebanese Green Bean Stew - Loubieh bi Zeit as much my family does - feel free to adjust and make your own!
If you make Lebanese Green Bean Stew - Loubieh bi Zeit, please let me know by leaving a rating and review below!
As always, I love seeing your creations. Please leave a review or share your dish with me on social media #cosetteskitchen which lets me know what is working for you! You can find me on Facebook, Instagram, Twitter , Tiktok and Pinterest. For more delicious recipes to your inbox, sign up for my newsletter!
xoxo,
Cosette
Print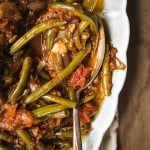 Lebanese Green Bean Stew - Loubieh bi Zeit
Author:

Cosette's Kitchen

Prep Time:

15 minutes

Cook Time:

55 minutes

Total Time:

1 hour 10 minutes

Yield:

8

servings

1

x

Category:

Vegetarian

Method:

Stovetop

Cuisine:

Lebanese
---
Description
Lebanese Green Bean Stew or Loubieh bi Zeit in Arabic is a simple one-pot meal sure to satisfy - green beans and tomatoes are the star of this dish.
---
2 Tablespoons

olive oil

2

large onions, sliced

5

-

6

large whole cloves of garlic, peeled

28 ounce

can of whole peeled tomatoes, can also use crushed, stewed or whatever variety you have

3 teaspoons

Diamond kosher salt* half for table salt, adjust at end for flavor

1.5 teaspoons

black pepper

2 teaspoons

ground allspice

2

pounds

of fresh green beans, ends trimmed *see notes for frozen
**see notes if adding meat
---
Instructions
In a large heavy bottomed pot, heat your olive oil on high and add your sliced onions and whole cloves of peeled garlic.

2 Tablespoons olive oil
2 large onions, sliced
5-6 large whole cloves of garlic, peeled

Allow onions and garlic to cook for about 10-12 minutes until they become soft and translucent. Stirring regularly.
Next add your tomatoes and spices to the pot - break up tomatoes with a wooden spoon and allow mixture to come to a boil. Once it boils, reduce heat to a medium/medium-low and add your green beans.

28 ounce can of whole peeled tomatoes, can also use crushed, stewed or whatever variety you have
3 teaspoons Diamond kosher salt* half for table salt, adjust at end for flavor
1.5 teaspoons black pepper
2 teaspoons ground allspice
2 pounds of fresh green beans, ends trimmed *see notes for frozen

Once your green beans are added to the pot, mix in the best you can, cover pot and come back in 15 minutes. As green beans begin to soften and wilt, stir again until combine and cover pot again. Allow the green beans to soften and stew for 45-55 minutes on medium low heat. Stir and check on every 15 minutes.
Once beans are soft and tender, I like to smash a bit with a potato masher. Taste and add additional salt as needed.
Serve over a bed of rice or enjoy with pita bread. 
You can also serve this room temperature or cold if using pita bread.
---
Notes
As always - if using anything other than Diamond kosher salt adjust: half the salt amount for table salt and ⅔ the amount for Morton's kosher. Adjust your salt once finished cooking, I tend to add a bit more especially if tomatoes are fresh or depending on variety.
If using frozen green beans, begin checking for tenderness after 25-30 minutes. They may cook faster than fresh. Test for texture - they should not taste rubbery, if they do, continue cooking.
Meat Option:
If you'd like to add meat to your dish begin from here, you'll need 1 pound of top sirloin or petite sirloin steak.
Begin by cutting your meat into small diced pieces, we're looking for little cubes about ¼" or less. Since we won't be cooking this for an extremely long time, these smaller cuts will ensure our meat gets very tender - similar to the process in our Spinach and Rice stew. 
In a large heavy bottomed pot, heat your olive oil on high and add your sliced onions and whole cloves of peeled garlic.

2 Tablespoons olive oil
2 large onions, sliced
5-6 large whole cloves of garlic, peeled

Add your diced meat and spices - allow the meat to cook for 25-30 minutes.

1 pound finely diced top or petite sirloin steak
3 teaspoons Diamond kosher salt* half for table salt, adjust at end for flavor
1.5 teaspoons black pepper
2 teaspoons ground allspice

Next add your tomatoes and green beans and continue with recipe as written above from step #4
Keywords: lebanese green bean stew, lebanese green beans with meat, middle eastern green bean stew, loubieh recipe, loubia recipe, loubia recipe lebanese, middle eastern green bean recipe, lebanese string beans and rice,
Related Recipes
Looking for other recipes like this? Try these: