Packed with a wallop of flavor and tenderness, these Grilled Lamb Rib Chops are marinated in a pomegranate molasses, cinnamon and mint mixture are perfect for any celebration. It's a dreamy dish for lamb lovers and those that are just learning to love lamb.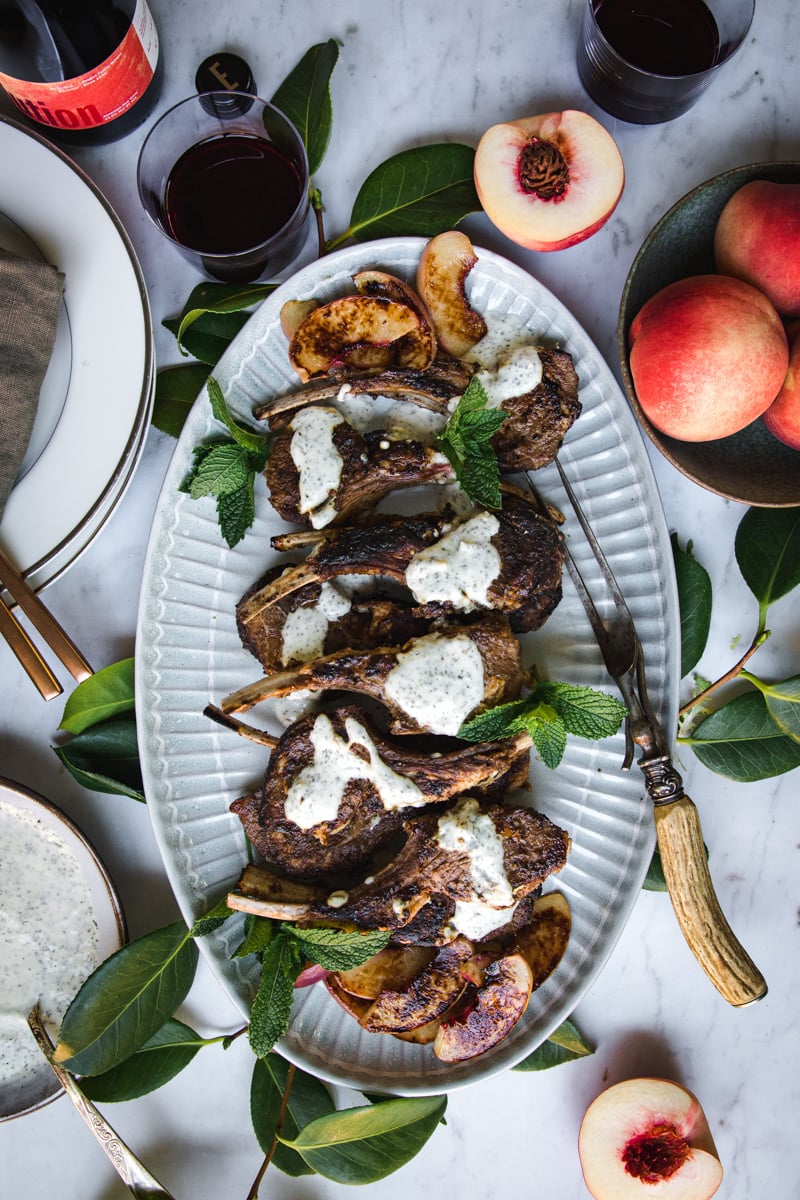 I'm always thrilled to work with my friends at The American Lamb Board to share and showcase beautiful new recipes using locally sourced American lamb. Choosing to use American lamb directly supports our local farmers and ranchers and ensures I have the best tasting and freshest lamb when cooking. I've sourced these Lamb Rib Chops at my local Whole Foods Market, in the Portland area their local American lamb comes from Cattail Creek Lamb, which is located in Junction City, Oregon. You can always check the American Board Lamb page to find out where you can source American lamb in your area.
Why we love this recipe
As many of my lamb recipes; Mediterranean Lamb Bowls, Lebanese Stuffed Eggplant, Lebanese Lamb Tacos, you'll find flavors that are directly from my family home recipes. Mint, pomegranate molasses, cinnamon, yogurt and garlic are all common and versatile ingredients in Levant region cooking. These Grilled Rib Lamb Chops are no exception. With warm spices, fresh mint, a cooling yogurt sauce and a hint of sweetness from grilled peaches - you will have a flavor explosion.
Jump to:
Why Choose American Lamb
In an effort to live as sustainably as possible and support local ranchers and farmers, my family consistently chooses American lamb. Lamb is an adventurous and unique protein perfect for entertaining and gathering around the table. I'm sure you're familiar with the iconic rack of lamb (aka rib chop or lamb lollipop), but the cut options available to you go much further. Possibilities are endless when getting creative using value cuts such as ground lamb, shoulder, shank or boneless leg. However, for celebratory meals, this grilled rib chop recipe is a glorious choice.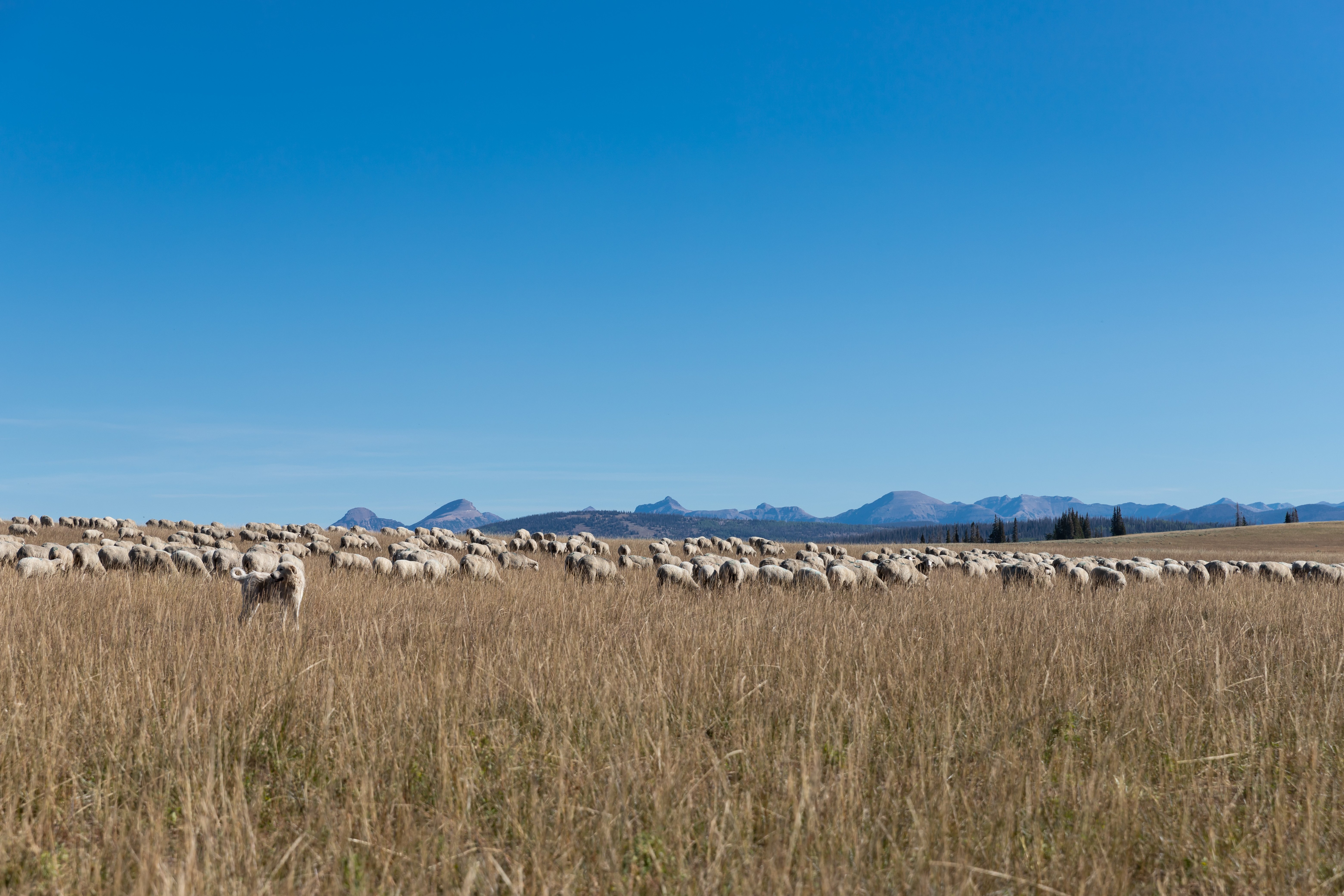 Ingredients
To make Grilled Lamb Rib Chops you'll need some pantry staple ingredients as well as some fresh ingredients to bring the dish together.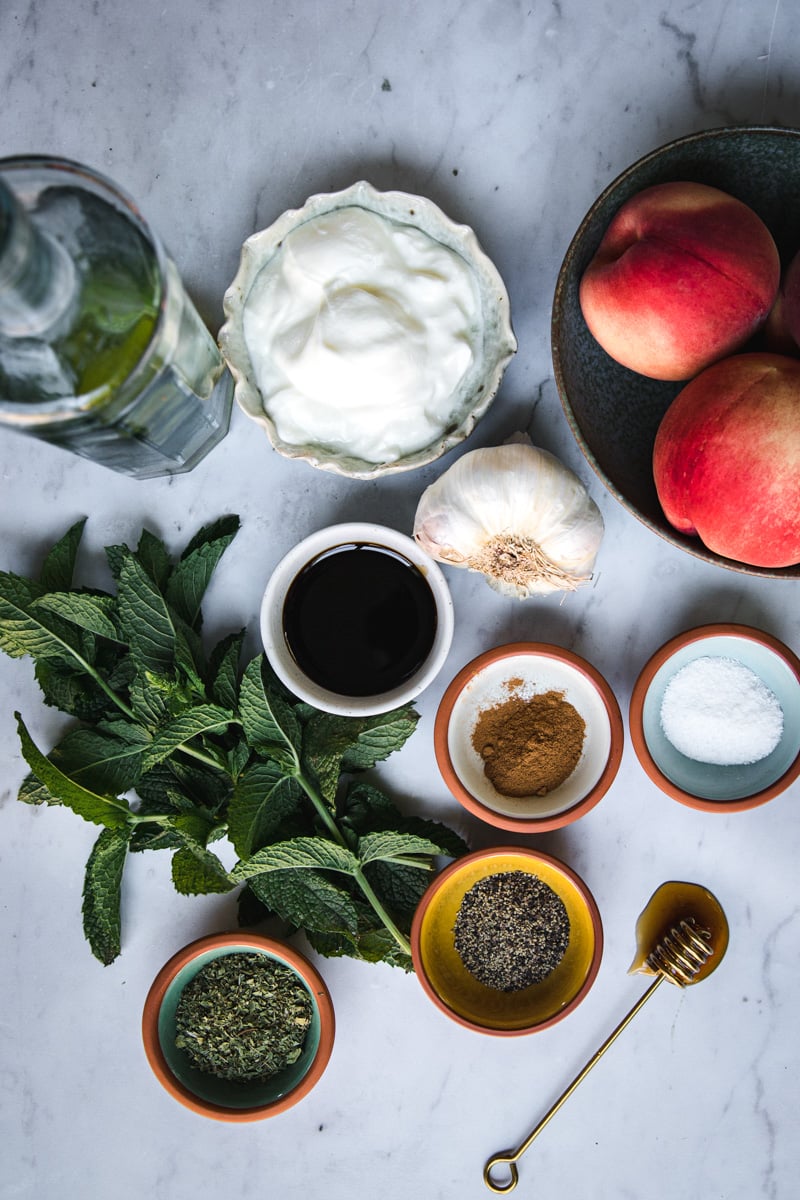 Lamb Ribs Chops -

The lamb ribs are simply rack of lamb that are cut into individual pieces. The ribs are flavorful, tender and cook quickly.

* See next section for types of ribs.

Fresh Garlic - Fresh garlic is used both in the marinade and our yogurt sauce.

Pomegranate Molasses - Pomegranate molasses is a tart and tangy ingredient that brings a lot of flavor to the ribs.

Honey - Bringing a bit of sweetness to the marinade with honey, you can use maple syrup in place if you'd like.

Mint - I'm using both fresh and dried mint in this recipe, fresh for our marinade and dried in the yogurt sauce. The fresh mint works well in the marinade when processed while the dried mint is stronger in flavor and helps to shine through with the yogurt sauce.

Yogurt - Whole Milk (preferred) plain yogurt, labneh or Greek yogurt is the base for our sauce. Yogurt sauce is common in many savory dishes and brings a freshness to meat forward dishes.

Peaches - We are in peak peach season, so adding a few grilled peaches to the dish brings such a delicious sweet component.

Salt, Pepper & Olive Oil
See recipe card for quantities.
Lamb Ribs vs Rack of Lamb (lamb rib chops)
There are various cuts of lamb including lamb ribs and rack of lamb. Lamb ribs are a cut of meat that is more equivalent to baby back ribs or spareribs. They are a less expensive cut of lamb that requires time to slow cook to break down the connective tissue.
Rack of lamb are also ribs but come from the upper part of the rib cage which yields a much tender cut of lamb. They are often seen frenched or crowned for a full presentation.
For this recipe, I'm using the more tender rack of lamb cut into lamb rib chops. Since these will be cooked rather quickly on a grill vs a slow cook or smoke - the leaner cut is going to work best.
You can learn more about the cuts of lamb on the American Lamb page.
How to Grill Lamb Rib Chops
Follow these steps for preparing tender lamb rib chops.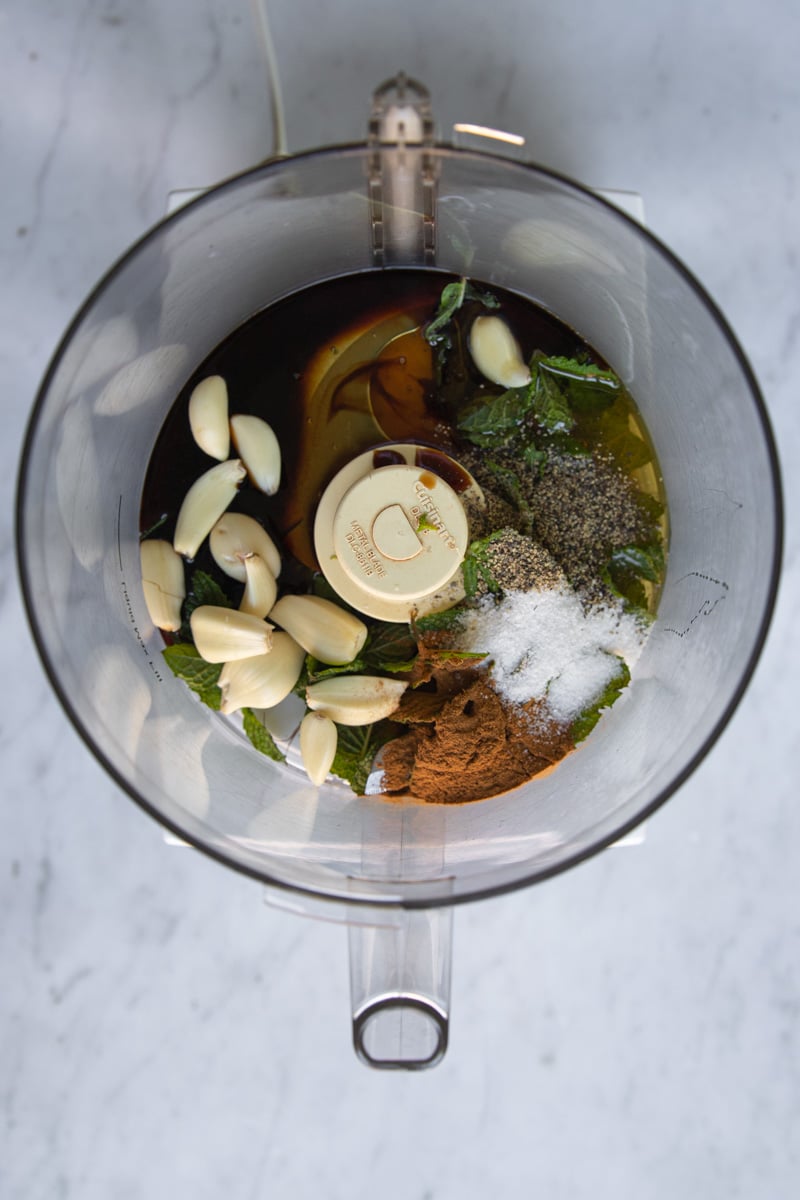 Process all your marinade ingredients together in the bowl of a food processor or blender: fresh mint, garlic, pomegranate molasses, honey, cinnamon, kosher salt and black pepper.
Blended marinade
Pour marinade over trimmed lamb chops and marinade 4-24 hours.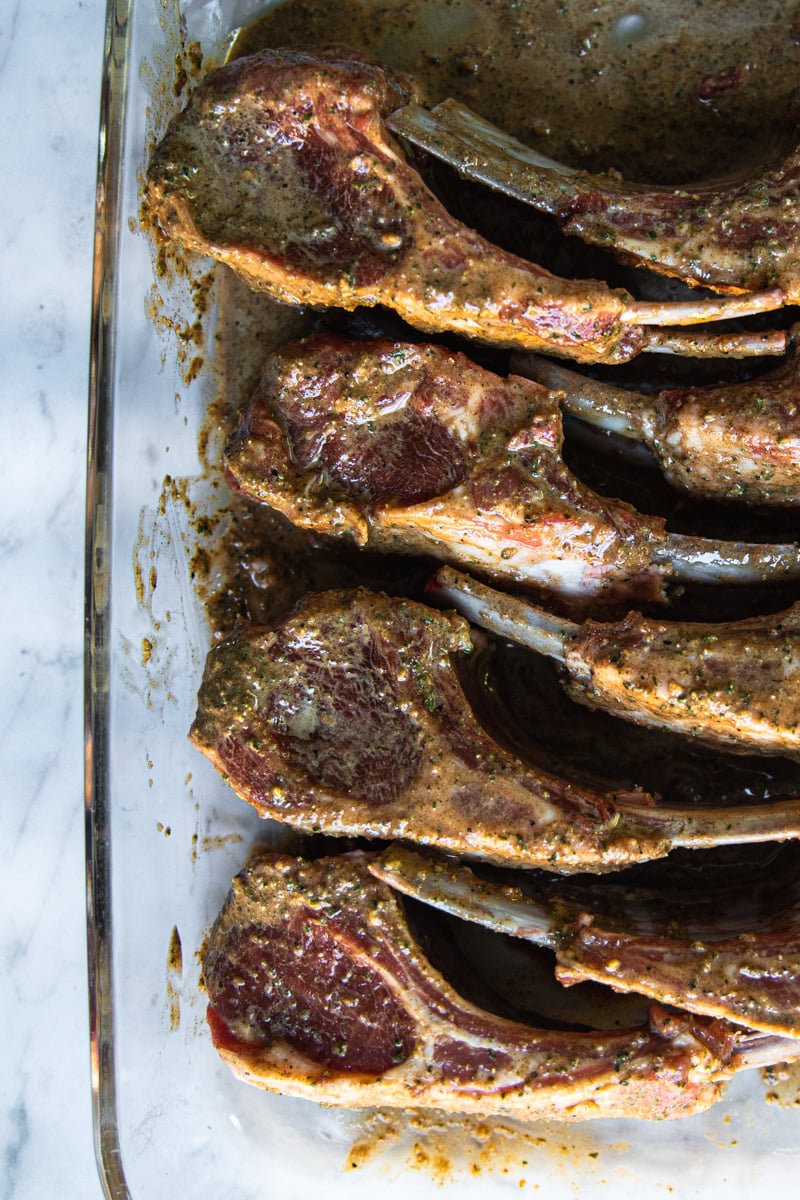 Allow lamb to come to room temperature (about 30 minutes) before grilling.
Heat your grill to high heat, lightly grease your grill grates or if using a flat top grill - use some reserved lamb fat and allow to render on your grill top before placing lamb chops. Cook for about 2 minutes on one side and allow to get golden brown.
Flip and cook for an additional minute on 2nd side.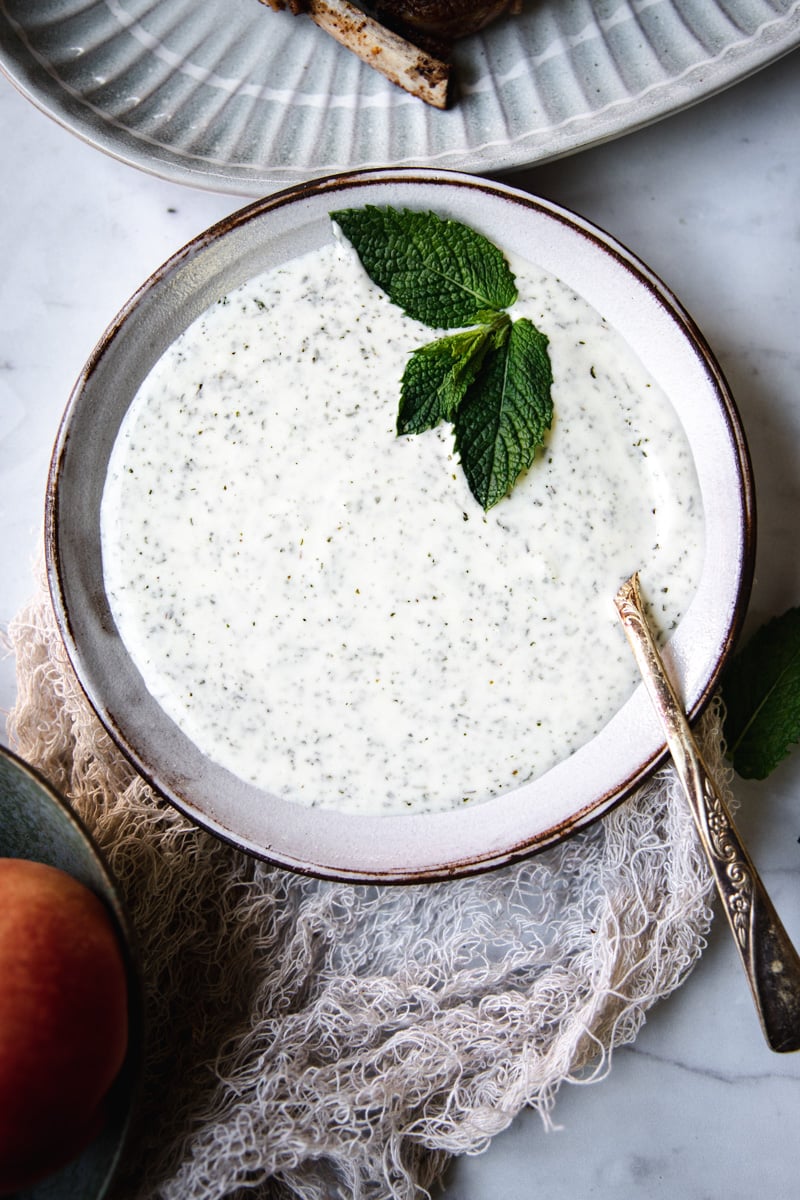 Prepare your yogurt mint sauce by combing crush/minced garlic, yogurt, dried mint, olive oil, salt and water**
Slice 2 peaches and drizzle with a bit of olive oil. Place on your hot grill and grill quickly for 1-2 minutes on each side until browned. Serve with lamb.

Pro Tip: Remove the excess fat off your lamb chops to ensure they cook quickly and aren't too fatty. If you have too much fat, you can create flares on your grill - especially with an open flame grill. You can render the fat on your flat top grill to create an oiled surface or reserve for another cooking purpose.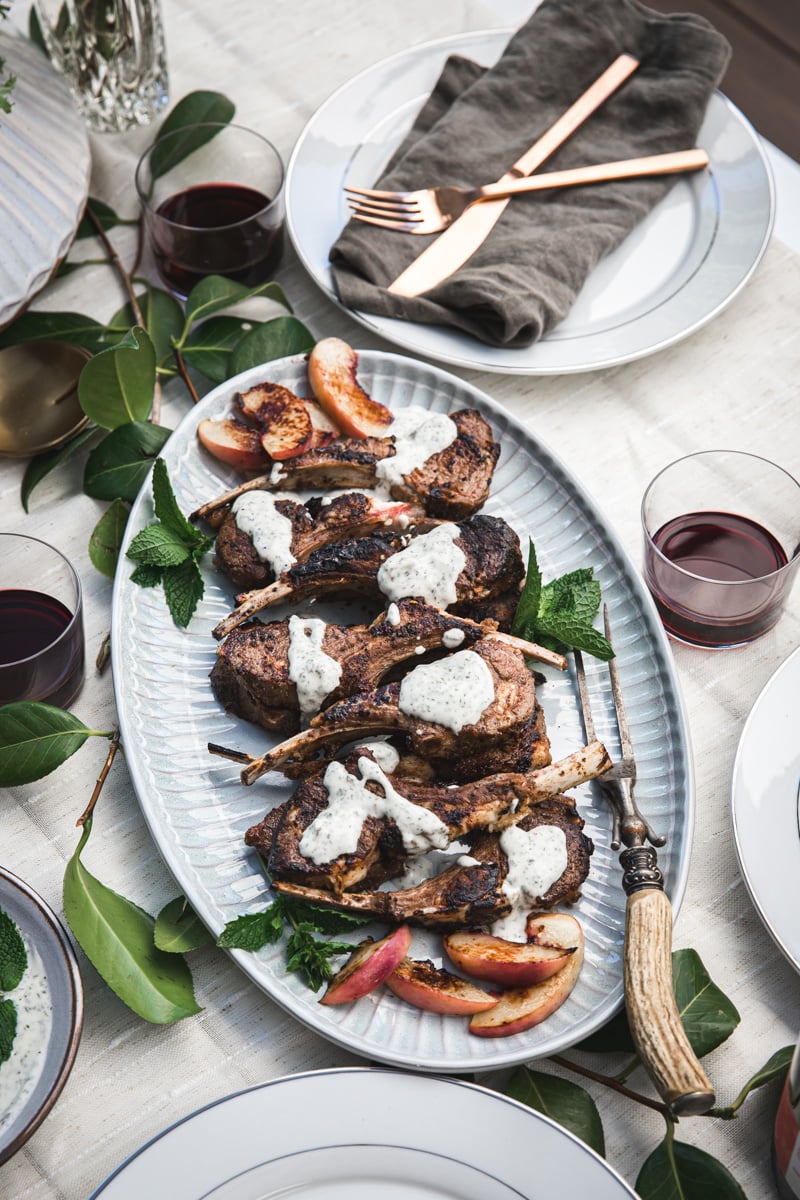 Substitutions
Here are some general substitutions for this recipe:
Dried Mint - If you can't source fresh mint for your marinade, use dried mint. You'll need about 2 tablespoons of dried mint.
Lamb Loin - Lamb loin chops are commonly found in the markets, these are similar to a t-bone steak. They meat is generally tender and well suited for grilling. You can certainly apply the same technique and ingredients to lamb loin chops.
Cinnamon - Cinnamon lends itself well to the flavor and taste of lamb, you could also use allspice in its place.
Peaches - Nectarines or apricots would be equally delicious in this dish.
Recipe FAQs
Can I make this recipe without a grill?
You can certainly make this recipe without a grill, following the same steps and process heat a stainless steel pan (no non-stick coating) to high heat on your burner. Allow to heat well and add a bit of neutral oil (lamb fat rendering, canola, vegetable or avocado oil). Place your lamb rib chop in the pan and cook for about 2 minutes until seared, flip and cook another 1 minute.
How do I avoid grill flares?
Lamb tends to have a fat layer that can cause flares on your gas or charcoal grill, especially when cooking on high heat. Since these lamb rib chops cook quickly, you want to remove most of the fat cap layer BEFORE grilling to ensure they don't flare and burn.
Can I make this recipe using lamb ribs?
As mentioned above, lamb ribs are a cut of lamb that is less tender and requires lower/slower cooking or smoking. You can certainly apply the same marinade to your lamb ribs and cook over indirect heat or slow roast in your oven. Check out at the American Lamb recipe page for additional recipes.
Can I use lamb loin chops?
Yes, you can absolutely substitute lamb loin chops in this recipe using the same techniques.
Should I use double or single lamb chops?
I prefer to use a single lamb rib chop which is about ¾" to 1" thick, when cooking at a high temperate for a short time, the thinner single chops lend themselves well.
How many chops per person?
I err on the side of 3-4 chops per person, one rack will give you 8 rib chops. If you're serving as an appetizer, you can certainly go with 2-3. For my family of 5, we had a total of 16 chops for a meal.
Equipment
Food Processor - I love my Cuisinart Food Processor
Grill - my preference and favorite grill is my Blackstone Flat Top Grill
Storage
Lamb chops can be refrigerated for 3-5 days, to reheat, heat a pan or your grill and heat until warmed through and crisped up again.
Yogurt sauce is good in the fridge for 7-10 days and peaches should be enjoyed right away.
Tips for Success
Bring to Room Temperature - Allow your lamb to come to room temperature before cooking. This allows the meat to cook evenly.

Allow Meat to Rest - After cooking, allow your meat to rest for 5-10 minutes. This will ensure the juices stay inside and give you the most flavorful bite.

Don't Overcook - Using a meat thermometer is super helpful, especially if you are new to grilling or cooking lamb.
Use the American Lamb cooking guide to help you along the way.
As always, I love seeing your creations. Please leave a review or share your dish with me on social media #cosetteskitchen, I love resharing your photos! You can find me on Facebook, Instagram, Twitter , Tiktok and Pinterest. For more delicious recipes to your inbox, sign up for my newsletter!
xoxo,
Cosette
This post was sponsored by The American Lamb Board. All opinions are my own. I only support and promote brands that I believe in and use in my own kitchen.
Food safety
Do not use the same utensils on cooked food, that previously touched raw meat
Wash hands after touching raw meat
Don't leave food sitting out at room temperature for extended periods
Never leave cooking food unattended
Use oils with high smoking point to avoid harmful compounds
Always have good ventilation when using a gas stove
USDA recommends lamb reach an internal temperature of 145F with a 3 minute rest.
See more guidelines at USDA.gov.
Recipes You'll love
Crispy Lamb Salad with Yogurt Dressing
Print
Grilled Lamb Rib Chops - Pomegranate Molasses and Cinnamon with Mint
Author:

Cosette's Kitchen

Prep Time:

15 minutes

Cook Time:

10 minutes

Total Time:

25 minutes

Yield:

16

lamb rib chops

1

x

Category:

Dinner

Method:

Grilling

Cuisine:

Lebanese
---
Description
These wonderful grilled lamb rib chops, often called lamb lollipops are light, delicious, have a hint of sweetness and really elevate any dinner. Be sure to check out the American Lamb Board page for more recipes and tips on cooking and sourcing American lamb.
---
Lamb Marinade
16

American lamb rib chops, ¾" to 1" thick

25

sprigs of fresh mint (or

2 Tablespoons

dried mint)

12

cloves fresh garlic

3 Tablespoons

pomegranate molasses

3 Tablespoons

honey (or maple syrup)

2 teaspoons

ground cinnamon (or allspice)

2 teaspoons

kosher salt* (half if using table salt)

1 teaspoon

black pepper
Yogurt Sauce
4

cloves garlic

½

cup

whole milk yogurt (can use labneh or Greek)

2 Tablespoons

olive oil

1 teaspoon

dried mint

3 teaspoons

kosher salt* (half if using table salt) adjust to taste

1 Tablespoon

cold water, as needed to thin
Peaches
2

large peaches, cut into sections
drizzle of olive oil
---
Instructions
Lamb Marinade
Begin by preparing your lamb rib chops - ask a butcher to clean/French your lamb and divide into single lamb chops. If they are cut into double chops, simply cut in half to create your single chop.
Remove the excess layer of fat at the top of your chop using a sharp knife. You can reserve this fat to use in later cooking or to grease your flat top grill.
Prepare marinade by adding the ingredients into the bowl of a food processor or blender:
25 sprigs of fresh mint, 12 cloves fresh garlic, 3 Tablespoons pomegranate molasses, 3 Tablespoons honey, 2 teaspoons cinnamon, 2 teaspoons kosher salt, 1 teaspoon black pepper
Pour your marinade over your lamb ribs and rub into both sides. Cover and place in fridge for 4-24 hours.
Yogurt Mint Sauce
Crush with mortar or minced your garlic finely.
4 cloves garlic
Add in your yogurt, olive oil, mint and salt
½ cup yogurt, 2 Tablespoons olive oil, 1 teaspoon dried mint, 2 teaspoons kosher salt
If your mixture is too thick, add in 1 Tablespoon of cold water and mix.
Adjust salt to your taste.
Spoon over cooked ribs.
Cooking Lamb
Once ready to cook your lamb, remove from fridge and allow to come to room temperature, about 30 minutes before cooking.
Heat your grill to high heat, ensure your grates or flat top area are clean and free from any debris. Grease your grill grates or flat top with a bit of neutral oil; canola, vegetable, avocado. If you have a flat top grill, you can also use some of your reserved lamb fat allow it to render to create an oiled surface.
Once grill is heated,  place your lamb rib chops and allow to cook for about 2 minutes until browned and crust has formed. 
Flip and cook the 2nd side for another minute.
Remove from heat and allow to rest for 3-5 minutes. 
While your lamb is resting, place your peach slices on hot grill and sear for 1-2 minutes on each side.
Enjoy with yogurt mint sauce + grilled peaches.
---
Notes
If using table salt or anything besides kosher salt, half your salt amount and always adjust to your taste.
These are often called lamb lollipops because you can absolutely grab one and eat right off the bone like a lollipop! Perfect as an appetizer.
USDA recommends lamb reach an internal temperature of 145F with a 3 minute rest.
Keywords: grilled lamb chops, how to grill lamb chops, grilled lamb rib chops, lamb chops recipe, how to cook lamb ribs