Whenever a food is in tiny form, it somehow tastes a million times better, am I right? These American Lamb Meatballs with Pomegranate Barbeque Sauce are no exception. Whether you serve them as an appetizer or a main course - you will absolutely love the bold and vibrant flavors.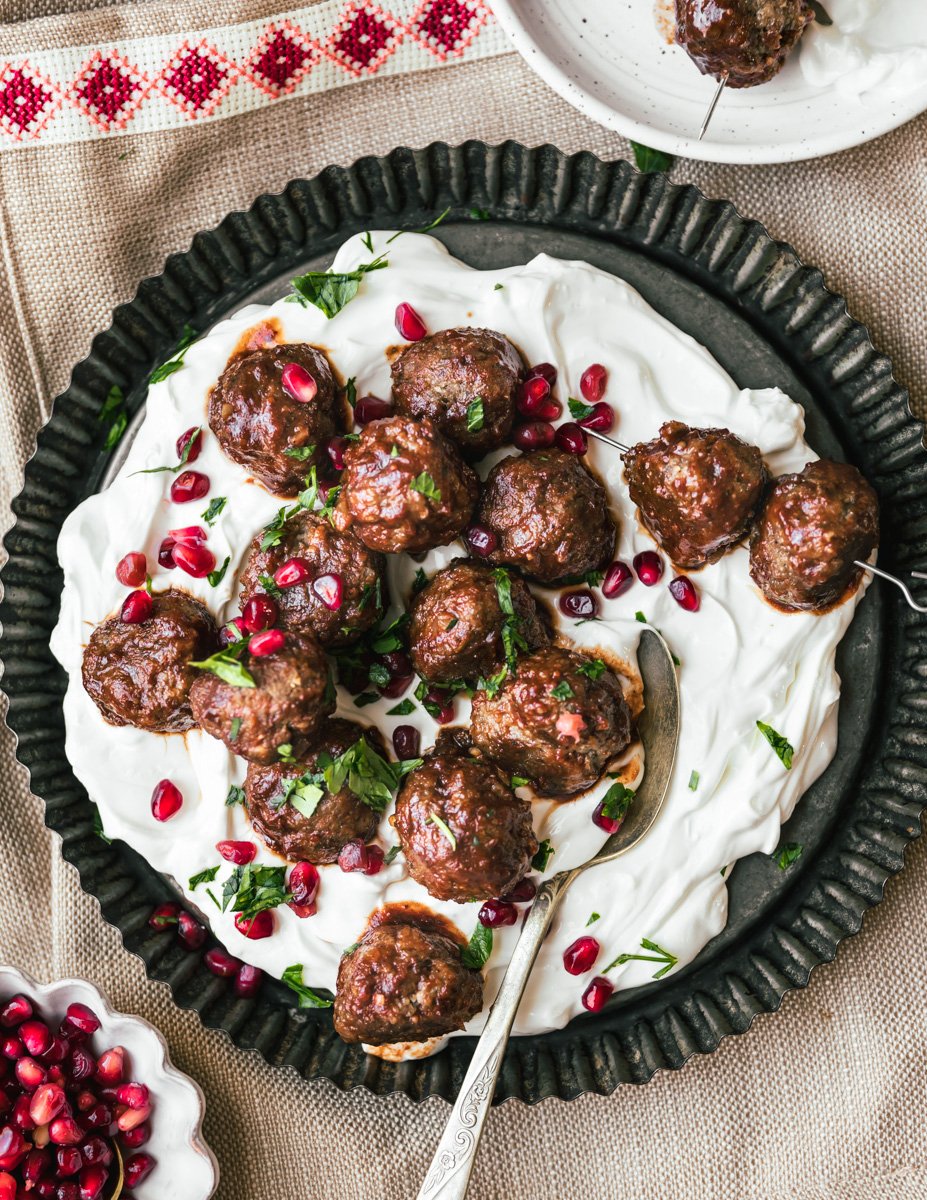 Perfect Meal or Appetizer
I'm always thrilled to partner with my friends at The American Lamb Board to showcase easy, flavorful ways to enjoy lamb. And even better yet - February is Lamb Lovers Month!!!! Lamb is such an integral part of Lebanese cuisine. Whether it's slow braised lamb, lamb burgers or sophisticated rack of lamb - the flavor is robust and melds well with warm Middle Eastern spices.
Today I'm sharing this fabulous recipe for American lamb meatballs - served with a pomegranate molasses barbeque sauce. I've paired these meatballs with tangy labneh, the perfect dip to balance the bold flavors of the pomegranate barbeque sauce and lamb. Taking something as American as barbeque sauce and adding spices common in Middle Eastern cooking is the epitome of what I love to do!
Perfect to serve as an appetizer - for the big game or a special dinner, perhaps Valentine's Day? Best of all, these meatballs freeze beautifully so they even work as a weeknight dinner when you have little time to put a dish together.
Jump to:
What is Pomegranate Molasses?
Pomegranate Molasses is a common ingredient in Middle Eastern cooking. In Arabic it is called, Dibs Rumaan. Simply, pomegranate molasses is the juice from a pomegranate that is condensed down to a thick consistency. However, the term molasses can be misleading. While pomegranate molasses looks like traditional sweet molasses, the taste is vastly different and SHOULD NOT be used interchangeably.
If you have ever eaten a pomegranate, you know that the taste is more sour than sweet. A sort of sweet tart flavor. Pomegranate molasses is the same, more tart, more acidic versus a sweet molasses. It gives dishes a sort of umami that soy sauce does in Asian cuisine.
Where to Buy Pomegranate Molasses
When looking to purchase pomegranate molasses, the best place to pickup is from a Middle Eastern grocery store. They'll have a variety of brands at the best prices. Pomegranate molasses and pomegranate syrup are used interchangeably- don't be fooled, pomegranate syrup is equally tart. The sweet version of pomegranate juice is actually grenadine which is often used in cocktails and mocktails.
Why Choose American Lamb?
Our family cooks with American Lamb 100% of the time! The flavor, quality and freshness are the qualities that I love about American Lamb. It's also a way for us to support local farms and ranchers.
Before it makes it to your plate, American Lamb is raised by farmers and ranchers with a shared connection to caring for to the land, the animals, and the local communities they serve across America. When you choose American Lamb, you support the nation's shepherds and their families and help to sustain working farmland and farm communities. These family farmers and ranchers throughout the U.S. are passionate about providing you with high quality, flavorful lamb in a way that sustains our industry, supports our communities, and preserves our land and resources for future generations.

American Lamb Board
Ingredients for Lamb Meatballs with Pomegranate Molasses Barbeque Sauce
Pomegranate Molasses Barbeque Sauce
Shallot - Shallot provides a flavor boost, if you can't find shallot or don't have on hand, a onion will do just fine. Shallots tend to have a slightly milder flavor than onions.
Garlic - No recipe would be complete without garlic, adding a few cloves to flavor our oil with the shallots
Tomato Paste - Many BBQ sauces will use ketchup as the base which already contains sugar and vinegar. Using tomato paste allows us to build the specific flavors in our sauce.
Pomegranate Molasses - The star ingredient, pomegranate molasses is a tart and acidic ingredient. It brings a whole different flavor and dimension to the BBQ sauce than a traditional American sauce.
Apple Cider Vinegar - Really any vinegar will work in this recipes, so anything you have on hand.
Worcestershire Sauce - Worcestershire provides a bit of smoky flavor to our sauce.
Dijon Mustard - A little spicy and creaminess, smooth or stone ground is fine, whatever you have on hand.
Maple Syrup - BBQ sauces always have a sweetness to them, many use blackstrap molasses to them. We're going to use maple syrup to ours which brings a nice subtle sweetness to balance the pomegranate molasses.
Smoked Paprika - This gives a lovely hint of smoky flavor, if you only have sweet paprika - that is perfectly ok!
Allspice, Cinnamon and Nutmeg - These three spices provide a warmth to our BBQ sauce.
Red Pepper Flakes - I don't like a lot of heat in my BBQ sauce but a bit of red pepper flake is nice. If you don't want heat, feel free to omit or sub with a bit of Aleppo or Chile pepper for a more subtle heat.
Bourbon - I threw in a bit of bourbon for good measure and more smokiness - feel free to omit.
Pomegranate Juice & Water - Both used to help thin out our sauce to the perfect consistency.
Salt & Pepper
Olive Oil
Lamb Meatballs
American Ground Lamb - The base to our meatballs is American ground lamb, ground lamb is very easy to work with, it can be replaced for ground beef in most recipes.
Onion & Garlic - The base to our meatballs will include both onion and garlic, sautéed with spices.
Allspice, Cinnamon, Coriander, Dried Mint - These are the line up spices for our meatballs, they have a warmth that pairs well with the tangy barbeque sauce.
Pomegranate Molasses - Adding a touch of pomegranate molasses to our meatballs for a tangy flavor. It helps to bring a unique flavor in the meatballs, we use the same method in sfeeha.
Bulgur - Bulgur is cracked wheat, it is used often in tabbouleh and kibbe in Arab cuisine. There are different sizes to bulger, often numbered by their coarseness. I typically have bulgur #1 in my freezer which is the finest. Any bulgur will do in the recipe and if you don't have on hand, panko or traditional breadcrumbs can be used in its place.
Eggs - We'll use eggs to bind our ingredients
Salt & Pepper
Toum - Toum is optional in the recipe but I always love to add a few tablespoons for a little extra garlic and creaminess.
See recipe card for quantities.
Instructions for Lamb Meatballs with Pomegranate Molasses Barbeque Sauce
Once you make your own meatballs and BBQ sauce, you'll never look back. It's really quite an easy process and can be prepared ahead of time for maximum efficiency. If you've ever tried kibbe, a Lebanese meat dish - these will really give you those vibes, especially if you use bulgur in your mix.
Prepare BBQ Sauce. Even with a lengthy ingredient list, besides mincing some onions and garlic, the rest is just measuring and adding to a pot. The sauce comes together in a mere 10-15 minutes and that includes the cook time.
Aromatics. The essence of meatballs are the aromatics. I prefer to sauté my onions, garlic and add the spices to this mixture. This processes allows the onions to fully cook and allows less cooking time in the oven - which means more tender meatballs. A combination of onions, garlic, allspice, cinnamon and coriander make their way into the aromatics.
Mixing the Meatball Mixture. Once your aromatics are cooled down - time to combine with your ground lamb, eggs, bulgur, pomegranate molasses, dried mint, salt and pepper.
Form the meatballs. Using a cookie scoop or a spoon, scoop and roll your meatballs. Line on a parchment lined tray and bake.
To Serve. I like to serve these with labneh, you can use Greek yogurt if you don't have labneh. Top with a few pomegranate seeds and enjoy!
I prefer to keep the sauce and meatballs separate until ready to enjoy - this way you can have more versatility in how you use the meatballs.
Can I Make Substitutions?
Cooking is very flexible and generally forgiving. Here is a quick guide to help you with substitutions for this recipe.
Spice - If you aren't fond of a spice or don't have in on hand, you can certainly omit it or replace with something similar. For allspice - 7 spice/mixed spice would be a great substitution or simply a little extra cinnamon and nutmeg to balance.
Heat - This barbeque sauce is not extremely spicy, just a touch of red pepper flake is added for heat. You can simply omit or replace with Aleppo pepper or chili pepper for a more subtle flavor.
Sweetness - Most of our sweetness in the sauce comes from maple syrup, you can certainly substitute honey, traditional molasses or brown sugar. You can switch equal amounts or start with half and work up to more if it needs it.
Acid - Barbeque sauce especially has acid to balance all the flavors, this recipe calls for a number of them: pomegranate molasses, vinegar, mustard - the pomegranate molasses is the most important one in this recipe. If you need to omit or substitute your vinegar or mustard it will be just fine.
Gluten Free - If you're hoping to make this dish gluten free, choose gluten free breadcrumbs or some of these alternatives in place of bulgur: crushed gluten free crackers, almond flour or corn flakes (check to make sure they are gluten free).
How Long Do The Meatballs and Barbeque Sauce Last?
The meatballs are good in the fridge for 5 days, or frozen up to 3 months. The barbeque sauce is good in the fridge for up to 1 month. I don't recommend freezing the barbeque sauce.
What To Serve With Lamb Meatballs with Pomegranate Molasses Barbeque Sauce?
These meatballs are amazing on their own, with or without the barbeque sauce! Perfect lunchbox snack. I love serving these with fresh labneh or Greek yogurt and topped with fresh pomegranate seeds.
A side of fattoush salad or Lebanese potato salad would also be amazing!
Other Ways to Use Barbeque Sauce
This barbeque sauce is a wonderful fridge staple - they would be perfect on chicken, pulled pork or any other dishes you'd use barbeque sauce. Even as a smear on a sandwich would be great.
---
I hope you enjoy these Lamb Meatballs with Pomegranate Molasses Barbeque Sauce as much my family does! If you make Lamb Meatballs with Pomegranate Molasses Barbeque Sauce, please let me know by leaving a rating and review below! Be sure to head to the American Lamb Board page for more lamb recipes and learn more about American lamb. Don't miss heading to my Instagram page this week, I'm hosting a giveaway for Lamb Lovers Month for a chance to win some fresh lamb!!
As always, I love seeing your creations. Please leave a review or share your dish with me on social media #cosetteskitchen, I love resharing your photos! You can find me on Facebook, Instagram, Twitter , Tiktok and Pinterest. For more delicious recipes to your inbox, sign up for my newsletter!
xoxo,
Cosette
This post was sponsored by The American Lamb Board. All opinions are my own. I only support and promote brands that I believe in and use in my own kitchen.
Other Dishes You May Like
Sfeeha (open faced lamb pie)
Shop This Recipe
Parchment Sheets (my favorite item!!!)
Food safety
Cook to a minimum temperature of 165 °F (74 °C)
Do not use the same utensils on cooked food, that previously touched raw meat
Wash hands after touching raw meat
Don't leave food sitting out at room temperature for extended periods
Never leave cooking food unattended
Use oils with high smoking point to avoid harmful compounds
Always have good ventilation when using a gas stove
See more guidelines at USDA.gov.
Print
Lamb Meatballs with Pomegranate Molasses Barbeque Sauce
Author:

Cosette's Kitchen

Prep Time:

25 minutes

Cook Time:

30 minutes

Total Time:

55 minutes

Yield:

65

meatballs

1

x

Category:

Lebanese

Method:

Baking

Cuisine:

Dinner
---
Description
A combination of warm spices, tangy pomegranate molasses make these lamb meatballs stand out. The barbeque sauce is an added bonus which elevates the dish but amazing on its own too! 
---
Pomegranate Molasses Barbeque Sauce
1 ½ Tablespoons

olive oil

1

small shallot, minced (you can also sub onion) - 3 Tablespoons

4

cloves of garlic, minced

6 ounces

tomato paste (one small can)

½ cup

pomegranate molasses

1 Tablespoon

apple cider vinegar (or any vinegar, white, rice or red wine would work well)

⅓ cup

maple syrup (can sub honey or brown sugar)

2 Tablespoons

Worcestershire sauce

1 Tablespoon

Dijon mustard (st

one

ground or smooth)

2 teaspoons

smoked paprika (sweet paprika is fine too)

2 teaspoons

ground allspice

1 teaspoon

black pepper

1 teaspoon

ground cinnamon

½ teaspoon

ground nutmeg

½ teaspoon

red pepper flakes (can sub Aleppo pepper or chili pepper for less heat)

1 Tablespoon

kosher salt*

¼ cup

water

½ cup

pomegranate juice

1 Tablespoon

bourbon** (optional)
Lamb Meatballs
2 Tablespoons

olive oil

1

large onion, (diced)

4 teaspoons

kosher salt, divided*

5

cloves of garlic, minced

2 teaspoons

ground allspice

1 teaspoon

ground cinnamon

1 teaspoon

ground coriander

1

cup

fine bulgur

⅓

cup

milk, (any type of milk will work including alternatives)

2

pound

ground American Lamb

2 Tablespoons

dried mint

½ teaspoon

ground pepper

2

large eggs

2 Tablespoons

pomegranate molasses

2 Tablespoons

toum (optional but recommended)
---
Instructions
Pomegranate Molasses Barbeque Sauce
In a medium sized pot heat your olive oil and add your minced onion. Cook over medium heat for about 5-7 minutes until slightly translucent. 
Next, add your minced garlic and heat until fragrant, about 1-2 minutes.
Finally, add your remaining ingredients and whisk to incorporate everything over medium-high heat. The mixture will slightly thicken and bubble after 5-7 minutes. 
Remove from heat and set aside.
Lamb Meatballs
Preheat your oven to 425 degrees Fahrenheit and line 2 half sheet pans with parchment paper. 
In a large skillet, heat your olive oil on medium heat. Add your onion and 1 teaspoon of kosher salt (half if using table salt)  and allow to cook and soften for 5-7 minutes until slightly translucent.
Add your minced garlic as well as your allspice, cinnamon and coriander. Allow garlic and spices to cook for a few minutes until fragrant. Remove from heat and allow to cool slightly.
In a small bowl, add your bulgur (or breadcrumbs) and milk. Set aside.
In a large bowl, add your ground lamb, cooled onion spice mixture, eggs, bulgur mixture, dried mint, ground pepper, remaining 3 teaspoons of kosher salt (half if using table salt), pomegranate molasses and toum.
Using clean hands, work all the ingredients into a cohesive mixture.
**Pro tip - to test your mixture for flavor and salt, take a small bit and pop into microwave for 10-15 seconds or pan fry (in your onion/spice pan) and taste.
Using a cookie scoop or tablespoon, scoop a small portion of lamb mixture and form into a small ball. If weighing for consistency or for an idea how large they should be, each should weigh about 25 grams and measure about 1-1.5" across.
Bake one tray at a time at 425 degrees for 12 minutes in the upper ⅓ of your oven. Ground lamb should be cooked to an internal temperature of 160 degrees Fahrenheit. 
Remove and serve with pomegranate barbeque sauce, labneh and pomegranate seeds.
---
Notes
* Salt - I only cook with kosher salt, I prefer Diamond Kosher salt for my cooking. Kosher salt has a less salty taste than table salt. If using table salt, be sure to half in the recipe and taste for saltiness.
*Freeze - These meatballs freeze extremely well! After you roll your meatballs, pop the whole sheet pan in the freezer and allow to freeze solid. Once frozen, pop into a ziplock bag. When you want meatballs, pop into oven, they may require an extra few minutes if cooking from freezer. You can also freeze cooked meatballs.
*Cooking Temperature - Please ensure your lamb is cooked to 160 degrees Fahrenheit. 
Keywords: lamb meatballs, lamb meatballs with pomegranate barbeque sauce, lebanese meatballs, lamb meatballs with pomegranate sauce, dinner, weeknight dinner, barbeque