If you love sesame and chocolate, this recipe is for you! A cookie that not only incorporates classic chocolate chip cookie flavors but layers of sesame including: halawa (or halva), tahini and sesame seeds. While the cookies have a deep flavor, the sesame flavor isn't overpowering like you might imagine.
Sesame - What is Halawa (Halva)
Sesame! Sesame is a common ingredient in many Middle Eastern and Asian dishes, there are many parallels. In Middle Eastern cuisine, tahini and halawa (or halva) are common ingredients. Tahini is most known for uses in savory dishes like hummus, baba ganoush or taratore sauce but it lends itself very well to sweet dishes and even acts as a non-stick agent (like oil) in desserts like my tahini banana bread or namoura.
Halawa (or halva) is a sesame candy made from tahini, powdered sugar, powdered milk and other flavorings. Growing up, we enjoyed halawa simply in pita bread as an after dinner snack or special sweet treat. It can be made plain or studded with pistachio nuts. In recent years as tahini has trended in various cuisines, halawa (halva) has also become popular, often in various flavors. I personally enjoy a simple, plain halawa (halva) with pistachios. You can find it at any Middle Eastern grocery store or online. This stuff lasts a long time - so don't worry about getting too much. It's perfect to enjoy with pita, on a charcuterie board or even sprinkle on yogurt.
Jump to:
Ingredients
All-purpose flour - This is a straightforward cookie that requires the use of all-purpose flour, the most common flour. I have not tested with other types of flours (ie: gluten free, spelt, buckwheat, almond, etc) If making any adjustments please be mindful that is not how the recipe was written and results may not be the same. The key with measuring flour is to either weight (grab an affordable scale here), or spoon your flour into the measuring cup. This ensures you are not getting TOO much flour creating a dense cookie.
Baking Powder - This is one of two of our leavening agents in this recipe. If you don't use baking powder often, be sure to check that it is not expired. Baking powder will lose it's potency yielding baked goods that do not rise properly. If you're not sure of the last time you used your baking powder, grab a new one before baking.
Baking Soda - Baking soda is our 2nd leavening agent, note THE TWO ARE NOT INTERCHANGABLE! They each have their own properties that affect the baked goods differently. Baking soda requires an acid to activate (yogurt, buttermilk, brown sugar) Here is a great article from Sally's Baking Blog that talks about the differences between the two.
Brown Sugar - Next to browned butter, I think brown sugar is another one of my absolute favorite things. Brown sugar is simply granulated sugar and molasses mixed together. It creates a subtle smoky and warm flavor in baked goods. It also helps to keep the cookies soft. I prefer a dark brown sugar but a light brown sugar will do just fine. Trader Joe's brown sugar is one of my favs!!!
Granulated Sugar - Granulated sugar is simple plain, white sugar. It is essential in our cookie to help give it structure and stability. It also gives the cookie a bit of crinkle and crisp edges. The mixture of the two sugars is always a winning combination.
Butter - The great butter debate: unsalted or salted. Most bakers will tell you to strictly use unsalted butter in baked goods. This allows you to control the amount of salt in your dessert. I stick by this rule 90% of the time. But in cookies, I'll often bend the rules a bit and use salted butter. I mean, we're also going to top these with flake salt. That balance of sweet and salty is perfect in cookies.
Tahini - Today you can find tahini in any major grocery store. It's become a common ingredient in many dishes. I still prefer to purchase mine from a Middle Eastern store. I like the texture, quality and flavor better than some of the fancier brands. Not to mention, it's usually much less expensive. You can also buy it online as well.
Eggs - Most of my cookie recipes require eggs, my personal favorite way to incorporate is one whole egg and one yolk. Each part of the egg plays a different role. The yolk providing more chew while the white more of a cakey cookie. With 2 egg yolks and 1 white, we have more of a chewy cookie.
Vanilla - Sure, you can measure vanilla - but I measure with my heart! Add an extra splash!
Salt - We'll be adding salt 2 ways in our cookies. The first time with our dry ingredients (unless you use salted butter then you can omit) and then finally finish with flake salt. YOU WANT FLAKE SALT - I promise you it's so worth it! The balance of sweet and salty is like no other. And while kosher salt is fine, flake salt has a crunch, less of a salty texture and overall a better flavor. I like to use Maldon which you can find online. Use on fresh tomatoes, olive oil to dip in bread or to finish any dish.
Sesame Seeds - We're doing a triple threat of sesame in these cookies and the one key added ingredient with tahini and halawa (halva) is sesame seeds. Just that extra bit of sesame flavor and crunch is incredible. I use untoasted sesame seeds in the cookies as they will get a bit toasty when baked.
Chopped Chocolate - If you can, put down the bag of chocolate chips - I PROMISE you I have a better way to chocolate in your cookies! You want those big pools of gooey chocolate? That rich flavor? Then chopping chocolate is the way to go! If you have a Trader Joe's nearby - their large Pound Plus Dark Chocolate bars are some of the BEST chocolate to use in baked goods. If you aren't near a Trader Joe's using a good quality chocolate that you can chop up is ideal. If you can't locate something like that - I prefer using chocolate chunks vs a chips for best results.
Halawa (halva) - Halawa (halva) is much easier to find these days at your local grocery store, especially a more specialty store like Whole Foods or Wegmans. If you have access to a Middle Eastern store, that's my preference or online. I like the added pistachios but a plain variety will work beautifully.
See recipe card for quantities.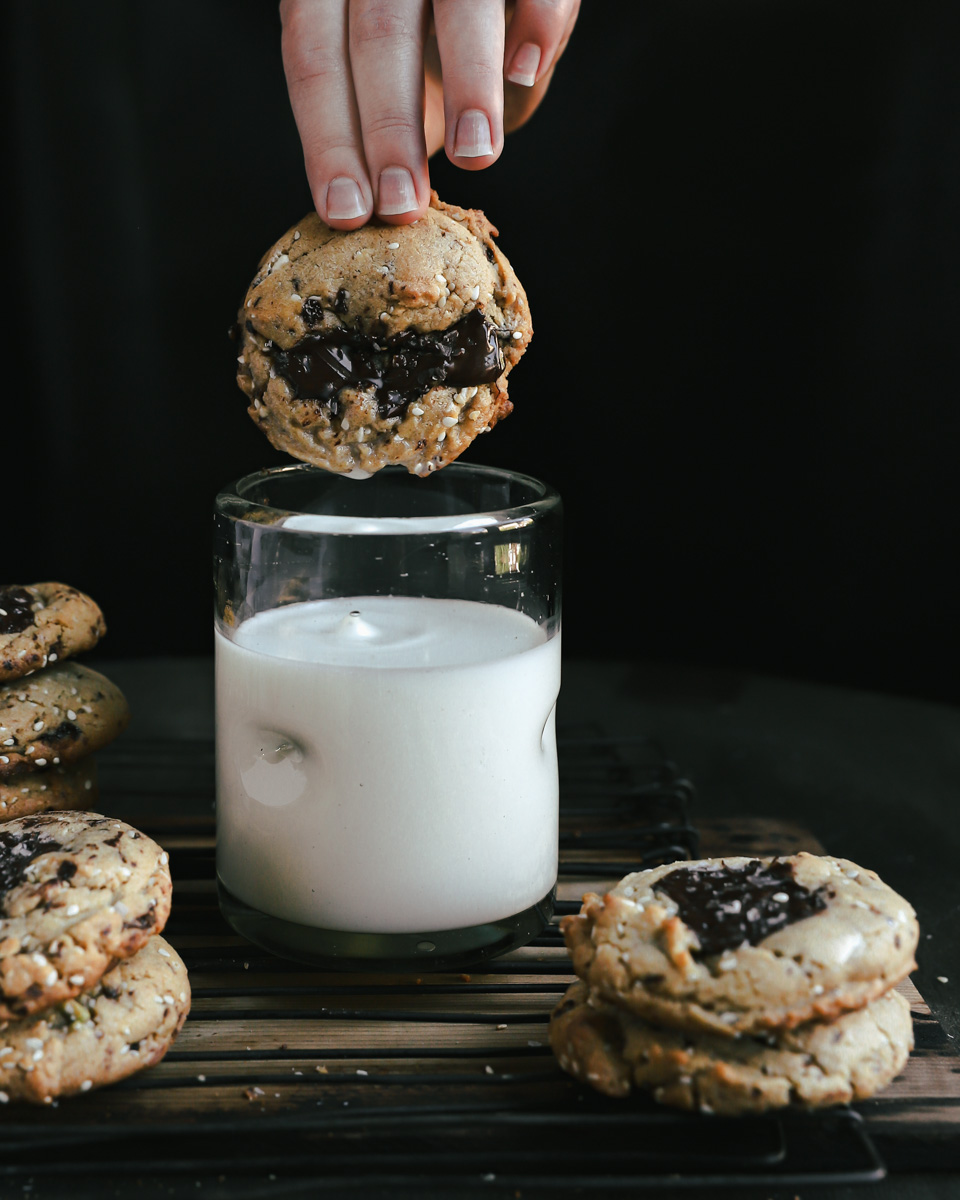 Instructions
These are a pretty straightforward cookie, thankfully no chill time after mixing the batter. Just scoop and go! Creaming the butter, sugars and eggs is a crucial step for a proper cookie. Using a stand mixer also makes the process easier.
Begin by combing your dry ingredient into a bowl: flour, baking soda, baking powder and salt (if using).
In your stand mixer fitted with paddle attachment or hand mixer, add your sugars, butter and tahini. Mix for 3-4 minutes on high until combined and lightened in color. Next add your egg and egg yolk and vanilla. Continue to mix on high for another 3 minutes until a creamy mixture is achieved.
With your mixer on low speed, add your flour mixture and mix until just combined. It's ok to have a few streaks of flour remain. Finally, add your sesame seeds, chopped chocolate and halawa (halva) crumbles. Mix on low for 30 seconds to a minute until just combined.
Pro tip: Be sure to stop the mixer and scape down sides and bottom as needed to ensure all flour is combined properly.
I like to line my sheet pans with parchment sheets or silicone mats - it helps the cookies to bake more evenly. Another tip is to only bake one tray at a time, this ensures the cookies bake evenly vs browning to fast on the top or bottom. Once your tray is lined, oven pre-heated scoop your cookie dough onto prepared sheet pan - I use a this cookie scoop to ensure even cookie size and ease. It's just over a tablespoon in size if you're scooping on your own without a scoop.
Pro tip: Be sure to add a chocolate chunk on top of each cookie before baking, this will give you those puddles of chocolate.
Space your cookie dough about 1.5" apart on the sheet pan to allow enough room to spread. Bake for 12-14 minutes until the edges are lightly brown and cookies are golden brown. Once out of the oven, immediately sprinkle with flake salt on the puddles of chocolate. Allow to cool slightly and enjoy! Store in a sealed cookie jar for 5 days.
See full recipe below and tips for freezing.
Substitutions
These cookies certainly don't follow many diet restrictions. But a few substitutions if you need to make them.
Chocolate- you can certainly use any type of chocolate you like in these cookies but chopped chocolate is preferred for best texture
Sesame Seeds- sesame seeds are definitely an added bonus to the recipe, you can omit them without any issues
Flour- as mentioned above, I have not tested with various flours but I do know that bread flour can be used in place of all-purpose to create an even chewier cookie. Nut flours such as almond are NOT recommended. If you have specific experience replacing all-purpose flour with a gluten 1-1 you can certainly experiment. For gluten free recipes, I recommend checking out my friend The Gluten Free Austrian.
Variations
I know this recipe is heavy on the sesame but the base of the cookie will still lend itself to some variation if you choose.
Spices - If you want to add a little more warmth to the cookies you can certainly add a bit of cinnamon or my preference cardamom. A teaspoon of either will create a lovely flavor.
Nuts - The halawa (halva) I use has some pistachios but adding a bit of extra pistachio or walnuts would be a great addition. ¼ cup would work perfectly.
See this olive oil cookie on my website for a more basic cookie.
I use my KitchenAid mixer for all my baked goods, it really makes it easier to get create results. Here are some other tools and gadgets that I use in this recipe but also in many of my baked goods:
Equipment
Storage
Storing the cookies is best in a glass, sealed container to maintain optimum freshness. Cookies are best fresh but are great for up to 5 days.
You can also freeze cookie dough balls or even baked cookies for up to 3 months. If freezing cookie dough, scoop cookie dough into balls as you would for baking and line on tray. Pop into freezer and allow to freeze completely. Once frozen, toss into a Ziplock bag and bake frozen. Cookies may need an extra 1-2 minutes of bake time from frozen.
If freezing baked cookies, wrap cookies in plastic wrap and then place in freezer Ziplock. Freeze and remove cookie and allow to come to room temperature to enjoy or heat for a few minutes.
Top tips
It's best not to overbake your cookies - keeping them a little under baked is best to ensure your cookies remain soft and chewy. Cookies will continue cooking for a few minutes after removing from the oven. And of course a touch of flake sea salt is my favorite way to enjoy!!
As always, I love seeing your creations! This is a perfect salad or side dish to serve all year long.
I hope you enjoy these Chocolate Sesame Halawa (halva) Cookies as much my family does! If you make Chocolate Sesame Halawa (halva) Cookies, please let me know by leaving a rating and review below!
As always, I love seeing your creations. Please leave a review or share your dish with me on social media #cosetteskitchen which lets me know what is working for you! You can find me on Facebook, Instagram, Twitter , Tiktok and Pinterest. For more delicious recipes to your inbox, sign up for my newsletter!
xoxo,
Cosette
Print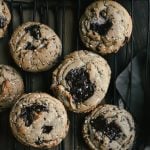 Chocolate Sesame Halawa(halva) Cookies
Author:

Cosette's Kitchen

Prep Time:

10 minutes

Cook Time:

15 minutes

Total Time:

25 minutes

Yield:

24

cookies

1

x

Category:

Cookies

Method:

Baking

Cuisine:

Lebanese
---
Description
These chewy cookies are loaded with chocolate and sesame flavor for a burst of something delicious and exotic.
---
2

cups

of all-purpose flour, spooned and leveled -

272

grams

1 teaspoon

baking powder

½ teaspoon

baking soda

1 teaspoon

kosher salt - omit if using salted butter and half if using table salt

1

cup

packed brown sugar -

200

grams

⅓

cup

granulated sugar -

75

grams

8 Tablespoons

unsalted butter, softened - 113 grams

½

cup

tahini - 130 grams (be sure to scrape it all)

1

egg

1

egg yolk

1 teaspoon

vanilla extract

⅓

cup

raw sesame seeds

⅓

cup

chopped dark chocolate

⅓

cup

halawa (halva) chopped
Flake salt (optional)
---
Instructions
Begin by pre-heating your oven to 350 degrees F and place your oven rack to the upper ⅓ of your oven.
Place a silicone mat or parchment sheet on a half sheet pan and set aside.
In a large bowl, combine your flour, baking powder, baking soda and salt. Whisk until just combined.
In the bowl of your stand mixer fitted with paddle attachment or in a large bowl using your hand mixer - add your softened butter, brown sugar, granulated sugar and tahini. Mix on high speed for 3-4 minutes until light and fluffy.
Next add your whole egg, egg yolk and vanilla. Beat for another 3 minutes. 
With your mixer on low speed, slowly add in your flour mixture and mix until just combined. Stop your mixer and using a spatula, scrape down sides and bottom to ensure everything is incorporated.
Finally, add your mix-ins: chopped chocolate, sesame seeds and halawa (halva). Mix until incorporated for another 30 seconds to 1 minute.
Using a cookie scoop or 1 Tablespoon spoon, scoop your cookie dough onto your prepared sheet pan, leaving 1.5" in between cookies. (Each cookie dough ball is about 35 grams). I like to have 3 on the top, 3 on the bottom and 2 in the middle.
Place in upper ⅓ of your oven and bake for 12-14 minutes. Always check your cookies at the earlier time (12 minutes) to see how your oven handles them. If they are browned around the edges, remove to cool. Top with flake salt immediately.
Pro tip: Be sure to add a chocolate chunk on top of each cookie before baking, this will give you those puddles of chocolate.
Continue baking the remaining batter, one tray at a time until your batter is done.
Enjoy cookies immediately or store in glass jar for 3-5 days for best quality.
---
Keywords: chocolate sesame cookies, easy drop cookies, halawa, tahini chocolate chip cookies, salted tahini chocolate chip cookies, sesame chocolate chip cookies, halva chocolate chip cookies, chocolate chip tahini cookies, halawa tahini cookies, halva cookies, halva cookies recipe