Memorial Day, the official start to the summer season! The days are getting longer, school is almost out (or already out for some), outdoor gatherings are plentiful and the grill is fired up. I've connected with some of my favorite bloggers to share a roundup of delicious recipes that are perfect for this holiday weekend and all summer long!!!
Jump to:
Grilling Tools
Grilling is one of my FAVORITE things - in the last few years I've actually ditched my traditional grill and have solely been cooking on my Blackstone Flat Top Grill, it's been a game changer! There are many different models and sizes, for my family of 5 - the larger 4 burner 36" is most ideal. It allows me to cook more than just the typical grilling foods like burgers and steaks. I use it for stir fry, fajitas, bacon, pancakes and so much more! It's DEFINITELY worth the investment if you have the space!
I recommend getting a tool kit to go along with it to give you all the accessories you need to work that Blackstone!
Main Dishes For the Grill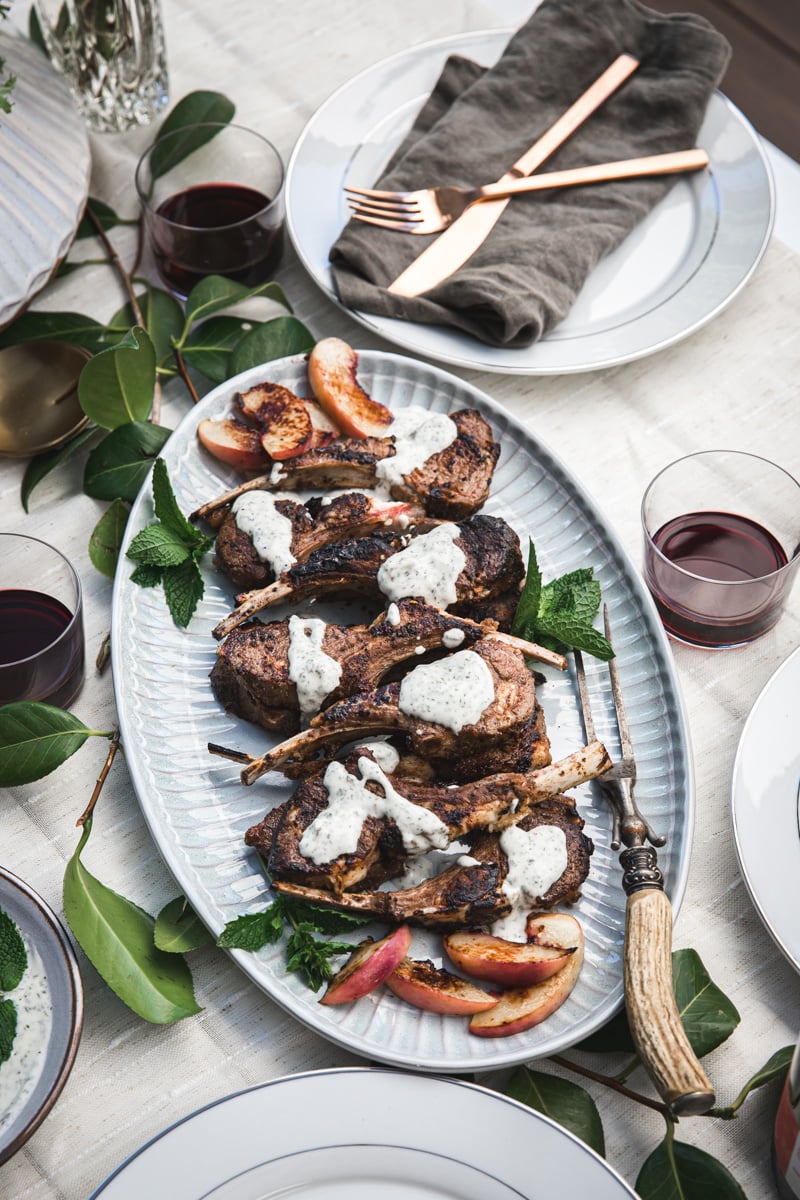 Grilled Lamb Rib Chops with Pomegranate Molasses and Cinnamon with Mint. A simple but sophisticated dish, great if you're hosting a small gathering.
Chicken Shish Tawook. A yogurt marinated chicken kabob that is tender and filled with delicious spices. Enjoy with pita and sumac onions!
One of my favorite grilling foods - burgers! But make them lamb - these Lamb Sliders with Feta Sauce are sure to wow your guests!
Try these tender Lamb Skewers and serve with Creamy Hummus and Sumac Onions - an elegant and incredibly delicious meal!
These Black Bean Lentil Burgers come from my friend Emily at Resplendent Kitchen - this is a fabulous meatless option! How good do they look?
How about these Marinated Steak and Potato Skewers from Angela and Mark over at Cooking with Wine? Tender bites of steak with potatoes - very BBQ worthy!
Looking for something a little out of the box? How about these Vietnamese Grilled Beef Wrapped in Betel Leaves BÒ LÁ LỐT. This special recipe is from Vy over at Beyond Sweet and Savory - I really just want her to come make these for me!
Try these incredible Grilled Chicken Wings with Carolina Gold Mustard BBQ Sauce by my friend Jenni over at Whip and Wander. I adore wings and these look extra delicious - always a fan at a BBQ.
I love grilled fish - this Grilled Mahi Mahi with Fresh Peach Salsa from my friend Aysegul at Foolproof Living looks incredible!!! I would devour it all!!!
Last up, these Mediterranean Turkey Burgers - I make them both on a sheet pan as well as directly on the grill. They are a HIT, especially paired with the tangy slaw.
Sides and Salads
Bring this Mediterranean Orzo Salad to your BBQ and be the hit of the party - homemade pesto is really the key! Paired with sun-dried tomatoes, feta and finished with spinach.
Go mayo free with this simple and refreshing Lebanese Potato Salad. Lemon, garlic, olive oil and fresh parsley give this salad a light and refreshing feel.
Try this ultra green salad - Farro Salad with Arugula Mint Dressing. The mint in this salad really takes it to the next level and the farro is a welcome grain over pasta.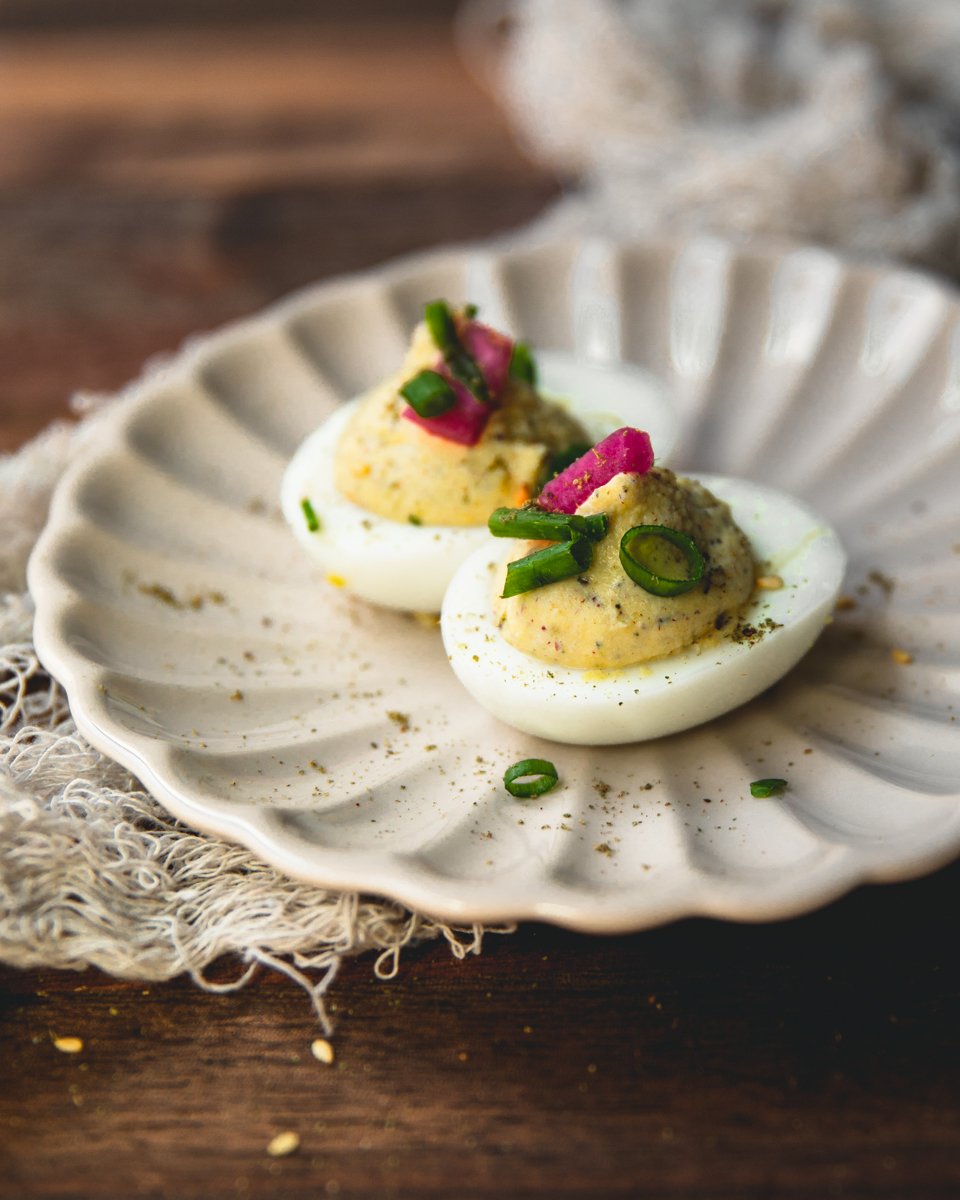 Another mayo free favorite - Labneh Deviled Eggs. These little eggs are jazzed up with za'atar and sumac - mayo free, simply use labneh or a really thick Greek yogurt for an incredible bite that won't feel too heavy.
Something about a traditional Hawaiian Macaroni Salad that just hits so right!!! My friend Samantha over at Ferraro Kitchen shares her recipe!
Chili Butter? Oh yes! Ashley over at Millennial Kitchen shares this fun, innovative recipe. Use the butter to spread on burger buns or slather on a cob of corn!!!! So good!
A simply delicious Creamy Chickpea Salad from my friend Omayah at Omayah Cooks is cool and refreshing - perfect vegetarian side dish option!
Is it BBQ season without Baked Beans? My hubs goes crazy for them - this recipe from Leigh Ann at My Diary of Us is a winner!
Desserts
Probably one of my favorite desserts - these No Bake Key Lime Pie Cheesecakes are so easy to put together and put on a show! Feel free to use regular lime or lemon!
This one bowl Anise Peach Cake is so easy to put together and perfect for serving with ice cream or whipped cream. Swap the peach out for another favorite fruit!
Galettes are the easy and perfect way to have pie without the fuss! This Strawberry Rosemary Galette is sweet, slightly savory and absolutely delicious!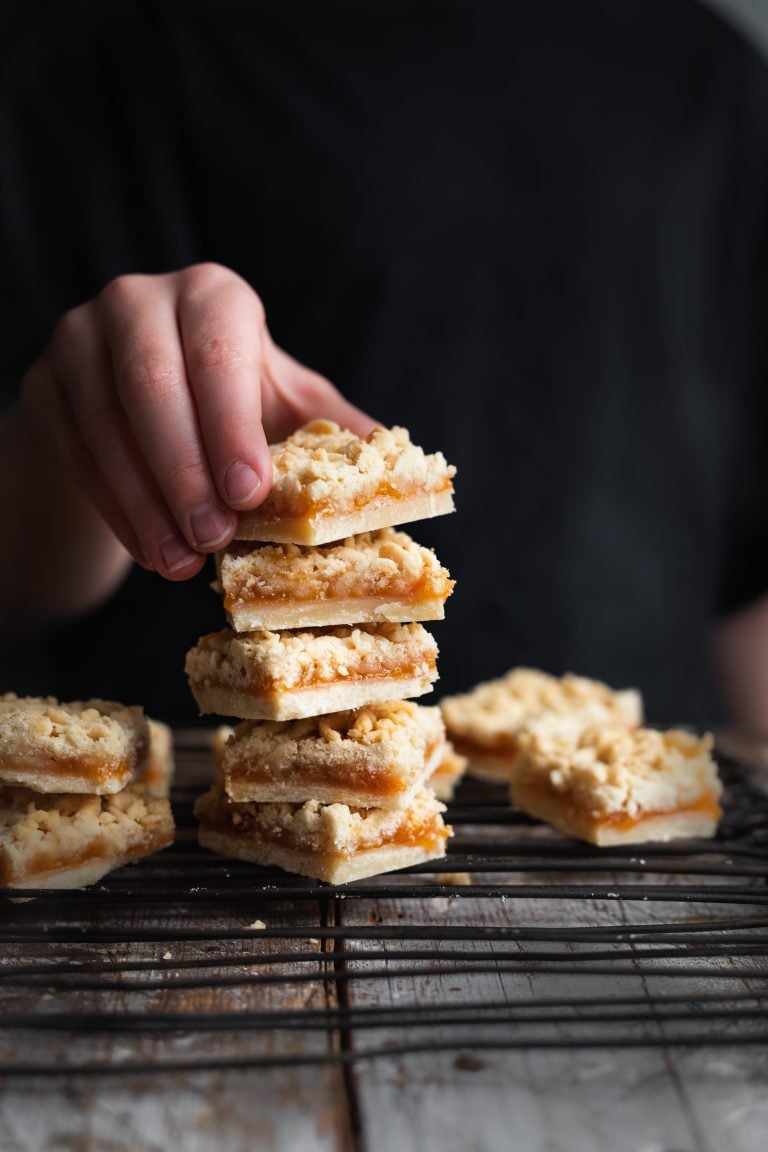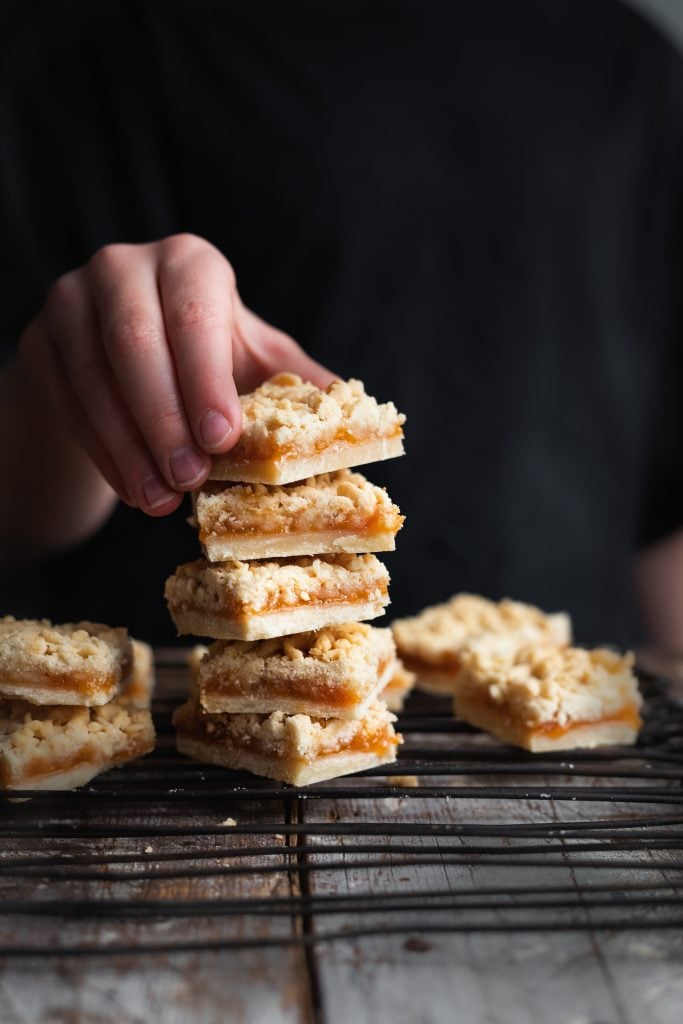 Apricot Shortbread Bars - you don't have to use apricot in these - feel free to swap out for strawberry or blueberry!!! Either way, so good!
Cookies & Candy - yes please! These Gluten Free Monster Cookie Bars are the perfect dessert for your gluten free friends. The recipe comes from my friend Daniela at The Gluten Free Austrian!
Perfect Strawberry Lemonade Shortbread Cookies from my friend Kat over at Heirloom Pantry. They look so delightfully sweet and tangy!
I can always eat cake - especially a Vanilla Cake with Strawberry Filling!!! This beauty is from Tessa at Style Sweet Daily who is a master with cakes. I know any BBQ would love to have this!
Power packed, healthy and delicious gluten free Flourless Chocolate Almond Butter Brownies come to you from my friend Carly at Radiant Knowing - a certified nutritionist that shares healthy and delicious recipes!
Absolute heaven - these Mango Curd Bars by my friend Amisha at The Jam Lab. She is a dessert queen and this one is over the top delicious!
What's more American than a Cherry Pie? How about a Cherry Rhubarb Pie! So impressed by the incredible lattice work - this recipe comes from Kathleen over at The Floured Table - DROOL!
---
Whatever you decide to grill this weekend or over the summer - I hope it's delicious and enjoyed by friends and family! This should give you some incredible recipes and inspiration for your next BBQ gathering - I know it does for me! Be sure to check out all the lovely bloggers that shared their recipes on today's post. I'm sure you will find more delicious dishes to make there too!
As always, I love seeing your creations. Please leave a review or share your dish with me on social media #cosetteskitchen which lets me know what is working for you! You can find me on Facebook, Instagram, Twitter , Tiktok and Pinterest. For more delicious recipes to your inbox, sign up for my newsletter!
xoxo,
Cosette